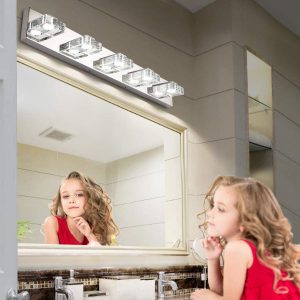 Are you one of the sleepwalking human ghosts?
Imagine yourself having a walk to the bathroom in your sleep and standing in front of the best bathroom vanity lights of mesmerizing designs! No wonder your dream would be safe and delightful!
Okay, I was just kidding.
But yes, your bathroom is not merely a place to wash up the dirt your body absorbs. It is where you detox yourself; refresh your energy to start anew.
It takes you to a moment of mindfulness by distracting from the outer world and chaotic thought. The refreshing process makes you relaxed, and thus your dopamine releases.
But the wrong choice of the lights can do the opposite by turning your mood off. They can destroy your make-up look, cut your skin while shaving, make you depress for low brightness.
Top Pick of Bathroom Vanity Light Overview





SOLFART Dimmable 5 Lights 31.5 Inches Modern Glass Stainless...
Design House 500892 4 Light Vanity Light, Polished Chrome, 24"
Chende LED Vanity Mirror Lights, 11.53ft Hollywood Make Up Light...
PRESDE Bathroom Vanity Light Fixtures Over Mirror Modern LED 4...
Globe Electric 51445 Parker 3-Light Vanity Light, Chrome, Clear...

SOLFART Dimmable 5 Lights 31.5 Inches Modern Glass Stainless...

Globe Electric 51445 Parker 3-Light Vanity Light, Chrome, Clear...
Top 8 Best Bathroom Vanity Lights Reviews
In every bathroom, there is a little beauty parlor. It plays an important role in being a reliable place to do makeup to feel fresh or go out. It is important that you choose the right vanity light set up for your bathroom as proper light setting ensures most of it.
1. Design House 500892 – 4 Bulb Bathroom Vanity Light, Polished Chrome
Key Features

The LED light brings a clean and bright atmosphere in your bathroom at a very low price.
This light has Polished Chrome finishing.
No wires or chain visible in the setting that may disrupt the aesthetic.
This light can be fixed facing up or down whatever you want.
Design house's 500892 4 light vanity light brings a traditional aesthetic look in your toilet. The lights are made from formed steel and got a finishing with polished chrome.
This 4 Light Vanity Light from Design House is designed in a way that helps you set the light centering the mirror or the sink. The lights come with 60-watt medium base bulbs which shine the area like an LED light.
The interesting part is it has been approved by UL, and you can use it on damp areas! They rated the bulb and included it in their list which gives it an extra-label of 'reliable'.
The attractively small and dainty looking bulbs are not designed to be linked with any wire or chain. Just fix it wherever you like and light up.You can hang it over the mirror of the bathroom or you can select a place according to your preference.
The designer kept the aesthetic of the room in mind. There will be no visible chain or wire on the wall after installing the light.
Downside: Multiple reports claimed the lights came with damaged sections. Upon arrival, inspect all of the components thoroughly
Verdict
Give your bathroom a classy look by installing this set of lights. Featuring 60-watt bulbs, the brightness offered is fantastic. Plus, the installation is easy enough that anyone can do it.
---
2. Globe Electric – Parker 3 Chrome Bathroom Vanity Lights with Clear Glass Shades
Key Features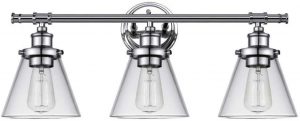 This bathroom vanity lights 3 bulbs make the vanity classy and bright.
This light has an easy installation system,thanks to the mounting tools included with the light.
Finishing of the light is chrome polished,and the clear glass shade makes it look awesome.
Its dimmable switch lets you adjust the level of brightness as you like.
If you want modern bathroom vanity light for your bathroom decoration, you can look forward to this item. The base of the chrome is made with something that looks like a curtain rod yet it creates a classy ambiance.
Globe Electric Parker 3 Chrome Vanity Light with Clear Glass Shades ensures a modern ambiance thanks to its upgraded vintage design. The clear glass shades can be accompanied by bulbs of your choice.
There are varieties of designer bulbs for you to choose from to match your taste and decor. You can customize them as per your preference. Hudson and Edison's bulbs are recommended for a better experience.
They also have a dimmer switch to bring a warm atmosphere and change the shade of light according to your needs. The dimmer switch is not included in the box; you have to buy it separately.
Mounting hard wires are provided with the light which makes this vanity light very easy to install for anybody.
And of course, the light fixture is UL listed!
Downside: The glass globes of this fixture are both thick and heavy, which makes it a bit uncomfortable to mount them.
Verdict
For the price, these are some of the nicest lights available. The installation takes just a few minutes, and it comes in different design styles to guarantee a proper fit in most bathrooms. Pretty and shine, these lights are ideal for adding a new layer of luxury to your home.
---
3. SOLFART Modern Glass Stainless Steel Vanity Light – Best LED Bathroom Vanity Lights Fixtures
Key Features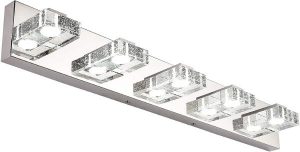 This fixture comes with 5 dimmable globe-shaped LED bulbs, and a high-quality SAMSUNG LED chip is used in this light.
The brightness of the light is reliable for your perfect make-up.
Mirror gloss finishing and crystal shades bring luxurious shine in the vanity setup.
Easy to install; easy power button; corded-electric, but the wires can be hidden easily.
SOLFART LED Vanity Light comes with five 31.5 inches LED lights. This light is very fancy in design. It is recommended for those who prefer elegant setting over super bright lightings.
The energy-saving LED bulb with warm white light has been used in this fixture. The fashionable light is made by mirror 304 stainless steel along with bubble crystal glass shade. The lights are downwards and can be aesthetically used on bathroom mirrors, over dressing tables, over painting canvases or other decorations.
It comes with 20 watts power, but the light looks way brighter than its power. This light comes with mirror gloss finishing, 304 stainless steel with best K9 crystal. The light is white-colored, and you can adjust the brightness according to your preference.
This fancy light creates a wonderful brightness for your perfect make-up. This light is very easy to set. There is no switch or cord on the light; you can simply connect to the reserved wire directly and turn the light on.
Downside: These lights may come across as too bright sometimes.
Verdict
These vanity lights are so good and classy that every bathroom should have one. They boast a modern design with clean-looking LEDs that provide superb light output. If you want to give your bathroom an elegant and defined look, this is a fixture that you must have.
---
4. LPHUMEX LED Vanity Mirror Lights – Best Vanity Lighting for Makeup
Key Features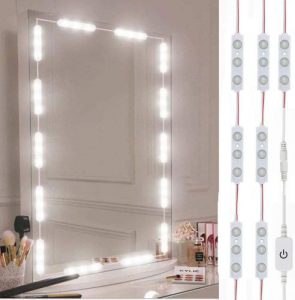 The light gives flicker-free shining which is safe for children as well as adult's eyes.
You get a perfect light for making makeup video tutorials.
Hollywood LED light kit (1 x 118inch) has been used in this fixture.
The light offers safe waterproof lighting and a smart dimmer key.
LPHUMEX presents Hollywood style mirror by making perfectly designed lights for makeup. It is designed with10ft Ultra Bright White LED.
Makeup artists or makeup tutorial makers would love this light very much. Yes, if you are looking for a Hollywood style vanity mirror, you can afford it with only the cost of this LED Vanity Mirror Lights.
If you create makeup video tutorials,this light is recommended for you. Making professional videos or clicking amazing photos is possible if you have this gorgeous vanity mirror lights set.
You can use these beautiful lights to decorate the house as well. It comes with smart touch dimmer key for adjusting the brightness. Adding extra to it, you can use this light anywhere you want as it is waterproof.
Despite being glamorously bright, this light is made with low flicker frequency and voltage 12 which makes the light very safe for the delicate eyes of children.
Easy installation is another winner for this light. You do not have to fix wires or dig holes on the wall, just stick the bulbs where you want. This light does not include the mirror. They provide extra stickers so that you can easily remove and reposition the bulbs.
Downside: These lights stick to surfaces via an adhesive. It's strong, but this also means you have to plan the mounting carefully. Once in place, the adhesives won't come off easily.
Verdict
Vanity is a word that suits these lights perfectly. You can mount them over the bathroom door for a nice entrance or on the mirror to get those sweet makeup photos or videos. Either way, the options are many when it comes to these versatile lights.
---
5. Chende Hollywood Style LED Vanity Mirror Lights with Dimmable Light Bulbs
Key Features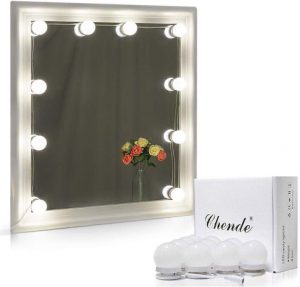 This fixture creates Hollywood mirror lighting at a very affordable price.
The light can be used even in a dark place for almost any purpose.
The light comes with a touch dimmer key; it helps you control the light at ease.
The LED bulbs make a gentle and soft yet perfect brightness. And that ensures the best makeup experience.
The best makeup look requires the perfect lighting in your dressing table. Chende's Hollywood Style LED Vanity Mirror Light is made with 4000k lights recommended by professional makeup artists. This light comes with 10 Hollywood style vanity bulbs which are best for creating the perfect makeup look.
The 4000k Hollywood Mirror light color temperature gives daylight brightness for better use of shades while applying makeup. You can use the mirror even in a dark place as it has perfect lighting adjusted in it, but the mirror is not included with the light purchase.
With the smart on/off dimmer switch,you can simply adjust the light's brightness.
There is not much hassle to adjust the light. You can directly put the lights on the mirror, wall or any frame; and plug and play with 12 safe voltage powers supply which is already in the package.
Even though the light is made using powerful LED bulbs the light does not get hot. It does not irritate your eyes while doing makeup for a long time. It is a comfortable light for any age group.
Downside: The included adhesive fails at keeping the lights stuck to the surfaces. For a better fit, consider buying and using another type of tape.
Verdict
These lights are as impressive as they are good-looking. After a pretty straightforward installation, they quickly become the main attraction in the bathroom. Use the power switch to adjust the brightness, and you'll see how family and guests love it.
---
6. Mirrea 48in LED Vanity Light Fixtures – Best Modern Bathroom Vanity Light
Key Features

It gives a modern style LED bathroom vanity light.
No separate dimmer switch needed for this light.
It covers a double sink designed bathroom.
The direction of the light is changeable.
A perfect choice for a double sink bathroom would be Mirrea's 48 in Modern LED Vanity Light. It is another choice for your modern toilet decoration. The LED bathroom vanity lights are equivalent to 8 bulb vanity lights; you can gloriously use it in a big bathroom.
While installing the light, you do not have to worry about drilling the wall because this light's installation complies with the US electric code.
Interestingly enough, you can reposition the light direction to up and down according to your requirements. It is listed in UL, so you know you can rely on it.
You can operate it with the traditional Lutron and Leviton TRIAC Dimmer switches. The only problem is the buzzing sound of the dimmer switch. As a solution to it, you have to use an expensive ELV dimmer to get the murmuring to stop.
You can instantly switch on the light. The light comes with frosted acrylic cover and gives you a cool, bright and focused place in the bathroom.
Downside: While an excellent addition to the bathroom, this isn't the fanciest light you could get.
Verdict
Minimalist, simple, and highly functional. This light isn't the most innovative out there, but it still brings style to the bathroom. It improves the decoration by adding a sleek layer for a contemporary look. Also, you won't have a hard time mounting it.
---
7. PRESDE Modern Bathroom Vanity Light Fixtures Over Mirror – 4
LED Vanity Lights
Key Features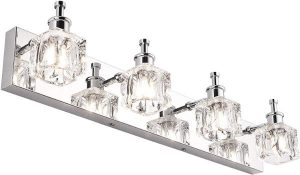 This product has a rotation option. You can move the lights to the preferred direction.
This fixture has a dimmer switch adding system with it to help you adjust the brightness.
This waterproof and rust-proof fixture is very reliable for long time use.
240 watts LED bulbs with 110 voltages bring a ravishing brightness in the bathroom.
This light with four bulbs is perfect for minimalist decoration. This fixture with shiny crystal glass and stainless steel plate brings a sparkling brightness inside the bathroom.
This over-mirror light gives a very simple and elegant look and can be set in any place of the house to enhance the beauty. The light comes with mirror chrome stainless steel fixtures and crystal glass globe.
The crystal glass lampshades have a rotation option. You can rotate the globe shades towards the position you want to focus.
The light is wall-mounted and is rated safe for damp location. You do not need to do any kind of assembling, just connect it directly to the reserved wire. Use the wall switch to turn on and off the light. Yeah, that easy!
The dimmer switch can be used to adjust the brightness consistent with your mood. The bulbs are very easy to replace as the bulb base is G9 bulb. The base is suitable for warm or white light. You can connect it directly to the reserved wire. The light is square-shaped and weighs 8.45 pounds. Assembled height and width are 5.1 inches and length is 26.8 inches.
Downside: The light has limits as to the type of bulb you should mount on it. For instance, yellow lights will show, and anything above 4W may be too long to fit
Verdict
Boasting beautiful high-polished stainless steel, this vanity light is fancy and eye-catching. It does have some limitations when it comes to the bulbs, but smaller areas like the bathroom will still get superb illumination.
---
8. Nuvo SF77/195 – Traditional 8 Bulb Bathroom Vanity Lights Bar, Polished Chrome
Key Features

It comes with 8 bright lights in a bar, and it makes the spot enchantingly bright.
This light has a dimming system available with the fixture to adjust the brightness.
This light is modern in design and can be used in any place of the house to bring a classy look.
This light needs to be adjusted with100 watts bulbs(not included) with 120 volts.
The more light, the brighter the spot looks. Nuvo Lighting brings an amazing bar of light with 8 bulbs. This vanity light bar can be used in any other room of the house as well. This vanity light bar is a glass material with polished chrome coloring.
The bell-shaped vanity light is 48 inches in size. This 8 bulb bathroom vanity light is corded. Setting it up may require some technical knowledge. You can follow online instruction; there are many video demonstrations. That would be super easy; you should not be panicked about it at all.
You have to remove the back plate first from the front plate. After carefully removing the chrome bulbs slightly twisting and sliding, you can see the bare ceramic. You can now remove the front plate. Now, the plug has two white wires and the light has black and white wires. The two white wires are not the same. One is smooth and another is grooved. The smooth wire is the black wire and the grooved one is white. You have to note it carefully as it will not work if you put it backward.
You can adjust the brightness as a dimming system is included in the box.
Downside: Installation may require drilling and electrical wiring. Have your tools ready and set up a time of the day to do it
Verdict
This light is a clear example of what good vanity lights should be. It's beautiful, stylish, and in line with current trends. Installing it may take some time, but the result is more than worth it. With this fixture, your bathroom setup will look as elegant as never before.
---
Next Read: Best Bathroom Exhaust Fans With Light & Heater 
What to Look for When Buying Bathroom Vanity Lights
Some specific things need to be kept in mind while buying a bathroom vanity light. Here are some important tips for you to follow when you go shopping bathroom vanity lights. Let's check them out.
Decide the Decoration Style
Have a close look at the place you want to install the light. What type of bathroom setting you have where you want to put the lights?For example, modern bathrooms are decorated with LED bathroom vanity light. If you are into modern setting, you may choose LED light with even design.
Tips for buying LED lights
While buying LED lights, pay attention to the ratings of CRI (color rendering index) and Color Temperature. CRI describes the light's ability to present the color to our eyes. Preferably the higher the CRI rating the truest image of skin tone condition, hair color you can see.
LED lights come with various color now. You can choose from yellow, whitish white or bluish-white colors. Choose the perfect shape of the bulb according to your fixture.
Most importantly, LED light barely works with traditional dimmer keys. You have to buy the LED bulbs which can work with the dimmer key of your home unless you want to buy one.
Layout of Vanity
You have to select the lights according to the layout of your vanity setting. You may not need an 8 light vanity stripe for a single sink setting but, this light fixture will complement your Hollywood inspired dazzling dressing table.
Choose a less wider light fixture than your vanity mirror. The light should not be wider than the table of your vanity setting.
Dimming System
Always look out for the dimmer switch when you are buying vanity lights. You do not need the same amount of brightness in every situation. A dimmer switch allows you to adjust the light for your time to time preference.
If the fixture does not have a dimmer key, check if it has an option to include the dimmer key. Most of the modern lights have this system. A standard dimmer switch does not work with LED lights, LED lights require special electronic LED dimmer keys for best operation.
One More

A piece of advice from Interior Designer Barbara Barry. She said, the bathroom prerequisites overhead besides side lighting. The overhead should be 75 watts, with 60 watts on each side.

She thinks that the best lighting placement is over 5 feet which is average eye-level height. It should not be overhead, that may create shadows.She considered diffused light from a white or off-white lamp shade as the best light.
FAQs About Bathroom Vanity Lights
Here are my answers to the mos frequently asked questions about bathroom vanity lights. Check them out; you may find your question has already been answered.
1. What is the best way to light a bathroom vanity?
Ans: The best way to light a bathroom vanity is to choose a light that gives a natural appearance. The true condition of your skin should not be hidden. For that purpose,choose LED lights with CRI 90 or up.
2. Where should bathroom vanity lights be placed?
Ans: Bathroom vanity lights are supposed to be fixed over the mirror as well as the opposite side of the mirror. This cross illumination is important for creating better lighting for the vanity area.
3. Are LED lights good for bathroom vanity?
Ans: People used to consider LED lights harmful for eyes and skins, but this is not quite true with the upgraded versions. Well, natural daylight is best for makeup. LED lights supplement the natural daylight which is the next bliss to sunlight for makeup.
4. Should bathroom vanity lights face up or down?
Ans: Bathroom vanity lights should be face down.Face-down lights will help you do makeup and shaving with ease.
5. How far from the ceiling should vanity light be?
Ans: According to The American Lighting Association's common rule, bathroom vanity light should be mounted 65 to 70 inches from the floor. This fixes the light at about your eye-level. 
What's Now?
Be careful about the use of light. These are the best bathroom vanity lights, but they would not perform like your 24/7 bedroom light. These lights should not be turned on for a longer time. If the lights are kept on for a long time, they may melt down by excessive heat and lose the stickiness resulting in collapse.
Be patient while installing the lights and make sure they are safely fixed. Remember, if you take care of things, they last long.
This is Autem Decker. Main Author of 'TheHomeDigs'. You may not find her on the list of top 10 contemporary Canadian interior designers, but everyone who knows her says she was born to be an interior designer.
She makes her plan in her head and draws them in her years-old diary with a note in the corner. The way she plays with color and shape amazes us.
Connect Her On – Twitter