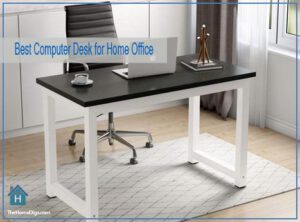 In this pandemic, our dependence on the computer has increased more than ever. To keep pace with this changing world, you need the best computer desk for home office.
From studies, office works to gaming and other forms of entertainment, computers are the hub that connects all aspects of our lives.
A computer desk isn't just a place to keep your computer, it is the center of productivity. The right desk will help you to become more organized and increase your spirit about working.
But not all computer desks meet our preferences and are not compatible with our computers. That is why here we have listed some of the best computer desks that you can buy. Because who doesn't want the best quality home office desks?
Top Rated Office Desks for Home at a Glance
Top 10 Best Computer Desks for Home Office
Below, get to know the name of the computer desks that would serve you best along with their detailed review.
1. Tribesigns Modern Simple Style Computer Desk – Best Quality Home Office Desk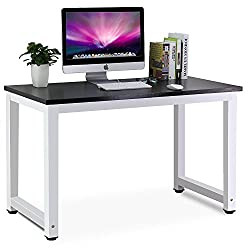 The looks and service of this computer desk sets it apart from the competing brands. This can be the perfect companion to the computers of your workstation and home office.
If you want a clean and yet, elegant look on your workspace, the minimalist design of this desk is sure to please you. Not only that, since this is a multifunctional desk, you can use this desk for different purposes.
Key Features
Versatile desk- can be used as a computer desk, work-station, study-table, and gaming table
A minimalist styled desk gives your home office a modern look
Easy to install
Enough spacing for different activities
Legroom is sufficient for people of different heights
Tough materials ensure durability
Prevents scratch and water damage
A warranty of 18 months
Installing this desk is of no hassle, it is a task of only a few minutes. Also, with adjustments, you can set this desk up on uneven surfaces too.
This table is made using the finest materials. Thus, it stays sturdy and carries computers of different weights without fail.
Whatever your height may be, there is enough room for your legs under this table. This is also easy to clean. It is water-resistant and prevents scratches, so your desk stays fresh for a long time.
Specifications:
Made by Tribesigns brand
Product dimension- 47.24 x 23.62 x 29.13 inches
Made of E1 Particle Board and Metal
Black and white mixed desks
Rectangle-shaped
Top material style- Engineered Wood
Desk size is 47*23.6 inches
The legroom underneath is 42.9 inches
Floor to desktop height is 29.2 inches
Desk weighs 52.9bs
---
2. JOISCOPE Home Office Computer Desk with Storage Shelf – Best Computer Desk with Shelves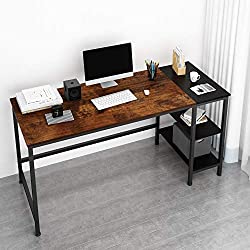 This is one of the best computer desk with shelves. With its multifunctional design and storage options, it is sure to win any customer's heart.
The desktop is quite spacious. Other than that, there are two shelves underneath. So you can efficiently organize your papers, computer parts, books and many more on this desk. The middle tier can be separated when you want to store any large item inside the shelf.
Key Features
Can bear enough load
Spacious desk
Storage options
Beautiful look
Sturdy and durable
Helps you to boost energy and work efficiently
Prevents breaking and stains
Easy to install
Assembling this desk requires minimum effort. With the package, you will get a step-by-step instruction video that will help you to set the desk.
The structure is tough to prevent the desk from breaking even when you put many weighing items on top of it. The stability was further tested for load-bearing while manufacturing it.
This desk enhances the beauty of your working space, be it in your home or office. The color gives it a vintage look that goes well with the rest of your furniture pieces.
Their customer service is also spot-on! You get a lifetime servicing option while purchasing this desk. All these features make it one of the best computer desk for home office.
Specifications:
Manufactured by JOISCOPE
Vintage Oak colored
Made of wood and metal
Rectangle-shaped
Oak finishing
Two-layer shelf
Product dimension- 60 x 23.62 x 29.53 inches
Weighs 42.9 pounds
---
3. Flexispot Electric Height Adjustable Desk – Standing Computer Desks For Work From Home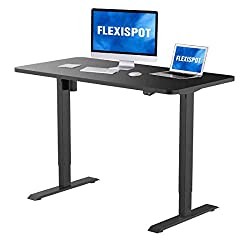 If you're looking for some great standing computer desks for a variety of monitor and laptop setups, then your search ends here. This adjustable desk is spacious enough to carry more than one desktop and laptop, even with two monitors, you will have more space to work properly. 
The electric lift-up system is easy to operate and allows you to adjust the height without any trouble. There are two buttons, one to make the desk go higher, another to make it go downwards. It is also specifically designed to not make any noise while it goes up.
Key Features
Can carry two monitors
Easy adjusting system
Can be used both while standing and sitting; therefore friendly to health
The desktop is wide and spacious
Tough and durable
Modern look
Having an adjustable computer desk tackles all the negative impacts that come along with a job of long sitting hours. The toll that sitting for a long period takes on our health and physiology is critical. But with this desk, sit and stand according to your need and say goodbye to back-pains.
The steel frame can hold a large amount of weight to ensure your ideal working environment. Moreover, this desk works to prevent scratches and stains and makes sure that it stays good-looking for a long period!
It is super easy to assemble and you wouldn't require any special skills to set the desk up.
Specifications:
Brand name- FLEXISPOT
Made of metal
Black colored
Desk size-42 x 24 Inches
Motor lift system
Frame made of steel
Can carry weight up to 154 lbs
The package contains a 2-button controller
---
4. Homfio L Shaped Computer Corner Desk 58'' Large – Best Computer Desks for Dual Monitors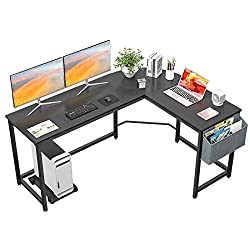 This desk from Homfio is undoubtedly the best home office desk for multiple monitors. It can easily hold multiple monitors, papers, documents, books, and pretty much all that you need in your working space; that too with leaving enough space for you to write, draw and work.
Even though the desktop is spacious, it doesn't take up much space in your room. The L-shape allows you to set it up in a corner of your room with utmost elegance. The modern design gives your work-place a lovely look and increases your enthusiasm.
Key Features
Spacious desktop
Able to carry enough weight
Appealing look
Adjustable shape and size
Installation is easy
Sturdy and durable
Can be used for multiple purposes
Comes with a 2-year warranty
It is made of high-quality boards and frames. So, even if you load it up with your work materials, it won't break. One desk lasts for a long time!
The leg pads are adjustable and you can install this desk on uneven surfaces too. Speaking of installation, that also doesn't require much effort.
This is made to prevent scratches so that your desk stays fresh for as long as you use it. The desktop can be reversed to meet the size of your room.
Specifications:
Brand name- Homfio
Black colored desk
Made of metal and engineered wood
L-shaped
Size -58.3″ x 19.1″
Height- 29.5″
Bearing capacity 450 lbs
Product dimension- 58.3 x 19.1 x 44.3 inches
Weighs 47.9 pounds
---
5. Fenghua Glass Top Computer Desk – Tempered Glass Home Office Desk for Small Spaces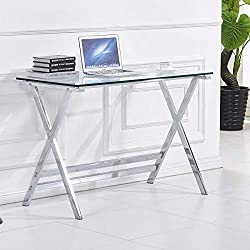 In the list of the best computer desk for home office, this is the most elegant addition.
The glass top gives it a rich look that catches everyone's attention. The silver crossed legs add to the beauty of this desk.
The look of this desk is sure to give your working place a much lively look. But the service matters; and this desk is a great product from that perspective too.
Key Features
Suitable for small offices
Goes well with any kind of room decoration
Elegant look
Able to carry weight
Easy to install and clean
Strong and safe to use
This desk fits well with small-spaced offices. The glass gives your room a larger look; so if your workspace is not that big, this desk is an absolute win!
The premium glass is quite strong and can carry a load. Although, it is obvious that glass desks will not be as sturdy as metal ones; therefore, you will need to handle this desk extra carefully.
This desk is really easy to assemble and to make it even easier, required tools are added to the package. This is one of the best small office desks and gets this to make your productivity reach the highest level!
Specifications:
Manufactured by Fenghua
Glass top
Metal legs
Silver-colored legs
Rectangular shaped
Modern styled desk
Table Size- 43.3×21.7×29.9 inches
Glass Thickness- 0.4inch
---
6. Halter Store Home Office Computer Desk with 3 Tier Shelving – Best Computer Desk with Shelves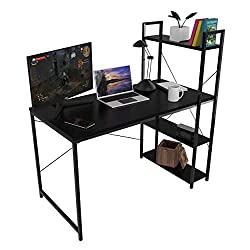 This is one of the best-performing desks made with the highest-quality materials. The frames and desktop are strong and sturdy; they easily carry weight and don't break due to loads.
It also has extra diagonal frames that not only add to the existing beauty of this table but also provide extra support.
The horizontal shelves give you much space to store your stuff and also give a modern look to your room. Be it plants, documents, or show-pieces, you can put anything on those shelves without any worry.
Key Features
The desktop is wide and gives you enough room for working
The shelves let you store necessary stuff
Sturdy and durable desk
Elegant design
Helps you to organize your work-space
Able to carry a load
Easy assembly
It saves space in your room and also gives extra space to store your necessary things; so that your working area stays clean and good-looking. The glossy black color gives a sophisticated look to your house.
Assembling this desk takes only a bit of your energy and no skills at all! Every part of this desk is ready to use and in a few steps, you will be able to set it up.
Specifications:
Brand name- Halter
Made of wood and metal
Rectangular shaped
Color- Black
3 layer shelves
Size(L x W x H)- 47.2 x 23.6 x 28.3 inches
Shelf height is 47.2 inches
Product Dimensions- 47.24 x 25.2 x 47.24 inches
Weighs 42.2 pounds
---
7. Tribesigns Computer Desk with Hutch and Bookshelf – Best Space Saving Home Office Desk
This is another well-performing product from the Tribesigns brand. It was designed to increase your productivity and help you make the best use of your working hours.
The design of this computer desk is minimalist, which gives your home office an aesthetic look. The style of it enhances the beauty of any kind of room.
The leg pads are tough and heavy-duty. But they are adjustable too; so that the height of your desk matches your height and you can work in the most comfortable ambiance.
Key Features
Minimalist design
Able to carry heavy parts
Spacious desktop
Sturdy frames and legs
Easy to assemble
Increases the beauty of your room
Can be used on uneven surfaces
Comes with an 18-month warranty
You can accommodate all the parts of your computer, along with your books, documents, etc on this desktop. It was made spacious so that you can have enough space to work smoothly.
The frame of the desktop is thick and heavy to allow it to carry enough weight. No matter how heavy your computer is, this desk will carry it just fine.
You can assemble this desk on your own, without any special skills or efforts. So, this is undoubtedly one of the best computer desks for home office to have!
Specifications:
Brand name- Tribesigns
Size- 55″(L) x 23.6″(W) x 29.2″(H)
Able to take weight up to 900 lb
Weighs 44 lbs
Color- Black
Made of Particle Board and Metal
Shape- Rectangular
---
8. 4NM Folding Computer Desk Home Office – Best Small Computer Desk for Home Office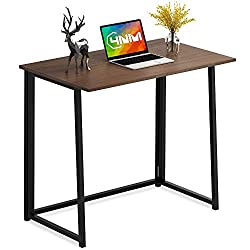 In the list of the best computer desk for home office, this is by far the simplest desk. It is suitable for small rooms but can be used in large ones too.
This desk can be folded and unfolded as per your needs. If you want to keep it as a piece of furniture in your room, go ahead. But you can also unfold it before using it and fold it to store it in a compact space while not using it. This way, it saves up much of your space.
Key Features
Simple and elegant design
Can be folded
Saves space
Versatile usage
Gives a beautiful look to any room
Sturdy enough
One table lasts for a long time
This is quite a small and lightweight computer desk, so you will not be able to keep many items on top of it. So, it is ideal for either working on computers or writing or drawing, but not for multitasking.
Although this can be folded, you will not want to store it in someplace other than your room, because the minimalistic look of this desk is sure to please your mind and increase the beauty of your room décor.
This is quite a versatile desk and you can keep it anywhere you like and use it for different purposes. The frames and legs are made of good materials and they serve you for many years.
Specifications:
Brand name- 4NM
Color- Brown, and black
Made of wood and metal
Rectangle-shaped
Size- 31.5×17.72×29.72 inches after expanding and 31.5×2.55×29.72 inches when folded
Weighs 20.9 lbs
Panel thickness- 1.5cm
Can bear up to 100lb
---
9. Bestier 95.5″ L-shaped Corner Computer Desk with Storage – Best Home Office Desk for Multiple Monitors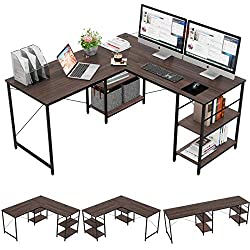 If you need a large home office desk, then there is no better option than this one. This desk is long enough to be used by two people at the same time. The L-shape makes sure that both the persons can work at peace and none of them interrupts the other.
From its length, it is easy to assume that this desk gives you plenty of space to organize your work elements such as computer parts, books, other papers, coffee mugs, and even your favorite plant!
Key Features
Long enough to be used by two people simultaneously
Gives enough space to work smoothly
Sturdy frames and legs
Stylish look
Saves space of your workspace when there are multiple people working
Environment-friendly
The shelves give you more room to keep your necessary items. They are also flexible and you can customize their positions for a maximum neat look.
This desk is made of only natural ingredients. So if you care about the environment, which we all should; then you can use this desk without any worry.
The L-shape gives your workplace a nice look. Since this can be used by two people at a time, no need to buy separate tables; this is the ideal choice for couples or roommates.
Specifications:
Brand name- Bestier
L-shaped desk
Color- Brown
Made of Wood
3 tier shelves
Product Dimensions- 59.45 x 59.45 x 29.13 inches
Weight- 72.6 pounds
---
10. SHW Home Office 48-Inch Lightweight Computer Desk – Best Affordable Home Office Desk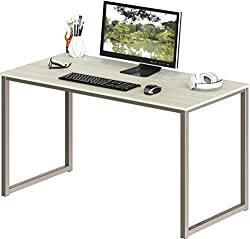 Last but not the least, this computer desk is a perfect companion to your working place. The simple look of it will give a modern look to any room that you keep it in.
This is a multi-purpose desk. You can use it for computers, reading, writing, drawing and even for eating! In fact, you don't have to use it for any work at all if you want! Just keep it in a corner of your room with some plants, a vase, or some books, and watch your room look much elegant than ever!
Key Features
Simple and stylish look
Multi-purpose desk
Strong and good weight-bearing capacity
Easy to install and clean
Doesn't take up much space
This is the best affordable home office desk. The simple design and the affordable price is a heavenly combination.
The steel frame is quite strong and can bear enough weight. It has a beautiful finishing which makes it easy to clean and helps to prevent scratches and stains. The particleboard is friendly to nature.
You can assemble this desk in no time! The instructions are attached with the package and the necessary hardware also comes with the desk. So you will not have to spend even a penny on installing this desk.
Specifications:
Brand name- SHW
Product dimensions- 48″ W x 23.8″ D x 28″ H
Color- Maple
Made of Wood
Furniture Finish- Espresso
Rectangular shaped
---
Read Next: Best Working From Home Office Chair
Things to Consider When Buying Computer Desk for Home Office 
Shape:
There are desks of different shapes- such as classic table shape, L-shape, etc. These shapes give different looks to your room.
Usual table-shaped desks can be used in anywhere your room. L-shaped desks look better on the edges and corners of your home office.
So, you first need to determine where you want to place your desk and then, it will be easy to choose the shape of your desk.
Weight-bearing:
All the desks cannot bear the same amount of weight. The load-bearing capacity depends on the materials of your desk.
If you use a heavy computer and also want to keep books and other things on your desktop, then you will need a desk that can bear much weight. On the other hand, for laptops and light documents, the ones with less capacity will work.
The capacity of computer desks is usually mentioned in their features. Always find it out before purchasing.
Materials:
Desks can be made of different materials, such as wood, metal, and glasses. While wood and metal desks are more sturdy and able to bear much weight, glass desks give a more stylish look to your work-place.
Also, metal or glass desks are more modern than wooden ones. Wooden desks give more of a vintage look to your home office.
Metal desks are usually the easiest to maintain and they also last the longest. These desks don't easily get scratched and look new for a long time.
Wood and glass desks, on the other hand, are easily scratched and might need to be used with extra care.
Size:
While choosing the size, you need to buy the desk with the maximum width that would fit in your home office. Well, you can never have enough space for working, especially if you like multitasking.
Measure the amount of space you can give to your desk and buy it accordingly.
Storage options: 
Desks are not only for working on, but there are also some amazing storage options available with computer desks. You can have shelves or drawers on your computer desk to organize your work things better and give your room a neat look.
There are many shelve options for computer desks- two-tier, three-tier, etc. The number of the layer depends on the number of things you want to store.
Width and room for legs:
If you intend on spending long hours sitting in front of your desk, then you must ensure that your desk provides a healthy posture.
The width has to be spacious enough for you to keep your arms on. There must be enough room under the desk to keep your legs at rest.
So before buying, know the height of the desktop from the ground and choose the one that has enough space to keep your legs comfortable.
You May Read: Best Office Chair Mat for Hardwood Floors
FAQ's About Office Computer Desks
1.Which materials are the best for computer desks?
Glass, wood or metal, all have their own appeal when it comes to computer desks. But the usage of material really depends on your needs and the amount of maintenance you can provide.
Glass desktops are more prone to breaking than the rest two, due to obvious reasons. Metal desks are the sturdiest ones and usually, they are able to take much load.
But if you care more about looks, then glass desks are the finest. They make your room look larger and sophisticated.
So glass desks are best for looks, metal desks are the strongest, and wooden ones are environment-friendly.
2.What is the right size for computer desks?
There is no exact size that is right for everyone. You have to measure the amount of open space you can allot to your computer desk in your work-place. Then, determine how much space you need for organizing and working on your desktop.
Keeping the above-mentioned things in mind, choose the size of your computer desk. The larger, the better.
Conclusion
 Without the right computer desk, your home office will surely lack productivity and a neat look. To complete your workplace, get the best computer desk for your home office.
There are many things to consider before choosing a computer desk and there are also various options available in the market. Choosing the perfect one for you amidst these can be a tough job.
Acknowledging that, we have not only let you know the details of some of the finest computer desks but also put up every important factor that you need to learn before choosing your desk. We sincerely hope that this comes to your help!