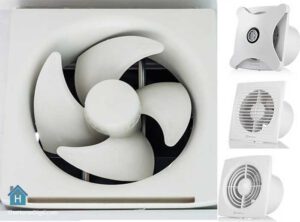 Can you imagine a kitchen without a proper ventilation facility?
All those burning smell of spices, cooking vapor, dump and humid odor on the top the excessive heat– it will be impossible for you to move into that kitchen and work there for hours.
The kitchen is the most important place in the house where all your food is being made. In such a grimy environment, all your food will be contaminated too. It will also create a bad impact on you and your family's health.
That's why it is very important to have the best exhaust fan for kitchen to ensure proper ventilation. This post is all about finding the perfect exhaust fan for your kitchen. Let's bring it home!
Quick Overview of Top 5 Ventilation Fan





Broan-NuTone 512M Through-the-Wall Ventilation Fan White Cover,...
Panasonic FV-30VQ3 WhisperCeiling Ventilation Fan, Quiet Air...
iLiving ILG8SF10V - 10" Wall Mounted Exhaust Fan - Automatic...
Hon&Guan Wall Exhaust Fan, 4 Inch Exhaust Fan Bathroom Wall...
Broan-Nutone L400 High Capacity Ventilator Fan, Commercial...

Broan-NuTone 512M Through-the-Wall Ventilation Fan White Cover,...

Panasonic FV-30VQ3 WhisperCeiling Ventilation Fan, Quiet Air...

iLiving ILG8SF10V - 10" Wall Mounted Exhaust Fan - Automatic...

Hon&Guan Wall Exhaust Fan, 4 Inch Exhaust Fan Bathroom Wall...

Broan-Nutone L400 High Capacity Ventilator Fan, Commercial...
Top 7 Best Exhaust Fans for Kitchen
I think the exhaust fan is the most crucial one among all the kitchen appliances. You need to buy the perfect one for your kitchen. I have exclusively selected the top 7 kitchen exhaust fans for you in the following recommendation list.
List of the Top Kitchen Exhaust Fans
1. Hon&Guan 4″ Window and Wall Mount Exhaust Fan for Kitchen Ventilation
Key Features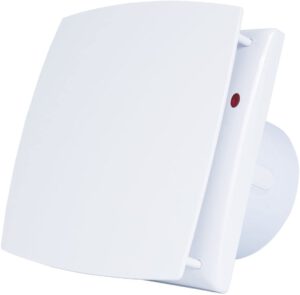 It does not create loud noises. Keeps it quiet within 30db and works efficiently.
No plug design. It can be mounted anywhere attaching the power cord.
Made of durable ABS plastic. It can serve for a long time.
Very powerful motor ensuring an airflow of 55CFM.
When we think of exhaust fans, the first thing to pop up in mind is the loud sound they create. But this fan will change your idea about exhaust fans. The Hon&Guan 4" Home Fan for Kitchen Bathroom Ventilation will give an experience of using exhaust fan without the head wrecking sound. Compared to many other exhaust fans, this device makes very little sound ensuring a peaceful environment for you.
It secured its place on the list of best ceiling exhaust fans for the kitchen because of its sophisticated design. The simple no plug structure is very handy for mounting on the wall or ceiling. It can also be fixed on the window too. Wherever you mount it, it will easily match with your decor and add extra charm to your room.
You can get a long-time service from it. The fan is made of durable ABS plastic and is very easy to maintain. Don't worry about cleaning. You can open the fan any time you want and clean the parts. The waterproof body makes it very handy for cleaning and maintaining.
The fan has a powerful 100% copper coil motor with overheat protection. It ensures an airflow of 55CFM in every usage.
---
2. Broan-Nutone 512M Best Through-the-Wall Exhaust Fan for Kitchen and Bath
Key Features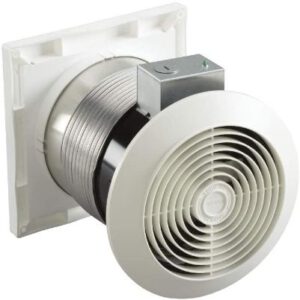 It is through the wall ventilation fan. You can adjust it in a wall within 4.5" to 10" thickness.
A powerful device with an airflow capability of 70CFM with a 6.0 sones rating. You get effective results without much sound.
Polymeric round-shaped grilles that can be painted as per your requirement.
Permanently lubricated motor with thermal protection.
The second pick from Broan-Nutone is a through the wall ventilation fan. It can be mounted on a wall from 4.5" to 10" thickness. So, you can easily fit into your wall within that limit.
A kitchen requires exhaust fans that can move more air out at once to reduce heat and remove odor. This fan can ensure it for you with an airflow capability of 70CFM. With this high airflow, it can remove all the suffocating air from the kitchen giving you a room of fresh air.
It has a powerful motor that is permanently lubricated. You do not have to think about its maintenance at all. Besides its thermal protection makes it highly durable. So, you can use it for a longer time without any technical issues.
Despite such high air removing capability, it scores a 6.0 sones rating. That is, it will give high performance without causing much noise. You can have a quiet and fresh smelling environment both at once.
The fan is constructed of the polymeric blade and two round shaped white grilles. You can change the color of the grilles anytime for matching your home décor. The whole housing is made of 25-gage steel, andthat ensures super strength for delivering service for a long time.
---
3. Hon&Guan 6 Inch Ceiling and Wall Mount Exhaust Fan for Kitchen
Key Features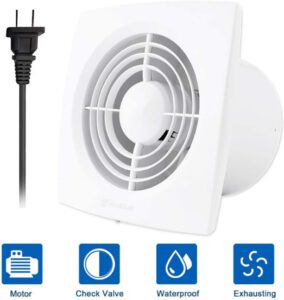 It has an airflow capability of 160CFM. Suitable for any big size kitchen.
A very quiet device with a 0.8 sone sound rating. You can get maximum ventilation in a very quiet environment.
Made of high-quality ABS plastic. It will give service for a long time.
Has a backdraft shutter to prevent bugs from coming into the house.
Another Hon&Guan exhaust fan to rank the top list is the Hon&Guan 6" home ventilation fan. It is bigger than the previous one with an airflow capability of 160CFM. It is a perfect match for a big kitchen.
You can ventilate air from your kitchen within a very short time with this powerful exhaust fan. Whether you use continuously or periodically, it will give you super quality nonstop service. And you can get it without any annoying loud noises. It is a very quiet device having a sound rating of only 0.8 sones.
It is an energy-efficient device even though it works fiercely. It consumes comparatively less power than any other exhaust fan and delivers maximum performance. So, you get the chance of saving both electricity and money.
This device will give you service for a long time once you buy it. It is made of high-quality ABS plastic, and that ensures that it is highly durable. Besides, its waterproof structure with protection class rating of IP34 makes it very handy for maintenance and cleaning.
You do not have to be a pro mechanic to install it. It has a very easy installation process. You can directly mount it on the aeration shaft or the ceiling or even on a wall by self-tapping screws.
---
4. Bionaire Window Fan with Twin 8.5-Inch Reversible Airflow Blades 
Key Features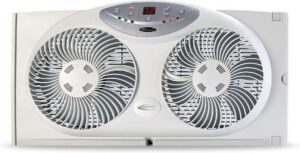 Unique reversible airflow control system for maximum exchange of air.
A smart device with a digital LED thermostat. It can work automatically once instructed.
It can be controlled remotely with the remote control. You do not always have to use the control panel from the fan.
A waterproof device including waterproof motors.
The exhaust fan from Bionaire consists of not one but two fans attached together for ultimate ventilation wherever you place it. The two fans work together for switching the air of the room outside. With its reversible airflow control system, it changes the direction of the blades to ensure efficient circulation.
It will be the perfect choice for you if you have big windows. This fan includes a built-in extender to fit big windows and empty spaces. This exhaust fan has a design completely different than the others. With a LED digital display and twin fan structure, it has a completely different look.
It is a smart device that includes a digital LED thermostat. You set the temperature directly from the control panel on the fan or can control it remotely by the remote control it comes with. Once you set the temperature, it will automatically control the airflow to maintain it. You can also choose from the 3-speed levels for controlling the airflow manually.
The structure of the fan is made of high-quality material. It is often risky to use exhaust fans during heavy rain. But for this waterproof fan with waterproof motors, it will not cause any hindrance for you. You can use it in any weather without any problem.
---
5. Panasonic FV-30VQ3 Ceiling Ventilation Fan – Best Ceiling Exhaust Fan for Kitchen
Key Features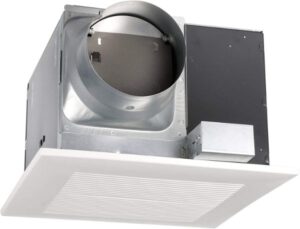 Has an air flowing capability of 290CFM. Best for large kitchen areas.
Whisper ceiling ventilation fan for a low sound rating of 2.0sones compared to its capability.
Energy Star certified device.
Saves money consuming less energy for functioning.
Panasonic is a renowned name in the world of electronic gadgets. Everyone knows about this famous company and its products' quality. They have been in this business for decades and delivering high-quality electronic devices to its customer. You can trust on this company for the standard they have been maintaining for all these years. It is always good to buy from the best.
This FV-30VQ3 exhaust fan from Panasonic is for light commercial use with the competence of 290 CFM. It is for large kitchens that need a ventilation system of greater capability.
You might wonder how bad it will sound judging by its capability. Compared to its capacity, it has only 2.0 sones sound rating. It is said to be a 'whisper ceiling' ventilation fan. By its tag, you can understand how quiet the fan can be.
To ventilate your large kitchen, you need this. But the tension of electric bills might also haunt you. Don't worry. This fan is an Energy Star certified device consuming less energy concerning its capability. It will give you the maximum result consuming less energy.
It will not only save you from high electric bills, but it will also save you from repair costs. As it consumes less energy, it tackles the motor failure issues due to overheating. It ensures a longer service time for you.
---
6. iLiving – 10″ Wall Mounted Exhaust Fan For Home – Best Wall Kitchen Exhaust Fan
Key Features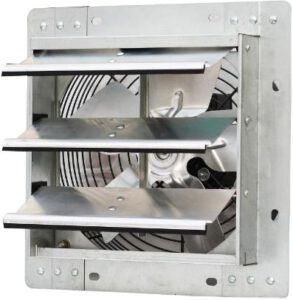 It has an airflow capability of 600CFM.
It can do both ventilate and cool down the designated area.
Made of highly durable material.
Has an automatic shutter is made of weatherproof, heatproof aluminum metal.
The iLiving 10" wall mounted exhaust fan is the biggest among all the mentioned ventilating fans in this recommendation list. It has an airflow capacity of 600 CFM making it feel like a beast among all others. You can judge by the number how much air it can circulate.
It is a vast air circulating device. You can not only use it as a ventilating machine but also can use it as a heat-reducing device. If you have a small home, you can use this fan for cooling down the temperature of your home. It can do both ventilating and cooling for you.
The fan itself is made of highly durable material. The automatic shutter of the fan is constructed of aluminum metal which can bear dump weather and excessive heat. And the most important part, the motor, is fully bounded and thermally guarded. It is made resistant to erosion for swift performance. Every part of the device is constructed thinking about its longevity.
Besides emphasizing on the material and parts of the device, the outlook is also a concern too. You can easily fit it anywhere for its simple and normal design. You will need a very small space to fit it in your designated area.
---
7. Broan-Nutone L400 High Capacity Ceiling / Wall Mount – Best Commercial Exhaust Fan
Key Features

Has an airflow capability of 434CFM. Suitable for a larger kitchen and commercial use.
It has a highly powerful, thermally protected motor. The motor is permanently lubricated for unremitting action.
Flexible for mounting anywhere in any position.
Automatic backdraft dumper. It blocks insects and contaminated air from getting in.
Broan-NUTONE also brought an exhaust fan for commercial use. The L400 is a high capacity ventilator fan of 434 CFM, and it is made for large kitchen areas.
For a spectacular performance, it has 2 impact-resistant centrifugal blower wheels which are generated by 120V powered motor. It has very powerful motors that are permanently lubricated to give uninterrupted performance throughout its lifetime. It can leave you with a perfectly ventilated room no matter how big your kitchen is.
Your kitchen will be free from contaminated air and unwanted insects with the automatic backdraft dampers that this exhaust fan includes. It automatically blocks the air driven out to sweep back into the kitchen.
Besides using it in the kitchen, you can also buy it for other rooms like a large garage, attic, shed, or any other places except the shower or bathroom. It has the flexibility of being used in the wall or ceiling or anywhere you need it. You even have the flexibility of placing it vertically, horizontally and can place it in-line with a separate adapter.
Kitchen Exhaust Fan Buying Guide
I know you want to buy the best kitchen exhaust fan. You need to look for some important aspects while shopping. They will help you find the right exhaust fan for your kitchen. Let's check them out.
Airflow capability
The main feature to analyze while buying an exhaust fan is airflow capability. This capability ensures whether proper ventilation of the room will occur or not.
Air circulation is measured by CFM (cubic feet per minute). Every room has a specific requirement for air circulating, and it depends on the size of the room. First, you need to measure the size of your room. Depending on this size, you need to look for an exhaust fan compatible with your room. Each exhaust fan has its own air circulating capability. You must find the right one in proportion to your room size.
Mounting flexibility
This feature is ignored a lot of times, but honestly, this is a very crucial aspect to consider. Not all exhaust fan has the flexibility of mounting anyway or anywhere you want. Some are very rigid and constrained to how you can fix it.
You might need to mount it through the wall or directly on the ceiling or place it vertically or any other way. If you ignore this aspect, then you might end up buying a fan that you cannot even attach the way you needed it to be. That's why before buying an exhaust fan always look for its mounting options.
Size
Size is an important factor in buying exhaust fans. Your fan must fit the space you selected for it. The fans come in different sizes based on their capabilities. The sizes mostly are given in inches measurement. So, you can take an idea of the size by measuring the area where you want to fix it. Then you can get a fan of an exact size fitting your designated space.
However, many exhaust fans come with extenders for fitting big windows. Normally these extenders remain hidden within the fan. If you have a bigger space, you can use such extenders to fill up the empty spaces on the sides of the fan.
Blades of the Fan
The main part of a fan is its blades. The air is circulated when the blades move at a fast pace. Besides the motor, blades of the fan are important for making an efficient fan.
The main purpose of the exhaust fan is to remove contaminated air from inside as fast as possible and keep the room filled with fresh air. Generally, a good exhaust consists of 4 to 5 blades running at very high speed for giving high-rated performance. Such a fan can eliminate the foul air out quickly and make room for fresh air.
Sound Issues
An exhaust fan can help you get a room full of fresh air but also give you a headache with its loud sound. However, exhaust fan companies nowadays thrive on making fans that function quietly. You will find so many options of good exhaust fans that work most efficiently under a noiseless environment.
The standard for measuring the sound of a functioning fan is called sones. It is a sound rating that is given industrially to all fans. Low sone rating indicates a quieter fan, while high sone rating indicates the fan will be making loud noises.
The sone rating is always given on the properties of the fans. You can easily detect which fan will make what amount of noise with this rating. So, you can find yourself a quieter exhaust fan very easily.
May Read: Benefits Of Having A Dehumidifier At Home
FAQs about Kitchen Exhaust Fan
Q1. Do you need an exhaust fan in the kitchen?
Ans. An exhaust fan is one of the most important appliances required in a kitchen. Due to cooking, the kitchen gets a heavy smell within it. Besides, the heat from the stove increases the temperature of the room making it very hot. It becomes very unpleasant if the air is not circulated. That's why it is very important to have an exhaust fan in a kitchen.
Q2. How do I choose an exhaust fan for my kitchen?
Ans. In order to choose an exhaust fan for your kitchen first you need to measure the size of space. Then determine the cubic footage from the size to calculate the air movement that is required for appropriate ventilation. Air movement is measure in cubic feet per minute. With this measurement, you can determine which exhaust fan will be compatible for ventilating your kitchen.
Q3. Where should a kitchen exhaust fan be placed?
Ans. A kitchen exhaust fan should be placed right above the cooking stove. The air within a room heats up in the convection process. All the hot air rises up when the temperature is increased. That's why the exhaust fan is always placed right above the stove so that it can pull all the heat and odor out of the kitchen.
Q4. When should you use a kitchen exhaust fan?
Ans. While cooking you should use an exhaust fan. When you are cooking the smell of the food disperses all around the kitchen. The smell of so many foods including the heat of the room makes the environment very unpleasant to stay in. An exhaust fan in such situations will pull out all unpleasant smells and heat out of the kitchen leaving you fresh air to cook in.
Q5. Will exhaust fan Reduce heat?
Ans. Yes. An exhaust fan can reduce the heat of the room. The function of an exhaust fan is to pull out all the hot air inside the room and allow fresh air inside. When all the hot air is pulled out the temperature of the room automatically reduces. So, an exhaust fan helps you reduce the heat of the room.
Final Words
Exhaust fans have a very simple mechanism, but do the most significant job in the kitchen. It is very important to maintain fresh air in any room. I think you definitely do not want to get into a room with a filthy smell and heavy air. Grab the best exhaust fan for kitchen and enjoy a healthy environment from now on.
This is Autem Decker. Main Author of 'TheHomeDigs'. You may not find her on the list of top 10 contemporary Canadian interior designers, but everyone who knows her says she was born to be an interior designer.
She makes her plan in her head and draws them in her years-old diary with a note in the corner. The way she plays with color and shape amazes us.
Connect Her On – Twitter