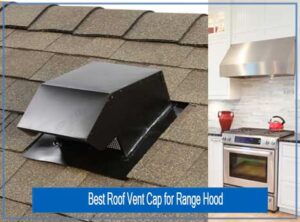 Dealing with grease and dirt build-up inside the ductwork is tiresome. Trust me, you don't want to deal with that often.
And that is what exactly happens when you don't install a proper roof vent cap. Whether it is a Range Hood or bath ventilation fan, the need for an ideal roof vent cap is irreplaceable.
And since the market is filled with dozens of vent caps, it is easy to get distracted and make a mess out of your hard-earned money.
This is why we have put together a list of the 5 best roof vent caps for Range Hoods.
Users seem to be pretty satisfied with these, hoping the same for you!
Which Roof Vent Cap Should I Use for My Range Hood? 
You should definitely go with the Exhaust Goose Neck Roof Vent if you are flexible on budget. It comes with an expensive price tag, but the performance outweighs that. 
What an Ideal Roof Vent Cap Should Offer?
Good air circulation
It should be long-lasting
Must come with a screen for bird and squirrel protection
Should also include a damper
Shouldn't leak water in heavy windy rain
Right?
The Exhaust Goose Neck Roof Vent packs all of them. And that is why it is expensive which is fair.
Top 5 Best Roof Vent Cap for Range Hood Reviews
It is hard to scan through dozens of roof vents caps to pick the ideal ones, and still, we did it. Just to give you a narrower option.
From features to drawbacks, we didn't leave anything inside the bush. Going through the reviews should be enough to help you decide which roof vent cap you want.
1. Broan-NuTone 634M Steel Roof Cap For Range Hoods and Bath Ventilation Fans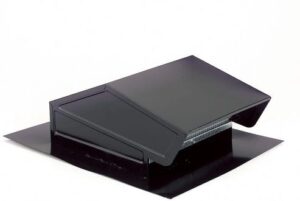 Presenting the Broan NuTone 634M Steel roof cap, usable as both bath ventilation fan and kitchen hood roof vent cap. Comes with a good design — maintains an ideal air circulation.
Constructed with 24-gauge CRCQ steel and has a black electrically-bonded epoxy finish which ensures that this cap lasts long enough.
The installation process is very easy, anyone with a little experience can get it done in no time. It features a screen that keeps away birds, squirrels, and other insects out of the ductwork.
Key Features
Compatible with 6-inch round duct collars
Includes a built-in backdraft damper
Features bird and squirrel screen
Heavy-duty CRCA steel construction
Electrically-bonded epoxy finish
Suitable for Range Hoods, bath ventilation, and LoSone Fans
Drawback
In high winds, it can't keep water out
Verdict 
If you are looking for a 6 inch roof vent cap for Range Hood, give Broan-NuTone 634M Steel Roof Cap a go. It is durable and comes at a reasonable price as well.
---
2. Builder's Best 084633 Galvanized Steel Roof Vent Cap with Removable Screen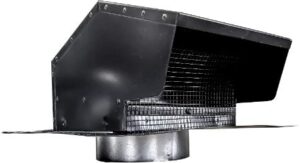 Who needs a 4-inch round collar roof vent? Here is one for you, the Builder's best 084635 roof vent cap.
The manufacturer has used 26-gauge Galvanized steel in the construction along with a high-performance polyester finish for optimum durability.
The best part of this roof vent cap is it comes with ASTM B117 certification for anti-corrosive properties. Not a lot of vent caps offer this.
Features pre-drilled hole, which makes installation super easy. With the vent, you get a flapper for backdraft protection. You also get a screen for bird and squirrel protection which is removable.
Key Features
Corrosion-resistant roof vent cap
26 gauge galvanized steel constructed
Comes with a removable screen
Effortless installation
Includes a flapper
Highly durable
Compatible with 4-inch round collar
Drawbacks
Flimsy bird screen
Leaks a bit in heavy rain
Verdict 
Overall a good roof vent cap. You can use glue or a screw to tighten the bird screen. And if you are worried about the water leak, in heavy windy rain, most of the roof caps leak water.
---
3. Exhaust Goose Neck Roof Vent – 8 Inch Roof Vent Cap for Ventilation Systems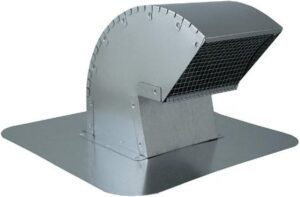 Need a good 8 inch roof vent cap for Range Hood? Well, we have the Exhuast Goose Neck Roof Vent for you. This one isn't superior only in size, the performance it offers is quite impressive as well.
It is a 28 gauge steel galvanized roof vent, a pretty durable one. Like others, it also comes with a flapper for backdraft protection and a bird screen. Unfortunately, the bird screen isn't removable, but that shouldn't be a major issue.
Can be used in both Range Hoods and bathroom vents. But it is not compatible with tile or concrete roofs.
Key Features
28-gauge galvanized steel construction
Compatible with 8-inch collar
Includes damper and bird screen
Easy to install
Long-lasting roof vent
Comes in different sizes
Drawback
Few users have found this one to be a little expensive
Verdict
Don't let the price intimidate you, as long as you get the right quality. This Exhaust Goose Neck Roof Vent got a heavy-duty construction, and it looks promising.
---
4. Rooftop Exhaust Vent Cap with Damper for Bathroom and Kitchen Venting Systems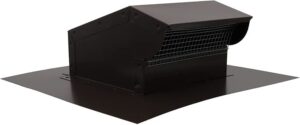 The Rooftop Exhaust 10 inch roof vent for Range Hood is the most expensive unit on the list. But the price surely reflects on its performance. Constructed with heavy gauge steel and has a black powder coating for a longer lifespan.
It is a well-designed vent cap, ensures good air circulation. Even in heavy windy rain, there is very little chance of water leak.
And it features dampers for backdraft protection and a screen for protection from bird/squirrels.
Comes with pre-drilled holes so that you can easily install it.
Key Features
Highly durable roof vent cap
Available in various sizes
Features flapper and bird screen
Pre-drilled holes make installation easy
Ensures good air circulation
Drawbacks
Verdict 
If quality is what matters the most to you, then you shouldn't hesitate to invest in this Rooftop Exhaust Vent Cap. It is strong, long-lasting, maintains good airflow, and doesn't leak water, what else do you need?
---
5. Broan-NuTone RVK1A Roof Vent Kit for Range Hood and Ventilation Fans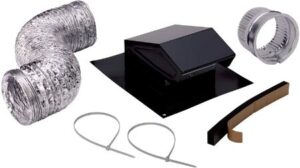 Are you on a tight budget? Then you don't want to miss out on this Broan RVK1A Roof Vent Kit buddy! It may not be the best Range Hood roof vent kit, but it simply is one of the bests you will find at such a low price.
As the name suggests, it is a complete roof vent cap kit that includes 4-inch 2-ply metallic laminate ducting and a duct connector of the same size along with a reducer from 4 to 3-inches.
This vent cape also includes the usual damper and bird screen. Now the most important thing, it isn't compatible with flat roofs and dryer venting.
Key Features
Comes with a duct, duct connector, zip ties, and reducer
Features damper and bird screen
Includes required items for installation
Easy to install
Comes at an extremely affordable price
Have a low-profile design
Drawback
Comes with only 2 nail holes
Verdict 
The Broan RVK1A Roof Vent Kit is an excellent unit for the price. You get most of the features that high-end roof vent caps offer. The only major drawback is it comes with 2 nail holes, but you can drill two more whenever you want. So overall, a great roof vent cap for the money.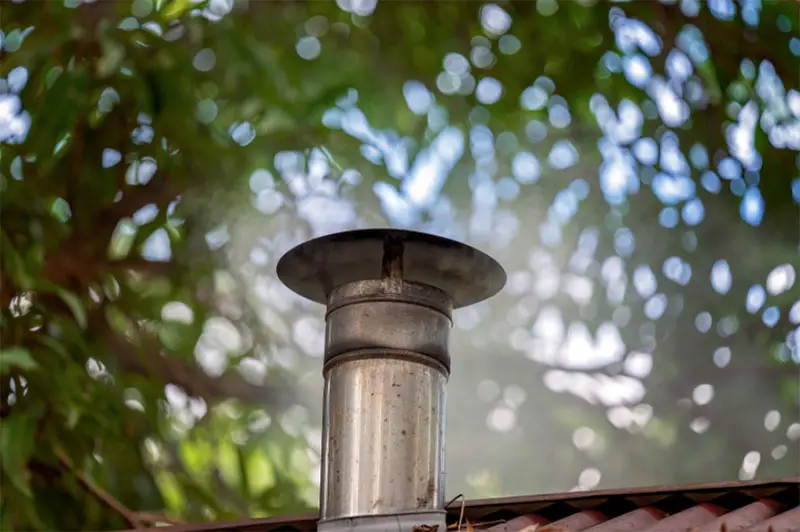 Frequently Asked Questions 
1. What type of duct is best for venting a Range Hood?
There are a few kinds of ducts, but the best one is the Rigid one. Compared to other ducts, rigid duct requires very little or no maintenance at all. On top of that, installing a Rigid duct is way too easy. Plus, they are pretty durable as well.
2. Can a Range Hood be vented through the ceiling?
Yes, Range Hood can be vented through the ceiling if you want. You have only two options when it comes to venting, either you vent through the wall or the ceiling! Choose the one you are most comfortable with.
3. Can you use a PVC duct for the cooker hood?
Yes! PCV duct can be used for cooker hood. Not only that, it can be used for bathroom ventilation as well.
4. Can I use a rectangular duct for the Range Hood?
Most of the ducts now are round-shaped. But if you are using an old hood exhaust system that is compatible with rectangular ducts, then you can.
5. Is Aluminum ducting better than plastic?
If you are using a heat-resistant aluminum duct, then it is better than plastic.
Conclusion 
The reviews include everything a user needs to know, and it should be enough to help you choose the best roof vent cap for the range hood. If, for any reason, you are still struggling to choose one for you, hit us through the comment section.
Will be happy to help!
This is Autem Decker. Main Author of 'TheHomeDigs'. You may not find her on the list of top 10 contemporary Canadian interior designers, but everyone who knows her says she was born to be an interior designer.
She makes her plan in her head and draws them in her years-old diary with a note in the corner. The way she plays with color and shape amazes us.
Connect Her On – Twitter