Technology truly has come a long way. When we consider that statement, we tend to think first of the Internet, smartphones, and iPad.
But what about the less perceptible changes to technology that we use in our daily lives? Even something as simple as turning on a faucet has today evolved into thoughtless actions that require almost no effort on our part.
You guessed right. I'm talking about touchless kitchen faucets.
They are such handy inventions that you might not even stop to consider how life-altering they can be.
That's why, in this article, I'm going to give you a rundown on the best touchless kitchen faucets on the market today.
What Is A Touchless Kitchen Faucet?
As the name suggests, a touchless kitchen faucet does not need to be physically touched to be activated. To understand it better, first, let's consider what a touch faucet is.
About a decade ago, the first touch faucet was introduced; instead of having to turn a knob, all you had to do was brush your hand against the faucet to get it to start. Amazing, right?
What can be more amazing than that? A faucet that only requires you to be physically close to it, of course.
Imagine if your arms are burdened with a pile of dirty dishes that immediately need to be rinsed. All you have to do is place the dishes under the spout of a touchless faucet, and water will come rushing forth.
I know, it sounds like downright sorcery. Technology is the new black… magic.
The reason why these amazing creations fit best into your kitchen is pretty simple. Your kitchen is probably the messiest, most time-consuming room of your house. Something as simple as a touchless faucet can make your time in there so much easier.
So, without further ado, I present to you my list of the best touchless kitchen faucets.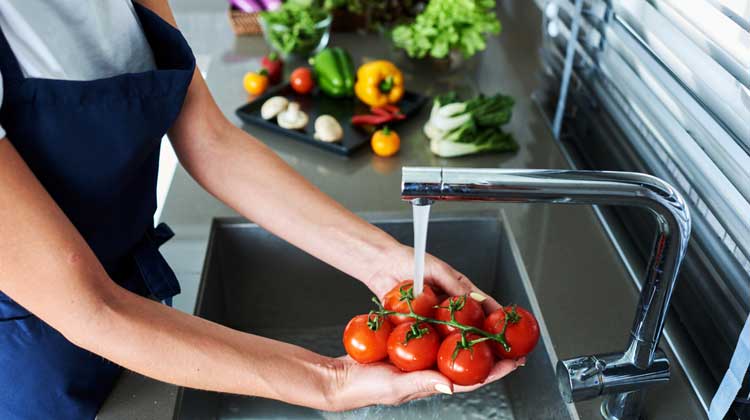 Best Touchless Kitchen Faucets Reviews
To find the right one out of all the options available on the market is no easy task. You need help. And that's what I'm gonna provide you with. In this section, I'm going to share some of the top-products that I believe are best in the market.
1. Moen 7594ESRS Arbor with Motionsense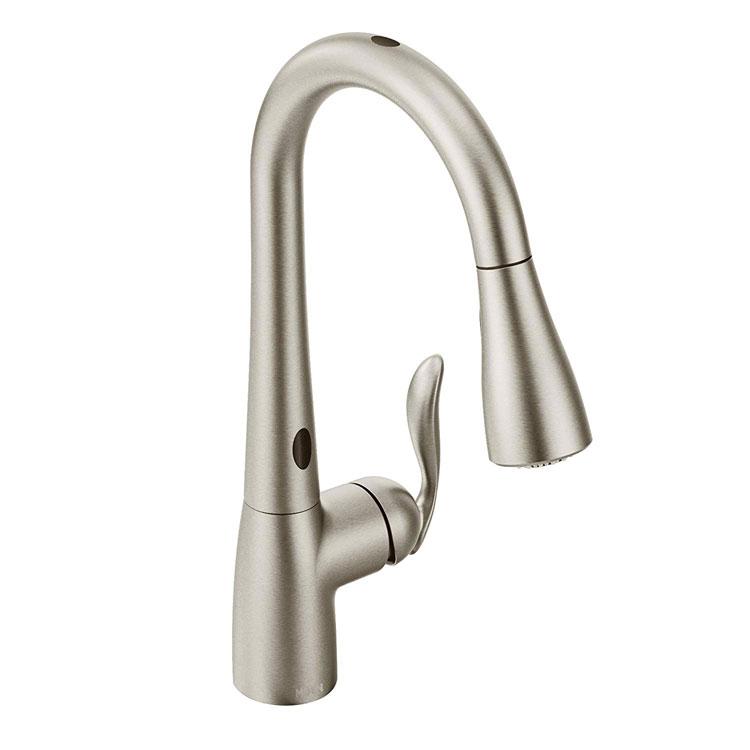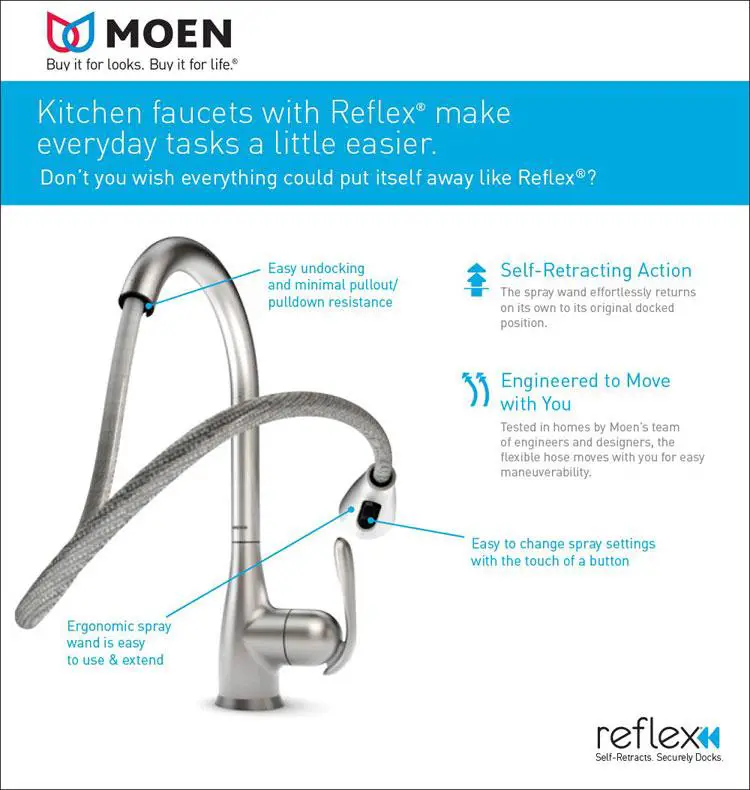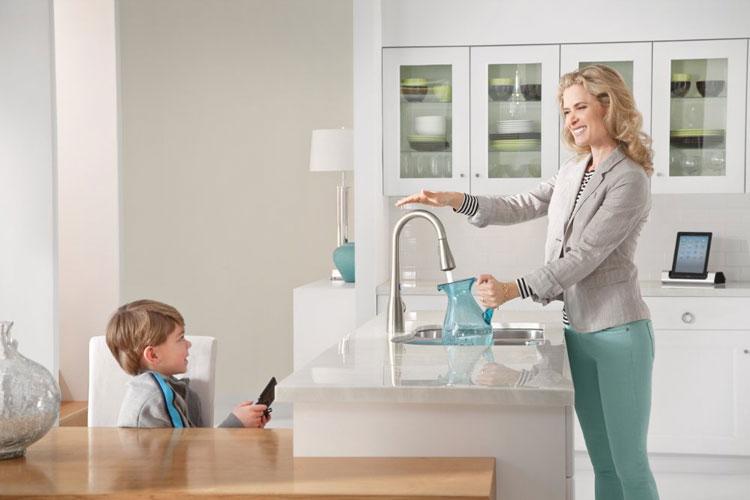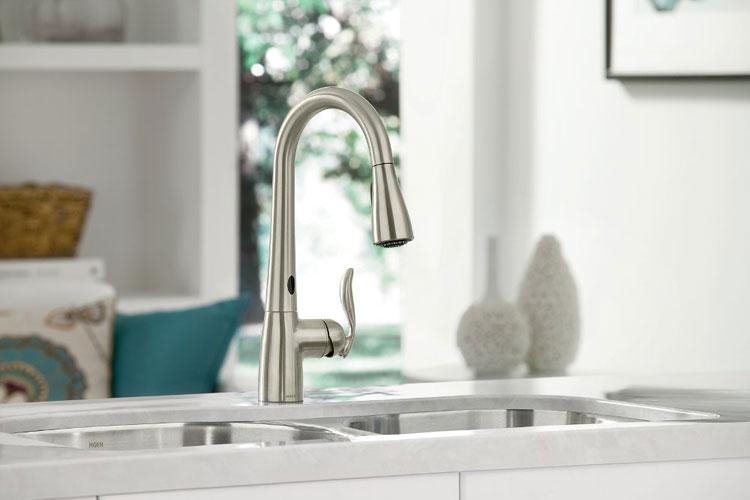 Without a doubt, the most important thing about a touchless kitchen faucet has to do with its motion sensor. It is the ultimate decider of whether a touchless faucet will serve you well.
Well, the manufacturers of this particular one, Moen, pride themselves on the motion sensor they have created for their faucets.
According to them, the "MotionSense" installed in their faucets is activated based on very simple hand movements. Not only speed, but efficiency will be yours to enjoy with this faucet.
Let's look at some specs. The entire unit measures in at a length of 26.5 inches, with a width of 14.25 inches and 4.25-inch height. It is made from stainless steel, which will resist stains.
And how does it look? This product features a spout with a high arc with a flared handle that is bound to complete the theme you've chosen to decorate your kitchen. This is made better by the fact that there is only a single hole mount.
The product also comes outfitted with Moen's Reflex System, which makes use of the 68-inch long hose for easy maneuvering. After you're done, the hose will automatically withdraw to its position and insert itself smoothly.
What's more, Moen's Duralock Installation System quickly and securely connects water lines, making installation a walk in the park.
Pros
A single hole mount creates the cleanest look against custom countertops
Comes with a handle to allow you to operate the faucet manually
Can be installed within 45 minutes without tools
Comes in matte black, chrome, stainless steel or oil-rubbed bronze
Cons
Small-screened filters might get clogged easily
Removing filters is not an option if you want clean water
Might drip after use because of the high-arc shape
2. KOHLER K-72218-VS Sensate Touchless Kitchen Faucet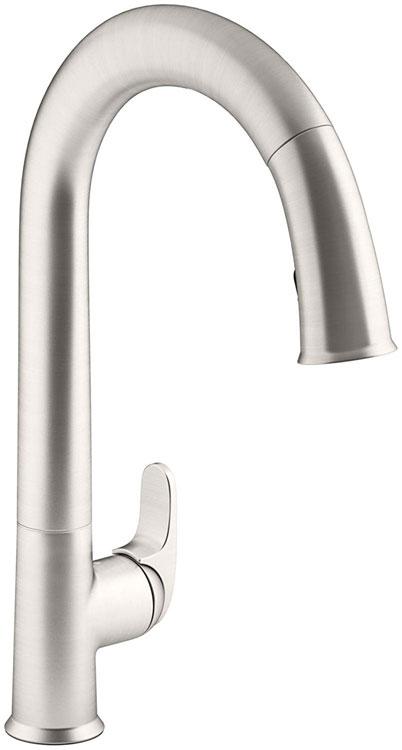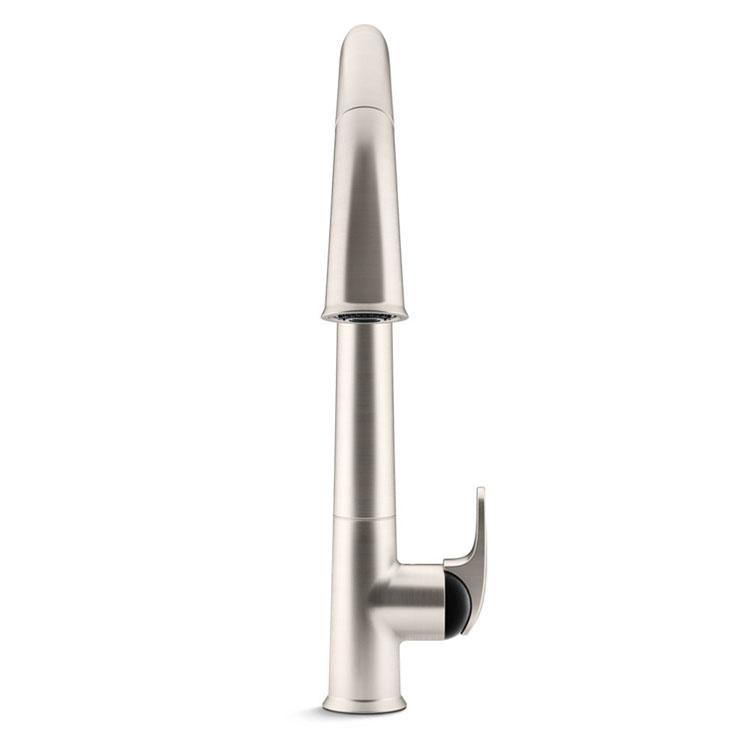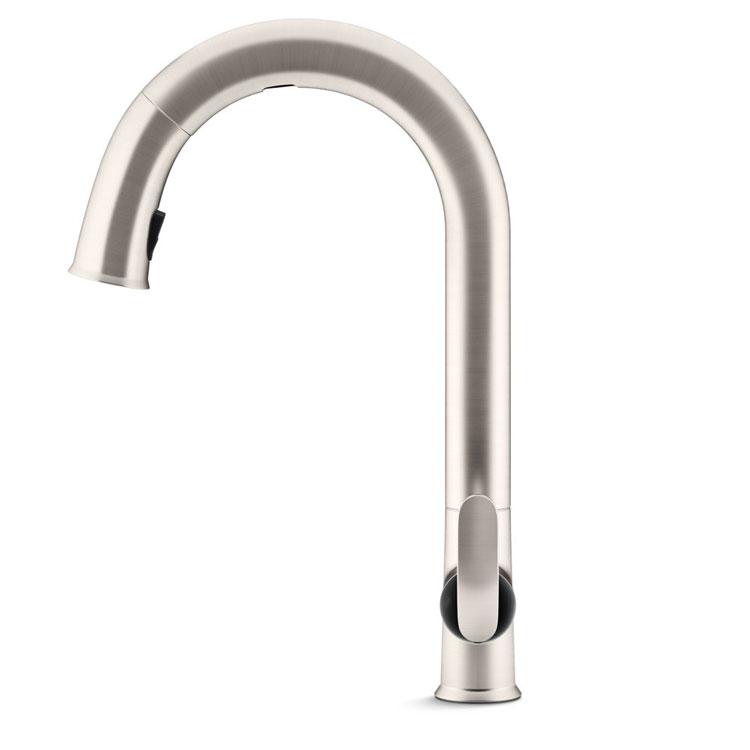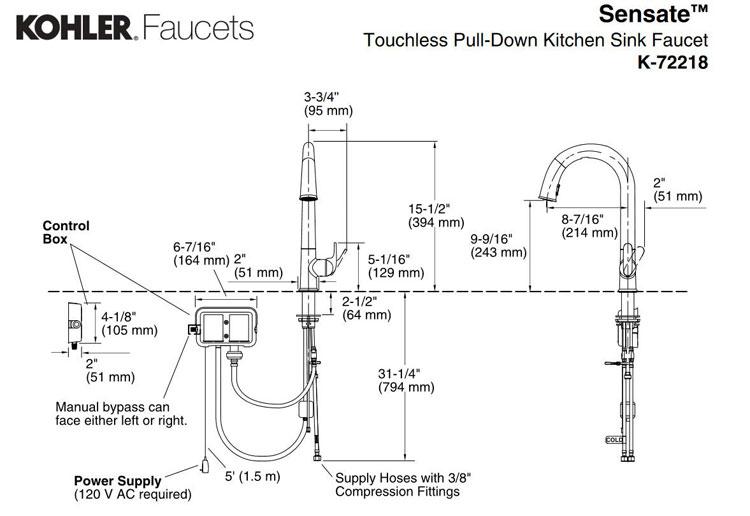 Kohler recognizes that precision is key, and that is reflected in this faucet that they have created.
This faucet uses trademarked motion sensing technology called the Sensate Intuitive Response to get the job done. Place a dish, utensil or your hand under the faucet to get it started.
What truly makes this faucet great, though, is undoubtedly its sensor. It has the ability to respond to stimuli in 20 milliseconds. The technology used in this faucet is not only intuitive, but it's also cautious.
The faucet also features Kohler's renowned trademarked docking system, called DockNetik. It works by securing the spray head by way of magnetic force. The spray head can be switched between spray and stream.
Furthermore, the hose, which is made from braided nylon, reduces the possibility of tangles. The joint is a swiveling ball, which ensures smooth operation with little effort.
Kohler also prides themselves on having created a faucet that reduces any chance of cross-contamination. It features an automatic shut-off system that will make cleaning up easier for you.
Not only does this faucet perform flawlessly, but it also looks great. It comes with a little black bonnet that makes the faucet appear as natural a part of your kitchen as its counter. It also has a stylish LED light near the base that glows when the motion sensor is activated.
Pros
The activation area is located in a strategic manner
The adjustable handle can be used to change the water temperature
Does not require batteries to run
Can be cleaned easily with only a wet cloth
Valves are made from durable ceramic
Cons
The flow at the low end cannot be controlled beyond medium
The high flow might not be sufficient
The fineness of the spray might cause splashing due to the small nozzle
3. BadiJum Touchless Kitchen Faucet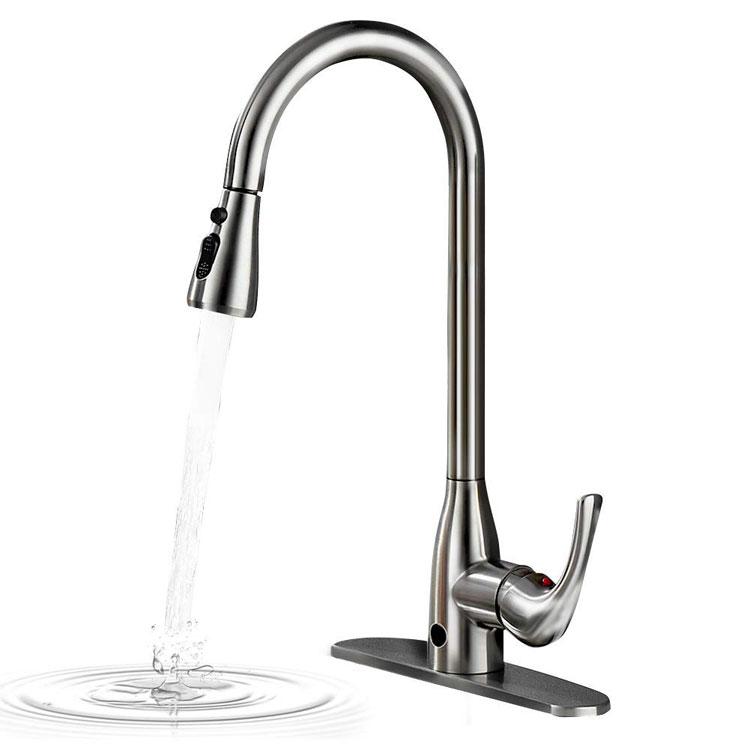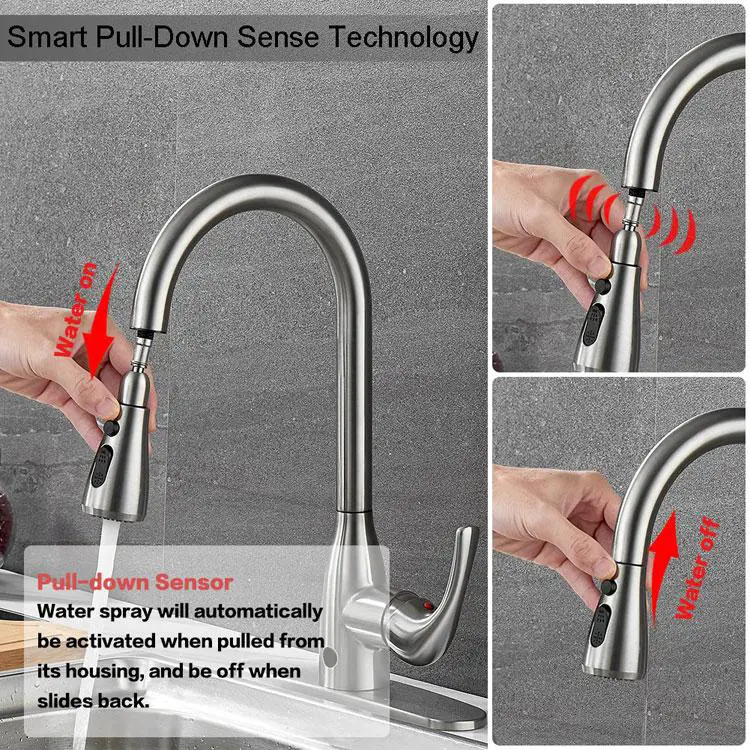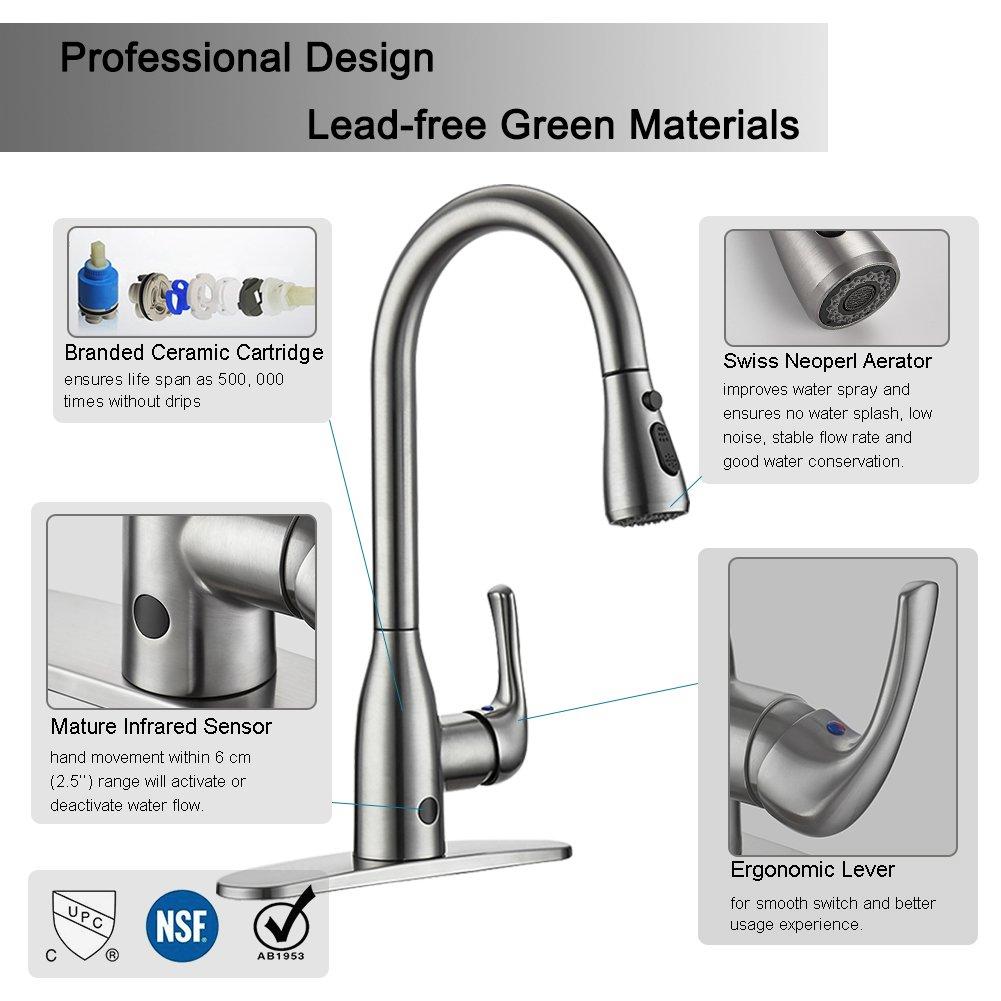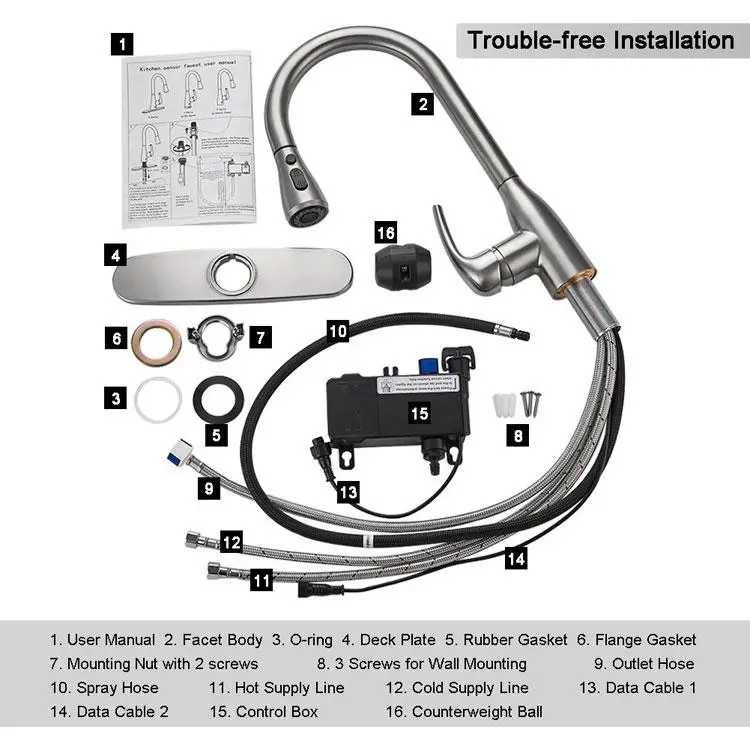 If you are looking for a high performing touchless kitchen faucet but are also on a budget, this is the right product for you. It costs about half of what a brand with an easily recognizable name will take from you.
But don't be fooled by the price tag. This faucet is packed with all the features you need, and even a few you didn't think you needed.
To begin with, let's talk about the spray head of this faucet. It has three spray patterns, so you can change the flow according to your individual needs.
Whether you need to clean the vegetables for dinner or deal with the pile of dirty dishes in your sink, the flow can be switched between gentle aerated and a more powerful rinse.
The round button on the side of the product was designed specifically to facilitate instant pausing, which lowers the possibility of water residue being left where you don't want it.
The faucet also integrates what the manufactures call Inject Technology, which enables a more powerful spray while simultaneously saving about half of the water you use. That means not only saving time but also water.
For the price, this faucet also looks great. The spout is arched with a high curve, which is bound to fit in perfectly with your kitchen, no matter how you've chosen to decorate it.
Pros
Highly affordable compared to existing brands
Made for a lifetime—can be operated 500,000 times
Small, waterproof control box that saves space
Patented design prevents leakage
Brush-nickel PVD finish makes the faucet easy to keep clean
Lead-free
Cons
Requires batteries to run
Not suitable for counters with over 45mm thickness
4. Moen 7185ESRS Brantford Kitchen Faucet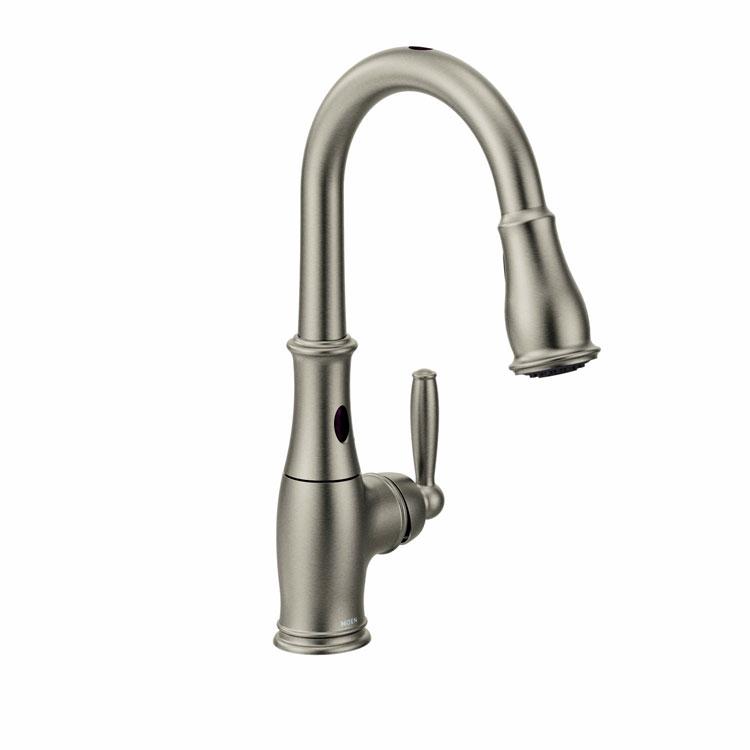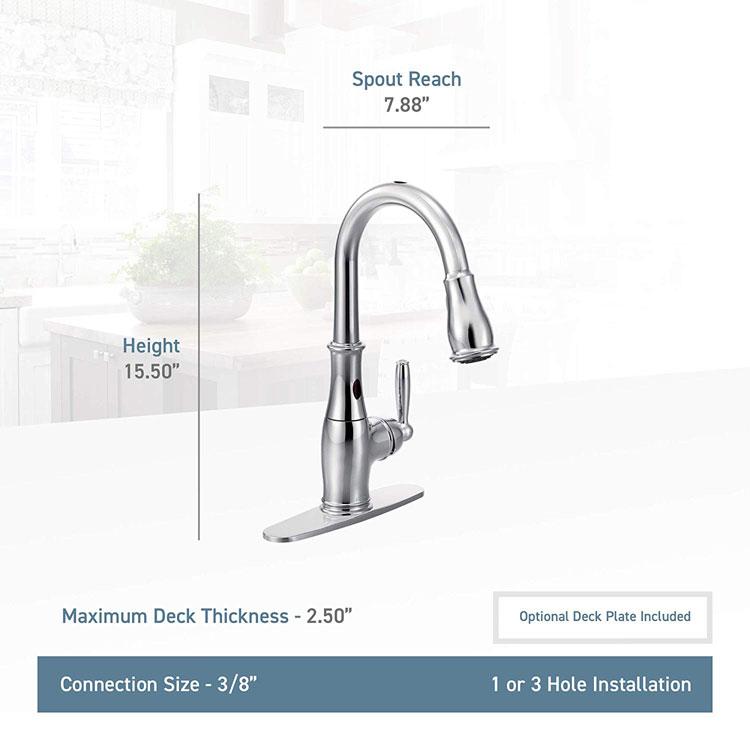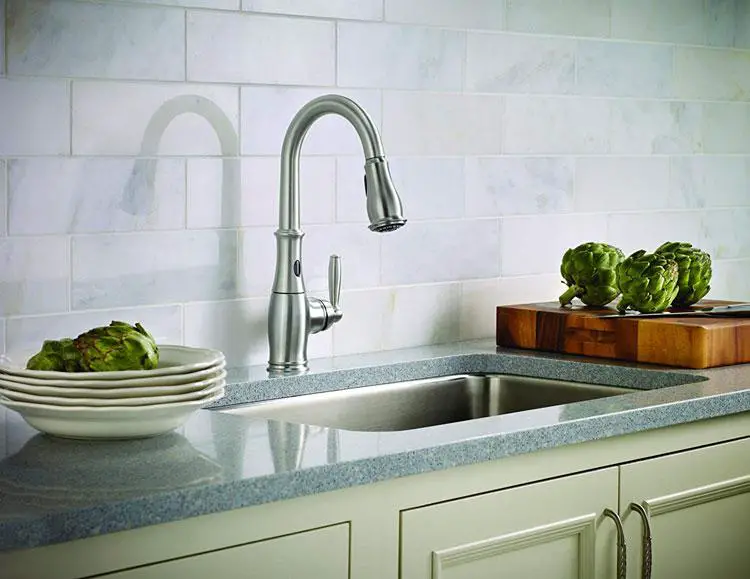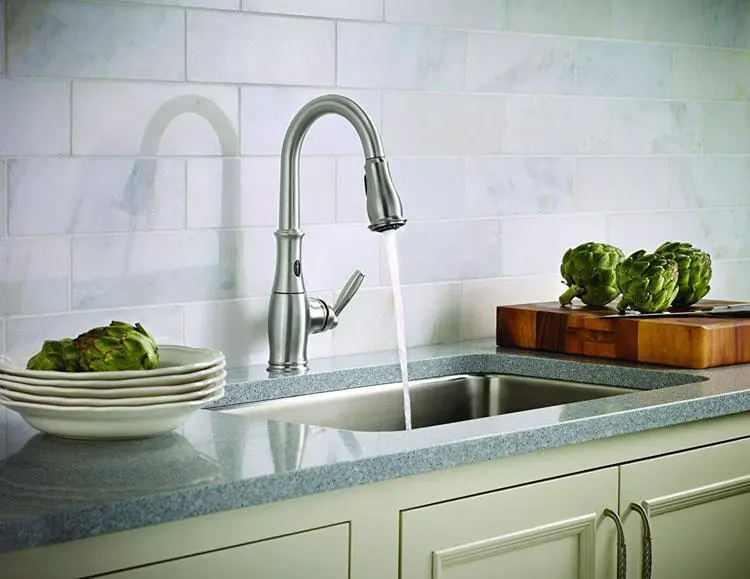 Moen, once again, makes good on their promise of providing you with the best motion-sensor experience to be found on the market. Not only does it respond quickly, but it's also intuitive enough to understand exactly when it needs to shut off.
What makes this faucet worth having, though? According to the manufacturers, it's the fact that this product incorporates their renowned MotionSense technology into their traditional Brantford faucets.
So, if you're looking for a faucet that will fit smoothly into a more traditionally styled kitchen, this is the one for you.
This product also comes with a pull-down wand with a hose that can retract itself. This increases overall convenience and flexibility in a way that sets this particular faucet apart from others currently available on the market.
Like most other faucets produced by this manufacturer, this one also comes complete with Moen's renowned Reflex and Power Boost.
How about some specs, then?
Most users love the 68-inch long hose that comes with this faucet because it creates endless possibilities of saving time and effort. No need to be confined to your sink counter any longer. The hose is also capable of automatically returning to its position, which means less hassle for you.
Pros
Uses double sensors for MotionSense activation
Duralock Quick-Connect makes installation easy
Installation does not require tools
Cons
Height might be too great for older kitchen spaces
The placement of the manual handle makes it susceptible to becoming dirty.
5. BadiJum Touchless Kitchen Faucet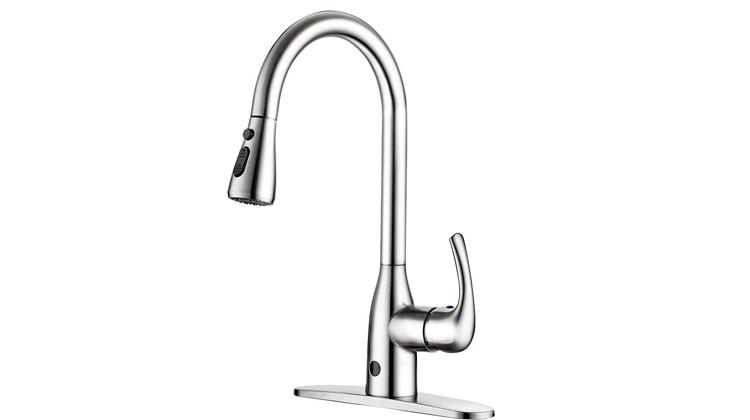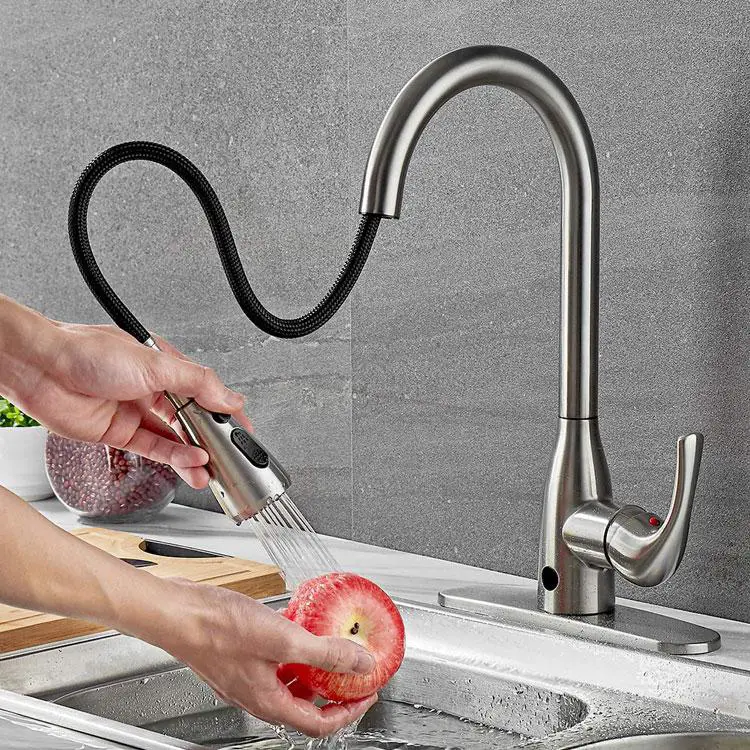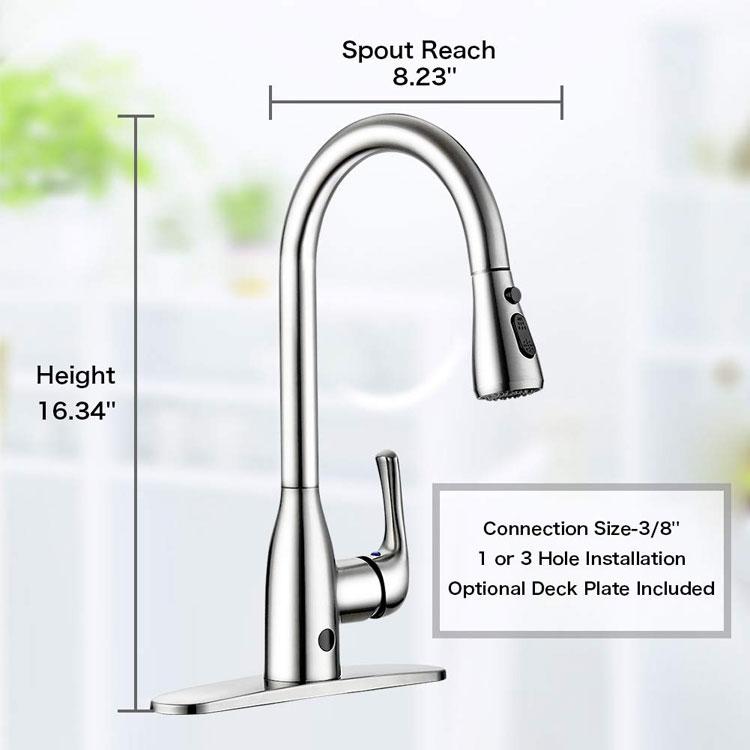 As we have already established, BadiJum is your go-to option if you're on a budget for your faucet. Not only do they offer products at half of the price you can expect from name brands, but they also do it well. You won't be missing much with this purchase.
So, what's so great about badiJum faucets?
The motion sensing technology that badiJum uses in this faucet is the trademarked Smart Dual-Mode Sensor Technology. Beyond just being activated or deactivated by your hand waves, it does the same when you pull back the spray head. Hence, dual mode!
What that means for you is that you don't have to reach near the sensor every single time when you want to turn the faucet on or off. What's more, the water flow shuts off automatically if three minutes have passed after you forgot to turn it off yourself.
What a world of convenience, and at a great value too!
As for the sensor itself, all you need to do is wave your hand/kitchen utensil within a 2.5-inch range near the red light will that mark the sensor.
Something you may be surprised by is that many name brand faucets aren't actually certified. Despite its low price, however, badiJum kitchen faucets have a number of certifications in the United States.
Pros
Extremely easy to install
The spray head has three operation modes
Features a 3-minute safety timer
Dual structure design
Made from lead-free materials
Cons
The waterline connection may leak
The water flow may not be adequate for some users
The Benefits of  Using Touchless Kitchen Faucet
Even after you've finished reading the reviews of the best touchless kitchen faucets on the market, you may still be wondering why they're important.
You're right. How do you benefit from investing in a touchless kitchen faucet? Let's find out.
Increased Hygiene
The kitchen is probably the messiest room in the house, right? So much goes on in there. You get your hands messy, and sometimes it seems you don't even have enough hands.
Having to turn a faucet every time you need to clean your hands is just an icky business if you have dirty hands. Plus, it also gets the faucets themselves dirty. When you have a faucet that responds to only to proximity, imagine how much cleaner you'll be!
Touchless kitchen faucets are also super easy to keep clean. Because you're not constantly touching it unlike touch faucets, you don't have to worry about cleaning it as frequently. But when you do, you can clean most kinds of faucets with only mild soap and a damp cloth.
Better Time Management and Efficiency
There's so much maneuvering and shifting around in a busy kitchen, especially if you're moving ingredients or working with several kitchen utensils at once.
A touchless kitchen faucet streamlines your kitchen experience. With your hands full, the convenience of not having to twist your kitchen faucets can be a huge relief, and help you run operations much more smoothly.
In short, a touchless kitchen faucet greatly increases efficiency and saves you much time in the long run.
No More Leaking Faucets
Another huge benefit is the elimination of leaky and dripping faucets. Especially when you're in a rush to get things done, it can be a blessing to be able to avoid wasting water.
Look Great
Finally, let's not forget how smart and elegant they look. The appeal of any kitchen is livened up by the sight of the stylish and elegant curved spout of a touchless kitchen faucet, usually with an LED base light glowing to indicate when it's ready to go.
Buying Guide
Kitchen faucets that come alive at only a touch have been in the scene for over a decade now. Since then, whoever it is that's in charge of faucet technology, has not been idle. Choosing what kind of faucet works best for you depends on a variety of factors, which I will discuss below.
Power Source
There are two kinds of power sources that a touchless kitchen faucet uses: either A/C power or batteries. Which one you go for depends on convenience and cost.
Although most people opt for electrical faucets, in the long run, that can add somewhat to your electricity bills. Batteries, on the other hand, need to be replaced, but usually, last between two and five years.
Price
Undoubtedly, the price range of touchless kitchen faucets is quite large. At the same time, however, it's really not. It really comes down to whether you think of these technological wonders as lifetime investments or something a bit more temporary, just to try out.
As we have seen, many faucets in the low range are available that will offer the same functionality as more expensive models. If you're on a budget, they might seem like a good option, but usually, don't guarantee more than three years of operation.
Which means you will inevitably have to replace it after that time period. When you do, though, maybe you can invest in a more durable one.
Availability of Manual Handle
Although you'd be hard-pressed to find a touchless kitchen faucet that doesn't also come with a manual handle, it is possible. When looking at your options, you really want to steer clear of those faucets that don't offer this extra bit of functionality.
For obvious reasons, you can't be fully dependent on a constant supply of electricity, wherever you may live. Especially if your faucet runs on batteries, it has every chance of failing on you. That's when you'll be needing a manual handle to go about your tasks uninterrupted.
Hose or Non-Hose Option
Now, this one might seem like a no-brainer. "Why wouldn't I want a touchless faucet that also comes with a hose?", you may ask. And you're right, why wouldn't you?
The answer is: because you might not have a kitchen that requires it. Yes, of course, it seems much more convenient to purchase one that comes with a hose, but first consider if that's really something your kitchen needs.
Especially if it's a small kitchen in which you usually cook meals for small groups of people, a hose will only bring limited functionality to your tasks. Given that faucets with hoses are a bit higher priced, you might consider why that's important, especially if you're looking to make a smart investment.
Height
This might not seem like a very important consideration, but it's in fact of utmost importance to select a touchless faucet that fits in with the existing specifications of your kitchen.
For older kitchens especially, the common curved arch to be seen in most touchless faucets can create the issue of splashing. Because the water comes down from such a height, its distance from the base of your sink can prove to be a nuisance.
So, before you settle on a faucet for your kitchen, make sure you have the right measurements, such as the depth of your sink or the thickness of the sink counter.
Flow Type Modes
Not all touchless kitchen faucets have the same kinds of operational abilities. While most faucets will allow you to regulate the temperature and flow, this is not a given with low-range models.
However, whether you need those functions is a matter of your own individual kitchen needs. Maybe you don't do much in your kitchen beyond cleaning ingredients or dishes. In that case, you won't require a wide range of operational abilities from your faucet.
If, however, you have a larger kitchen with more functions and tasks you get done in it, you'd be better off looking into faucets that offer more modes of function. There are usually spray, flow and jet capabilities.
Installation Capabilities
While some faucets are much easier to install than others due to their special installation components, they might also require you to have some prior experience in plumbing or handyman work.
Of course, it's always better to enlist the help of a professional, but as you already know, that will probably cost you extra. With faucets that have more "smart" capabilities and come with extra appendages and features, though, you probably can't do it alone.
Frequently Asked Questions
How do touchless kitchen faucets work?
By using sensors which are usually built into the spout. They do this by measuring your body's capacitance, or natural electricity. An increase in capacitance turnes the faucet on.
What is the best brand of kitchen faucets?
Currently, Moen is the most well-renowned brand of kitchen faucet manufacturers. They have held this position for quite a while and continue to compete with more easily recognizable name brands.
What is the best touchless kitchen faucet?
It's difficult to point towards one and say that's the best. Because it depends on a lot of things and personal preferences. However, if you were to ask my opinion, I would give my vote for my first recommendation.
Do touchless faucets need electricity?
Yes; while some run on A/C power, while others use batteries. Your kitchen type will dictate which kind of power source will be best for you.
Final Word
Home improvement options can be difficult to choose from. A touchless kitchen faucet, though, would definitely benefit you.
Hopefully, my best touchless kitchen faucets review will help you decide which one is best for you. Good luck!
You may Also like: Remove kitchen faucet except basin wrench