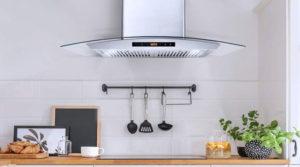 Cooking is a word with warm, homely connotations. It's one of the most enjoyable activities one can do for oneself or one's family.
However, the more you cook, the more upkeep that is required for your kitchen to stay clean. Grease, oil, and steam can build up over time, accumulating in sticky grime that can be a hassle to manage.
Choosing the best wall mount range hood for your kitchen can make all the difference in this regard.
The purpose of a range hood is to collect the various kinds of smoke and steam that are produced as a result of cooking over an open stove. It can prevent particles from gathering on your kitchen surfaces. Consequently, you get a cleaner space, and cooking odors are confined to the kitchen.
So today, we're looking at some of the best range hoods on the market and sharing a comprehensive buying guide.
Top Wall Mounted Kitchen Hoods at a Glance:
Top 10 Best Wall Mount Range Hoods
Without further ado, let's get into our top picks of the best wall mount range hoods. We've put in considerable time and research into this list, so rest assured that you're in good hands!
1. Cosmo 63175S 30-inch Wall-Mount Range Hood – Ducted / Ductless

Constructed from durable 430-grade, 20-gauge brushed stainless steel, this ducted range hood from Cosmo is equipped with a number of amazing features that are bound to make you stop and stare.
Measuring in at 30 or 36 inches (according to your needs), this range hood is built for durability with its brushed stainless steel construction. And with its European-influenced design, it is bound to fit into any kitchen's architecture, no matter the aesthetic.
But what good would all of that be without performance to match? On that front, Cosmo definitely has you covered: this range hood offers a staggering 380 CFM of airflow speed, meaning all your worries of grime build-up will now be a thing of the past.
Key Benefits
Features an exhaust fan with 3-speed settings
Comes with LED lighting for increased visibility
Offers a staggering 380 CFM of airflow to remove smells and odor
Extremely easy to install using all included hardware
Conveniently controlled using a touch panel on the body of the hood
The two permanent filters included with this thing are both built from stainless steel, which makes them dishwasher-safe. You can depend on these filters to effortlessly trap any and all cooking grease and oil. However, undoubtedly the best thing about the filters is that, because they are from Cosmo's ArcFlow line, they don't need to be replaced. Just remember to clean them every 6 to 12 months.
Oh, did we mention the LED lights? They provide convenient illumination to allow you to clearly see the food you're cooking. And don't worry; they're built to last; you won't have to replace them any time soon.
On the whole, there's very little about this range hood we don't love; that being said, we do think that it might be a little too noisy for some. Still, that's a small price to pay for such a high-performing range hood!
---
2. Cosmo 63190 36-inch Wall-Mount Range Hood – Ducted / Ductless

Also available from Cosmo, this range hood has a lot of the same features. With its 380 CFM capacity, permanent filter, and high-performing exhaust fan, you're going to love reading about this range hood just as much as the last one.
We love this thing's contemporary design; it's quite straightforward as far as ducted range hoods go, but its brushed stainless-steel body undoubtedly has a unique appeal that makes it perfect for the majority of kitchens.
Key Benefits
Included filters are super easy to clean; completely dishwasher-safe
Features convenient and energy-saving LED lights for higher visibility
The 36-inch body ensures that your kitchen is filtered easily and quickly
430-grade, 20-gauge thickness stainless steel gives the hood a beautiful aesthetic appeal
Compatible with separately purchased carbon filter kit for ductless operation
The manufacturers say that the included Arc Flow filters are "permanent," what does that imply? Well, it basically means that, because of their stainless-steel construction, these filters will never need to be replaced. As long as you remember to clean them every 6 to 12 months, you'll be good to go; and doing so is as easy as popping them in the dishwasher or simply wiping down with warm water and soap.
We're also undoubtedly a fan of the 2-watt LED lights that are included with this thing. Not only do they provide illumination to allow you to see better while cooking, but they can also do so for a very long time.
One of the best features Cosmo have equipped this range hood with is the option of ductless operation: should you choose to enable it, purchasing an additional carbon filter kit will allow you to do so. This allows for air recirculation without the need for a vent.
---
3. Hauslane Chef Series Range Hood WM-600 – Stainless Steel and Tempered Glass

This next one from Hauslane is a beauty, and that's why we love it. You may think us shallow, but when you hear about how it performs, you'll forgive us for being obsessed with its looks.
Constructed from tempered glass and stainless steel, this range hood is going to add a touch of class to any kitchen you place it in. Especially with its European design, it's going to fit beautifully in your kitchen.
Key Benefits
Perfectly suited to high-ceilinged kitchens, but available in a ductless variation for smaller kitchens
Offers simple push-button controls that make operation a jiffy
3-speed settings give you greater control over the range hood's operations
Staggering 720 CFM air flow speed ensures efficient and quick cleaning
This range hood works using baffle filters, which means it's able to clean out your kitchen air in a jiffy, effectively trapping grease, smoke, and fumes. And because they're made from stainless steel, cleaning them is also a walk in the park: simply wipe down with warm water and soap.
All of that being said, the exhaust fan definitely steals the show. The 720 CFM airflow ensures that the air in your kitchen will be purified shortly after you turn the exhaust on, and with the option of 3 different speed settings, you get to decide how quickly you want that to happen.
We also greatly appreciate the simple control panel. Touch panels, despite their convenience, are sometimes prone to wearing out faster. Straightforward push buttons, on the other hand, promise to stay operational for much longer.
And of course, this range hood is convertible to a ductless configuration in case your kitchen is too small to take the ducted version. The carbon filters required for the job are high-functioning, making air recirculation an easy, breezy task.
---
4. Cosmo COS-668AS750 – Ductless Convertible Duct Wall Mount Range Hood

We're back with another Cosmo ducted range hood, and this one is meant for less heavy-duty operations. With a 380 CFM capacity and glass visor, there's much about this range hood to love, and we're excited to tell you all about it.
Equipped with premium-quality, exclusive stainless steel Arc Flow filters that are dishwasher safe, this range hood is also convertible to a ductless configuration with the installation of carbon filters.
For the ducted version, while the filters do all the work of exhaust, the glass visor extends the space, further limiting pesky fumes from escaping.
Key Benefits
Fully convertible to a ductless configuration using separately purchased carbon filters
380 CFM rating makes this an ideal choice for small to medium kitchens
Beautiful stainless steel and glass construction gives it aesthetic value
Comes with backlit touch controls and energy-efficient lighting
Filters are completely dishwasher safe for easy and swift cleaning
The body of the range hood is easily cleaned as well using only soap and water
And thanks to the 3-speed motor included with this thing, this range hood ensures all cooking odors are quickly neutralized. That being said, it's worth remembering that this range hood has a lower CFM rating than the other ones we've covered so far. Accordingly, if you have a heavy-duty kitchen where a lot of cooking goes on, you might want to consider a higher-performing hood.
However, that doesn't mean this thing doesn't perform beautifully. Just like the other Cosmo range hoods we've reviewed so far, this one also comes equipped with LED lights that not only illuminate your cooking space but are durable and energy-efficient.
All around, a durable and reliable range hood that will serve you for many years to come.
---
5. Proline PLJW 129.36 Professional- Quietest Wall Mount Range Hood

This ducted range hood from Proline comes with an unbelievable maximum CFM rating of 900, which is a good indication of why the product has "Professional" in its name. Furthermore, if you're looking for ultra-quiet range hoods, then you'll probably have to look no further than this one.
Equipped with two high-functioning baffle filters constructed from stainless steel, you can tell right away that this range hood is designed for a high-functioning kitchen. Plus, thanks to the pre-installed blower and fan, the range hood is super easy to install.
Key Benefits
Available in 30, 36 and 42-inch size configurations
Maximum 900 CFM rating makes it suitable for heavy-duty, high-performing kitchens
Comes with 3 different speed settings to suit the needs of any kitchen
Beautiful brushed stainless steel body makes it a perfect addition to any kitchen's aesthetic
Features 2 LED lights for increased visibility at any time of the day
Able to operate quietly at all three-speed settings
The body of the range hood itself is also quite easy to clean, thanks to its brushed stainless-steel body. As long as you brought a sponge or dishcloth, and some hot soapy water with you, cleaning this thing up will be super easy.
Now, while this thing definitely performs beautifully, it's true that it's priced somewhat expensively. Some users also report low-performing LED lights, although that seems to be a manufacturing flaw rather than a design flaw.
Be warned: another disadvantage of buying this range hood is that it's not convertible to a ductless version. Sure, that might be a deal-breaker for some; then again, if you have adequate space in your kitchen, we don't really see an issue!
---
6. Winflo New 30″ Stainless Steel Wall Mount Range Hood with Baffle Filters

Range hoods are fancy-looking things, aren't they? Put one in your kitchen and it starts looking like a restaurant kitchen. And to be sure, the appliance made waves when it was first invented.
Despite that, some brands like Winflo have made this smart little chimney accessible for everyone by charging lower prices without compromising on quality. This range hood, with its stainless-steel construction and centrifugal motor, comes equipped with a host of great features.
Offering 3 different speed settings, the push button control panel included with this range hood is easy to navigate and simple in its operation. Use them to manipulate the fan or switch the LED lights on or off.
Key Benefits
Stainless steel construction ensures durability
Operates at very low levels of sound; about 65 decibels
Comes with an adjustable chimney for easier customization
Can be wall-mounted
The 2 mesh filters are dishwasher-safe and removable for your convenience
Oh, yeah, the LED lights. They offer a bright soft white glow and are built to be energy saving.
Furthermore, they stay cool even when they're on, so you don't have to worry about your hand accidentally brushing against them while cooking.
The filters on this thing are made of aluminum mesh, and designed to be dishwasher-safe; so, you can bet that they're going to be a breeze to clean. Removing and replacing them is also a task you can complete seamlessly.
Not all of us need a wind-blast in our faces every time we turn on the range hood. If that sounds like you, you'll appreciate the lower CFM on this thing—350! That makes this range hood ideal for smaller and medium-sized kitchens, or for those of you who don't use the kitchen a whole lot.
---
7. Proline PLJW 109 4 Speed Super Quiet Wall Mount/Undercabinet Range Hood

There is a common misconception that ductless range hoods are unable to perform as well as ducted ones. Sure, ducts enhance the performance and stability of a range hood; but whether a ductless one will be able to perform as well really depends on the manufacturer.
Which is why we've chosen Proline for this one. With a maximum CFM rating of 1000, this thing has 4 different speed settings that you can enable according to the specific needs of the situation.
Key Benefits
Designed to work as either a wall mount or under cabinet hood
High-functioning with a maximum CFM rating of 1000 despite being ductless
Included baffle filters are constructed from durable stainless steel
Filters are super easy to clean; dishwasher-safe
Available in 6 different sizes from 30 to 60 inches
Comes with 2 heat lamp sockets on top of 2 bright LED lights
Easy to use, understated control panel with push buttons
Beautiful brushed stainless steel body will be a great addition to any kitchen
The stainless steel baffle filters do a wonderful job of recirculating out the grimy air of your kitchen at any speed rating.
And the range hood can do all of this without creating a storm of noise in your kitchen. At its highest speed setting, it only creates up to 60 decibels of noise, a true mark of a well-maintained kitchen. this range hood can be installed as wall mounted or under cabinet as well.
We also love the understated control panel; positioned just below the rim of the hood, the push buttons are easy to operate without obstructing your cooking space. Furthermore, the included LED lights, of course, are a staple of any self-respecting range hood. But what really stands out are the 2 included heat lamp sockets which will undoubtedly do wonders for your cooking procedure.
---
8. Proline PLJW 120 Industrial-Grade Quietest Wall Mount/Undercabinet Range Hood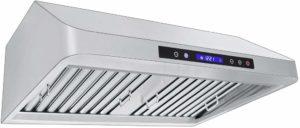 For this next wall mount range hood selection, we've once again chosen Proline. Equipped with a powerful blower offering up to 900 CFM of air flow, this range hood can easily be classified as being industrial-strength.
And Proline knows not all kitchens are the same size; accordingly, they've made this beauty available in 4 different size specifications.
This Wall Mount/under-cabinet range hood is outfitted with 2 baffle filters constructed from premium quality stainless steel that are easily removable and super-easy to clean; just throw them in the dishwasher!
Key Benefits
Designed to work as either a wall mount or under cabinet hood
Comes with a back-lit control panel featuring push buttons for straightforward controls
Stainless steel baffle filters are dishwasher safe
Includes beautiful and functional LED lights for your convenience
Comes with fan and blower already installed; setting it up is a walk in the park
Lowest speed setting of 385 CFM and highest of 900 CFM
And because the product comes already assembled with its fan and blower, installing it is as easy as 1-2-3. Proline really has prioritized your convenience on this thing, and it definitely shows.
The time-delayed touch controls on this thing definitely also deserve mention. Situated on a backlit control panel that is easy to navigate, controlling the 6 different speed settings of this thing is a breeze.
We love the smooth LED display as well; it definitely adds aesthetic value on top of the beautiful brushed stainless steel body of the range hood.
It's true that this is not the most affordable range hood. However, given its streamlined design, industrial-grade performance features, and low-maintenance usability, we think it's definitely a worthwhile investment. After all, when it comes to kitchen appliances, they're usually only as good as their price tag!
---
9. Cosmo COS-668WRCS75 Pro-Style Tempered Glass – Ducted Wall Mount Range Hood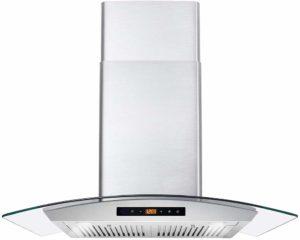 Yep, we're back with another Cosmo range hood! With a maximum air flow of 380 CFM and a high-functioning filtration system, this range hood also comes in an elegant European-inspired design that will seamlessly blend into your kitchen.
With its 30-inch stainless steel body, this thing is perfect for less active kitchens. The exhaust vent, constructed from tempered glass, only adds to the range hood's overall performance by trapping errant smoke and fumes. And for when you're having a less heavy-duty cooking day, you can manipulate the exhaust fan speed to 3 different settings.
Key Benefits
Features Arc Flow permanent filters for easy maintenance and high performance
Its contemporary European design adds class to any kitchen it's installed in
The brushed stainless steel construction makes it easy to clean and maintain
Included LED lights allow for greater visibility while cooking
Purchase includes an instruction manual and all necessary installation hardware
We love that this thing is so easy to clean, by the way. You can effortlessly clean the body of the hood's duct with warm, soapy water, and when it's time to clean the filters, just take them out and put them in the dishwasher.
There's nothing better than a thoughtful manufacturer, and that's why we love Cosmo. Included with your purchase will not only be instruction manuals to help you set up your range hood, but also all necessary installation hardware implements.
Now, some users complain about the fact that the clock on the LED display can only display military time. However, that seems to be a pretty small price to pay for such a great range hood at such an unbelievable price. Besides, it's not that difficult to teach yourself how to read military time, you know?
---
10. EKON –
4 Speeds

 Convertible

Wall Mount Range Hood, Touch Control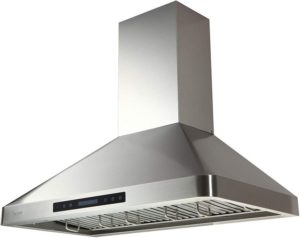 We're ending our list of reviews with this highly-rated, high-performing wall mount range hood from Ekon. If you remember them from earlier, then you'll know to expect great things from this one as well.
Available in 2 size specifications, this hood has a lot to offer. The high-efficiency motor can produce up to 900 CFM of airflow, which can be manipulated with the 4 different speed settings. It also comes with an adjustable timer (up to 9 minutes), which only enhances convenience.
Key Benefits
Ducted/Ductless Convertible
Super quiet function – produces only 65 decibels of sound while operating
Constructed from durable and sturdy 19-gauge stainless steel
Touch LCD control panel allows for effortless and convenient control
Outfitted with 3 low-maintenance, permanent stainless steel filters
Comes with an adjustable timer for added control and convenience
Available in 2 different size specifications; built to suit every kitchen
Now let's talk about the filtration system. It's made up of 3 permanent stainless steel filters which are super easy to clean, use warm soapy water and a sponge, or simply place them in the dishwasher. Either way, you can bank on these things to keep capturing smoke and grease for a long time.
You will be able to control this range hood using the super convenient touch-controlled LCD display panel; otherwise, you can make use of the remote control. Furthermore, the 2 added LED lights ensure higher visibility during cooking.
And of course, it's a beautiful little thing. No matter the style of your kitchen architecture or how you've decorated it, this thing is bound to make a great addition. Overall, this range hood definitely has our hearts with its wonderful features and affordable pricing.
---
Best Range Hood Brands
Let's face it: kitchen appliances aren't cheap. And for those of us who are concerned about getting value for money, it seems silly to choose anything other than the best brands. So which brand of range hood is best?
Well, there are a few. So here are the brands we think are most worth your money.
Cosmo
This is a brand whose name you will have seen repeated quite a few times in our review list, for which there is a good reason. Based in California, their mission is to provide implements for your dream luxury kitchen without burning a hole in your wallet.
Cosmo particularly specializes in manufacturing stainless steel appliances. If you have a look at their catalog, you'll see a beautiful harmony of aesthetics and functionality.
Although they haven't been operating for a very long time, their products are certainly making waves in the market. So if you're looking for high-quality kitchen appliances on a small budget, you might want to give these guys a chance.
Hauslane
Despite having been around for just a little over 15 years in the market, Hauslane is a name that has come to be easily recognizable in the market for kitchen appliances.
With user-friendly, yet modern and aesthetically pleasing designs, coupled with its characteristic top-notch customer service, it's easy to see why this San Francisco-based brand has so quickly earned a name for itself.
Why we love this brand has a lot to do with their approach to how they design and manufacture their products. With an emphasis on simplicity and comfort, they nevertheless don't compromise on style and durability.
Proline
Located in Utah, Proline is a company that, despite its low age, is committed to bringing you the absolute best in range hoods. They emphasize not only functionality, comfort and safety, but also beauty; this is reflected in their products.
Proline is all about enhancing your kitchen experience. They believe that the kitchen is the most important room in the house, and it definitely shows in how they design and manufacture their products.
Proline range hoods are definitely a little more on the expensive side, especially in comparison to the other range hoods we've reviewed, but we think their products are definitely worth a try.
What to Look for Before Buying Wall Mount Range Hood

The market for kitchen appliances is large and varying, and the same is true for range hoods. Not only are there several different types, but the quality and performance of each can also differ vastly from the last.
No worries—beyond just reviewing the top-rated range hoods, we've also put together this comprehensive buying guide to allow you to make a more informed decision.
Type
The very first thing you need to know before making your decision pertains to the different kinds of wall-mounted range hoods that exist. Each type has different benefits and drawbacks, so read carefully.
These are the most easily recognizable range hoods, and you will have seen them in several home and commercial kitchen ranges.
Ducted range hoods are connected to a duct using pipes which direct airborne particles away from the kitchen and outdoors. The "duct" basically resembles a long column, and it hangs above the hood and sucks up all the smoke, steam and fumes that are produced while cooking.
Because they are so large, ducted range hoods require the receiving kitchen to have some design specifications. In fact, it's usually required to eliminate existing cabinets to make space for the duct. If your kitchen is relatively smaller, you may have to skip out on a ducted range hood.
Even though ducted hoods are mainly intended for commercial kitchens, they can add a world of convenience to your home kitchen. Furthermore, they definitely have some level of aesthetic appeal. All this means that you're probably gonna have to shell out a little extra than if you choose a different kind of hood range.
Also called recirculating range hoods, ductless range hoods work without using a ventilation process. This means that they don't need to vent the air out to outside your home, which eliminates the need for a duct.
Instead, ductless range hoods work by sucking in the air of the kitchen, filtering it, and recirculating it back into the kitchen. The filter usually contains activated charcoal/carbon, which works to remove the smoke and odor particles from the air before reintroducing it back into the kitchen.
If you purchase a recirculating range hood, then you'll usually have to change the filter up to twice a year. Sometimes, cleaning it is enough; either way, there is some level of upkeep involved if you want to keep your range hood working properly.
This is the most common option for those who are unwilling or unable to invest in a ducted range hood. It is much more compact because it is mounted directly underneath a cabinet above your stove.
So how does an under-cabinet range hood work to provide ventilation to your kitchen? The "duct" mechanism of such a range hood is placed in the back of the hood inside an exterior wall or positioned inside the cabinet.
Of course, such a range hood will lessen the cabinet space available to you, but because of its relatively simplistic design, it's a good match for most kinds of kitchens. Furthermore, installation is far easier; you are less likely to require professional help.
If your kitchen range is one that is placed on an island or not against a wall, then the right fit for you might be an island or ceiling mounted hood. This kind of range hood is good for handling excessive steam and smoke production.
This kind of range hood has a unique aesthetic appeal as it is placed in the center of your kitchen. They come in a variety of materials such as copper, ceramic, and glass, each of which can add a different vibe to your kitchen.
Downdraft Ventilation Hood
This isn't exactly a kind of range hood; however, as a cheaper alternative, it understandably has some appeal. It's installed inside cooking space, near the stove, where it emerges from the back of the range.
This is a great option for kitchens with limited space and goes well with stoves that are on an island or against a wall. Because they are small and inconspicuous, downdraft ventilation hoods go well with most kitchen types.
Filter
This is probably the next most important consideration, as it is a crucial part of the venting process. A range hood uses a mesh or baffle filter to trap grease; while both are effective, mesh filters are cheaper, and baffle filters are easier to clean.
Both kinds of filters are typically made from aluminum or stainless steel, which makes them dishwasher-safe. Nevertheless, for best results, it's always a better idea to wash by hand.
As discussed above, ductless range hoods make use of activated carbon/charcoal filters to clean out your kitchen's air. These filters must be cleaned every 6 months or so; alternatively, they should be replaced.
Capacity
This refers to the range hood's suction capacity, which is usually a measurement of the speed of the airflow. The unit of measurement is cubic feet per minute (CFM). The higher the CFM rating of the range hood, the better equipped it is to handle the smoke and odors of cooking.
So what is the ideal CFM rating? This depends on a combination of the stove's surface measurement, the amount of heat it produces, and the size of your kitchen. Now, the heating capacity of your cooking surface is usually measured in BTU – British Thermal Units. When it comes to range hoods, you should aim to have 1 CFM of venting power for every 100 BTU of your stove.
If you don't use your range very frequently, then you can get away with purchasing a range hood having a CFM rating of 300 to 350 CFM. For heavier-duty kitchens, however, at least 450 CFM is recommended.
Coverage
Range hoods are available in a variety of sizes, typically ranging from 24 to 42 inches. It goes without saying that your range hood should be as big as your range.
However, if you have a bigger space, then it's always a good idea to opt for a size bigger. This is particularly true for island-mount hoods, which can't depend on a wall that will limit air distribution.
Additional Considerations
Here are some additional considerations:
Range hoods play an important role in limiting unwanted fumes and smell in your kitchen. This is a task that makes some range hoods quite noisy.
However, that doesn't mean that the noise level and performance are directly proportional. Some of the quietest wall mount range hoodson the market are also the highest-performing ones. To that effect, look out for range hoods that advertise having noise cancellation technology integrated into them if you don't want to deal with the noise created by a range hood.
What's even better than a wall-mounted range hood? One that allows you to adjust the fan speed, of course. You should especially look for a hood with adjustable fan speed if you do a lot of cooking for prolonged time periods.
Some wall mount range hoods come outfitted with lights. This allows for higher visibility while cooking, which can be a huge help for some. Typically, hoods will incorporate LED, fluorescent, and incandescent lights.
---
Frequently Asked Questions about Kitchen Hoods
1. What is the best range hood type?
There are several kinds; the right one depends on your needs and circumstances. Ducted hoods require lots of space, while others don't need as much. The budget is also a consideration – look at our buying guide for further details.
2. What is CFM and why do I need to consider it?
CFM stands for cubic feet per minute; it is a measurement of the airflow speed your range hood is capable of. The higher the CFM, the higher the capacity of your range hood to filter out food particles.
3. How does a wall mount range hood work?
While ducted hoods direct the air away from your kitchen and outside your home, ductless ones generally work using a filtering system that uses activated carbon/charcoal to clean out the air of your kitchen.
4. What size range hood should I buy?
Generally, the hood should be as big as your range. If you have adequate space, however, you should aim to get a range hood bigger than your actual range.
5. Are wall mount range hoods noisy?
They can be; however, many newer models are integrated with noise-canceling technology. These will usually cost you more, but it's a worthwhile investment for many.
Final Words
When it comes down to it, many products could fit the title of the best wall mount range hood. That said, we're definitely a big fan of the convertible Cosmo 63190; it has all the features we look for in a good range hood.
If you have a smaller kitchen to which a ductless hood would be better suited, though, we'd definitely recommend Winflo New 30″ Convertible Stainless Steel Range Hood; it's high-performing, yet affordably priced.
Whichever one you choose, we hope that the air in your kitchen is always clean and fresh. Good luck!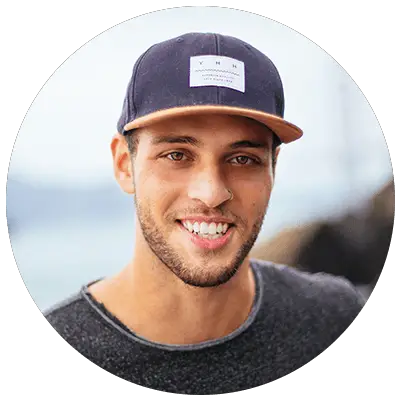 Hi, this is Mathew Halsall. For the past 5 years, I've been working as an electrician and mechanic. In California, I own my electronics appliance repair shop. I'll be sharing many tips, tutorials, and reviews with the help of my years-long experience here. Stay Tuned!