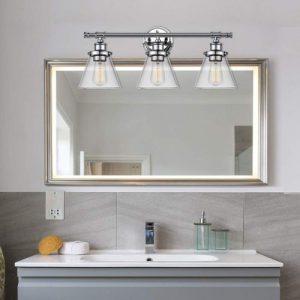 Getting a bit overwhelmed while choosing the right vanity lighting for your bathroom is alright. It happens a lot to people who have less idea regarding lightings and bathroom deco. The same type of lighting won't work similarly for tub area, shower and of course, vanity.
However, they do need to combinedly make the bathroom look sleek, stylish and cohesive.
To pick the Perfect lighting for bathroom vanity, you should opt for, we need to talk about some other points as well. That's exactly what we'll be doing today.
General Idea About Vanity Lighting
A vanity lighting setup in bathroom means to install suitable light over the bathroom sink. It could be on one side of the mirror or above that. There could be a vanity cabinet surrounding the sink as well. And also, the installation of a mirror could be either against wall or simply as a medicine cabinet's part. The lighting, however, should remain similar.
To illuminate the space, some areas might need more than just solely depending on an overhead light. And that's when vanity lighting comes in play since it works both as general and task lighting.
Factors to Choose Perfect Lighting for Bathroom Vanity
Finding the Perfect Lighting for Bathroom Vanity isn't the same case as general ones. Ensuring finest illumination possible for an area where we groom and make our style statements is without being said the most important thing to many. And so, it's always good to have a complete guideline instead of short ideas. I'm going to provide you with that hopefully….
The Right Color Temperature for Vanity Lighting
The first thing to think about for vanity lighting is color temperature. It is usually measured with kelvins. Warm and yellowish color tones fall under the scale of 2500-23000 kelvins. More than 5k kelvin lighting fixtures refer to white and bright color tones. There is various vanity lighting fixture that utilizes both warm and white color temperature.
If you need the vanity lighting for serious tasking, then white color temperature scheme works best. For other nonspecific needs, you can choose warmer tones. These are okay for areas that don't need many activities to go around.
Comforting Your Eyes with Dimmable Features
While installing vanity lighting, you may want to get better control over the intensity. And to do that you may want to go for options that are compatible with conventional dimmer switches.
These help you to get a better ambiance feature for your eyes. Suppose you just woke up and your eyes are not ready to tolerate a bright light's torture. The dimmable feature is going to be of great help at those moments. For slumber, tired and heavy eyes a vanity mirror with not blinding bright light can be pretty comfortable.
Vertical or Horizontal Mounting, Decide Earlier
When you want to consider vanity light installation, decide whether it needs to be mounted vertically or horizontally. If you feel placing the lights above mirror will work better for your needs, go for horizontal mounting.
On the other hand, you need to go with vertical mounting fixtures for installing lighting on sides of mirror. It's an important aspect of the decor scheme as well, so you need to consider carefully.
Water Resistant Rating Is a Must
Since you'll be installing light fixtures in bathroom vanity areas, you should already know there's a good chance of water splash and damage. So, it's always better to take extra steps to adjust the lighting in wet or damp environments.
You should look for lights that come with 1P65, 1P55 or 1P40 ratings. These are the measurement of waterproofness in those lights. Don't miss out on this checking since it's going to compromise the overall performance of lights to daily moisture and water splashes coming from bathes.
Number of Fixtures
The vanity size and layout say a lot of important detail regarding what number of light fixtures you should be getting for it. For a single sink, vanity will work best with wall sconces pair. This will result in even lighting facilities. Also, experts recommend getting fixtures that are one-third the width of existing mirror. It should never cross the mirror length. That's the limit.
For wider counterparts or double sink vanities, multiple fixtures above mirror work best. Choose 2,3, or 4 light configurations to work better here.
Also, the fixture should be ¾ width of actual mirror. Some also prefer going for two same types of vanity light placed over each sink to get symmetrical looks. Usually 75" to 80" is considered the standard height for light fixture installation above mirror from floor.
An Appropriate Style to Pick
Depending on your aesthetic taste, the vanity lighting style could be determined. There are endless options available.  Side-mounted fixtures are good at providing even lighting. Overhead lighting can make way for shadows. One example is recessed lights. These are less preferable for vanity tasks.
Complex architecture or less wall space will go best with mounted lights. It could be directly mounted on the mirror's surface. One side of the mirror can hold a hanging pair of pendants as well. This will work as wall sconce without needing an additional wall mount.
To counter shadow play, you can consider using frosted bulbs, glass or globes. The light diffusion from these types can unwelcome vanity shadowing. For powder areas or half bath spaces, sconces mounted on the wall being perpendicular to sink will work best. The back needs to be placed toward mirror. This scheme also works with no wall space remaining sink setups done on an alcove.
Next Read: What Type of Floor Lamp Gives the Most Light
Frequently Asked Questions

1. What is the right ratio of mirror and vanity light?
Even if some miss out on this point, considering the ratio of vanity light and mirror is pretty essential. It is going to make some great impact on the overall interior design.
For a square or rectangular shape mirror, the ideal light will cover around 65% or 80% of total surface. For the oval one, there's no need to stress about proportioning lights. However, lighting that does not extend the mirror's radius is still better to consider
2. What kind of lighting is best for applying makeup?
To apply makeup comfortably, my most preferable lighting is LED ones. These are fantastic once chosen with higher CRI. With a high rate of color rendering index, you'll receive a more natural and realistic color tone.
Modern-day LEDs are available with 90 CRI rates as well. You can manage to get good performance with 80 CRI ratings. For men, such lighting will help to get stubborn mustaches easily. Also, LED lightings to come with less UV. So, looking at the mirror closely will not risk you to absorb UV in your face.
3. What type of lighting is best for bathroom vanity?
It's more like a personal preference to be honest since there are vanity lightings with all types of color tones when it comes to bathroom vanities.
But most users experience better performance with the ones that come with higher kelvin measurement. For frequent uses, cool white lights are best and recommended. However, for decoration purposes go with warmer tones.
Conclusion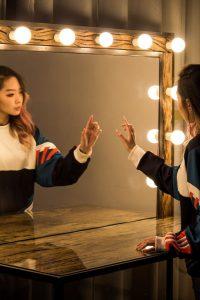 To figure out the Perfect Lighting for Bathroom Vanity, you need to go over dimming features, color choices, varied sizes, and specific style as well. There are more than many options available today that come with contemporary or luxury schemes.
You can find a highly rated option after doing in-depth research. Illuminating the sink area in your bathroom is a pretty important task for daily grooming. Your everyday style statement depends on this choice. So, Don't Be Hasty & Choose Wisely!
This is Autem Decker. Main Author of 'TheHomeDigs'. You may not find her on the list of top 10 contemporary Canadian interior designers, but everyone who knows her says she was born to be an interior designer.
She makes her plan in her head and draws them in her years-old diary with a note in the corner. The way she plays with color and shape amazes us.
Connect Her On – Twitter