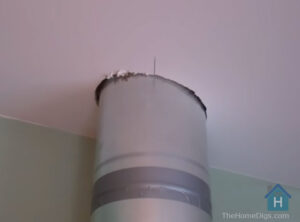 With a nicely installed and functioning range hood vent, cooking is more fun and mess-free. There are more than a few benefits related to using a proper vent once you actually get one. As soon as you but the right pick for your kitchen, you decide where to place it. And sometimes you end up choosing to install the device into ceiling.
Today we will be learning how to install a range hood vent through ceiling. It's not a very complicated project, so don't worry. Let's get into the guide and make your kitchen free from those awful cooking smells.
 Installing a Range Hood Vent Through the Roof
 Tools Required:
Vent cap
Rangehood
Duct strap
Duct flashing
Wire nuts
Cable clamps
Metal ducking
Electrical cable
Roofing tar
Screw anchors
Eye goggles
Drilling machine
Drill bits
Caulking gun
Tape measure
Sheet metal shears
Gloves
Reciprocating straw
Hammer
Screwdrivers
Drywall saw
Wirecutter
Drywall saw
Screwdrivers
Start with Removing Complimentary Vent Parts
You need to take the complimentary parts out from range hood vent first.These parts are basically fan, electrical housing, filter, and lighting housing. Next, make sure that the hood's top sided hole is open.
Creating Outlines
You should decide the part on your kitchen ceiling where you'll want to place this vent. Here you need to create an outline. Simply hold the vent above that area. Then use any marker or pencil to make outlines along with its dimension. Sometimes creating another outline on the cabinet's above part also becomes crucial.

Creating Holes
Now that you have an outline to work with, let's bring the drilling machine for some action. In every corner of the outline you just made, there will be holes. You need to create these holes gradually. Use a reciprocating saw to cut these holes easily.
Do the same thing for the outline you created above cabinet. Make holes gradually. Make sure the holes are appropriate and correctly positioning. Now drill a hole on the ceiling board as well. This is where the electric cable will pass through. Of course, these holes should be of similar sizes. So that electrical cables are easy to pull as soon as this process ends.
Now that there's a path in the ceiling, it's time to create one for roof as well. This is for the vent to reach outside. It could be a little bit tricky for some people. However, if you are gradual and pay attention to the accurateness, it'll turn out well.
Figure out the spot for creating a hole on roof. Of course, it could be not any further path from the ceiling hole you just made. Now create an equal-sized hole here as well. If it's possible, then try to refer to the first hole while creating second one on roof. You need some diverse tools during this stage. Depending on the design and shape of your roof, choosing an appropriate tool would depend.
Also Read: Best Bathroom Exhaust Fan with Light & Heater
   How to Vent a Bathroom Exhaust Fan
Connecting Hood Parts
Now that you have a path from which the hood vent will pass, next step is connecting all parts to make them ready. You need to install the cable clamp during this phase. Get some help from another family member in case you need someone to hold it in place.
You need to strongly duct the hood joints in place. Next, go for the actual hood placement. Through the holes, you just made, simply pass hood's upper side. It should fit nicely into the place. Ducting the hood in a careful manner is very important here.
This is to ensure there's no possible leaking. Also, it will help to not make any parts fall off accidentally. However, don't use duct tape for obstructing damper in the hood. The damper should have enough freeness for moving around. That's important to make the hood vent work effectively.

Sealing Parts
Now that the hood vent is in its place, time to deal with ducting through ceiling. It's another challenging state you need to focus on deeply. You need to place the duct flashing in a suitable position. This placement should allow easy passing through the flange.
Now use some roofing tar. And simply seal all the parts nicely to complete installation process. Use tar to also seal joints that are placed right in the middle of duct and flashing. Now on the hood vent's duct, carefully place vent cap. This will help to avoid any unwanted object passing through.
If you take out the fan during beginning stage, it's time to put it back on its original space. Carefully connect the wires. They should match the colors. To cover the connections and make it safe, you need to use some wire nuts. Do this after checking all reconnections. Now turn the power on. Clean the place and put your tools aside. The installation is complete.
Things to Keep in Mind
Before installing, never forget to disconnect every electrical appliance closer to the are you'll be working. Also, the tool you are going to use should be working properly. Make sure to check them as well.
It's best to use some sort of tool for cutting ducts and cables. Hand appliances will make the process much faster and accurate.
You should get a range hood with better CFM grade. Usually, the ones bigger in size works best here and don't pitch at highest.
You should check whether your electricity matches the vent you're going to buy. Most of the vents require 15 amperes of electricity pulling. You should also check the roof prior to installation. This will help to discover any hindrance that might be existing.
The installation will require a few hours. So, make sure you take the project on hand during a free day. You need enough time for all the complicated wire works and hole placements.
Wrap Up
So that was my guide on how to install a range hood vent through ceiling of your kitchen. Installing one nice vent will help to keep your kitchen free from those disturbing and unpleasant cooking smells.
These are a good reason to ruin your reputation when a guest arrives at your house. It's sometimes a distraction that makes you feel very unmotivated to cook something delicious. Also, on the health side, those hot air are not really good for your skin.
And so, there's no objection to the fact that a range hood vent is a prized possession for any kitchen.
This is Autem Decker. Main Author of 'TheHomeDigs'. You may not find her on the list of top 10 contemporary Canadian interior designers, but everyone who knows her says she was born to be an interior designer.
She makes her plan in her head and draws them in her years-old diary with a note in the corner. The way she plays with color and shape amazes us.
Connect Her On – Twitter