Steak is loved by almost everyone and is used to celebrate special occasions or parties. Cutting up steak can get hard if you plan on using your average kitchen knife.
To get the job done more easily, you need to use a steak knife. These are sharper than the regular ones and for that reason would have a finer cut. The normal rather blunt ones would only result in rough cuts, and therefore you will face trouble chewing them.
We will be walking you through a buying guide to help you pick out the perfect steak knife for you.
What to Look Before Buying Steak Knives?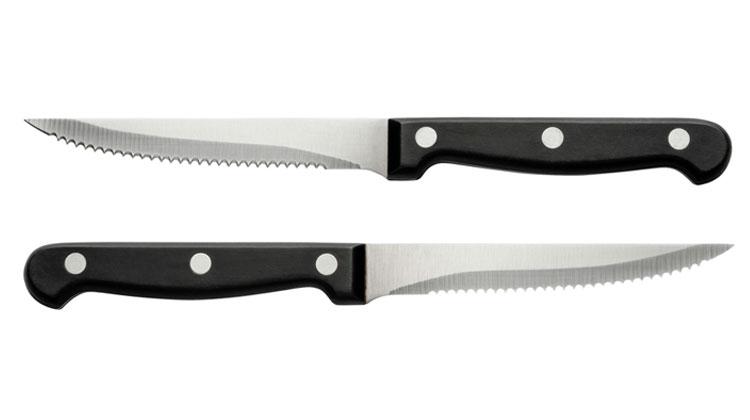 Type of Blades
There are mainly two types of steak knives. Each of these cuts meat very differently. If you can understand the difference between these two, then it would come of help when slicing premium beef.
You would be able to spot a serrated blade if you see numerous tiny teeth or ridges present at the rear of the blade. This type of knife does not create a neat cut, but it rather tears through the food item. Softer portions of the meat could be cut using this.
Unlike the serrated blade, this sort of blade has no ridges present at the bottom. It is straight and very sharp. The blade can be used to slice up meat very neatly. For steak cutting, it's better to choose the straight one over the serrated one as the cuts are cleaner.
Maintaining straight blades can get hard as you need to keep sharpening it up. We advise you to get them sharpened up every other week. Like this, the item's lifespan increases. If you plan on getting this sort of blade and don't know how to sharpen them, you better start learning.
Size of the Blade
Size of the knives is extremely important if you care for a precise cut. An array of sizes such as 5 inches and 7 inches are available. You would notice that you would get a finer piece when slicing with a smaller knife.
Exclusive and expensive restaurants use a longer blade to create a more desirable look for the entire table setting. We would suggest you avoid longer knives and get shorter ones if you want to get a cleaner cut. The latter is more flexible and easier to grasp. It is also much simpler to maintain.
Balance
Balance is usually ignored while picking up a steak knife. But it is an essential factor to keep in mind because comfort is important. You have to ask yourself certain questions when looking at a blade:
Is the blade consistent with the handle of the item?
Can it be easily picked up and comfortable to hold?
Is the position of the blade straight, or does it have a certain angle as it emerges from the handle?
The answers to these questions will help you get your ideal knife.
The Material of the Blade
We cannot stress enough how important it is to get a quality knife. Usually, high-end restaurants use knives which are made up of stainless steel and has a sturdy handle to grasp onto. Three main types of knives are manufactured using stainless steel; Hard Carbon, Tempered, and cold steel.
Hard Carbon weighs the least among all the other three types, so it's easier to hold. If you want a knife that can be cleaned without much effort, then get a tempered blade. Pick up a cold steel knife if you want a tough and solid one.
Buying a steel blade knife would be profitable for you because it will last you a very long time. Although, you would have to maintain and sharpen the blade up quite frequently to keep it intact.
Handle of the Blade
While the blade is the main aspect of the entire knife, the handle plays an important role in your cutting game too. A comfortable one makes it easier to hold, and let's face it; nobody wants to feel any sort of discomfort while eating.
Having your meal is the most exciting part of the day and especially while having steak.
A handle made up of wood is the way to go because it is more appealing to look at and will be less complicated to clean and maintain.
A Fine Fit
Fit means how good all the items of the knife are placed as a whole. The blade and the handle should never have any sort of gap that can be seen by the naked eye. The overall look of the entire knife should look flawless.
A top-quality knife usually has a perfect fit. If you get steak knives with a good quality fit, you can avoid liquids, moistures, and other impurities ruining the handle of the knives and prolong their lifespan.
Tang of the Knife
You would be able to get a short or a complete full tang with a brand-new knife. The measurement of the blade is done by a tang. A long tang blade is simpler to grasp and is very secure. You can utilize the metal section of the product to slice down to just about the rear-end of the handle.
Lengthy tang knives are held by two or more rivets, and hence they are much more secure than the shorter ones.
The latter just goes down approximately half the length of your handle. Since it is tied with just one rivet, there is a high chance of it coming apart if used very frequently and extensively. We are not saying that short tangs are bad, but if you get longer tang knife you'll be safer.
Final Words
Now you know the A to Z about steak knives. It's time to get your oven ready to grill some scrumptious steak for your family. Cut your steak with the finest and enjoy your meal to the fullest.
Hope this article cleared up your confusion. If you have any further queries left, let us know.