Whether you are building a new house or renovating it, choosing proper flooring is one of the major issues. This is even truer in the case of kitchen floors as the kitchen has to be classy looking as well as has to have durable floors due to being a high-traffic area. While you can spend a lot of money on the kitchen floor, it doesn't mean you have to. To save money, you need some kitchen floor ideas on a budget.
Materials such as vinyl, painted wood, and such are not only budget-friendly, but they also look quite elegant. Nowadays how the kitchen looks is also quite important, so you are sorted in that regard.
So let's go through the list of budget-friendly floor designs for your kitchen to find out what suits you best.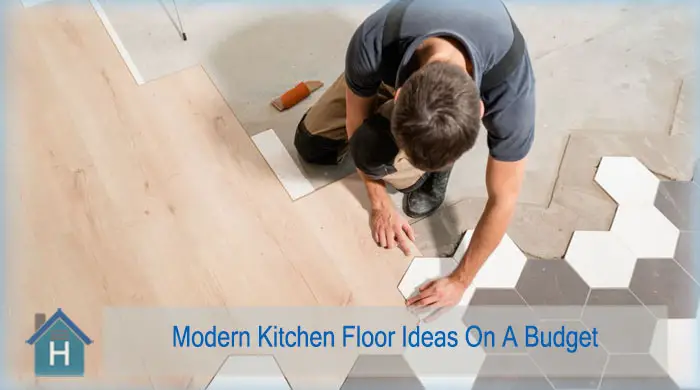 The best kitchen flooring ideas on a budget
When choosing a floor for your kitchen, you need to keep a few things in mind. First, the kitchen has a lot of heat. So the flooring must be something that can endure this heat. Second, there are a lot of appliances in the kitchen, so the flooring should be able to withstand that pressure. The kitchen is also an area with one of the heaviest traffic in the whole house, the flooring choice should also be made keeping this in mind.
And finally, the flooring should be budget friendly as well as trendy and elegant looking. Keeping all of these characteristics in mind, I have prepared the following list of kitchen floorings that will not put a big dent in your wallet.
1. Vinyl planks
Vinyl planks and Luxury Vinyl Planks are a perfect fit whenever you are looking for flooring that is beautiful as well as cheap. These floorings can look like whatever you want, from wood and ceramic to stone, vinyl planks come in all sorts of designs. The vinyl tiles' advantages don't end with them being cheap and beautiful either.
They also can be installed by yourself and due to their synthetic composition, don't get damaged from heat and moisture, making them a perfect fit for kitchen floors.
2. Ceramic tiles
Ceramic tiles have been adorning the floors of kitchens for generations, and for very good reasons. These tiles are as beautiful as they are budget-friendly. What makes them stand out from the rest of the pack most is how easy they are to clean. Any stain can be cleaned up in a matter of minutes if not seconds, which is a big upside for the kitchen.
They also are very durable and can last for a long time if maintained properly. They are also very easy to install, which makes them a very popular choice.
3. Laminate
Laminates are very similar to vinyl in both look and feel. The key difference is laminates are not entirely synthetic like vinyl planks. Unlike vinyl, the core layer of laminates is made from natural products, which makes them more eco-friendly. Like vinyl, laminates are also available in a whole host of designs and are quite cheap.
So you can afford to make your floor look like it is made of expensive floorings, but don't have to pay nearly as much.
The laminate floorings are also resilient and easy to install. So you don't have to call on professionals when going through the installation process and do it yourself.
4. Linoleum
Despite having a bad rep, linoleum is a  pretty good choice for placing on your kitchen floors. The bad reputation linoleum gets is it wears out too quickly. While that is, or rather was true for older versions, the new versions of linoleum last decades if proper care is taken.
They are also biodegradable, which gives them an upper hand against vinyl that is completely synthetic. You also don't have to worry about the pattern wearing out over time since they are not painted on top of the material, rather run all through it. Installation of linoleum is quite easy and can be done by yourself.
Check This: Modern Kitchen Designs Photo Gallery
5. Stencilled tiles
Sometimes we miss things that are right in front of our eyes. At times you don't even have to install new flooring in your kitchen. You can just paint your current ceramic tile floor with new paint according to what you would like it to look like. But always make sure that when you are using chalk paints, apply a top coat. Also, apply the paint with foam paint rollers to avoid it smearing all over the place.
6. Painted wooden flooring
Stenciled tiles can be used as flooring when the floor is made of ceramic or porcelain tiles. But what about wooden floors? Fret not, because you can paint your wooden floors also to look like new ones.
Wooden floors wear out more often than tiles, especially if the wood is either engineered hardwood or softwood planks. But that doesn't mean you have to replace them immediately. You can sand the planks if they are suitable for it.
Then you can paint them to completely change the look of your kitchen. Just ensure that the paint used is suitable for hot conditions because the kitchen is one of the house's hottest places. 
7. Bamboo floorings
If you want eco-friendly choices for your kitchen floor, almost nothing comes even close to bamboo. They are not only environmentally friendly but also give your kitchen a unique look. On top of that, they are extremely affordable. They are surprisingly durable as well, making them a very good flooring choice for your kitchen.
8. Parquet wood
Parquet wood floorings are made of various smaller pieces of wood joined together. Now, this is flooring that will make your kitchen floor look stunning and unique. They are affordable, beautiful, and durable enough to take place on your kitchen floor.
Final words
Choosing a floor for the kitchen is tricky due to the heat, the inevitable stains, the traffic, and the furniture. But if you have some pocket-friendly kitchen flooring ideas, you'll find that you can easily choose floorings for your kitchen that will last a long time and look very good without having to break the bank.
This is Autem Decker. Main Author of 'TheHomeDigs'. You may not find her on the list of top 10 contemporary Canadian interior designers, but everyone who knows her says she was born to be an interior designer.
She makes her plan in her head and draws them in her years-old diary with a note in the corner. The way she plays with color and shape amazes us.
Connect Her On – Twitter