The kitchen in your house deals with a lot of moisture. In the process of cooking, water is frequently handled, so at least a small amount will fall on the ground. So you need an idea of what the best waterproof flooring for the kitchen is.
Fortunately, there isn't only one, but quite a few waterproof flooring that people can choose from. These choices vary from the very common ceramic tiles and vinyl to rather uncommon choices of waterproof carpets. All you need to do is to choose the best one for you.
Now, let's go through the options at hand to find the most suitable waterproof kitchen flooring.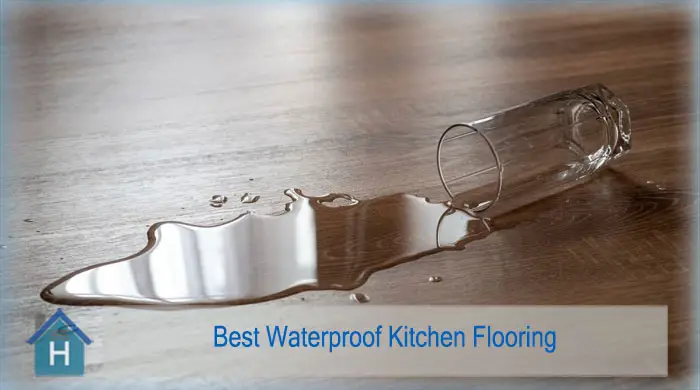 Waterproof kitchen flooring: which is the best?
When the choice is made regarding a flooring of a place, the main thing that has to be kept in mind is what goes on at the surface. That's why places like the kitchen and of course, the bathroom need waterproof flooring. Here are a few such options that a homeowner can check out for their kitchen:
1. Vinyl planks
Whenever the topic of waterproof flooring arrives, one name that is sure to be mentioned is the vinyl planks. There are a lot of vinyl planks around, the usual vinyl planks, the Luxury Vinyl Planks (LVP), and the new Wood Plastic Component (WPC) vinyl planks. Irrespective of their name and look, one thing they all have in common, and that is they are all waterproof.
The vinyl planks are completely synthetic planks that are made of four layers. These layers are a backing layer, which acts as the spine of the plank, a core layer, a printed vinyl layer that makes the vinyl planks look whatever you want them to be, and a wear layer that protects the plank from external damage.
Due to their artificial make, vinyl planks are not susceptible to damage due to moisture and are completely waterproof. This makes them a perfect fit for your kitchen where water and another liquid spill regularly.
But does the usefulness of the vinyl planks end only at their efficiency in blocking out water? Not. As mentioned earlier, these planks mimic the look of every kind of flooring out there. So you can have a kitchen floor that looks like it is made from materials such as hardwood, tiles, and stones without having to pay for them. On top of that, they are quite cheap as well, which is always a plus point.
2. Tiles (ceramic and porcelain)
Vinyl planks may be the talk of the town nowadays, but tiles, either ceramic or porcelain, have been the go-to choice for homeowners when it comes to kitchen flooring for a long time. Easily the most popular kitchen flooring material, tiles add a sense of elegance to the kitchen.
But why is tile flooring so popular when it comes to the kitchen? Surely their looks aren't the only thing going for them? You are right, looks aren't everything for tile flooring. The reason tile floorings are so suitable for the kitchen is that all the ceramic and porcelain tiles have a double layer of glaze on top of them. This layer makes sure that no liquid, water, or otherwise can get through the tiles' material and damage them.
Okay, the material of the tile is waterproof, but what about the seams? Since the seams are sealed with grout, water can not enter through that either. Apart from this, they don't retain moisture at all, which makes cleaning tiles a cakewalk. These floorings are quite durable as well.
3. Waterproof carpet
When people hear the name carpet, the first thing that pops into their mind is lush and complex surfaces that do not go well with water at all. Well, things were like that in the past, but the scenario has changed a lot recently. Quite a few companies have been producing waterproof carpets which are very suitable for your kitchen.
Before, whenever you spilled a liquid onto a carpeted floor, things would turn messy and you had to go through a detailed cleaning procedure. But that day is coming to an end because the new waterproof carpets are equipped with liquid repellents that do not allow the liquid to even get to the carpet fibers, protecting them in the process.
Even if some liquid miraculously does get through to the base layer, it is shot straight back up by the repellents which make cleaning these carpets a lot easier. They also provide the kitchen floor with a unique look and feel very comfortable under the feet.
4. Waterproof laminate planks
Ever since their invention, laminate flooring has been likened and compared to vinyl flooring for obvious reasons. Both of these planks look almost identical and feel quite the same as well. But, the key difference between laminate and vinyl planks is that laminate planks' core layer is made of natural materials compared to the synthetic one of vinyl.
Since the laminate planks have a natural core layer, they often were not considered viable options for bathrooms and kitchens. But some newer laminate floorings have proved to be waterproof rather than only water resistant. That changes the landscape by quite a margin because laminates are more eco-friendly than vinyl, which people like nowadays.
5. Rubber flooring
Rubber is naturally a water-repelling substance. This means no matter how much water is poured on them, they will not get damaged due to this. This trait automatically makes rubber an excellent choice for kitchen flooring.
Due to the rubber flooring being largely made from recycled tires, they are very eco-friendly. You can get the rubber flooring in various shapes and sizes, which only adds to their already burgeoning reputation. They are easy to install, clean, and maintain.
Read: 10 Pro Tips to Care for Hardwood Floors in Kitchen
Final thoughts
Kitchen floors go through a lot. Not only is the kitchen a high-traffic area, but they are regularly subjected to water, wine, and other liquid spilling on them. That is why it's a must that a homeowner has an idea about the best waterproof flooring for the kitchen. This will allow them to have a nice, clean, and durable kitchen floor.
This is Autem Decker. Main Author of 'TheHomeDigs'. You may not find her on the list of top 10 contemporary Canadian interior designers, but everyone who knows her says she was born to be an interior designer.
She makes her plan in her head and draws them in her years-old diary with a note in the corner. The way she plays with color and shape amazes us.
Connect Her On – Twitter