Remodeling bathrooms require a lot of work and money. A large chunk of this cost goes towards the installation of the floorings. If you install floorings that are hard to install, you have to pay a lot of money to professionals which only adds to the total cost. So you need to know which are the easiest bathroom floorings to install yourself.
Fortunately, there are quite a lot of options to choose from. You can choose from different vinyl, laminate, and hardwood floorings which are easy to install, beautiful, durable, and affordable.
Let's take a look at these floorings which you can install yourself.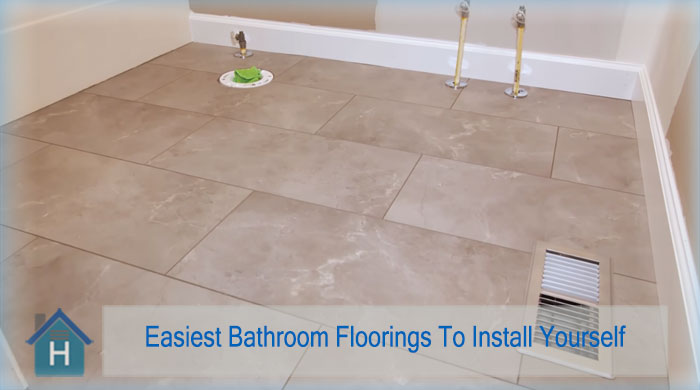 Floorings that you can easily install yourself
You can never save too much money when it comes to decorating your house. So if you can find something that you can install yourself, it saves a significant amount of money that would've otherwise been paid to professionals.
The flooring of your bathroom is one such element. The following are some options of floorings that you install without having to take help from the pros.
1. Luxury Vinyl Planks
Luxury vinyl planks ( also referred to as Luxury Vinyl Tiles) are an excellent choice for your bathroom. They are entirely synthetic, as a result, they are not damaged by either moisture or constant water pressure.
They are also resistant to scratches, which makes them a perfect fit for areas around the bathtub. They also come in various designs such as wood, ceramic, and stone, so you don't have to buy those comparatively more expensive floorings to give your bathroom floor a classy and elegant look.
You can install these LVPs in two methods, First, there is the peel and stick method and then there is the click-together method.
The click-together method is the more popular of the two mentioned above. This method doesn't require any subfloor for the tiles to be attached and they can just be attached. This type of flooring is called a floating floor.
On the other hand, the peel and stick method requires a subfloor. Make sure the subfloor is clean and sturdy, and then just peel the tiles, stick them to the floor and press down to secure them.
2. Laminate floorings
Laminate floorings look exactly like vinyl floorings but have a significant difference. Unlike vinyl, which is completely synthetic, laminate floorings have a core layer of natural products.
They also look exactly like hardwood planks but are a lot less expensive. It is also very durable, so installing them in your bathroom is a no-brainer.
But are laminate floorings easy to install? You bet your bottom dollar that it is. The similarities with Vinyl planks extend even up to their installation methods. Like their synthetic counterpart, the laminate floorings also can be installed via the click-together method.
All you need is to wait a couple of days after buying them before you can install them.
3. Engineered Hardwood floorings
If you are looking for wooden flooring for your bathroom, it's better to go for engineered hardwood flooring rather than solid wooden floors.
There are various reasons for this. 1) Engineered hardwoods are cheaper than solid wooden planks, 2) They are more durable under moist conditions, and 3) They are easier to install. All of these three are the deal breakers when the bathroom is concerned.
Engineered hardwoods are wooden planks themselves, but unlike solid wooden planks, they are comprised of more than one layer of wood.
These planks are very easy to install. Since they can also be installed through the click-together method, installing them is a walk in the park.
4. Cork floorings
Cork floorings are made from the bark of cork trees. They are quite cheap and very comfortable under the feet. So these planks come in quite handy, especially during winter. They are completely natural, which makes them very much eco-friendly.
Installing cork floorings in your bathroom is very easy as the installation method is click-together. As it is a floating floor kind of plank, you won't even need to spend for a subfloor.
If you have joint issues, these cork floorings will be very handy as they have a natural bounce to them. They are also very durable, except they are not exactly waterproof. So after installing them on your bathroom floor, you may need to replace them after a certain amount of time.
But their low cost and low cost of installation don't make this replacement process too bothersome.
5. Carpet tile floorings
Unlike the normal carpet floorings that we used, the carpet tile floorings allow you a large range of versatility and customization ability. Not only that, these tiles are so easy to install that you don't have to have any knowledge regarding DIY.
The installation method of these floorings is the peel and stick one. All you have to do is peel the tiles and stick them to your subfloor. The only thing you need to prepare before installing these floorings is your subfloor. Then follow the peel and stick method and you'll have nice and comfortable flooring.
You can go to town when it comes to choosing the pattern and design of your carpet flooring as they come in a myriad of designs and patterns. If you don't like the current pattern, you can just remove the tile and stick it in some other place of your liking.
But there's one thing you need to keep in mind when choosing carpet floorings for your bathroom. Not every type of carpet flooring is suitable to be in the bathroom.
Only floorings made entirely of synthetic materials such as olefin or nylon are suitable for bathroom flooring as they don't retain water.
Next Read: Glue Down Vs Floating Floor On Concrete
Final thoughts
The easiest flooring to install is not always the best choice. Even among the aforementioned list of the simplest bathroom floorings to install on your own, some floorings are more suitable than others. So when choosing to floor for your bathroom, always make sure you pick the one you are most comfortable with.
This is Autem Decker. Main Author of 'TheHomeDigs'. You may not find her on the list of top 10 contemporary Canadian interior designers, but everyone who knows her says she was born to be an interior designer.
She makes her plan in her head and draws them in her years-old diary with a note in the corner. The way she plays with color and shape amazes us.
Connect Her On – Twitter