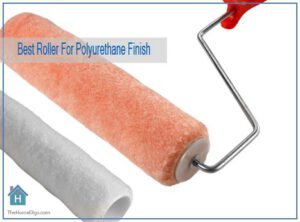 Do you like do-it-yourself projects? If you are thinking of renovating your house, then the roller is your right applicator for full-length painting jobs.
Now, stain the house with beautiful colors and strengthen it with a poly finish. And learn about the best roller for polyurethane here.
You will find a wide assortment of rollers in both online and offline. Likewise, the sleeves also come in different textures. That made them apposite for separate applications. But can all of them deliver a perfectly smooth urethane finish on your floor?
How to pick the right type of roller for polyurethane your floor? That's what this article is for; to help you buy the right roller for your job.
What Kind of Roller to Use for Polyurethane on Hardwood Floor?
Roller is a great applicator for applying polyurethane finish. Urethane comes in oil-modified and water-modified solutions. And all applicators are not attuned to both. But amazingly enough, you will find most rollers are adept at giving smooth finish for each variety.
Nevertheless, all are not equally skilled. Some works smoothly on a flat surface, some are better for coarse one. Although it's the same job of applying polyurethane, you still can't pick one right away.
Usually, a lambswool or fiber sleeve is ideal for applying polyurethane on the hardwood floor. However, you should relate the wood condition with roller specialization for better result. And we have detailed out here the ins and outs of some excellent rollers for that purpose.
Top 5 Paint Rollers for Polyurethane at a Glance
Top Picks of Best Roller for Polyurethane Application
There are no short of first-rated rollers in the market. But we elected seven, which we believe individually owns the merit to be the best roller for polyurethane.
1. FoamPro Fine Finish 4″ High-Density Roller – Best Foam Roller for Polyurethane
Key Features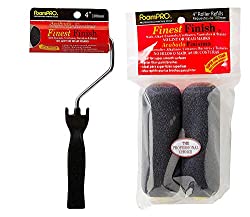 Enables quick and easy application
Doesn't leave lint on the floor
Gives spray touch finish
Foam cover can absorb and hold finish for long-time
Provides a solid coverage
Leave no steak on finish
Easy to clean
This mini roller works like a pro when it comes to painting. It gives a perfect, gleaming finish which you might be mistaken for spray works.
A multi-functional roller that can do everything from painting to varnishing. The foam applier soaks up enough liquid to give a consistent and lint-free finish. Besides, the foam can retain finish for a longer time. That accelerates the speed of work, as you will require less dipping and each time can cover more of space.
It is the best foam roller for polyurethane. The rounded edge of the sleeve leaves a spotless, thick coating that escalates the durability of finish. FoamPro high-density roller is a perfect finishing tool for wooden furniture; such as cabinets, cupboards etc. And you can easily scale up the resistance power of your hardwood floor using this painting roller.
The foam covers of the roller are washable and will let you use more than once. Furthermore, in each purchase, you are getting two refill sleeves free.
Downside: While it secures a firm grip, getting used to the handle of this roller surely takes a bit of time.
Specifications:
Mini foam roller
Fit for painting, varnishing, polyurethane and many
4-inch nap fit roller cover
Foam pad measures in inches- 6 x 4 x 1.25
Weight of roller cover counts 0.634 in ounces
Comes in 8mm roller opening
Includes two refill foam cover
Rounded edge foam pad
Easily accommodate inside a paint bucket of one gallon
Verdict
Being the best of its kind, there's a lot this roller has to offer. Primarily, most will love it due to its capacity to cover large areas in less time. Combined with the foam's soaking capacity, this tool makes painting and varnishing a breeze.
---
2. FoamPRO 6″ Foam Paint Roller – Best Foam Roller for Polyurethane Floor
Key Features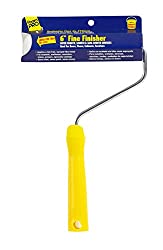 Perfect for limited application
Can cover narrow areas
Smooth and clear finish
Leaves no lint on the floor
Foam cover can absorb nicely and preserve moisture for long-time
Reusable frame and roller cover
Easy cleaning and application
Gives steak free finish
Another high-density roller of FoamPro, that goes perfectly with any oil-based finish. It works wonderfully with stain, paint, varnish and polyurethane.
This 6-inch roller gives an even, smooth finish with detailed coverage. It is perfect for small applications, where thorough attention is needed. The mini roller can reach tight spaces to give you better control over painting.
The roller works fast despite its small size. Its foam cover holds sufficient liquid in each dip to let you work with minimum interruptions. And you can easily clean and dry out the sleeve for subsequent uses.
It reels smoothly along with the movement of hands and leaves a spotless finish in each swipe. The mini roller frame gives a perfect grip and doesn't release nap during application. And the soaked sleeve let out a thick coating that will only enhance the durability of the surface. Moreover, you won't find any lint on your finish.
However, it is not the best roller for polyurethane floor. It is more suitable for detailed work over small spaces and that' what it does best.
Downside: To make the most out of this product, you have to change the roller regularly.
Specifications:
Mini roller with foam cover
Weighs 0.798 in ounces
A 6-inch high-density roller
Total measurements of roller in inches- 12 x 7 x 1.63
Oil, stain, paint and varnish applicator
Verdict
Created with high-quality materials, this roller feels both smooth and responsive. It glides over the surfaces just as you want it, giving you total control of the painting or finishing. Use it to refinish bathroom appliances, walls, floors, and more.
---
3. YATTICH Deluxe Paint Roller Kit – Best Paint Roller for Polyurethane
Key Features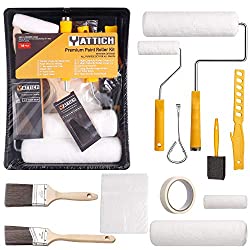 A complete paint set
Reusable and easy to clean applicators
Impervious roller cover soaks and contains more paints
Gives even, smooth finish
Rustproof study design paint tray
Minimum wastage and dripping
Leaves no streak or lint on finish
Covers a wide range of painting needs
This kit is a true luxury for DIY workers. The set includes everything you need to decorate your house with colors and shine.
YATTICH kit set is designed to serve all your indoor and outdoor painting needs from wall to fence. All of its applicators are made of excellent quality materials and ply smoothly with hand movements. Thus, you can work for longer hours without straining your hands.
Both the roller and brush give even finish without leaving any lint on it. So, no need for scouring anymore.
It contains the best paint roller for polyurethane. The foam roller leaves thick coatings and covers large areas in a short time. The sleeves can retain more of urethane and deliver smooth, spotless finish in each stroke.
The microfibers of foam cover restrain solvent from sticking in; which permits easy cleaning and reuse. And the mini foam covers are perfect for applying finish in tight spaces.
Downside: This set of tools quickly becomes essential for DIYers, but it isn't perfect. The biggest issue is that the rollers leave brush strokes behind.
Specifications:
14 pieces set
Comes in a square tray
Building material ABC plastic
Fit for both indoor and outdoor use
Total weight 3.05 in pounds
Dimensions of tray set in inches- 15.35 x 12.64 x 3.27
Bundle includes roller with cover, foam brush, paintbrush, angle brush, paint tray, plastic film, paint tape and stick
Verdict
The quality of this set is off the charts. Plus, there's not only just one tool, but many of them that complement each other. For the price, there's barely any other investment as good as this one.
---
4. Katzco Paint Roller – Best Roller for Water-Based Polyurethane
Key Features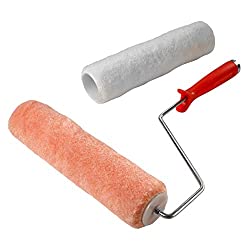 Smooth and quick application
Reusable foam cover
Polyethylene fiber cover can hold extra paints
Low spatter application
Roller frame prevents foam covers from falling-off
Matt-free thick-coated finish
Leaves no lint
Katzco Roller wants to give you a professional painting experience. So the first thing it makes sure is securing the foam cover on frame with a 5-wire cage frame.
The nap of the roller fits in any covers as long as it's inside the band size. The spring rolls faster to give a quick and easy application of foam pads. The interlocking foam pattern enables better absorption and releases a solid, even finish in each stroke. That reduces the frequency of dipping and expedites the speed of work.
The free-spin movement of roller minimizes splatter during painting. It ensures quick application but in a cleaner way. And every time you will get a glossy finish with no hair on it.
It is suitable for small area application. However, it can cover a large space in short-time without leaving any streak. And the size of the roller allows it to work on edges and hard-to-reach places.
Katzco Paint Roller is fit for any art and craftwork. It is well-suited with watercolor and oil satins. And the hard-core solvent restraint foam pad makes it the best roller for water-based polyurethane.
Downside: One thing to keep in mind is that this roller doesn't work well with extra thick paint.
Specifications:
5-wire cage roller
Acrylic painting roller
Comes in a 9.3 x 6.1 x 4.2 inches package
12 ounces roller
Nap fit for 9″ roller covers
Includes 3 roller covers
100% replacement or refund guarantee
Verdict
This 3-inch roller excels in many areas. Most prominently, it provides outstanding control and balance for smooth applications. Furthermore, the tool doesn't leave fibers over the surface, which is another reason to consider purchasing it.
---
5. Wooster Wool Roller Cover – Best Roller Cover for Water-Based Polyurethane
Key Features
Provides a high concentrated finish
Soft and fast rolling-out
Even finish for all kinds of painting
Easy to clean
Give a spotless finish each time
Leaves no lint on finish
Resistant to both water and solvent
This hand-sewn roller gives the finest finish, and that's with amazing swiftness. Wool, by its construction, works as a high absorbent. And Wooster makes their foam cover from untainted wool of shearling sheep. That gives the roller cover the highest paint containing capacity.
This innovative wool cover glides tenderly with the roller. That gives a smooth flow in rolling and leaves a perfectly even finish without splashing. The high paint retention capability gives a beautiful solid coating, which will improve the resistance capability of your wall, floor, furniture, and so on.
Wool applicators are best for applying oil-based urethane. Nevertheless, Wooster Wool Cover is equally best roller cover for water-based polyurethane. The softcover spins smoothly along with the hand movements. Therefore, you will be to work on your poly nonstop, without straining hands.
It holds enough moisture to discard the need for frequent dipping. That cuts the time to half of the other applicators. And the thick phenolic-core prevents water or any solvent from sticking in. Thus makes it easy to clean the cover after each usage.
Downside: The only downside of this product is the price, which is a little high.
Specifications:
Hand-sewn with pure shearling
9-inch roller cover
Weighs 2.4 in ounces
Parameter of cover in inches- 8.9 x 2.3 x 2
Suitable for all painting job including enamel, latex and urethane
Verdict
This roller may be expensive, but it's worth every dollar paid. It's capable of leaving a superb finish, holds a lot of paint, and there are no brush marks or splatters left behind. If you want to focus on the task at hand without worrying about anything else, consider this tool.
---
6. GlobMarble Wooster 9″ EPOXY Glide 1/4″ NAP Roller Cover For all Epoxies and Urethanes
Key Features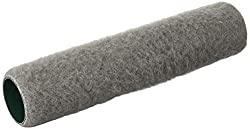 Gives a uniform and flawless finish
No shedding from sleeve
High absorbing fiber
Discharges liberally for consistent coating
Spins freely with roller spring
Reusable and easy to wash-off
GlobMarble Epoxy Roller Cover is a top-rated applicator for all kinds of epoxy and polyurethane finishes. It can hold both water-based and oil-based finish to permit a wide selection of application. This roller cover is designed focusing on floor finishing.
The cover soaks up solution effortlessly and releases profusely to give an even, solid coat in per lap. It slides smoothly without halting to let you pace up the work. Besides, the cover doesn't leave any lint on the floor and gives a flawless finish every time.
The cover reels smoothly with the roller for applying polyurethane and leaves a dense finish on the floor. Polyurethane works as armour for wood floor, and epoxy roller is just the right applicator to aid that. The solid coating enhances the shielding power of hardwood floor and gives durable protection against weather and scrapes.
Wooster roller sleeve has a double-chamber design. The inner layer is thicker than the outer layer. That makes it durable and prevents the water and solvents from adhering.
Downside: It may be reusable, but this tool works better during the first use.
Specifications:
Non-woven roller cover
Cover weighs only 1.92 in ounces
A 9-inch cover with 4-inches single-ply core
1/4″ nap fit roller cover
Fit for epoxy and polyurethane finish
Total dimensions of cover in inches- 9 x 2 x 2
Both waterborne and solvent-borne
Dark grey colored fabric
Green extra thick core of polypropylene
Verdict
Though most people prefer to use this tool just once, you can get a lot of it from a single-use operation. Compared to foam, this one does seem to hold a bit more paint. With no lint left over the surface, this is a useful tool to create a smooth finish.
---
7. Purdy Jumbo Mini Colossus Roller Replacements for Oil-Based and Latex Coating
Key Features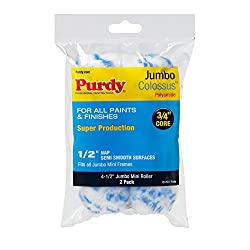 Makes painting quick and easy
Long withstanding design
Washable and reusable sleeves
Produces excellent quality finish
Perfect for uneven surface application
Performs the job of both smoothening and draping
Gives a low-reflective matte finish
Does all painting and staining jobs
Purdy mini roller sleeves are compatible with all Jumbo frames and give high-quality coverage on roughly built surfaces.
It leaves a non-reflective finish that helps cover up minor defects, and a low-to-medium sheen that changes with the lighting. These roller sleeves are perfect for masonry and stucco jobs. It increases the stability of the finish and makes maintenance easy.
Jumbo mini roller sleeve is suitable for oil-based and latex coating. It delivers a brilliant result on the finished surface. With Jumbo roller, you can apply the finish and then level it up at the same time. And it can use all variations of stains and paints equally.
The roller is fit for covering a small portion of surface at a time. But, it will give you more coverage with smooth flow and speedy application. Besides, it is perfect for painting in confined places, and that's with a pro's performance. And after each painting job, you can easily clean it and store for future use.
Downside: A noticeable issue found is that the roller's retention capacity isn't as high as the other tools reviewed.
Specifications:
Made from Woven Polyamide
Each roller sleeve size 4.5 in inches
Includes 2 Jumbo mini roller replacements
Fits in ½ inch nap
Each sleeve measurements in inch- 1.6 x 4 x 6.5
Weight of single roller cover 0.353 in ounces
Verdict
Painting over rough surfaces may be a tough challenge, but this roller makes it more bearable. From brick walls to popcorn ceilings, no surface will give you headaches anymore if you use this tool.
---
Things to Consider Before Buying a Roller for Applying Polyurethane
Nothing gives a lustrous shine on the wooden surface and at the same time preserves it, like a polyurethane finish. But applying urethane finish on a hardwood floor isn't a simple job. It requires looking at the same thing from multiple angles.
So what are these angles?
Apart from the fact that there are two separate forms of urethane, you need to ask yourself three questions before starting your project. And the answers will tell you the points you should contemplate.
Number 1:  What is the state of my hardwood floor? Is it flat or bumpy, smooth or scratchy?
Roller sleeves made of wools are perfect for applying poly finish on the wood surface. But they give a soft touch and spins smoothly over the floor. So an uneven wood top will only deter the flow and ruin the roller cover. On the other hand, a polyamide roller cover will hide the dents and give a beautiful new look with the low-sheen finish.
Number 2: How thick I want my finish to be?
Rollers that can hold more poly will give a higher density on the finish. Wool cover and foam covers are renowned for their super absorbing capability. Besides, we have discussed some high-density rollers which are great for this purpose.  You can pick one from them. A solid coating augments the durability of the finish and gives lasting protection. So it's not a bad thing, after all.
Number 3: What is the kind of finish I want?
Oil-based poly has a light color of its own when water-based poly leaves a translucent finish on the floor. Moreover, you will get a more shimmering finish with solvent than with waterborne poly. And some rollers are adept at giving glossy finish, while some at matte.
So once you know the result you are looking from polyurethane finish, you can move on to select the best roller for polyurethane finish. There are some general attributes you need to consider before dropping a roller on your shopping cart. And you always have the freedom to add more considerations in it.
Here are some of the points that demand your contemplations.
Roller Frame:
The material of the roller determines how sturdy the stick is and how long it will work. Besides, a good design helps secure the sleeve tightly and allows free-spin during application. That gives a better flow in work with minimum splatters and will prevent from spraining your hands. Besides, plastic and steel frames are comparatively easy to wash-off than wooden ones.
Length:
A mini roller is useful for small area application and can work on tight spaces. It is suitable for covering edges and corners. However, for a larger area, like the center of the floor, a long stick roller is best suited. 
Cover Material:
Roller covers come in different sizes and fabrics. Besides, the edge of the sleeve impacts finish quality as well.
Wool cover absorbs and releases finish better at the time of application. It can cover more areas within short span despite its mini size. Wool sleeves are perfect for solvents and will give more sheen on your wood floor.
Foam cover can hold a lot of finish as well. It gives a more impenetrable coating in each stroke. Foam sleeve absorbs liquid better and gives an even finish without streaks.
Synthetic roller covers work more like good for all than specializing on one. However, some microfiber covers give a shiny, smooth finish for all kinds of urethane. Besides, they are washable and more lasting in nature.
Woven covers are apt to cover imperfections and give a wonderful finish on rough surfaces. They render a neat application and allow more variations in surface finish.
Nap Size:
The nap size of roller determines the uniformity of finish. A thin nap fit roller will give you a more even finish than a thick one.
Resistance Capability:
Wool and some synthetic covers come in double-layer sleeves. The core of these sleeves is composed of highly resistant fabric. That bars the solvents and waterborne urethane from sipping in. That improves the durability and texture of the covers. Consequently, you will be able to save both your money and time of cleaning.
Clean Finish:
The final quality of finish matters. Select a roller sleeve that gives a spotless finish with no shedding on the floor. Besides, it's necessary to look for a roller that can give bubble-free finish when applying urethane on the floor.
Frequently Asked Questions:
1. What type of roller is best for even finish?
Nap size of the roller influences more on the smoothness of delivery. Choose a thin nap roller, ideally of ¼-inch nap size. Besides, you can consider wool and foam sleeves for more even finish.
2. Can I use a paint roller to apply polyurethane finish?
Yes, you can. Paint rollers are perfect for poly finish and give an even, streak-free finish.
3. Why is it better to use a roller for polyurethane finish?
Polyurethane requires fast application and roller can cut the time of applying poly to half. Besides, it gives a smooth finish with no lint on it.
Final Words:
Paint roller is the best roller for polyurethane finish in two ways. It will let you stain your floor and then fortify it through a smooth coating.
Roller enables to improve the overall appearance of the hardwood floor. Whether you want to make it gleaming or hide the minor splits; a roller can do all for you. However, you need to find the appropriate one for that.
The trick is to choose the right sleeve. The holding frame certainly matters, but the texture of your finish relies on roller cover performance. So the cover material and nap size demand more of your attention than the frame itself.
Though it's not a straightforward job to resolve on exactly what roller needed for polyurethane your hardwood floor, it's not an impossible one either.
This is Autem Decker. Main Author of 'TheHomeDigs'. You may not find her on the list of top 10 contemporary Canadian interior designers, but everyone who knows her says she was born to be an interior designer.
She makes her plan in her head and draws them in her years-old diary with a note in the corner. The way she plays with color and shape amazes us.
Connect Her On – Twitter