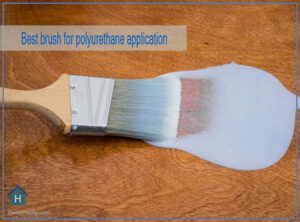 Do you want a durable yet elegant finishing on your wood pieces or floors? If the answer is yes, then there is nothing better than polyurethane.
Oil-based and water-based polyurethane is widely available in markets, and both can be of great use. But using the best brush for polyurethane is what makes the difference between a piece of smoothly finished furniture and a ragged one.
Finding polyurethane is of no hassle, but applying it might be. Generally, it is easier and much convenient to apply it with brushes. But the quality of brushes also varies.
Whether you are a professional or a hobbyist, using the right brush will immediately ease your tasks and improve your results of applying polyurethane. Read ahead to find the detailed guide and reviews of the finest polyurethane application brushes.
List of Best Brushes for Polyurethane Finish we Reviewed
Different Types of Brushes for Polyurethane Finish
There are various types of polyurethane brushes depending on their material, usage, and maintenance. Different types of brushes are suitable for different kinds of applications. Below are listed the types of polyurethane brushes and their details.
Natural Bristle Brushes
These brushes are made of animal furs- like a hog, boar, or badgers. Although they are quite more expensive than artificial bristles, their performance is also better.
These types of brushes are good for oil-based polyurethane. Natural bristle is extremely durable and they rarely leave loose strands behind, which makes polyurethane applying easier.
Synthetic Bristle Brushes
Synthetic brushes are more affordable and their durability is spot-on. These brushes are incredibly versatile, and therefore; they are used by most people. The texture of these brush too are even and they provide you with a smooth finishing.
There are also different types of synthetic bristle brushes. The most common two types are- polyester and nylon.
Polyester brushes are great for applying water-based paints; while nylon works fine with both water and oil-based paints.
Foam Brushes
Foam is a good option for those who are looking for cheap brushes. The flexibility of these brushes allows you to cover different areas of your piece effortlessly.
Using foam brushes is more like varnishing. They are great for small DIY projects.
These are so cheap that you can just throw out used ones and take a new one for every use. Thus, you wouldn't have to spend time cleaning the brushes.
Best Brush for Polyurethane Application
To help you choose the best brush for polyurethane, below we have given detailed reviews of the ones with the best performance.
Best Paint Brush for Polyurethane from Minwax
1. Minwax Polyurethane Trim-Black China Bristle Blend Brush for Polyurethane
Key Features

Works great on oil-based polyurethane
Gives a glass-like finishing
Evenly coats wood
Works great with all sheens
Lasts long
Provides a good grip
Increases the absorption power of furniture
Keeps furniture safe from stains
Makes the applying procedure easy
Barely sheds hair strands
This Minwax polyurethane brush is a favorite to everyone who likes to give their furniture a professional-like finishing. The natural bristle of it ensure your wood pieces even coat and leaves a glass-like look.
These brushes increase the absorption of your furniture and keep them safe from stains. The coating makes your furniture easy to clean and maintain.
Applying polyurethane with these brushes is also easy. The handle provides a good grip and the ferrule makes your work quick and trouble-free.
Although you have to put some effort into these brushes' maintenance, like cleaning and drying them off; these are extremely durable. With moderate use, one brush will last for a long time.
Since these are made of natural bristle, these brushes work especially well with oil-based polyurethane.
To get the best polyurethane application experience, clean and dry the brush off before using. Use your hands to pull the loose strands out so that you don't end up having hair strands in your finishing.
Downside: Cleaning this brush after use can be a bit tricky, but totally necessary if you want to preserve it.
Specifications:
Brand name- Minwax
Made with natural bristles
Item weighs 2.88 ounces
Product dimension- 10 x 2 x 1 inches
Available in white color
The handle is made of wood
Ferrule made of stainless steel
Brush size is 2 inch
The package contains one brush
Verdict
With proper maintenance and care, this brush can last for a very long time. The bristles effectively apply different types of finish, and the grip offered by the handle makes it comfortable.
---
Best Polyurethane Brush for Wood Floors
2. Purdy 144300030 Ox-O-Thin Flat Trim Paint Brush
Key Features

Great for applying oil-based polyurethane
Heavier and more durable than other brushes
Hard-wood handles provide good grip and control
Soft bristles leave no marks after painting
Gives a glossy and elegant finishing
Heavy-duty bristle lasts long enough
Easy to clean and use
This Purdy brush for polyurethaneis another great tool for applying a coating to your furniture and floors.
This is made of ox hair, therefore, this is a natural bristle brush. It goes great with oil-based paints.
The soft bristles allow you to evenly cover the floor with polyurethane without leaving any marks. With these, you get a glossy look on your wood pieces that makes your entire house look elegant. This is definitely the best brush for polyurethane floor.
Although these brushes soft, the hair strands are sturdy enough to not fall off during strokes. So you wouldn't have to pick up hair strands from your wet or dry paint; well, we know what a headache that can be!
The thin and hard handle lets you easily control your moves, so you get a nicely covered wood piece in only a few quick strokes.
All these features make this brush a must-have for your next home décor project!
Downside: Before first use, there may be a few loose hairs in this brush. Use it on scrap wood and clean it a couple of times before working on your projects.
Specifications:
Manufactured by Purdy brand
Weighs 5.4 ounces
Product dimension is 0.75 x 3.12 x 11.75 inches
Bristle made of ox hair
Size is 3 inch
Brush style- flat Trim
Handle made of wood
The package contains one brush
Verdict
If you want a sturdy tool to apply a coating to furniture or floors, this brush is the one for the job. Made with ox hair, the natural bristle brush works incredibly well with oil-based paints. Even better, this brush leaves no marks, bubbles, or a ton of hair behind.
---
Best Foam Brush for Oil Based Polyurethane
3. Wooster Brush 3103-2 Foam King Paintbrush for Polyurethane, 2 inches
Key Features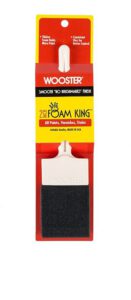 More flexible than other brushes
Using it, you can evenly cover all areas of your piece
Gives a smooth coating
Doesn't leave any brush marks
A better capacity of holding paint
Blade assures precise coating
Great for both types of polyurethane
Wooster is a trusted brand that produces some amazing foam brushes for polyurethane. These brushes work great for applying both water and oil-based polyurethane.
These brushes come with multiple features. You can use the same brush for painting, coating, and varnishing. The polyurethane foam ensures a smooth and mark-less finishing to your furniture.
The flexibility of this brush helps you to coat all the edges and corners of your furniture evenly. The plastic handles increase the flexibility even more to give you the best polyurethane application experience.
The built-in blade gives you neat results after applying polyurethane. The open-cell foam holds more paint so that you get better coverage at each go.
Since this is a foam brush, it gives you the smoothest possible coating. You wouldn't have to worry a bit about brush marks, even if you are an amateur at polyurethane application.
Overall, this is the best foam brush for oil based polyurethane available in the market. These brushes will give you the finishing that every craftsman dreams of.
Downside: Sometimes, this brush does leave a few bristles behind. Luckily this issue doesn't happen regularly, and it often comes up after hours of use.
Specifications:
Manufactured by Wooster brush
Weighs 1.6 ounces
Product dimension is 10.63 x 8.27 x 2.99 inches
Item size- 2 inch
Material- Foam
Handle made of plastic
The package consists of one brush
Verdict
By working with water and oil-based polyurethane, this brush comes as a versatile tool for every DIYer. Therefore, don't fear using it for multiple tasks like painting, coating, or varnishing. For either of those projects, the finish left behind is both good-looking and impeccable.
---
Best Wooster Brush for Polyurethane
4. Wooster Brush 5222-2 Silver Tip 2-Inch Paintbrush for Excellent Smoothness
Key Features

Lets you make light and thin strokes
Allows smooth and precise coating
Durable
Easy to use
The handle provides a good grip
The ferrule is sturdy
Works fine with water-based polyurethane
Multi-purpose brush
This is another well-performed product from the Wooster brand. Unlike the previous one, this is made of polyester. So, this brush is particularly great for water-based polyurethane.
The brushes of this brand come in various sizes. You can choose the size well-suited for you. But this silvertip brush is the ideal size for almost all types of applications.
This brush is made by mixing white and silver polyester and given a chisel trim for your ease of work. The grip provides you great control over your strokes.
Apply a coating layer or coloring, this brush will serve each of your purposes with great efficiency.
The bristles are soft as feathers. This ensures gentle strokes with even coating. So whether you coat a wall, furniture, or floor with this brush, there is no worry of the result turning uneven.
This brush lifts your polyurethane application experience and upgrades your skills. Therefore, to give your house the best look, you should order this best Wooster brush for polyurethane without a doubt.
Downside: At times, the brush leaves a few brush marks that didn't look neat. Luckily, another pass is enough to cover it and leave a gorgeous finish.
Specifications:
Manufactured by Wooster Brand
Comes in silver color
Brush size is 2 inch
Made of polyester
Hardwood handle
Ferrule made of stainless steel
Product dimension- 1 x 2 x 10 inches
The brush weighs 1.6 ounces
Verdict
Wooster continues to provide high-quality brushes for home remodeling projects. In this case, the Silver Tip Paintbrush is simply one of the best. Capable of staining cabinets to perfection, this is the tool you want for quick or more complex household tasks.
---
Best Paintbrush for all Paints and Stains
5. Purdy 140853100 XL Brush 3 Piece Value Pack Ideal for Paints and Stains
Key Features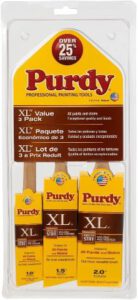 Versatile brushes
Durable
One pack can be used for all purposes
Washable
Can be used under all weathers
Works for both indoor and outdoor projects
Doesn't shed hair strands
Ensures precise coating
In this list of best brush for polyurethane, this brush set is the most versatile package. The three brushes are of different sizes, and therefore can be used for different tasks.
This package only will be sufficient for each of your projects. To make it even better, this can be used for all stains and paints.
You can do both interior and exterior projects with these brushes. Each of the brushes is designed to give the perfect strokes, which ensures that your floor or furniture is evenly coated.
The bristles do their job excellently and after you apply polyurethane with these brushes, the covering layer will protect your furniture from liquids and stains. The stiffness of this brush lets you work under any weather without any trouble.
All three of these brushes are sturdy enough to not shed any hair strands so that you can achieve utmost perfection with your polyurethane application. They are also durable and will last for years. To summarize the previous words, this package contains the best paintbrush for polyurethane.
Downside: While the other two work great, the two-inch brush leaves bristles behind while using it. Not many, but a few that could impact the finish overall look.
Specifications:
Manufactured by Purdy brand
Made in the USA
A package contains three brushes
Brush sizes- 1 inch XL Dale, 1-1/2 inch XL Glide & 2 inch XL Sprig
Item weighs 8 ounces
Product dimension- 0.94 x 6.31 x 13.88 inches
Handle material is wood
Washable bristle
Verdict
Carefully using this set of brushes will help you make your ideas into reality. Whether you use them for staining or painting, these tools can leave gorgeous results after use. Additionally, their maintenance is a breeze to guarantee later use.
---
Best Brush for Water Based Stain and Finishes
6. Minwax Manway 427320008 Best Polycyclic Brush 2″ Trim Brush
Key Features

Can be used for both polyurethane and polyacrylic
Suitable for both oil and water-based paints
Soft bristles
Ensures smooth coating
Doesn't shed strands
Easy to use
Easy to maintain
Provides great grip
Gives a precise finishing to furniture, wall, and floor
This is another top-notch brush from Minwax. The blend of nylon and polyester gives it the perfect features for ensuring you a smooth polyurethane applying experience.
The bristle is really soft. It is almost of a feather-like consistency. No matter how much pressure you put while stroking with this brush, the result will turn out pretty neat. So this brush is perfect for beginners and yet, good enough for professionals.
The hardwood handle provides you a good grip on the brush, so you can easily control your moves and directions.
The extra softness of the bristles helps you reach every edge and corner with ease and give a beautiful finishing to your crafting piece.
Although the bristles are soft, they are roughly attached to the handle and will not shed. So you will not have to worry about strands sticking inside your polyurethane.
This is also the best brush for polyacrylic. So one brush will suffice many of your needs.
Downside: The handle's size can feel a bit off sometimes. It takes time getting used to it, but it could be a bit bigger to provide a better grip.
Specifications:
Manufactured by Minwax
Bristles made of polyester and nylon blend
Handle made of hardwood
Ferrule made of stainless steel
Brush size is 2 inch
Available in white color
Item weighs 0.634 ounces
Product dimension- 10 x 2 x 1 inches
Style- Polycrylic 
Verdict
This is a brush that performs well in many tasks. Use it for staining, varnishing, application of water-based media, etc. Another fantastic benefit is the size. At two inches, the precision is top-notch.
---
Best Brush for Water-Based Polyurethane
7. Magimate Large Paint Brush 8 Inch Wide Stain Brush for Floors, Doors, and Decks
Key Features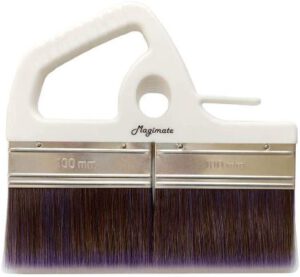 Covers a wide area at each go
Saves time and energy
Gives a smooth coating
Can be used on different types of surfaces
Goes well with all types of paints
Sturdy handle
Suitable for both indoor and outdoor projects
If you're looking for the best brush for water-based polyurethane, your search ends with this brush. Unlike previous brushes, this brush size is huge. The wide range covered by this brush saves you tons of time while applying polyurethane or any paint.
The synthetic bristle of it works great with water-based polyurethane. But it can also be used for other types of paints- such as watercolor, acrylic, latex, epoxy, etc.
It can hold a good amount of paint and therefore, makes the coating process easier. So if you are a professional craftsman, this brush will get your job done with minimum effort.
The plastic handle is strong enough to ensure you a good grip on the brush. Therefore, handling this is no hassle.
This brush can be used on any surface- be it smooth or rough. The brush is also suitable for both indoor and outdoor projects.
When you apply polyurethane with this brush, it gives your wood piece a nice coverage. Your piece will hence become water-resistant and easy to clean.
Downside: For an otherwise perfect brush, the thickness could definitely be a tad better.
Specifications:
Manufactured by Magimate Brushware
Weighs 11 ounces
The brush size is large
Product dimension- 8.1 x 7.5 x 0.9 inches
Available in white color
Handle made of plastic
Bristle type- synthetic
Verdict
If you want to cover large areas in less time, consider buying this brush. Measuring eight inches, the brush speeds up most jobs significantly. Use it to paint walls, apply coating on floors, staining decks, and much more.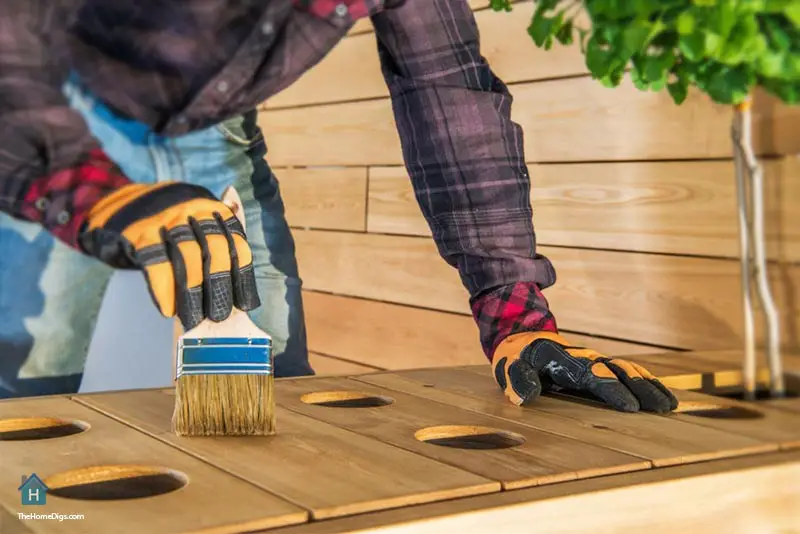 Things to Consider When Buying A Brush for Polyurethane Coating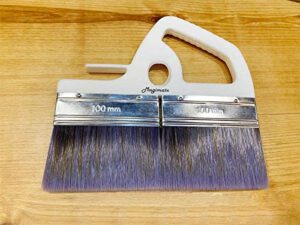 Every brush will not be good enough for every type of polyurethane application. There are some crucial things to consider before buying a brush. Below are mentioned the things you should keep in mind.
Bristle Type:
The thing that makes the most difference with polyurethane application is the bristle type.
As mentioned before, there are various types of bristles, made of different materials and serving different purposes.
Whether you need a natural, synthetic, or foam brush depends much on the polyurethane form you are going to use. If you don't use the suitable bristle according to your polyurethane form, you will not gain expected results.
In short, use natural bristles for oil-based polyurethane and synthetic ones for water-based paints. You may use foam brushes for any type of polyurethane, but the result will be not as fine as natural or synthetic brushes.
Brush Size:
There are different sized brushes available in the markets. Some are tiny, some are large enough to cover a wide area.
Generally, small brushes can be used for all purposes. Since these brushes are easy to use on edges and small holes, they produce precise results.
But applying polyurethane on floors or walls takes tons of time when using small brushes. For such purposes, larger brushes are preferable.
You may find comfort by using both types of brushes at once- large brushes for wider surfaces and small brushes for edges.
Bristle Shapes:
Bristles come in different shapes, such as square-cuts and angled-cuts. For different types of surfaces, the bristle shape varies.
If you are going to apply polyurethane on an even surface, square-cuts are perfect for you. But to neatly apply it on edges and corners, you may need angled cut bristles.
Bristle Tips: 
The tip of bristles is usually flagged or tipped. The flagged bristles are of superior quality and provide smoother application results.
Tipped bristles, on the other hand, are more liked by professionals. These brushes ensure better control and are able to hold more paint, which makes polyurethane applying easier.
So it is up to you which results you prefer.
Frequently Asked Questions about Polyurethane Brush
1. Are natural bristles better than synthetic ones?
The performance of different bristles varies upon the form of paints. Natural bristles work better with oil-based paints; while synthetic bristles are great for water-based ones.
2. How to get a neat finishing with polyurethane application?
To get the smoothest finishing with polyurethane application, you should start by applying a thin layer. Then, use sandpaper to remove any dust on it.
To give it an even shinier finishing, use automotive paste wax.
3. Why does my polyurethane leave brush marks? 
The remaining brush marks occur due to the lower quality of polyurethane brushes. If the brush is not soft enough, such marks will arrive.
It can also happen because of the polyurethane drying off too fast. So, you might check the consistency of your polyurethane before application.
If the consistency is fine, then switch to a soft and higher-quality brush for polyurethane application.
4. Are foam brushes bad? 
Foam brushes can be a much cheaper substitute for natural or synthetic brushes. With the right amount of experience, these brushes can give you excellent results.
The only bad effect of foam brushes is that they create bubbles. So there is a huge chance of your polyurethane becoming uneven after it dries.
5. Is rolling polyurethane better than brushing it?
Rolling polyurethane may seem better than brushing it because the application process is much simpler and it produces good results with minimum skills.
But rollers cannot cover edges and corners properly. For such areas, brushing polyurethane is a must.
6. How to achieve the best results by applying polyurethane? 
Use a good-quality bristle brush to apply the first thin coat on the surface you want to cover. Then wipe the excess with a clean piece of cloth. With the right brush, it is that easy!
Final Words
Polyurethane life-saver for your furniture, walls, and floors. But without proper application, you cannot enjoy any of its goodness; instead, your house will untidy.
That is why using the best brush for polyurethane application is a must. It will not only help you to finish your crafts quickly and smoothly, but your home décor will also be much more elegant than earlier.
The process of polyurethane application can cost you a fortune. But why spend money when you can do it yourself, that too with utmost perfection?
So get yourself one of the polyurethane brushes mentioned above. It will save the cost, give your house a lovely touch and also inspire the inner craftsmen in you!
This is Autem Decker. Main Author of 'TheHomeDigs'. You may not find her on the list of top 10 contemporary Canadian interior designers, but everyone who knows her says she was born to be an interior designer.
She makes her plan in her head and draws them in her years-old diary with a note in the corner. The way she plays with color and shape amazes us.
Connect Her On – Twitter