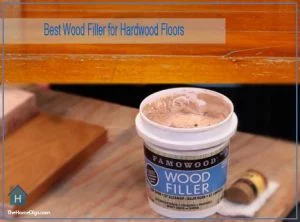 My little nephew knows one thing well–if something is torn, glue it up!
One day, he gave himself a chance to climb up the kitchen table and ended up throwing a knife on the wooden floor only to see the quick crack on the floor. This little fella had a very quick solution, 'glue it up'! He has such a level of trust in the glue.
Though wood filler and glue are not the same, wood filler is an important ingredient for those who live in a house with a wooden floor. The best wood filler for hardwood floors knows how to fill up the gaps and cracks hiding all the spots of fixing.
Best Wood Filler for Floor & Furniture Repair Overview
Best Wood Filler for Hardwood Floors Reviews
Hardwood floors get damaged in many ways. Sometimes it gets holes, sometimes scraps or scratches, gaps or cracks. The specific problem needs specific treatment. So, I have included different types of wood filler in this review post. Let's read them and find the one you need!
1. Coconix Wood Floor and Furniture Crack Repair Kit
Key Features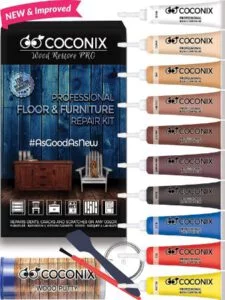 Great for covering up knots and screws, filling holes and scratches, blemish touch up, staining and painting.
Creates different patterns to blend the glue perfectly.
The best wood filler for cracks.
Sturdy wood filler for big holes.
Let us start with the Coconix floor and furniture repair kit. If you are looking for fixing cracks on the wooden floor or furniture, use this one. It is also idle for filling small and big holes, covering screws and covering, blemish touch up, or removing scratch.
It performs tremendously well on any materials. You will not be able to separate wood and filler after using it on any dark, natural, light, oak, maple, or mahogany materials.
You can create whorls, effects, or knots to blend well the patches, and this is how it becomes impossible to point out if you have fixed it or it is just original!
Moreover, you will not need any extra tools like a pen or marker or crayon set while using this glue.
---
2. Elmer's E914 Carpenter's Color Change Wood Filler to Repair Holes, Gouges
Key Features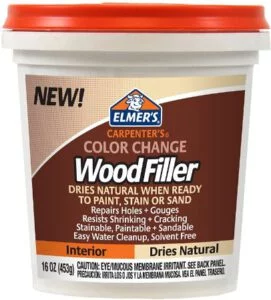 Non-Toxic filler, not harmful for health and maintains the shape of the wood piece.
Wood filler for staining. Sanding and painting are also possible.
Color-changing formula confirms when it is dry.
Best filler for filling up large holes.
Elmer is always the best choice when we need to repair any wooden tools or floor. Whatever it happens to be any wood materials in our house's interior setting, this wood filler can easily fix it. It is the best wood filler for large holes. You can also use it to fix any dents, scratches, small holes, or any defects without any hassles.
This wood filler dries fast and becomes pink. After that, you can start staining or painting. The color-changing is especially helpful for the people who are not used to in glue applications. The transformed color makes them take the step to go for the next level as it only becomes pink when it is completely dry.
Sometimes it becomes difficult using filler for the presence of toxic elements. This wood filler is absolutely non-toxic. The non-toxic formula helps the wood to keep itself in the perfect shape; there will be no issues of shrinking or cracking of the wood. It is much easier for you to use this product for Elmer's application-focused adhesive choosing. It helps you choose the best filler for your specific fixing problem.
This wood filler is stainable, sand-able, and paintable.
---
3. Minwax 42853000 Best Stainable Wood Filler for Hardwood Floor
Key Features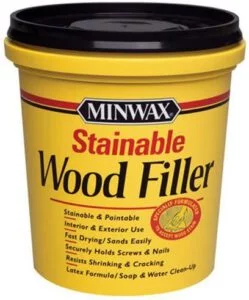 The glue dries fast, you will not need to wait you do for the other glue.
It is designed to use with an oil-based and water-based stain.
The best glue for staining.  It is also good for painting.
You can use it on interior and exterior projects.
Are you looking for the best stainable wood filler for hardwood floors? I got you!
This Minwax wood filler is always ready to help you shine up your interior and exterior woodworking project with the best staining capacity. They have designed it to use it with water-based and oil-based wood stains.
This wood filler is not only great at staining, but it also works amazingly in painting as well.
You can repair nail holes, knot holes, small gouges, cracks, and other scars on outdoor and indoor wood surfaces.
Another important trait of this wood filler is it gets dry really fast. You will not need to wait for a long time only to see if the glue is dried or not. So, it is really amazing to see how fast it dries and becomes ready for use in no time!
---
4. NADAMOO Wood Filler Kit for Floor Furniture Crack & Hole Repair
Key Features
Any kind of crack or damage on your wood floor or furniture can be fixed with this glue.
Easily applicable wood filler comes with a brush for perfect repairing.
Comes with 12 wood filler with variations of color.
Ideal for repairing any scratch on wooden things.
Most of us love color, and we want to work on color variation. This filler gives us the chance to explore 12 amazing colors!
They are black, black walnut, cedar, dalbergia, grey, ivory, mahogany, red oak, red sandalwood, teak, white, and wood white. Yes, you get all those beautiful colors in this palate. You can mix those colors and make different shades as well.
You can fix any problem with your wood furniture without any help from others.It is very easy to apply. You just need to squeeze some filler and spread evenly on the area you need to work on. Use the brush to touch up every detail.
Oh, I forgot to tell you about the brush they provide. It comes with a brush to apply the paste exactly as you wish. You can use the brush to apply the filler smoothly or as you like it.
Nadamo wood filer is widely used for wood floor finishing and furniture repairing. You can use it on big or small cracks, chips, holes, pet marks, dents, and scruffs. This wood filler for cracks brings smiles to your face with its sturdy performance.
---
5. Goodfilla Water-Based Wood & Grain Filler 1 Gallon – Best Water Based Wood Filler
Key Features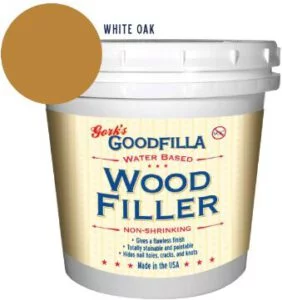 Water-based wood filler for a hardwood floor or wooden furniture.
Best for both the professional as well as DIY lovers.
Unlimited shelf life, no chance of getting damaged.
It can be used on wood floor finishing and furniture repairing.
Professional wood artists adore this wood filler for being the best water-based filler putty. It has been widely used by woodworkers for years for its amazing finishing capacity.
This one is also designed for those who love to indulge themselves in 'do it yourself' projects. If you are one of them, you are going to find this glue super easy to use in your innovative ideas.
This one is the best water-based adhesive you will ever experience. It works equally best on the wood floor to finish– on any furniture or utensil repairing. It makes your sanding easier and saves your time. Since it is water-based filler, it is best for interior use.
Another important point I need to mention is its shelf life. It has an unlimited shelf life! Yes, as it is a water-based filler, you can do reconstitution with water, and it is freeze-thaw stable.
Things to Know Before Buying Wood Filler for Floors or Furniture
Always keep in mind that what you are going to buy should serve you to satisfy your ultimate best. Make sure you pay attention to the following areas while buying yourself a wood filler.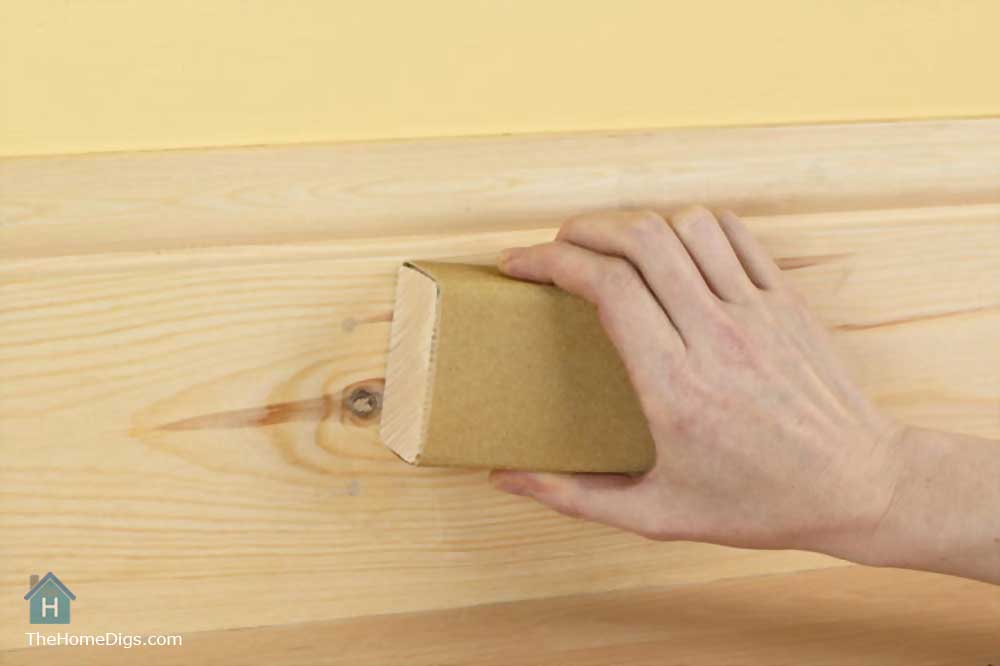 What Color You Are Looking For
Wood color is not normally the same. Different wood has different shades of color. Some are brownish, some are mahogany, and some are black and so on.
It is important that you choose the wood filler that matches the color of your furniture or floor on what you are going to apply the filler. You can choose to match as well as make a contrast with the filler. If you plan to paint and stain later, make sure you are taking the paintable and stainable filler.
On What Weather You Are Going to Work
If you read the filler packs, you can see those are for exterior use or interior use. Many fillers could be used for both outside and inside.
Fillers that are designed for interior use cannot perform better outside, in warm or cold weather. You may face problems during the application while drying or maybe after drying.
So, you have to apply interior only filler for the floor or furniture that is always going to be inside a house.
What Task You Are Going to Do with The Filler
Not all wood filler can do all types of work. The different types of fillers are made for different types of tasks.
For instance, some filler simply fills the gap between wood, fill the deep or small holes; some could go for scratches or gouges. In this case, one might not work for another problem.
Know what problem you are going to work on and which one would be best to solve the problem.
Water-based or solvent-based filler you want to buy
Wood fillers can be of two types: water-based and solvent-based.
Water-based wood fillers are made of wood fiber, gypsum, or cellulose; while solvent-based filler has epoxy or vinyl. Water-based wood fillers take 5 minutes to dry where solvent-based take 1 hour. Even though water-based filler comes with less smell with fast drying and easy cleaning.
Solvent-based fillers are stronger. Solvent-based fillers are more resistant to humidity, water, hot weather than water-based filler. It is the reason solvent-based fillers are costly than water-based filler.
---
FAQs about Wood Filler for Hardwood Floors
Look at some of the frequently asked questions about the use of wood filler. Maybe you have the same question and I have already answered it. Let's check them out.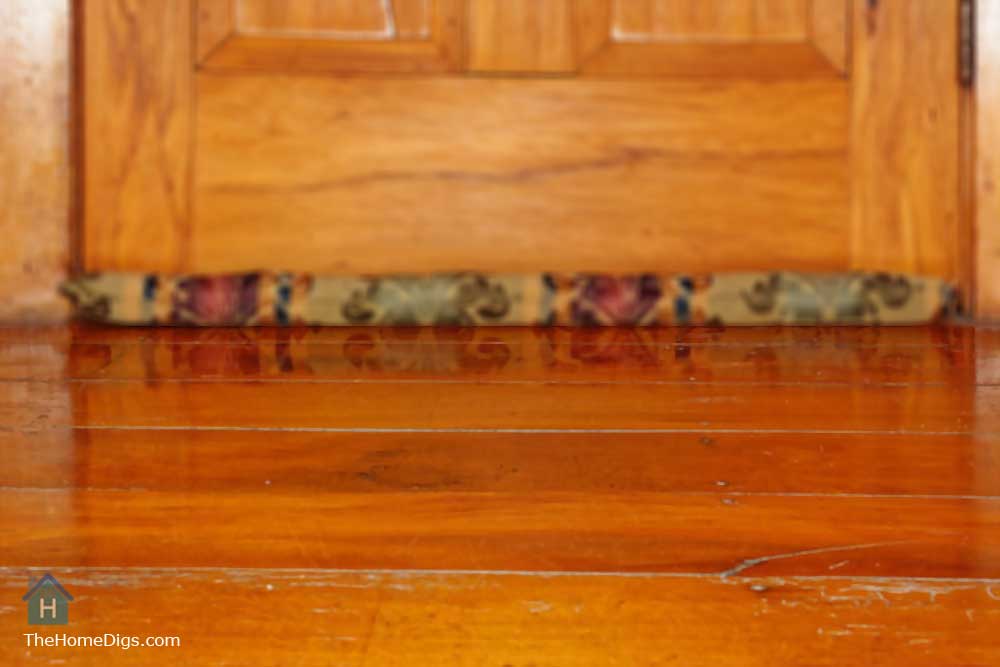 1. What are thinner and thicker wood fillers?
Ans. Wood fillers have two types of consistency. Some wood fillers are thicker like putty and some are thinner as pancake batter. Thick fillers are used to fill voids as thicker fillers have large particles in them. Thinner fillers are for filling up pores of woods with open-grain.
You cannot use thick filler in places of thin filler because of the large particles and the thinner filler will not be able to fill up the holes.
If it is not written on the pack and the filler is thick or thin, there must be direction like 'for filling pores' which means thinner, or 'for filling holes' which means thick filler.
2. How do I repair a scratch on my hardwood floor?
Ans. To repair a scratch on your hardwood floor, you can apply a little bit of wood filler on the spot. Clean the excess filler around the spot with a soft cloth after the filler is dried to make it shiny.
Make sure you are using the matching color filler and a plastic knife. A plastic putty knife would help you to have a smooth finish and no chances of having another accidental scrap on the floor.
3. Can I use wood filler instead of wood glue?
Ans. No, wood filler is not wood glue. Wood glue randomly joins wood to wood and repairs by bonding.
On the other hand, wood filler repairs by filling up the gaps, holes, scrapes, or scratches. Wood fillers can be used for shaping or sanding as well. These two products are for different uses.
4. Can I fix the gaps on the hardwood floor?
Ans. Yes, you can fill up the gaps of your hardwood floor with wood filler. You have to choose thick filler and apply according to the direction. Do not forget to stain with matching color for the ultimate result.
Final Words
After detailed research and experience, I have finally come to the decision that I could really pick some special wood fillers for different woodwork.
For instance, the first wood filler from Coconix is applicable to all kinds of hardwood problems. It is equally good for filling up holes, scratches, gaps, covering knots, blemish touch up, and many more.
Check out the third one from Minwax 42853000 for the best stainable filler which is also good for painting. There is water-based and solvent-based water filler for interior and exterior use.
I have brought five best wood filler for hardwood floors based on the quality and variation of use. You have an ultimate buying guide and FAQ section as well to help yourself pick the right filler.
This is Autem Decker. Main Author of 'TheHomeDigs'. You may not find her on the list of top 10 contemporary Canadian interior designers, but everyone who knows her says she was born to be an interior designer.
She makes her plan in her head and draws them in her years-old diary with a note in the corner. The way she plays with color and shape amazes us.
Connect Her On – Twitter