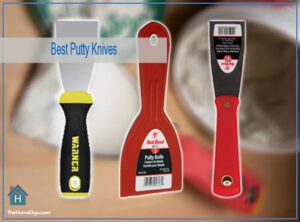 Regardless of your skill or experience level as a DIYer, you need the best putty knife in your arsenal. These handy little guys not only allow you to apply fillers but prove themselves useful in a number of other applications, such as scraping grout or even removing wallpaper.
The problem, though, is that putty knives come in a wide variety of styles, sizes, and purposes. Plus, while many handymen and DIYers are happy with just the one putty knife in their toolbox, others find that sets of multiple knives are more suited to their needs.
So which should you choose? Well, we don't know, but we've rounded up and reviewed 8 of the best ones to make your choice easier! 
Putty Knife vs Scraper vs Taping Knife
We get it; it's confusing. What sets a putty knife apart from a scraper? And how are these any different from a taping knife? Here's a detailed look at each type.
A putty knife can be used for multiple purposes, but the primary reason for its existence is to help you apply filler materials such as wood filler. Putty knives come in a wide variety of designs, sizes, and shapes and can help you get a lot done on your DIY adventures (scroll down to our buying guide for a more detailed understanding).
Trying to get rid of some old paint or wallpaper? Then what you're looking for is a scraper and not a putty knife. It's much stiffer than a putty knife, making it more suitable for the action of removal. You can choose from a wide range of sizes, although most scraper blades measure 2.5 to 3 inches. Whichever you get, though, make sure it has a sturdy and comfortable handle. Even better if it's a full-tang blade.
Finally, a taping knife differs from the rest in its wide spreading application. It will have quite a large blade, measuring between 9 and 14 inches, and is typically used only in the application of drywall taping compound. Beyond spreading mud over screw and nail indents, a taping knife can also be used to cover seams with fiberglass or paper drywall tape. 
Best Putty Knife for Wood Filler Reviwed
On the quest to find a do-it-all putty knife, we found that the Warner 2″ ProGrip Full Flex Putty Knife is the best fit. With a hollow-ground body, this is the best putty knife for drywall, spackling, and filling, thanks to its small size and flexible blade. Its rubberized handle is equipped with an ergonomic design to ensure your comfort and convenience.
1. Warner 1-1/2″ ProGrip Stiff Putty Knife for Scraping and Filling Applications
The first putty knife we have selected for your consideration today is also one of the most highly rated that we have come across– and it's easy to see why. This offering from Warner, with its stiff stainless steel blade, is the ideal choice for those of you looking for a scraper and putty knife all in one.
This stiff blade putty knife is best suited for material removal and scraping. The stainless steel blade promises to serve you for many years to come and won't rust or be corroded. Its chiseled edge precludes chipping and gouging and makes for clean material removal.
We also love the ergonomic design of the hammer cap handle on this thing, with its ribbed grip that allows for a more precisely controlled movement. All in all, this is one of the prime picks if you're looking for the best chisel putty knife.
---
2. Warner 2″ ProGrip Full Flex Putty Knife for Spackling & Filling
This next one is also from Warner, and we dare say it's the best flexible putty knife we have come across during our research. Not only does it boast a durable and accessible build, but it's been designed to offer you ultimate precision and control when working with lightweight filler materials.
With a blade having a width of 2 inches, this putty knife is perfect for applying lightweight compounds such as spackle and caulk. The blade is also fully flexible, allowing for precise movements and easy maneuverability.
Furthermore, the blade has been fitted with a hollow-ground design and made to be thinner to enhance flexibility while spreading and spackling. Its full-tang design, moreover, enhances the knife's overall strength and gives you a more confident grasp while working. The soft rubberized ergonomic handle also makes for a comfortable grip.
---
3. WORKPRO 4-Piece Stainless Steel Putty Knife Set for Multiporpose Use
If you're a professional contractor or prolific DIYer, chances are you already own a putty knife. However, not every putty knife is made equal. Beyond just applying filler, there's a lot more that these little guys can do. If you're looking for an all-in-one solution, then this set from WORKPRO will certainly appeal to you.
Reasonably priced and highly rated, this set consists of 4 putty knives of different sizes from 1.5 inches to 6 inches. In this set, you get two flexible putty knives and two stiff ones, each suited to a different purpose. All of the knives come with a thickness of 1.2mm.
Beyond its multipurpose use, however, this set stands out to us for the quality of its components. Each knife boasts a high-quality stainless steel construction and has been mirror-polished for higher resistance to rust and longer life. You'll also love the comfortable grip of the handles, which also come with finger guide rails to make your task easier.
This is certainly one of the best stainless steel putty knife sets we have come across in terms of quality and value for money; however, we do wish that the blades were full-tang. Other than that, we have no complaints whatsoever about this nifty little set!
---
4. Red Devil 4204 1 1/2″ Flex Professional Putty Knife for Wood Filler
Available in 9 different sizes, this flexible putty knife from Red Devil is one of the most versatile and functional we have come across. If you came to this article seeking the best putty knife for wood filler that also works well as a taping knife, this might be the answer to your prayers.
Constructed from premium quality, precision-ground carbon steel, the blade of this putty knife is one of the toughest and most long-enduring that we have come across, equipped with resistance to solvent and rust for dependable use over the years. Oh, and it's a full tang blade, too!
The handle of this putty knife is also one of our favorites, as it's made from tough black nylon that is both comfortable and offers a tough grip. But our favorite thing about this knife is that its brass-plated head can double as a hammer to set drywall nails.
---
5. Red Devil 4718 3-Piece Plastic Putty Knife Set for Spackling
It's true that the best putty knives tend to be those with stainless steel construction. However, this leads to a misconception that plastic putty knives can't offer you high performance or versatility. Well, Red Devil is here to prove that notion wrong.
This 3-piece set comes with the following tools: a 1.5″ putty knife, a spreader measuring 3 inches, and a taping knife of 6 inches. As you can imagine, such a set can serve you in a number of purposes, from light scraping (e.g., adhesives) to spackling and even taping.
All that being said, we would not recommend this set if you're looking for stiff knives. Given the super lucrative price, a thoughtful grouping of sizes, and quality construction, though, we're willing to bet this is the best plastic putty knife set out of all others you may come across.
---
6. Titan 17000 Scraper and Putty Knife Set for Drywall, Wood Filler 
The Titan 17000 is a well-rounded set that comes with a scraper and 2 putty knives, perfect for anyone looking to get a little more bang for their buck. Instead of investing in putty knives of different sizes, why not pick this super functional 3 piece set for a lower price?
Let's start with the contents of this set. It includes a 1.25 inch and a 3-inch putty knife. You also receive a 1-1/4 inch scraper that comes in handy when you have to clean out the old putty. This combo adds versatility to the set and allows you to take on your projects worry-free and with ease.
The stainless steel blades are extra sharp from the precise application of fillers and putties. They have a very sturdy fit against the handle, which allows you to control the knife and scraper better.
Furthermore, the handles feature TPR layers, which make them softer and easier to grip. The layer also adds a bit of friction due to the texture of its surface, preventing the knife from slipping out. At the base of the handle is a metal cap that further enhances the durability of the knife.
---
7. DEWALT 3″ Premium Stainless Steel Professional Putty Knife
If you're on the lookout for a putty knife that comes in different sizes, check out this joint putty knife from DEWALT. There's no beating them when it comes to making some quality hardware tools. Although naming just one best rated putty knife is difficult, this offering from DEWALT certainly comes close.
Knowing the consistency in quality of DEWALT products, we had high expectations for this one, and we're satisfied. We weren't disappointed to see how well this joint putty knife served its purpose. The premium stainless steel blade is sharp, has a precise flex, and is quite easy to keep clean.
In addition, the handle of the blade has a glass-reinforced nylon core (which probably explains its high price!). This enhances the reliability of the knife and aids control. As a result, you are able to maneuver it comfortably for long hours. The soft grip is made of anti-slip material, reducing the chances of having accidents.
Moreover, the blade and handle have been securely tucked together and reinforced with a double rivet design. This keeps them in place and gives the knife a sturdy feel. The double rivets are a great addition to boost the service time of the knife.
8. MINTCRAFT 14300 2-in-1 Glazing Tool for Window Glazing
Unlike your regular old putty knife, our final pick today boasts a unique design that enhances its versatility. The 2-in-1 glazing tool from Mintcraft allows you to apply new putty just as easily as you can clean out the old one. It goes without saying that this is the best putty knife for window glazing and numerous other purposes.
First off, we need to pay close attention to the design aspect of this tool. Featuring a V-shaped blade on one end, this knife lets you cut and evenly apply a clean layer of putty. But wait, there's more! The other end has a flat blade that can be used to clean out the old putty, making this one of the most uniquely functional putty knives on the market.
What's more, Mintcraft uses the best quality high carbon steel to construct the blades. Not only is the material, super light but it will also last you for the long haul. The high carbon composition also helps the blade retain its edge even after heavy usage.
Furthermore, the overall length of the glazing tool is about 10.25 inches. When you consider its weight of 2.4 ounces, this nifty little knife becomes quite portable. This is a huge benefit for those of you with limited space inside your toolboxes.
---
How to Choose the Perfect Putty Knife for your Renovation Needs
Whether you're searching for the best professional putty knife or are looking for the perfect companion to your DIY pursuits, you must keep the following factors in mind before making your purchase.
Handle
One of the most common mistakes that people make when picking out a putty knife is not paying attention to the make and quality of its handle. The handle of the knife directly influences your experience of using it: the level of maneuverability, precision, and control, as well as how comfortably you can use it. We would suggest prioritizing knives with ergonomically designed handles.
Also, pay attention to what the handle is made from. This can be wood, metal, nylon, or plastic, according to the price of the knife; what's important, though, that it's a sturdy handle that will allow you to exert pressure without being scared that it will snap off. Flexible handles are preferable if you're going to be applying materials rather than removing them, however.
Blade
There are three considerations when it comes to selecting a putty knife with the right blade: its construction material, width, and flexibility.
Putty knife blades can be made from plastic, stainless steel, or carbon steel. The last of these is more durable than stainless steel but also more prone to rust. Stainless steel is the ultimate choice, but of course, it can be quite expensive. Plastic blades aren't necessarily bad, just don't expect them to be able to do lots of heavy-duty jobs without wearing out.
The width of your putty knife's blade, which can be anywhere between ¾ to 6 inches, determines what actions you can perform with it. Will you mainly be spreading and applying filler materials such as caulk and wood filler? Then a narrower blade might be more suitable for you.
On the other hand, if you're going to be using the knife for material removal, such as stripping a wall of paint, a wider blade will come in handy. But it's worth noting that you won't enjoy much flexibility with a large width blade, so choose accordingly.
Traditionally, putty knives have stiff blades, which aids in filler application or window glazing removal. However, a well-made flexible blade allows you to do this and more, such as allowing you to apply drywall mud.
Design
Do you want your putty knife's blade to have a flat edge or a chiseled one? Should it be angled or straight? Do you want it to have hollow grounding so as to have greater control over how much pressure you're exerting? Once again, the answers to all of these questions depend upon your intended usage, so choose carefully. Or if you're confused, why not just buy a whole set of different knives?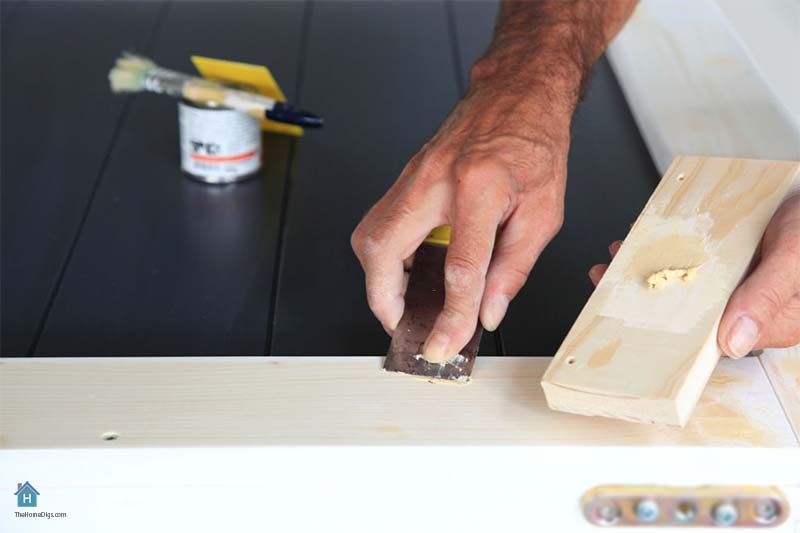 Frequently Asked Questions about Putty Knife
What is a putty knife used for?
A putty knife is an essential component of any DIY home renovator or professional construction worker's tool bag. It is used in the application of filler materials such as taping compound and caulk and is used to scrape residue and straighten adhesive.
What is the ideal putty knife size?
Putty knives with blades measuring 1.5 inches are widely preferred due to their versatility. A larger putty knife might result in lower precision, but if it's too small, you won't be able to reach tight corners. However, you have a wide range of blade width choices from ¾ to 6 inches.
Can I use a putty knife to remove wallpaper?
Absolutely! However, you might have a hard time doing it with a narrow-bladed knife.
What is the difference between a putty knife with a stiff blade and one with a flexible blade?
Flexible bladed putty knives are well suited to putty and compound applications, while scraping applications are easier to do with a stiff blade.
What is the purpose of a specialty putty knife?
It's used mainly in the application of thicker filler materials such as plaster, drywall mud, and sealing grout.
Final Words
When all is said and done, the Warner ProGrip putty knife stands out to us for its versatile and thin 2-inch blade, which allows for effortless spackling and spreading. Its ergonomically designed handle is also one of our favorites. All in all, it's the best putty knife we have found.
Looking for more variety? Then this robust and sturdy stainless steel set from Titan should suit your needs perfectly, with its inclusion of two putty knives and one scraper, which, together, promise to ease any filling, spackling, and scraping endeavor.
On the other hand, if you're on a budget, this plastic set from Red Devil will certainly give you the best bang for your buck.
We wish you all the best of luck with your DIY project, and we hope we've helped you find the right putty knife for yourself!