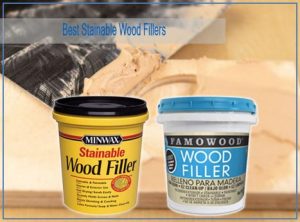 Wood fillers are are applied to repair wooden surfaces and pieces. In fact, wood fillers are among the greatest tools for concealing any gaps in wooden furniture, window sills, doors, and even hardwood floors.
Sometimes, wood fillers can build patches that are generally sturdier than the wood itself. And, every now and again, an easy-to-use solution is preferable to a super-durable wood. That is why finding the best stainable wood filler for your situation is imperative.
With so many different types of wood fillers available, it can be difficult to decide which one to use. That's why we present our recommended picks based on factors like drying rate, quantity, and ease of use to help you make an informed decision.
So, let's dive in.
Top 5 Stainable Wood Fillers at a Glance
Types of Stainable Wood Fillers
Before we go into the classifications, let's go through the concept and applications of these items. Wood fillers are plastic wood that is used to cover flaws or screw perforations before painting. They are generally comprised of dust particles from wood and a binder.
Based on their formula, these items can be primarily divided into two categories, which can further be divided into several sub-categories. Let's take a quick look at each of those.
1. Water Based Fillers
In this section, we'll discuss the water-based fillers.
a) Cellulose Based Fillers
First, we'll go through the most popular type of wood filler. Prior to application, these fillers must be mixed with a solvent. The bottle or user manual will tell you which solvent is appropriate for your cellulose-based filler. Furthermore, this performs most effectively with thin wood pieces.
b) Gypsum Based Fillers
These ones feature mineral powders in the formula, which distinguishes them from the others.
When they dry out, they become incredibly firm, making them a highly popular alternative. Besides, it is suitable for a wide range of surfaces due to its robust structure.
c) Wood Fiber Based Fillers
These are made from genuine wood fibers. And, they seem and behave exactly like real wood, only they are stronger. Besides, this filler solution usually fills all kinds of cracks and gaps on both internal and external surfaces.
2.    Solvent-Based Fillers
Here, we'll get to know about solvent-based fillers.
a) Epoxy Based Fillers
Because of its great weather resistance, it is ideal for outdoor filling. You will get the most out of it if you employ it for outdoor tasks.
If you live in a place where the climate is harsh, this is the sort of wood filler you should go for.
b) Vinyl Based Fillers
This sort of wood filler is popular due to its simplicity of usage. And, in terms of the drying period, this is one of the quickest alternatives available. It is finest paired with thin hardwoods.
Top 10 Best Stainable Wood Filler Reviews
There are numerous excellent options for wood fillers. Choosing the appropriate wood filler for a certain task might be difficult. In this part, we will go over the top selections based on our extensive study.
1. Bondo Home Solutions Stainable Wood Filler (Best for multi-purpose)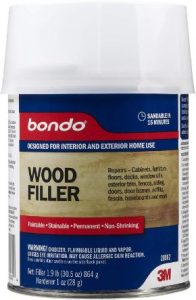 Our first recommendation is a multi-purpose filler with a plethora of functions. You will be able to get fantastic staining and painting results with this.
Regarded as the best wood filler for staining, it features a long-lasting formulation that offers consistent and non-shrink restorations. You won't have to be concerned about defective wood if you use this. These will return your furniture to its original condition and improve it.
Furthermore, it develops quickly. It can be sanded in 15 mins and stained and painted within half an hour. As a result, you may easily receive same-day repair solutions.
Because of its water-resistant composition, it may be used for both indoor and outdoor applications.
Key Features
Has quick-drying features, ready to be sanded under 15 minutes
Can be stained and painted in less than half an hour
Has a water-resistant formula, so it can be used for both indoor and outdoor projects
Offers both long-lasting and non-shrink treatments
Downside: Though the filler's quick curing is considered an advantage, it can be too quick for beginners.
Verdict
Bondo Fillers are well-known for their fast-drying composition. So, if you're comfortable with applying fillers and want same-day repairs on your damaged furniture, this is a great option.
---
2. Goodfilla Water-Based Wood & Grain Filler, Stainable, Sandable (Best for Hardwood Floors)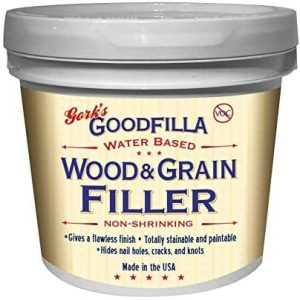 Do you have hardwood flooring but have lately discovered tiny cracks throughout the house? If so, we have the ideal option for you.
This stainable wood filler for hardwood floors is an effective way to fill cracks in a variety of hardwood materials. However, it works especially well with hardwood flooring.
Whether you are a skilled carpenter who needs to add extra fillers to his collection or someone who just wants to fix his home, this option comes with a formula that anybody can use easily.
Goodfilla is really simple to sand and will save you a significant amount of time. Painting, on the other hand, is a little more challenging. To get the color to stay, you'll need to apply numerous coats.
Key Features
Has a crack resistant composition
Requires only one application and lasts a long time
Features a strong but easy to use formula that can be used by both professional woodworkers and home users
Designed with environment-friendly and non-toxic substances
Downside: Does not take stains or colors readily
Verdict
This is a wonderful option if you're searching for a long-lasting solution to cover cracks and crevices in your wooden floors.
---
3. Minwax 42853000 Stainable Wood Filler (Best Rated Stainable Wood Filler)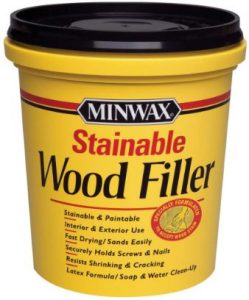 This one, unlike the previous one, works wonderfully with both water and oil-based stains and paints.
In fact, it is the best wood filler for staining and painting tasks. And this wood filler has been particularly designed to take Minwax penetrating wood dyes. For optimum results, use those.
Besides, its made of a quick-drying material. You'll note that it dries quickly, generally in less than 10 minutes. As a result, it will be marketed largely for small home renovations.
It may be used for a variety of minor repairs such as fixing cracks, tiny creases, nail holes, as well as other irregularities in all sorts of untreated interior and exterior wood panels.
If you used it for a large job, it would dry halfway through, causing an impediment in your work.
Key Features
Has a rather quick drying mechanism
Can be used with water-based and oil-based stains and paints
Works great for both home and outside tasks
Provides the best staining results
Downside: Isn't intended for large projects.
Verdict
If you want to restore furniture around the house by filing and staining it, this is an excellent option. Also, based on the online reviews, it can be termed as the best rated stainable wood filler.
---
4. Elmer's E892 Stainable Wood Filler (Best for Large Holes & Gaps)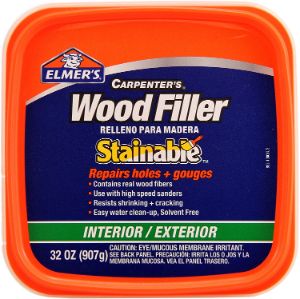 While our previous selection is intended for small household activities, this one is recognized for being able to accommodate all kinds of major tasks involving hardwood surfaces.
This is really a pretty popular Elmer's choice. In fact, it's recognized in the woodworking community as "The Glue with the Orange Cap." You can't get a better stainable wood filler for large holes.
Because it features real wood particles, it seems and performs just like an actual wood, except it's stronger. This filler solution covers abrasions, fractures, and cracks on interior and exterior surfaces with ease.
You can either sand it with your hand or use a high-speed sanding tool after it dries. Besides, staining and painting on the filled area are also easy and enjoyable. And, the finished product is strong enough to keep nails and screws in place.
Key Features
Includes real wood particles in its construction
Has a solvent-free formula
Offers easy preparation and after use solutions
Ensures resistance to cracking or shrinking
Downside: The container in which it is delivered is extremely flimsy.
Verdict
This is a great long-term solution for filling massive holes and other large projects,  and you certainly can't get better than this for this purpose.
---
5. FamoWood 40022126 Latex Wood Filler for Interior/Exterior Use (Best for Furniture)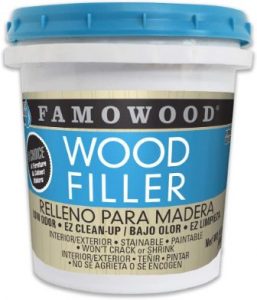 Now, we present you with this extremely trustworthy product from a very reputable company. From this product line, this is their most stainable wood filler for furniture.
Because it hardens quickly, you'll be able to fill gaps and recesses in less than 20 minutes. However, you must be quick and accurate in order for it to deliver the best outcomes. And once dry, it will never shrink or crack. The end effect will be similar to genuine wood.
As it dries, you may perform a variety of activities, such as sanding, drilling, and more. It also securely grips nails and screws.
Key Features
Has an anti-shrinking composition
Doesn't require additional solvent
Requires simple preparation and cleaning after use
Takes paints and dyes like actual wooden surfaces
Dries very quickly
Downside: The color of this substance is very light. So, it will not go with a lot of wooden furniture and surfaces.
Verdict
If the color of your furniture is light and matches this, you should definitely go ahead and invest in this. The filling and long-lasting results will impress you!
---
6. J-B Weld 40007 Wood Restore Premium Epoxy Putty Kit (Best for Exterior)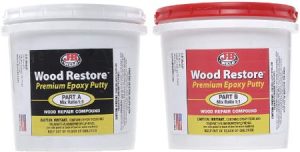 Following that, we have another excellent option for you that makes strong connections to a wide range of materials even in the harshest conditions.
This is essentially a hand-mixable epoxy putty designed specifically to restore and restructure wood fast and efficiently. It can be applied to damaged wooden panels to enhance structural integrity to parts of the faulty pieces.
In fact, you can use it for a number of small and big jobs, such as fixing doors, window sills, and even decks.
Key Features
Has multiple uses like filling, rebuilding, or reinforcing wooden boards and surfaces
Can be used for all kinds of small and big woodworking tasks
Works great with most paints and dyes
Perfect for exterior uses
Downside: The combining of the ingredients is time-consuming. Quite expensive.
Verdict
While this rather pricey filler product necessitates more time, it produces outstanding effects. Provided you need to repair your outdoor fixtures, this is a fantastic choice if you're prepared to put in some extra effort.
---
7. PC Products PC-Woody Wood Repair Epoxy Paste (Best for decks)
Here's yet another epoxy-based wood filler for you to try. It is very resistant to extreme weather conditions and is commonly used for outdoor purposes.
For instance, you can use this two-part epoxy solution to restore and rebuilt damaged wooden parts. Furthermore, it is resistant to UV radiation as well as all types of water, including freshwater and saltwater. And that is why it's a great stainable wood filler for decks.
The mixing process is simple, but be cautious not to use gloves since they may react with the material.
Basically, epoxy fillers work great under all weather conditions. And, this is the best exterior stainable wood filler of them all.
Key Features
Has resistant features against UV light and all kinds of water conditions
Can handle almost any temperature between 35 and 115 degrees Fahrenheit
Comes in the form of a perfect tan-colored solution
Does dry out too fast
Downside: It would be far more convenient to use if it arrived in dispenser tubes like some of the other alternatives.
Verdict
As this formula takes about 45 minutes to dry out, it gives ample time to work on big projects, like rebuilding decks.
---
8. Katzco Furniture Repair Wood Fillers (Best for furniture repair)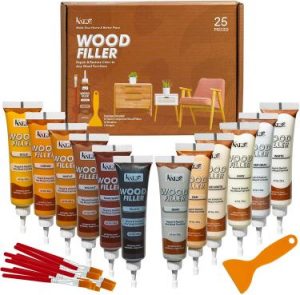 From Katzco, we have more of a unique setting for you. This is a set of 25 that includes 12 completely different colors of resin repair solution.
In addition to that, you will also get twelve brushes, and one plastic scraper in the package. With this, you'll also be able to fix busted furniture like an expert.
And what makes this the best wood filler for furniture repair is that it comes in a wide selection of shades to accommodate all types of furniture across the house.
Whether you want to fix a conventional furniture like a Mable tone, or an eccentric one like white or cherry, this set will help you get the job done perfectly!
Key Features
Includes 12 different colors of filling options, including some really unique ones
Has a very easy to use system
Can be used for small and big projects at both home and work
Comes with additional parts necessary for application
Downside: It's not worth buying for people with specific needs, like only fixing a window sill
Verdict
If you are a professional woodworker or if you wish to repair assorted furniture and surfaces in your house, this kit will prove useful.
---
9. Timbermate Maple/Beech/Pine Water-Based Hardwood Wood Floor Filler
Like some of the others described above, this dries extremely quickly. This is an excellent option if you are a professional or someone who wants to complete your renovations fast.
This works well on a range of wooden surfaces, but it works especially well on pinewood surfaces. However, for all interior chores, it is beneficial to keep the wood's inherent structure.
Now, this filler has a water-based composition. As a result, it is fairly simple to prepare. The content of this container is simple to use as it comes prepared and requires no additional mixing.
And the fact that it is so simple to apply makes it an excellent choice in general.
Key Features
Doesn't include toxic materials, which makes it environmentally friendly
Dries and hardens quite fast
Increases the structural integrity of the wood surface
Can be used by beginners as it is easy to use
Downside: Produces a rather strong odor, which some might find intolerable while using
Verdict
If you want to have your interior work done promptly and don't mind odors, this is a decent choice for you.
---
10. DAP 00525 Plastic Wood Filler for All-Purpose (Best for Screw Holes & Cracks)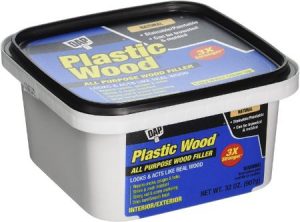 Despite being our final suggestion for wood fillers, it is an outstanding solution. It is superb in filling cracks and gaps in wooden surfaces of all kinds.
This is a multi-purpose filler with a solvent base that is made from genuine wood fibers. Basically, it seems and behaves like real wood. When it dries out, it becomes three times stronger.
Due to its additional structural integrity, it is considered as the best wood filler for screw holes. Besides, if you have to fill up screw holes from previous cases, you can use this for that purpose as well.
Key Features
Supports reliable screw and bolt anchoring without cracking
Dries very quickly and forms an indestructible bond
Doesn't shrink after drying
Works perfectly for interior woodwork
Downside: As the paste is a little dry, an application might seem a little difficult than others.
Verdict
The application procedure may be rather complicated, but the end result is well worth it. You can achieve three times the strength of wood using this method!
Buying Guide: Things to Know Before Buying Wood Fillers
Here are some essential factors to consider when selecting a wood filler. You will end up with the right option if you pick based on these and your own needs!
1. Type of Filler
Primarily, there are two types of fillers for wooden pores and holes. You can select one of them depending on its intended usage.
Detailed descriptions of the subcategories have been mentioned earlier in the article. Here, you can see the primary division.
(i) Water Based Fillers
Water-based fillers have a low odor and are water sensitive. So, they are ideal for indoor tasks. These dry fast and are simple to clean and maintain after usage.
(ii) Solvent-Based Fillers
Solvent-based fillers generate greater odors but adhere firmly. They are also weather-resistant, which makes them ideal for outdoor tasks. These will not dry as quickly and are relatively tougher to clean up after.
2. Drying Rate
The drying rate of a specific wood filler depends greatly on its chemical components. Some dry in as little as 15 minutes, while others take several hours.
Usually, water-based wood fillers dry within 15 to 30 minutes. However, solvent-based fillers, like epoxy fillers can take about 45 minutes to dry fully, and in extreme cases, up to 2 hours.
You must select an option depending on your requirements.
3. Quantity
Fillers come in packaging of different shapes and sizes. If you think you need to use a lot of filler for your task at hand, then go for bigger containers. This is usually applicable for big projects.
If you think your task only requires the use of a small amount of solution, then buy a small container. Because once you open the packaging, the filling solution won't last very long.
4. Ease of Use
There are quite a lot of great products out there. Despite how great the composition is, the application process may be tedious. So, when choosing a wood filler, you must take the ease of use into account, especially if you're a beginner.
Here, we have taken the liberty of leaving out ones that require much additional work. Most of our suggestions are really easy to use if you follow the proper directions from the user manual.
FAQs About Wood Filler
1. Can you use the filler without prior preparations?
Before applying the filler, you must first prepare the affected area by removing the defective part, sanding it, and then cleaning up any residue.
2. How do you apply the wood filler?
After wiping down, you may apply the filler into the gaps, although the procedure will differ depending on the type of filler you have. If you have the tube version, squeeze it out and apply it slowly.
3. Can you use wood filler for large gaps?
You certainly can. Certain fillers, such as two-part epoxy, are excellent for repairing large holes. The two ingredients are combined together like putty and can be molded either before or after drying.
4. Is wood filler stronger than wood?
Wood fillers, in most cases, produce a solution that is sturdier than the original wood.
5. Is Bondo better than regular wood filler?
The most significant perk of getting the Bondo Home Solutions Wood Filler instead of a normal wood filler is its fast drying period. Unlike traditional wood fillers, which take hours to cure and need many layers of coating, this hardens in just 30 minutes and only takes one layer.
Final Words
Here, we've included all of the dependable stainable wood filler choices on the market, including the Bondo Home Solutions Wood Filler, which is our top pick.
You will be able to choose the best stainable wood filler for you if you base your decision on the most important aspects as discussed in the buying guide and your particular needs, of course.
This is Autem Decker. Main Author of 'TheHomeDigs'. You may not find her on the list of top 10 contemporary Canadian interior designers, but everyone who knows her says she was born to be an interior designer.
She makes her plan in her head and draws them in her years-old diary with a note in the corner. The way she plays with color and shape amazes us.
Connect Her On – Twitter