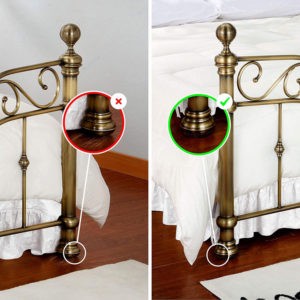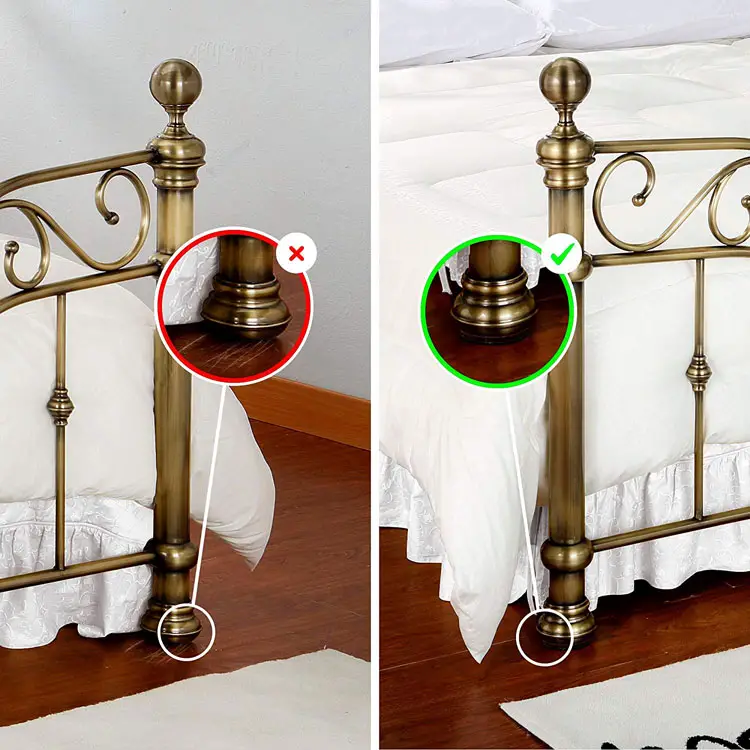 Hardwood floors are stunning, but pretty icky for a room packed with furniture. The fine polish is not so fine when your couch slides off a little every time you're trying to be a bit comfy on it.
And it's not a pleasant sight either when you can notice that disturbing stain on the floor caused by your bookshelf's legs. Not cool at all.
If you have wooden floors and small kids, you most probably have wondered at least once in your life "how can I stop furniture from sliding on wood floors?". Well, every problem has solutions, so does it.
Today let's focus on permanent solutions on how to stop furniture from sliding on wood floors. I'm about to give you six solutions that can help you stop furniture from sliding.
Also Read: Best Way To Keep Rugs From Slipping On Hardwood Floors
How to Stop Furniture from Sliding on Wood Floors: Experts Solutions & Tips
You can always overcome this problem of furniture sliding on the slippery surface with or without hiding the floor with a carpet. We'll talk about both ways…
Try one of the following six solutions and you would never have to worry about kids running around tables or jumping on the couch.
Solution 1: Rubber Pads
It says in the name, you won't even have to take your time to guess the outlook. This is perhaps the cheapest object mentioned here. But cheapest doesn't mean the weakest! In fact, you may find it more effective than some other options.
Rubber pads are usually used for shipment, to protect fragile things from breaking. However, it also works as a great medium to provide furniture with stability.
Rubber pads are fitted under the furniture to give them a balance, and for this reason, the shape of the furniture plays a vital role here.
Take a good measure of what's underneath to find the suitable pad for this job. They're available in various sizes and shapes for your convenience. You just need to measure the size of the 
furniture legs
 and go to 
Amazon to order
.
Or you can find them in most of the furniture stores. I use rubber pads for my chairs and they are keeping my floors scratch-free till now.
Solution 2: Furniture Grippers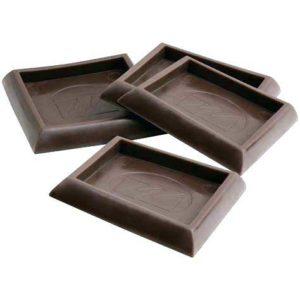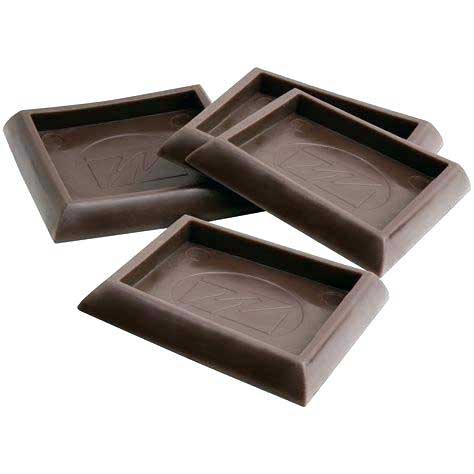 Now, that's a name you'll definitely hear from majority of people when you'll ask for a solution. Cause grippers are pretty much the first thing people go for when they're trying to stop their furniture from sliding.
You surely have seen these tons of times, but in case you're not being able to get a hold of the title, these are the pads you saw your dad put under the couch in his home. Rings a bell?
Yes, grippers are a sort of balance pads that are constructed for the purpose of stopping things from slipping. One end of the pad is textured which has to be placed over the floor, while you attach the other end to the certain piece of furniture. This way, your furniture scores the ability of gripping on the floor and stays stable.
Grippers are expensive than rubber pads, but they last longest and sometimes give the opportunity to customize as per need. But I would suggest measuring the legs first to avoid any problem. For heavy furniture, I prefer grippers to rubber pads because they look better and last longer.
Solution 3: Stop Blocks
A classic household solution to your problem, you might have thought of it already even before reading it, right? Because it's the most ancient and used technique for sliding problem that doesn't always involve furniture and slippery hardwood floor.
Now when it comes to blocks, you can go both ways. You can spend your bucks to get some professional help for your furniture. Or you can grab the saw from the garage to cut through some logs.
However, it'll take a good amount of dough to buy some blocks, so we'll suggest you make a few on your own if you're willing to take the cheap route. However, since this won't make any difference, you're free to choose any option you want
I personally don't like stop blocks. They are more expensive than above-mentioned options. But if you are DIY lover, why don't you go ahead and try creating your own stop blocks! It's easier than you think. Just take some pieces of wood and cut into the sizes you need.
Also, these blocks will just have to be heavy enough to not get pushed aside. This way, it will be impossible for furniture to slip off with them beside.
You can also paint them for matching the floor and furniture color. I used stop blocks for one of our beds and painted them with coffee-color for matching the floor's shade. When my younger brother came home, he was surprised and asked me where I bought them from!
This is Autem Decker. Main Author of 'TheHomeDigs'. You may not find her on the list of top 10 contemporary Canadian interior designers, but everyone who knows her says she was born to be an interior designer.
She makes her plan in her head and draws them in her years-old diary with a note in the corner. The way she plays with color and shape amazes us.
Connect Her On – Twitter