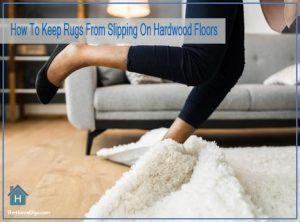 A rug, if wrongly placed, might pose a hazard for you and your family.
Picture a situation: Your old grandpa walking over the rug that slid across and broke his hip. Another would be your child could slip on the carpet and spill hot water all over herself.
Now that you are reading this article, you probably are looking for your safety measures. After all, you invested a lot to install the rugs on your hardwood floors.
So you need a solution? We have come up with many! It's up to you to choose the best way to keep rugs from slipping on hardwood floors. With us, you will learn the added benefits of each method.
Without further delay, let's dive into it!
Why Rugs Tend Curl, Slide, or Creep Across Hardwood Floors?
One of the main reasons your rugs move is that there remains no grip between your rug and the floor. Thus, even the slightest push is often enough to move it.
Alongside the fact that the rug movements on hardwood floors present potential injury risks, it can also get really annoying. If you prefer extra care for your flooring, you would like to go for a solution that neither causes any damage nor does it slip.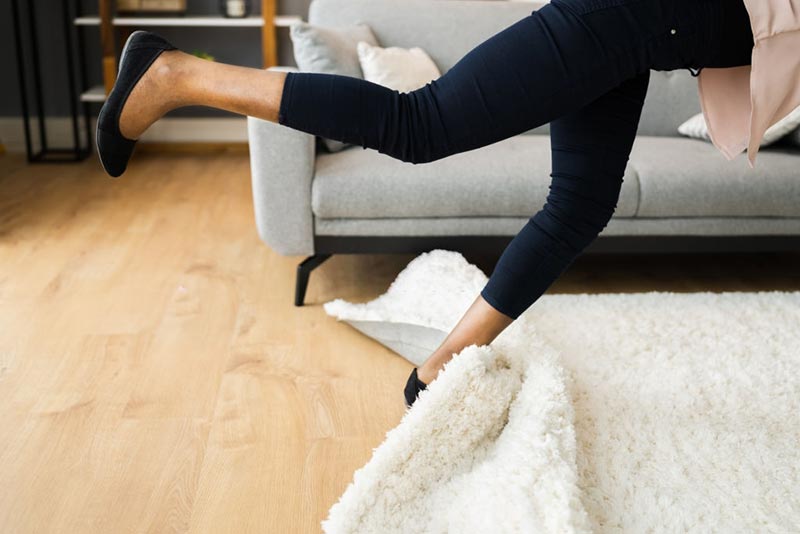 How to Keep Area Rugs From Slipping or Sliding on Hardwood Floors
Below are some effective methods to keep rugs from slipping on wood floors. 
1. Using an Anti-slip Rug Pad to Stop Slipping
Cost: Expensive
Usefulness: High
Installation ease: Easy
Durability: Long-term
Risk of damage: Low
Description:
A slip-resistant rug pad is a perfect method of securing it in place. Let us check some of the features the rug pad might provide:
Comfort and Quietness : An extra layer between your rug and floor, a rug pad, gives your legs a plushy surface. In addition, it absorbs foot impact and noise.
Thus, if you reside in a flat, this rug pad will help your floor with soundproofing.
Protects Your Hardwood floors: Made of bouncy stuff like foam rubber that absorbs any liquid, a high-quality rug can suck up any spill.
Furthermore, a non-porous rug pad will circulate air between the floor and your rug. Doing this prevents any bacterial growth on your hardwood floor.
Also, as this rug pad does not allow any dirt to land on your floors, it ensures that they remain as shiny as the first time.
Prevents Fall: The incidents that we stated earlier can be avoided with the help of an anti-slip rug. Not only this, it prevents your carpet from having any curling or wrinkles at its corners.
Extend the Lifetime of the Rug
When you step on your rugs, the rug pads like Superior Lock and Eco plush will jump back quickly. It happens as they are composed of dense materials.
Thus, choose a rug pad made of natural materials instead of plastic. Otherwise, you might have to face some cons.
Discoloring: Plastic rugs have materials like toxic phthalates, which end up staining your hardwood floor.
Adheres to the Floor: Most non-slip plastic rugs are highly adhesive, stimulating them to damage the floors by adhering to them.
Sticks to Itself: Often, you will see that the plastic rug sticks to itself, creating lumps at the rug's bottom. It might end up defeating your purpose.
2. Using Silicone Caulk to Keep Rugs in Place
Cost: Low
Usefulness: High
Installation ease: Easy
Durability: Long-term
Risk of damage: Medium
Description:
Usually, people apply lines of hot glue and later stick the rug to the mat once the glue dries. Silicone caulk is one alternative that gives the same function. As the rubbery strips of silicone hold the carpet back, it is kept from sliding across.
Some benefits of silicone caulk are given below:
Better Grip: Due to the adhesive quality, silicone caulk offers better hold than other anti-slip solutions. Thus, it is the best method to secure a rug area in high traffic rooms like entry paths.
Saves Money: You will stumble across silicone caulk at any hardware store beside your house. Some people already have it in their garages. Add the benefit of low-cost, and you're good to go!
Even though silicone caulk can prove to be a fantastic alternative to purchasing rug pads, some challenges might come across you, like:
Rug fibers are pulled out: It is not wise to employ silicone caulk for keeping your rugs in position as the fibers will pull out when you move them during cleaning.
Residue remains on the floor: Like almost all adhesives, silicone caulk leaves some residue on the floor. So if you plan to use one to orient your mat, use the adhesive on rugs where the traffic is low.
Otherwise, the high foot impact will stimulate the dried glue to leave more residue.
3. Using Duble Sided Rug Tape or Rug Gripper to Stop Sliding
Cost: Low
Usefulness: Medium
Installation ease: Easy
Durability: Short-term
Risk of damage: High
Description:
One way is to put a rug gripper at your rug's bottom – along its length or at its corners – to keep it in place. Doing this will reduce any curled ends, so your carpet will not bunch up and let you walk over without any risk.
Here is why you should use a rug gripper to keep your rugs from slipping:
Vacuums easily: As the tape adheres nicely to your rug, vacuuming becomes faster and easier.
Budget-friendly: Just like the silicone caulks, the rug grippers are also readily available at any hardware store. Most of them are budget-friendly, but they also offer an excellent grip.
Reusable: Want to save more money? This method is just for you then. When you move your rug around the house, a quality gripper can be adjusted, moved, or reused with it.
They are also essential to protect your hardwood floors from any damage. Ensure that you have the appropriate carpet tape by checking the packaging.
Even this method has some challenges. After all, nothing comes free of cost. The cons are:
Pulls Out Rug Fibers: While using carpet tape, there is a risk of extracting fibers from the rug. Thus, you use rug tapes only on the cheap rugs to not ruin your expensive and valuable items.
Adhesion Problems: Owing to the sticky nature, carpet tapes are difficult to pull away from hardwood floors. Thus, they end up damaging your floor finish

.
Also, when you remove your rug for cleaning, brace yourself to encounter some residue.
Due to the high foot impact, rug gripper or tape loses grip very rapidly. Any low-traffic area will retain the hold of a rug tape. 
Next Read: Best Furniture Pads for Hardwood Floors Reviews
Conclusion
Say no to slipping due to your rug being misplaced. We have shown you three ways of securing your rug position.
We know you are looking for the best way to keep rugs from slipping on hardwood floors. The "best" way differs from person to person. Thus, we leave it up to you to decide.
In the methods above, we have weighed the pros and cons. We hope this facilitates your choice.
Carefully choose the best-suited solution to give your house the beauty it needs and your family members the safety they deserve.
This is Autem Decker. Main Author of 'TheHomeDigs'. You may not find her on the list of top 10 contemporary Canadian interior designers, but everyone who knows her says she was born to be an interior designer.
She makes her plan in her head and draws them in her years-old diary with a note in the corner. The way she plays with color and shape amazes us.
Connect Her On – Twitter