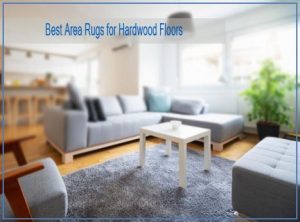 If you think your hardwood floor is lacking in style and elegance, you can easily improve its décor with area rugs. They come with heaps of perks in addition to bringing a touch of flair to your room.
From providing a cushion for your feet to protecting your precious floor from stains, scratches, and spills, the benefits of area rugs are immense! Your downstairs neighbors will love what they don't hear, I mean your footsteps, as the rugs can absorb sound.
However, finding the best area rugs for hardwood floors can be difficult. There are thousands of products, and not all of them are good. But don't worry, we've created a list with the best options that are made of high-quality materials and won't get stained easily.
What Type of Rug Is Best for Hardwood Floors?
Area rugs and hardwood floors are like a match made in heaven! They complement each other and enhance the beauty of your interior. In general, rugs made from natural materials work best for hardwood floors. Let's take a look at the best types of area rugs for wooden floors.
Wool rugs are still the most common choice for hardwood floors. They are soft, easy to clean, and surprisingly durable. It's comfortable to walk on wool rugs, but the best thing is, they don't create scratch marks on the floors.
Available in various styles and colors, they are great for almost all types of surfaces, including hardwood.
Natural fiber rugs made from plant fibers like sisal, jute, coir, etc., can be suitable for your hardwood floor as well. Their casual design makes them perfect for those who prefer contemporary décor. However, avoid picking ones with synthetic latex backing because they can harm hardwood floors.
Cotton rugs are another popular option for hardwood floors, thanks to their soft and plush feature. If your floor has a rustic look, these rugs will fit like peanut butter and jelly! They are available in a wide range of patterns and styles.
Silk rugs tend to be more expensive due to their aesthetic value, and they are often bought for decorative purposes. However, they aren't as durable as others, and maintaining them can be difficult.
You have to be a bit careful when choosing synthetic rugs because the wrong ones can harm your hardwood floor. They offer fantastic durability and a lot of flexibility in style. Make sure not to choose a synthetic rug with hard backings if you don't want scratch marks on your floor.
Top 13 Best Area Rugs to Use in Hardwood Floors
The best area rugs for your hardwood floor would be Maples rugs reggie floral area rugs. However, we have other great options of similar quality as well. So, check out our recommended list of area rugs that are perfect for hardwood floors.
They are all capable of enhancing your room's décor, protecting the floor, and offering underfoot comfort without breaking your bank.
1. Maples Rugs Reggie Floral Area Rugs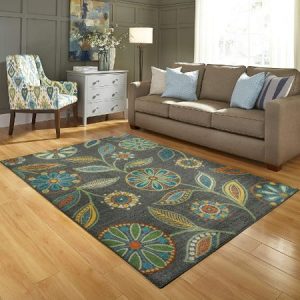 Let's start with one of the best rugs for hardwood floors in living room, dining room, or even bedroom! Boasting an eye-catching artwork with a bold floral pattern and vibrant colors, the Maples Rugs Reggie area rug will make your floor appear livelier and cozier.
This rug is capable of resisting stain marks, foot marks, and it's easy to dust off, so you will have no trouble keeping it clean. The colors won't fade anytime soon, thanks to the quality print construction.
Featuring a low-profile design, you will be able to place it anywhere, under any setting. It doesn't pose any tripping hazard, so your kids will be safe on it. Besides, it comes complete with non-skid rubberized backing to prevent the rug from sliding. The backing also ensures the floor never gets scratched!
Downside
Some find it to be too thin
The colors look a bit muted than advertised
Verdict
This one comes with a beautiful pattern and feels comfortable to walk on. You will appreciate how it stays in place! Its durability and easy-to-clean feature make it stand out. Overall, this is an excellent area rug for hardwood floors.
---
2. Home Dynamix Lyndhurst Rotana Modern Area Rug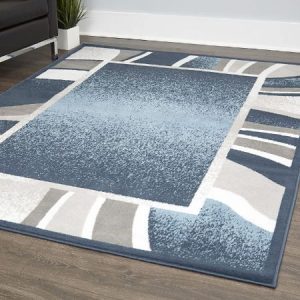 For brightening any room with elegance and style, not many area rugs come close to the Home Dynamix Lyndhurst Rotana Modern Area Rug. It's one of the best rugs for wooden floors.
The incredibly versatile design of this rug allows it to fit any of your existing room décors easily. It looks surprisingly modern and beautiful. Thanks to the use of polypropylene yarns, this one comes with a cozy and soft texture. As a result, you will feel like walking on clouds every time you step on it. It's that comfortable!
This thing features resilient construction, and it's designed to resist fading, stains, and UV rays. So, you can expect its beauty to be long-lasting. Whenever it gets too dirty, you can easily get rid of all the dirt by vacuuming or spot cleaning.
Downside
Needs rug pads to prevent it from slipping
May come with unwanted wrinkles and creases
Verdict
This one comes with everything you look for in a hardwood floor rug. It's fluffy, comfortable, easy to clean, but surprisingly durable at the same time. Besides, anyone will be impressed by its amazingly modern and versatile design.
---
3. Antep Rugs Alfombras Modern Bordered Indoor Area Rugs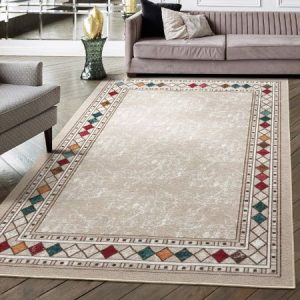 The Antep Rugs Alfombras Collection Area Rug comes with a stunning design to transform your bland hardwood floor into something artistic and cheerful! Its beautiful patterns, complete with impressive color combinations, will complement any room décor with ease.
Crafted from durable machine-made Polypropylene materials, this rug easily resists wear and tear, making it suitable for high-traffic areas. It will protect your delicate hardwood floor from all sorts of scratches and stains. Not to mention, it's guaranteed to last a long time!
This floor rug feels pretty soft to the touch and offers decent underfoot comfort. The low pile height reduces the tripping hazard significantly, allowing your children to play on it safely. This thing is low-maintenance as it doesn't get stained easily. You can keep it nice and clean just by regular vacuuming and spot cleaning.
Furthermore, it's one of the best non slip rugs for hardwood floors. It sticks tightly to the floor without slipping, so you won't have to buy an additional rug.
Downside
May be too thin for some people
Not suitable for machine washing
Verdict
This rug does an excellent job of protecting your hardwood floor from foot traffic and minor damages while offering decent underfoot comfort. Its lightweight and low-profile design allow it to fit any place. Feel free to go for it to enhance your room's interior design!
---
4. Ophanie Machine Washable Fluffy Area Rugs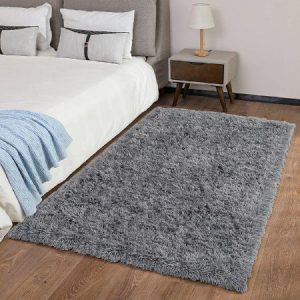 The Ophanie Fluffy Area Rug comes with a magnificent combination of luxury and softness to bring style and coziness to your room. Its furry texture gives you an exceptionally comfortable surface to walk on! You will be stepping on something that's incredibly soft and plush.
Don't worry if you've got an allergy or sensitive skin because this one is built with 100% safe materials. The high-density faux fur in its construction also reduces footstep noise and protects your feet from cold during those chilling winter days.
This already durable product comes fitted with an improved double overlock for offering even more durability. You won't have to deal with much shedding as the fibers are designed to stick firmly to the rug; this makes cleaning with a vacuum much easier.
Besides, you can feel free to give it a deeper cleaning as it's completely machine-washable. This one is one of the best machine washable rugs for hardwood floors. Underneath its thickened felt bottom are multitudes of PVC dots that offer reliable gripping. So, you can rest assured that this thing isn't going to slip easily!
Downside
The edges are not covered completely
Feels more slippery than others
Verdict
If you're looking for a nice combination of comfort and style, this rug can be the perfect choice for you. It's fluffy and soft to keep your feet cozy. You can count on it to keep your hardwood floors covered for a long time as it is undoubtedly a highly durable floor rug.
---
5. Gorilla Grip Premium Fluffy Area Rug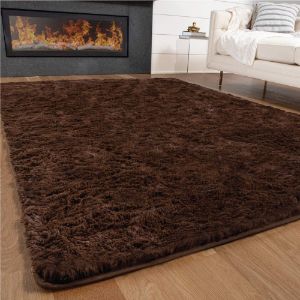 We've got another super comfortable shaggy rug that is also capable of making your space look lavish, refined, and plush. Aided by the wonderful soft faux fur construction, it ensures superior comfort for your underfoot every time you step on it.
That's right; you will enjoy walking on it barefoot, considering how great it feels to the touch. The extra-thick foam padding takes the comfort level to a different level! You can set it up anywhere you like. It easily fits among the best area rugs for hardwood floors in living room.
This product comes complete with thousands of grip dots on its back so that you never have to worry about slipping. Your children can play on it safely without tripping. For cleaning, you have several options. You can use your vacuum cleaner for giving it a quick cleaning or use your washing machine for deeper cleaning.
Downside
The extra thick design makes it unsuitable for placing on certain spots
Can feel slippery when walking barefoot
Verdict
The Gorilla Grip Area Rug is perfect for those who want comfort. It comes with enough cushioning and paddings to make you feel like walking on cat's fur! Besides, it's slip-resistant and offers amazing durability on a budget. You can't go wrong with this one!
---
6. JONATHAN Y Moroccan Hype Boho Vintage Area Rugs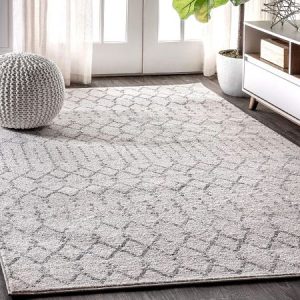 When it comes to choosing bedroom area rugs for hardwood floors, you want something that looks stylish and offers comfort at the same time. Well, that's exactly what you get from the JONATHAN Y Vintage Area Rug.
This one is available in various timeless designs, complete with captivating patterns, to bring warmth and texture to your room. It's like having an artistic masterpiece right underneath your feet!
The durable Polypropylene material makes it capable of withstanding a lot of high traffic. It's designed to stay tough for many years. The material is quite soft as well and makes walking on it a lot more comfortable than walking on a hard surface. There won't be any shedding. You will be able to get rid of any stains easily.
Downside
The corners may not stay flat on their own after a couple of months
Not as plush as others
Verdict
This one is one of the best color area rugs for dark hardwood floors. It will decorate your floor with captivating patterns and vibrant colors to please your eyes. The durability is nothing short of amazing. For a surprisingly low price, you get a lot of benefits!
---
7. Safavieh's Bohemian Chic Madison Area Rug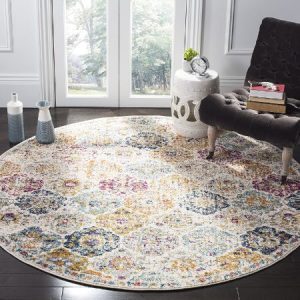 If you're someone who appreciates art and loves to be surrounded by beauty, the Safavieh's Bohemian Chic Madison Rug may just be the perfect option for you. It has a versatile design with fashionable mosaic geometric patterns to transform your room instantly!
This thing never sheds as it comes constructed with Polypropylene fibers, which also contributes to making it astoundingly durable. Don't worry if your dog or child makes a mess on this rug because it's stain-resistant.
If it gets too dirty, making it look as good as new won't be that much of a problem because it's pretty easy to clean. Considering the sleek pile design, placing it under doors and furniture will feel seamless.
Downside
Requires a rug pad or a non-slip mat underneath to prevent skidding
May look a bit cheap to some due to the reflective nature of the material
Verdict
This delightfully decorative area rug is enough to enliven your room. It offers a beautiful combination of style, comfortability, and durability. Available in multiple colors, you can choose the one that fits your taste the most!
---
8. Mohawk Home Caravan Medallion Ornamental Area Rug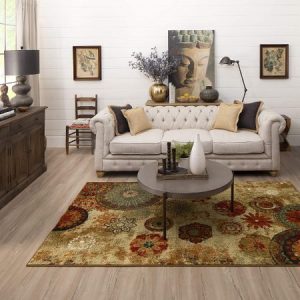 The Mohawk Home Nylon Area Rug comes with an impressive blend of vintage and modern style to finalize the design of your room. It's durable enough for placing on just about anywhere, including high-traffic areas like entryways and living rooms.
This rug gets its durability from wear-dated nylon construction, which is a highly resilient material. It can easily resist stains. You won't see the colors fading for a long time either.
Wear-dated nylon also makes the rug quite soft to the touch. Once you cover your hardwood floor with this floor rug, you will get to step on a comfortable surface instead of the hardened floors. It will also protect your floor from a wide array of minor damaging elements.
Downside
May move or buckle on carpet
Limited color options
Verdict
What's unique about this rug is that it seamlessly combines old and modern design to give you a taste of both worlds. It feels nice to walk barefoot on it as it's quite soft. You won't have any issue with the durability or cleaning either. All in all, it's the best color area rug with light hardwood floors.
---
9. Safavieh Heritage Collection HG911A Handmade Area Rug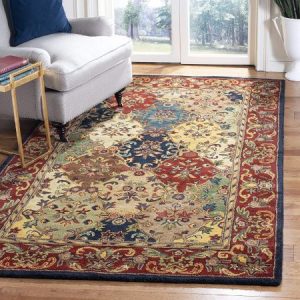 This one is another great pick for art lovers and enthusiasts. Its intricate patterns, gorgeous designs, and beautiful color palette make it stand out. Your guest's attention will be drawn to it the moment they set their gaze upon this wonderful area rug.
It easily nabs a position among the best wool rugs for hardwood floors. Handcrafted from premium wool material, it comes with the personal touch of skilled craftsmen.
Besides, wool is amazingly durable, making the rug strong enough to withstand wear and tear caused by people running and walking on it constantly.
Apart from durability, you also get a lot of softness from this floor rug. So, it offers a good deal of underfoot comfort as well. Finally, there is a cotton canvas backing that ensures the floor doesn't get harmed and the rug itself doesn't move too much.
Downside
Picks up pet hair and dust
Vacuuming can be difficult if it gets too dirty
Verdict
This one is a glamorous area rug that comes with lovely patterns to satisfy your inner designer. The colors will stay as bright as they are for a pretty long time. It's soft enough to provide comfortable cushioning. Go for it if you want comfort and style without spending a fortune.
---
10. WiseLife Kitchen Mat Cushioned Anti-Fatigue Kitchen Rug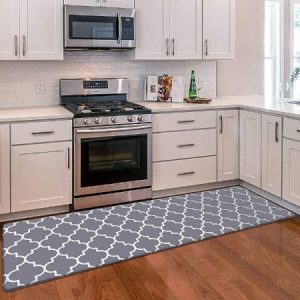 Tired of developing foot pain when working in the kitchen? Looking for kitchen area rugs for hardwood floors? You can rely on this fantastic kitchen rug to improve your situation right away!
WiseLife engineered this product to ease the pain of working in the kitchen while standing. It offers reliable cushioned support to enhance blood circulation, improve your posture, and alleviate pressure. Every time you stand or walk on this thing, your feet will get massaged.
Your feet will thank you for getting this ergonomically designed kitchen mat. In addition to that, it also works to prevent your kitchen floor from soaking in water. Your floor won't get stains anymore!
Thanks to premium PVC construction, it offers decent durability and makes cleaning easier. It's easily one of the best waterproof rugs for hardwood floors.
Downside
Comes with a mild smell out of the package
Not suitable for high-traffic areas
Verdict
This area rug is perfect for those who are struggling with backaches and foot pain. Its special anti-fatigue design contributes to relieving the pressure when working in the kitchen. Besides, it's long-lasting and nice-looking, so you can definitely go for it!
---
11. AMOAMI Non-Slip Twill Kitchen Area Rug
You are more likely to spill water or oily stuff on the kitchen floor than any other place in your house. It can create permanent stains and damage the hardwood material. However, you will never have to worry about that if you get the AMOAMI Non-Slip Twill Kitchen Rug.
Considered to be one of the best kitchen runner for hardwood floors, this one will undoubtedly protect your kitchen floor. It's super-absorbent, so any liquid you spill on it will be absorbed quickly. They will never get to reach the floor!
The grain backing will make sure the rug doesn't slip when you're working on top of it. Featuring high-quality non-woven fabric construction, there is not much to question about its durability. The material is also environment-friendly and toxic-free, so it's perfect for kitchen use.
Downside
Doesn't come with any cushion
Not completely non-skid as it moves around without much force
Verdict
This kitchen rug will create a protective layer over your delicate hardwood floor and make sure it remains dry when you're doing the dishes. It doesn't get stained easily, and you will be able to get rid of anything just by giving it a good scrubbing. Soft and durable on a budget, this is definitely a great choice.
---
12. ReaLife Rugs Machine Washable Stain-Resistant Area Rug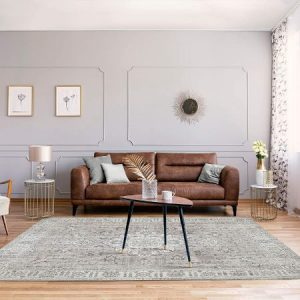 Every Realife Area Rug is built exquisitely by some of the most skilled artisans. That's why these rugs look uniquely beautiful. The intricate patterns, superb details, and fine color tones will leave anyone mesmerized!
This product boasts premium recycled synthetic fiber construction, making it highly durable. Even after years of use, you won't see any wear and tear on it. You will also be contributing to the environment by promoting the use of recycled materials!
If you've previously had trouble with keeping the rug clean, that's something you'd never have to worry about when you get a ReaLife rug. That's because it's designed to be easy to clean and doesn't stain.
In fact, it is the best stain resistant area rug for hardwood floors. You can even throw it in the machine for faster cleaning!
Downside
The label comes with tough glue, which is hard to get rid of
Not that comfortable to walk on
Verdict
The gorgeous design of this trendy area rug makes it a great addition to any room with a hardwood floor. It's bright, colorful, and durable, so you get everything you expect from an area rug from this one!
---
13. Ottomanson Ottohome Collection Contemporary Leaves Design Rug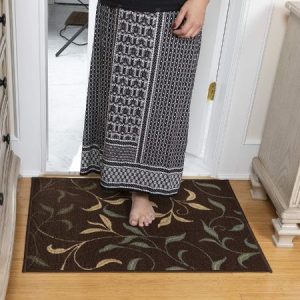 For our last pick, we've got this outstanding area rug from Ottomanson that's highly affordable. It has a rather simplistic yet elegant and stylish design to impress you and your guests.
This rug offers surprisingly more value than you'd expect from a cheap, entry-level mat. It prevents bulks under feet, thanks to the strongly bound edges. Built with high-quality Nylon, you can use it in high-traffic areas without worrying about destroying the rug. It can withstand all that pressure!
A common problem with cheap rugs is that they are stained easily and shed a lot. But this one doesn't shed and offers resistance to stains, which is pretty amazing. There is even a non-slip rubber backing for ensuring you get to step on it safely!
Downside
Not designed for washing in the machine
Moves around easily even with the rubber backing
Verdict
This one is one of the best entry mats for hardwood floors. It comes with a surprisingly cheap price tag, but the benefits it offers are pretty awesome. This area rug looks pretty and offers plenty of durabilities. Although it's quite thin, it still offers reliable protection to your floor.
Buying Guide: How to Choose Area Rugs for Hardwood Floors
The right area rug will protect your delicate hardwood floor, give you comfort, and complete the design of your room. But finding the right one may prove to be tougher than you expected if you don't have any idea about what to look for. Well, our buying guide will make the whole process a lot easier, so stick with us!
Pile Height
You may have noticed something about pile heights on many area rugs. Well, pile height simply refers to how thick the rug is. You can tell the thickness of the rug by checking its pile height. It's sometimes expressed in inches but most commonly described as either low, medium, or high.
When buying area rugs, you will have to think about how much thickness you want, and pile heights will help in the process. Low pile area rugs tend to be easier to maintain and clean. They don't pick up dirt or pet hair and don't shed. However, they are pretty thin.
Compared to that, medium pile or high pile area rugs are much more comfortable as they are cushier. They feel great under your feet. But they are also harder to maintain and clean as they give enough room for filth to hide between the fibers.
Non-Staining
You must make sure to get a non-staining area rug. Rugs that get stained easily will lose their beautiful appearance in no time. You can't decorate your room with stained rugs, can you? They will stick out like sore thumbs and undermine the elegance of your room.
Moreover, staining rugs will ruin your floor by bleeding the colors. So, it's important to get non-staining rugs for any floor.
Material
The durability of any area rug depends on the materials used to make them. So, you have to check what the rug was built with before purchasing.
For decades, wool has been the most popular material for crafting rugs and carpets. Its remarkable combination of softness and durability puts it at the very top. Any well-made area rug created from wool is likely to be long-lasting. Wool rugs can be pretty expensive, though.
Other natural materials used for making area rugs are cotton and jute. Synthetic fibers like nylon, polyester, and Polypropylene are also commonly used in the preparation of area rugs for hardwood floors. They tend to be cheaper than natural materials and offer better stain resistance.
In any case, the material must be high-quality and free of any toxicity. The rug should be breathable so that it doesn't trap gas and moisture to ruin your hardwood floor.
Size and Shape
The size and the shape of the area rug is an important thing to consider.
If it's too small, it won't be able to complete your room's décor. Similarly, if it's too large, the rug will overfill the space and take the attention away from other decorative features. It has to fit perfectly if you want to get the most benefit out of your area rug.
While rectangular area rugs are most popular, they are also available in other shapes like round and oval. Round area rugs are perfect for creating a focal point in your room.
Frequently Asked Questions
1. Do area rugs ruin hardwood floors?
Not at all. Area rugs are actually used for protecting hardwood floors and increasing the room décor. They cover the floor and shield it from a wide array of damaging elements. So, feel free to get them for yours!
2. Which rug backings are good for hardwood floors?
Rug backings help the rugs to stay in place without slipping or moving. Natural rubber backings are best for hardwood floors. You should always avoid latex backings because they can damage the delicate wooden floors. Also, avoid anything that uses strong adhesive, like aggressive glue.
3. Are area rugs machine washable?
Some of them are, and some of them aren't. You should find that out before throwing your area rug into the machine because if it's not safe for machine-washing, it's going to be ruined.
4. Which color goes well with hardwood floors?
The color of an area rug is a crucial designer's decision. It must match the room décor. Otherwise, it will seem out of place. Decide on the color not just based on the color of your floor but take inspiration from other things that are in the room, like the wall, furniture, paintings, etc.
5. When should I replace my area rug?
Good area rugs can last for many years. But at some point in the future, you will have to replace it.  Nothing says it's time to get new rugs like a bunch of tough and impossible-to-remove stains. An aged rug will also look quite worn out with tears and faded colors all around its body. Replace it whenever your rug looks ruined.
Final Words
Area rugs are must-haves for homes with hardwood floors, and many designers recommend getting them. They keep the delicate floors from getting stained and damaged while making the room feel cozier and more beautiful.
We've reviewed the best area rugs for hardwood floors after thoroughly researching the market and testing various products. Moreover, we've also added a detailed buying guide. So, finding the right rug shouldn't be hard for you now. Have fun decorating your room!