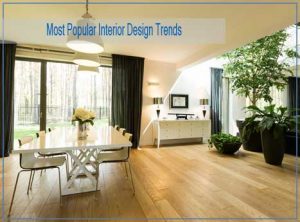 Since you have been home for nearly two years, you might have noticed an emerging trend. Your interior design is getting old, outdated, and even a bit objectionable. From the uncomfortable sofa to the dull colour that graces your walls, there are many home design elements that you may wish to upgrade.
As the pandemic continues, another stay-at-home order is looking likelier each day. So, why subject yourself to the same colours, furniture, and even vibes from several years ago? Now is the time to give your lovely house, townhome, or condominium suite a much-needed makeover.
Many households might be apprehensive about overhauling their living quarters, but the results may amaze you. Even if you don't have a creative flair, it is easy to create a beautiful aesthetic by following the latest interior design trends. With some creativity and research, your home will transform into a trendy showcase of contemporary style.
Most Popular Latest Interior Design Trends
We have compiled twelve of the most popular interior design trends below. Perhaps these designs could be helpful inspirations for your interior upgrade.
1. Country Living
When people think about country living, they associate the style with a rustic doormat, antique trinkets around the home, and signage straight out of the 1960s. Urban dwellers embrace this concept. The charming iconography reminds them of a quaint lifestyle away from the bustle and hustle in a metropolitan city.
Country living adopts the traditions of the English, French, Scandinavians, and Tuscans. The trend consists of warm muted colours and organic materials. It also uses patterned fabrics, whether in the living room or the solarium. You can grab many products with this theme in wholesale home décor outlets.
2. Urban Style
Are you an urbanite? If so, perhaps it is time to introduce urban-style interiors into your home. While this is a broad definition, the elementary aspects of urban interior design are elegance, light colours, and clean interiors. The style is also highly experimental with gritty vibes.
If you wish to maximize this popular interior design trend, you may need some new furniture pieces. Don't worry. With enough wholesale home décor components, you will not be breaking the bank.
3. 21st Century Minimalism
For the past few decades, minimalism has reigned supreme. Still highly fashionable, the 21st-century minimalist style substitutes the broader movement of the 1960s and brings it into modern times. The theme strips your home down to the bare necessities. You use concealed storage solutions for your belongings, creating more space to move around the house.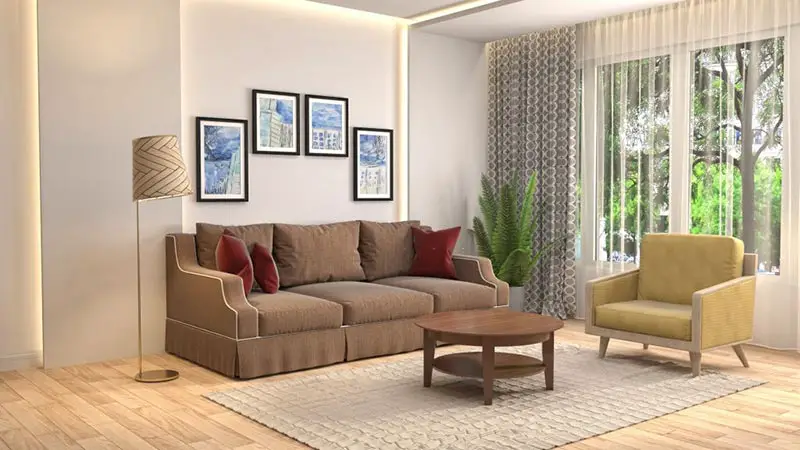 4. Zen
Like the minimalist lifestyle, tapping into your Zen has turned into a recent interior design trend. As of late, many people have become more spiritual, embracing their chi and Gaia. The same phenomenon applies to your home's interior design.
The chief tenets are comparable to minimalist living. You arrange the furniture with careful thought to make your living space less occupied. You also use materials and colours that are organic, soft, and continuous. By following the Zen style, you will achieve more comfort, relaxation, and tranquillity in your home.
5. Wallpaper
Wallpaper used to be popular decades ago, but it has fallen out of fashion over the past couple of years. Fortunately, it's making a comeback again! Wallpaper is all the rage these days. From living rooms to conference rooms, wallpaper is being plastered on the walls again.
Modern wallpaper is bolder and more decorative, homing in on landscape sceneries and abstract shapes. Best of all, today's wallpaper is essentially peel and stick. If you no longer enjoy how your wallpaper looks, you can update it quickly and conveniently.
6. Plants
Spending more time indoors during the pandemic led to a rise in natural and artificial plants. The beauty of plants, particularly their iconography in various décor materials, has made them a prevalent design trend this year. There are many ways to use plant aesthetics around the house, including chairs, rugs, tablecloths, and wallpaper.
7. Work-from-home
Home office décor has exploded with popularity in the past eighteen months. More people are working from home, and they want interior design layouts with a study or home office area. Remember, the ergonomics are just as important as the office décor you choose. Balance function and comfort to create the ideal home office.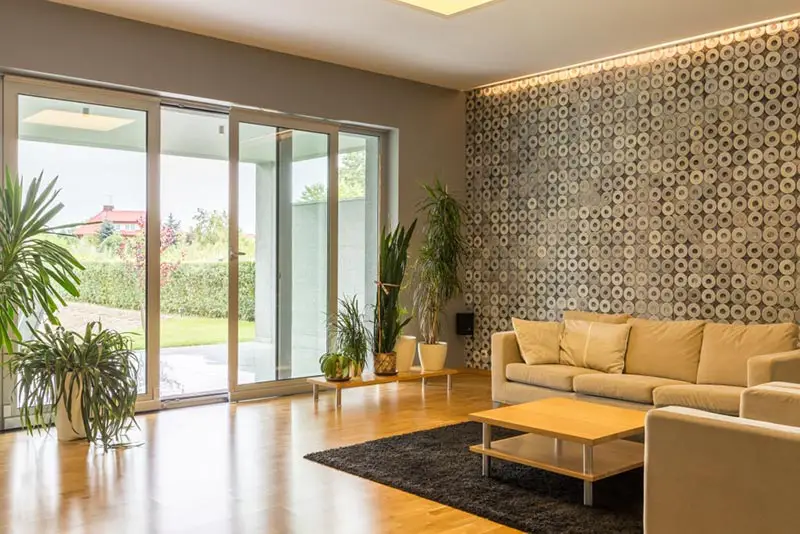 8. Multi-use Rooms
Many homes have open-concept spaces. More interior designers are seeking ways to divide up these areas into multi-use spaces. Use room dividers, plants, and freestanding shelving to create makeshift walls or barriers, which separate a large area into smaller spaces.
9. Underutilized Spaces
There are likely spots in your home that have been underutilized. More interior designers are decorating these areas with a use in mind, such as a place to read a book, a hobby area, or crafting a mini artist's den. You can use decorations to create thematic looks in these small corners and walls. Decorate the space to resemble a tropical beach, a relaxing oasis, or any idea that your imagination can conjure.
10. Custom Spa Bathrooms
Bathrooms look more like mini-spas than ever before. Add aromatic candles, bold vanity mirrors, and rain-style LED showerheads to create a luxurious bathroom. Consider items made with glass, stone, and marble to increase the look of luxury even further. It is also popular to use bathroom décor with gold and silver colors.
11. Eco-friendly Colours
There has been a move towards more natural, eco-friendly colors in interior design. Although warm neutrals and beiges will always be popular, mixes of blues, greens, and grays are getting much attention from designers and décor experts. These colors are beautiful, sophisticated, and comforting to the eye.
12. Roundness Over Strict Lines
Round geometric shapes are getting more attention this year than strict lines. The rounder and softer, the better. The use of round geometric shapes can humanize a layout by softening it. Look for tables, lamps, vases and planters, candlesticks, and mirrors, all with some roundness to them.
Conclusion
In summary, whether you want to spruce up your work from home space or you simply want to re-decorate your home, you have a multitude of trends to choose from. With many of us stuck in our homes, our living space is now more vital than ever for our mental health and a makeover could do wonders for our mood.
While this list showed you the popular interior design trends in 2021, you are by no means limited to it. This is a great time and opportunity to get creative and change your space to something positive for your mind.
This is Autem Decker. Main Author of 'TheHomeDigs'. You may not find her on the list of top 10 contemporary Canadian interior designers, but everyone who knows her says she was born to be an interior designer.
She makes her plan in her head and draws them in her years-old diary with a note in the corner. The way she plays with color and shape amazes us.
Connect Her On – Twitter