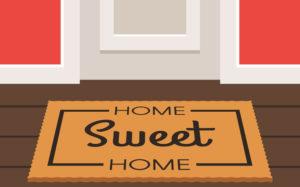 Are you looking for a nice-looking quality doormat to welcome your guests? Sure, you do. Why else would you be here?
Now, if you want to get the best outdoor doormat out there, you'll need to do some digging. Because there are tons of options out there, and not all of them are good.
So, what to do? No worries. I'm here to help you out. To help you get the right doormat for you, we are going to review the top-rated doormats available in the market.
But before that, I will also provide you with a buying guide so that it gets easy for you to make the decision.
Let's dive in.
Top 5 Best Outdoor Doormats List for Quick Pick:
Top 18 Best Outdoor Doormats Reviews
1. Amagabeli Large Outdoor DoorMat/Rubber Shoes Scraper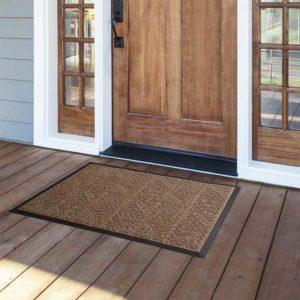 A doormat might not seem like it has much to offer since all it seems to do is lie there. This one, however, does not give that impression.
Why? Because the best part about this product is its size. Measuring at 24"x36" with a 1/8-inch thickness, it is perfectly suited to vigorous daily wear and tear.
That means that while this serves as a perfect outdoor product, it offers many indoor options as well. Need something to step on after a wet shower? Get this mat. Dogs shedding fur and dirt on their way in? Get this mat!
As we have established, mats are known for just lying there. As such, any good mat should stay flat, which this one does. This ensures that the mat won't get caught on doors or your feet. No tripping or bumping.
But of course, the main thing to consider is how it adds to the cleanliness of your home. The top of the mat is made from polyester fibers, which easily scrape off any kind of dirt, mud, grass or moisture.
What about its construction? Well, it's made from recycled rubber, so the manufacturer gets some brownie points for that. However, they warn against leaving this mat under the sun or in the rain—it might get damaged or waterlogged.
Hence, make sure that wherever you place it, it is covered, ideally, under a patio roof.
The grip, though, is great. As I mentioned before, the mat will stay put, and won't budge or skid if you lose your footing.
---
2. Gorilla Grip Original Durable Rubber Door Mat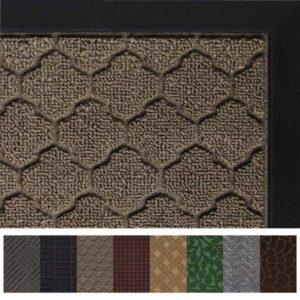 This is one of those items that you just absolutely need in your home. There are so many sources of dirt and dust, and a mat like this can prevent them from accumulating.
So what's so great about this mat in particular? Well, I would say it's the material. Unlike other brands, this one does not use recycled material in the construction of their mats.
Perfect for both outdoor and indoor use, this mat is made from completely natural rubber of high quality. This makes it a durable product.
Despite its toughness, this mat is still flexible and soft enough that it can serve many different purposes.
The polypropylene fabric on the top of this mat is slightly raised, which enables it to trap all kinds of dirt and debris. Because of how it's made, the mat can dry itself up quickly. This adds to its durability factor.
Let's say you've been out on the yard playing with your dog barefooted. The polypropylene is soft enough that you can walk on it with bare feet but is also adequately coarse for trapping dirt.
The border on this mat is formed as a rubber bevel. This helps in capturing any moisture that you may be bringing in with you on your shoes, or from more natural occurrences like rainwater.
Wherever you place this mat, it will stay put, just like you need it to.
---
3. SlipToGrip Universal Gray Door Mat with DuraLoop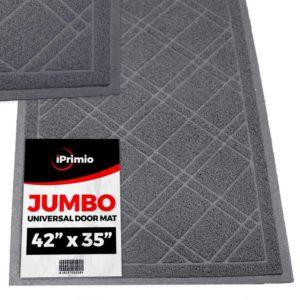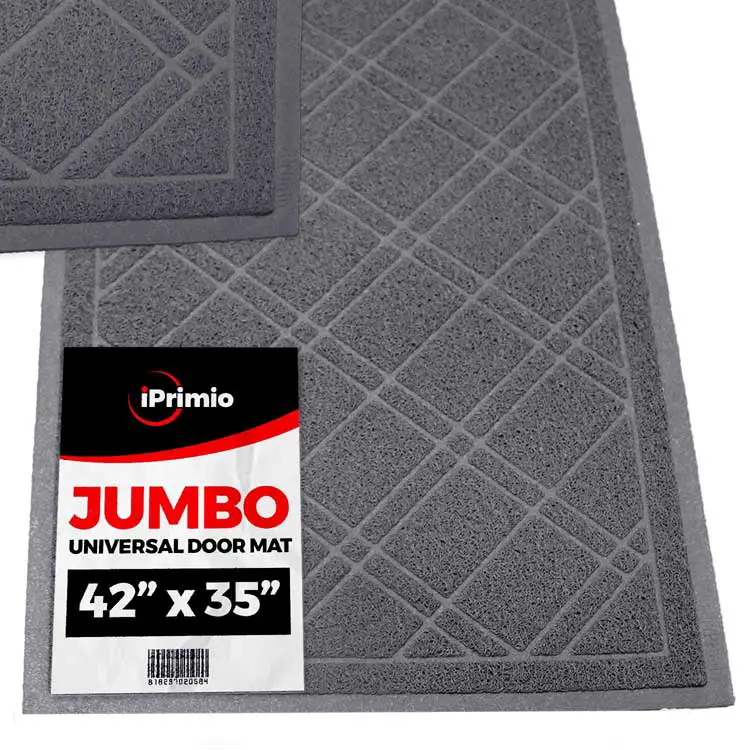 If you are looking for an inexpensive but top-notch mat, this outdoor-indoor entrance doormat will be the best choice.
First things first: this mat isn't particularly pretty. Although it has a plaid pattern cut into it, it's very gray, and sort of drab.
But hey, it's a doormat. If you can adjust your expectations according to that, you'll realize this mat has a lot more to offer. What it lacks in aesthetics, it makes up for in functionality.
Because of its waterproof surface, this mat prides itself on being able to withstand any weather. Sunshine or rain, it'll be there for you.
Not just water, though, it can catch and hold any kind of moisture. Maybe your dog had a bit of a bathroom emergency, or your kid spilled some juice on the way back in from the patio.
It's no fun to step on your doormat only to have it move and cause you to lose your balance. This product offers high durability that also prevents slips or budges. You can be reassured when you step on it that it won't let you down (heh).
Especially because of its size, the mat can stay put. It measures 42"x35" with a top constructed from the mesh. This means that the surface is not slippery, but rather cushiony.
Doormats can be a hassle to clean, but this one doesn't pose that big of a problem in doing so. Simply wash it out with water and hang it to dry.
Because of its versatility, this product can be used both indoors and outdoors, and for many purposes. You can place it on your balcony, front door or back door, or even your laundry room.
---
4. Ottomanson Doormat Collection Rectangular Hello Doormat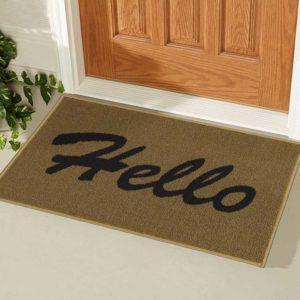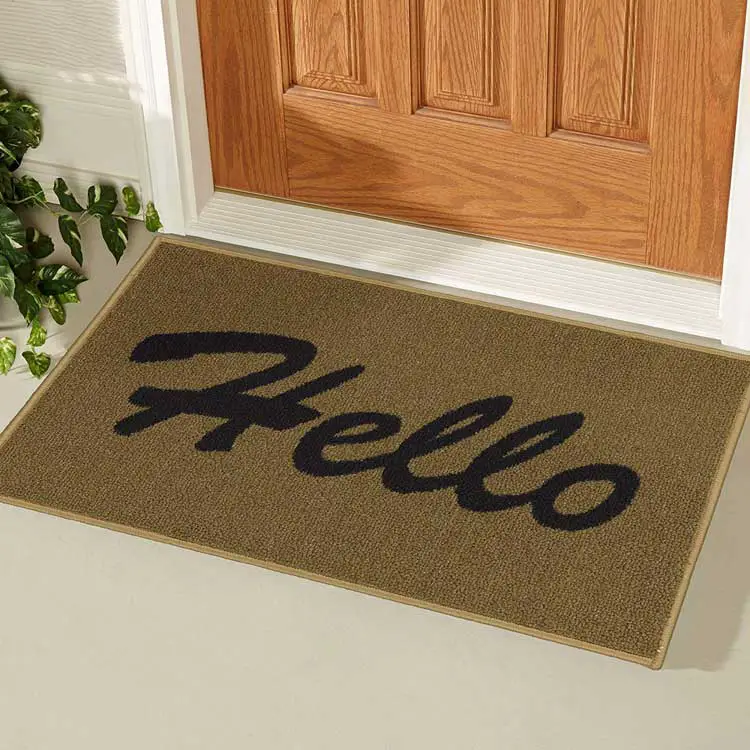 What's better than a doormat? A doormat that says Hello to visitors!
That might not seem like it would wow your visitors with your hospitality, but think about it. When they come to your door and are greeted by the mat, they'll appreciate the fact that you chose that one, instead of one that doesn't say anything on it.
Other than that, this mat definitely does its job and does it well. It is manufactured in Turkey, which is known for producing—you guessed it—carpets!
So what's so great about this mat? Nylon of high quality is used in producing it. Nylon is great for trapping dirt. You can rest assured that this mat won't let any dirt in.
This mat will maintain its quality throughout any kind of weather.  It does not require you to shield it from the sun or rain under any kind of roof. Leave it as it is.
Because of the mat's natural ability to resist stains and other dirt, cleaning it is a breeze. All you have to do is simply give it a good shake, and it'll be clean again. You can also use a vacuum cleaner.
Because this product is waterproof as well, you can also use water to clean it. Just take a spray bottle or pipe and hose it down. Then leave it in the sun for a bit.
The low-profile design of this product ensures that it won't get stuck under a door. You can also rest assured that no one will trip on it, as the bottom is made from sturdy, high-quality rubber.
---
5. Gorilla Grip Heavy Duty Indoor Outdoor Rubber Door Mat, 35×23, 2 Pack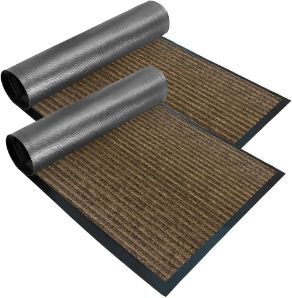 Many of us are concerned about the slippery mode of the doormats. In fact, some outdoor doormats can't be used all the year-round for different seasons. Because they are made for specific weather.
So, to make you free from all the above concern, GorillaGrip has brought an exceptional and universal doormat. This doormat resists slip but fits all weather and conditions.
Crafting from premium soft polypropylene fiber, this is sturdy and durable to last a long time. As it is weatherproof, you can use it anywhere you need no matter it is your patio, garage, laundry room or outdoor activities at the beach. It is easy to clean by spraying water or shaking to sweep the debris.
The mat is 1/8-inch thick at the border, but the surface is about twice of that. It is quite enough to last a long time along with capable of removing all dirt from the soles of the shoes.
Also, the back of the mat is made of non-slip rubber which is extremely capable of gripping on the concrete floor. So, the mat doesn't shake on the floor and fix in a place. Moreover, the non-slip rubber won't damage the laminate floors, tile floors, wood floors or vinyl floors.
And another thing is the waterproof cushion with the moisture resistant. The materials are waterproof and resist moisture to keep the entryway dry. It provides an increased coarseness for scraping of trapping dirt. Moreover, the mat comes with extra cushion to ensure comfort on the surface.
---
6. Grassworx Clean Machine Daisy door mats outdoor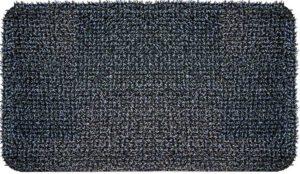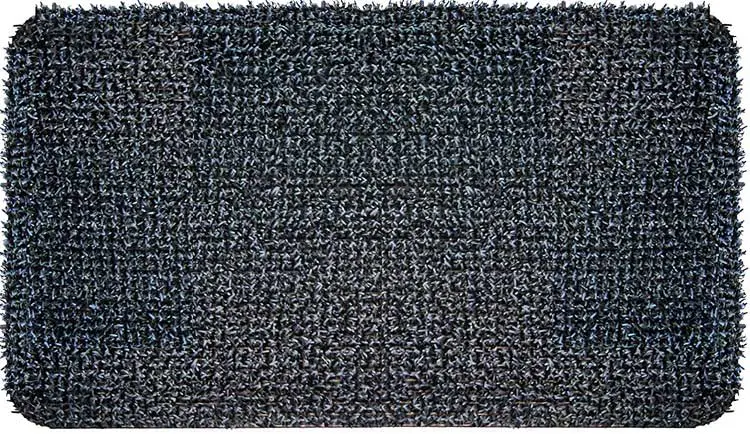 Grassworx has a long history of 50 years in providing the best door mats outdoor in the American landscape. It has made exclusively special mats with genuine AstroTurf scraper blades to keep the home clean.
The AstroTurf blades can scrap trap dirt, snow, grass, sand, and mud completely from the shoes before entering the home.
Along with the AstroTurf scraper blades, the unparalleled cleaning surface scrapes the soles of boots and shoes. So, it works precisely on the entryway of home doors, garage doors, patios, decks, and gardens.
The color won't be fade as it is original. Also, this mat can resist mold and mildew greatly.
In addition to the AstroTurf, the classic Daisy doormat is easy to clean. You just shake the dirt out of the doormat and rinse with the garden hose. It won't take a long time. Also, the firm textured plastic made mat back is sturdy enough to be durable.
As the doormat is crafted from AstroTurf material, it won't be torn in a month. So, don't get you wrong. The AstroTurf and cloth are completely different. The AstroTurf lasts longer than cloth regarding using in a doormat.
However, the classic doormat can be used at any season as it suits all weather. It can prevent germs from entering the home as the materials are fungi and bacteria resistant. It is affordable but worth your money to keep your home precisely.
---
7. Achim Home Furnishings WRM1830FL6 doormats for entry door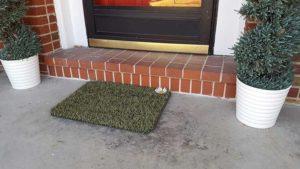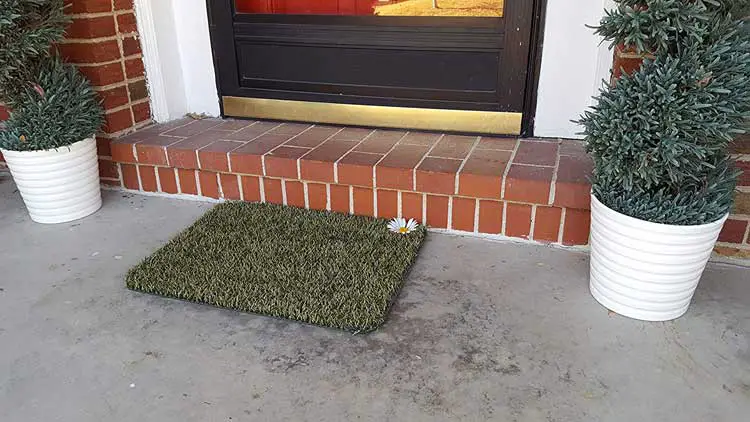 Achim is an extraordinary Home furnishings that brings style and beauty at the entryway to your home. The best door mats outdoor provides the guests an amazing at first sight. They feel welcome while entering into the inside. It is an outdoor doormat crafted from wrought iron but compatible with all seasons and conditions.
The luxurious entryway cleaning path is an eco-friendly doormat to use to clean all debris and dirt from the soles of the shoes. It has heavy-duty construction along with the polyester face. So, it won't be rusted though it is made of wrought iron. It offers both fashion and function for its anti-skid rubber back along with the soft, durable polyester face.
Though the frame is made of wrought iron, the floor is made of 90% green made recycled rubber. So, by using this product, you are contributing to keeping the environment clean. Also, it is naturally absorbent and slip-resistant. The back is made of strong PVC to ensure durability.
As the mat is made of rubber and wrought iron, you can easily clean by shaking briskly or vacuuming. However, rinsing by a garden hose can be very effective to get a satisfactory clean. After cleaning by water, dry it on air. It will help to protect from rust.  Moreover, the wrought iron made mat looks expensive, but it is affordable than most other similar featured doormats.
8. Grassworx Clean Machine High Traffic Doormat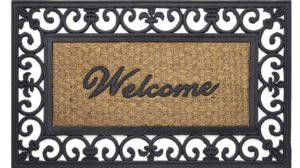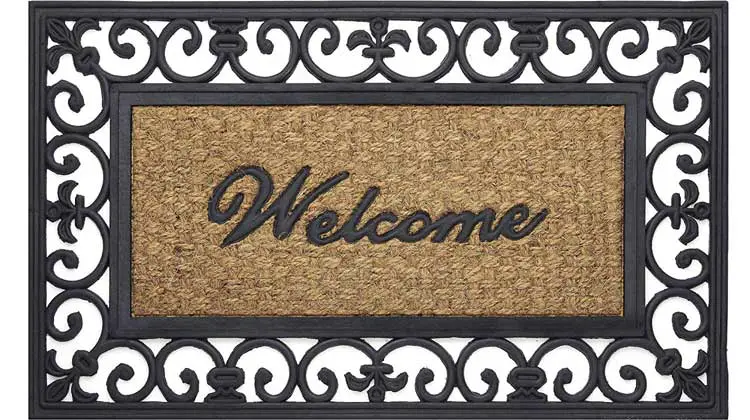 Here is another product of Grassworx and now it is Grassworx clean machine high traffic for heavy-duty use. It is specially made for commercial purposes where many more people come.
This item looks good and lasts for years with heavy-duty use. It can scrape shoes clean with its unique AstroTurf scraper blades.
As Grassworx has 50 years of experience in providing cleaning tools to the homeowners, it knows well what the owners want. So, it has brought this unique designed breakthrough in the cleaning industry by using natural cleaning power of grass.
This mat is made of genuine AstroTurf which is flexible and durable. The polyethylene made AstroTurf is a grid pattern of thousand small plastic blades. They provide unparalleled cleaning from the surface of the shoe soles.
This mat can be used for various purposes from patios to decks, and from garage doors to entrance doors. It is a multi-purpose item, used for both front and back doors. No matter where you use it, it can scrape all the specks of dust, mud, dirt, snow, and particles from your shoe to keep the home clean.
Moreover, the doormat is made of sturdy plastic, and it is durable and washable. You can shake out the dirt or rinse the mat with the garden hose. Don't forget to dry the mat after cleaning with water. Keeping water makes it unhealthy and uneasy to be used. Also, it lessens the durability by detaching the plastic grass.
---
9. PLUS Haven Coco Coir Door Mat with Heavy Duty Backing for Entrance Door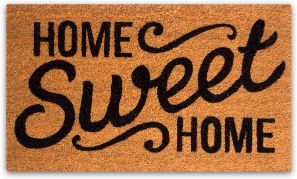 If you want an exceptional experience of the entrance to your room, the PLUS Haven coco coir doormat will give you the best entryway with its low maintenance mat. This Coco Coir has the natural power as it is crafted from pure coconut fiber. It is one of the strongest element in the world to make the it durable, convenient and reliable.
The coir material is also water-resistant, bug-repellent and resilient to bacteria and fungi. So, your home is entirely free from any germs which can enter from outside. The PLUS Haven Pure Coco Coir also captures moisture, dirt, snow and other particles from the shoe to keep your home clean.
As the doormat is crafted from the natural and durable element, you can use it both for indoor or outdoor mats. The thick and heavy mat is a high-quality product with lots of attractive design. It provides a nice value worthy of your money. The colors are bright but suit to any elegant color.
Also, the eco-friendly doormat has no toxic materials, so it lasts a long time. If it gets dirty, shake the rug out several times and make it clean to use for next time. It comes with a PVC mat on the back to reduce shedding.
The PLUS Haven is a great low-maintenance, because of its special building procedure. The natural and durable materials are heavy duty to withstand at any weather, no matter it is too hot or severe cold. It becomes dry and usable to make you free from mildew or moldy messes. However, this is a little slippery, but you can avoid it by using a non-slip pad.
---
10. Sierra Concepts Indoor Outdoor Doormat for High Traffic Area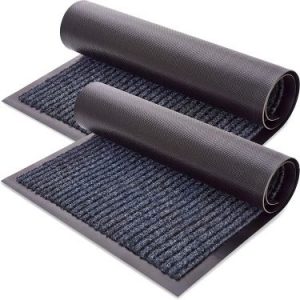 Many think that investment on keeping floor is expensive and huge. It seems because most of the doormats are expensive. So, Sierra Concepts has brought an affordable but exclusive door floor mat in considering high-traffic entry areas in mind.
It fits any room from the garage door to patio or laundry room. The exclusive mats look clean, stylish and neutral but elegant.
The mat is made of industry-grade polyester grooves along with rubber back to support for a long time. The ribbed polyester fiber and polypropylene works efficiently to absorb moisture from seeping into the floor.
The ribbed weave of the mat scrapes off all dirt and dust from the surface of the shoe. Thus it keeps the room clean from debris and moisture.
However, the mat is built in such a way that can withstand all the weather whether seasons can change. The efficiency of the mat will be unchangeable as it is durable, stable and convenient. Also, the surface of the mat provides high-friction, non-slip material to prevent tripping and falling from slippage.
The versatile indoor and outdoor mat is thin but strong in service. The recycled rubber and sturdy plastic materials ensure strength, stability, and durability.
Because of its durability, you can easily clean the mat by shaking out dirt or sweeping the mat. Also, you can rinse the garden hose to wash the mat. But, never forget to dry after cleaning with the water. Surprisingly, you are guaranteed with the lifetime guarantee with the Sierra Concepts Store
---
11. Ottomanson RDM9603 Rubber Doormat for Entryway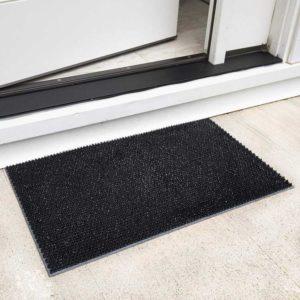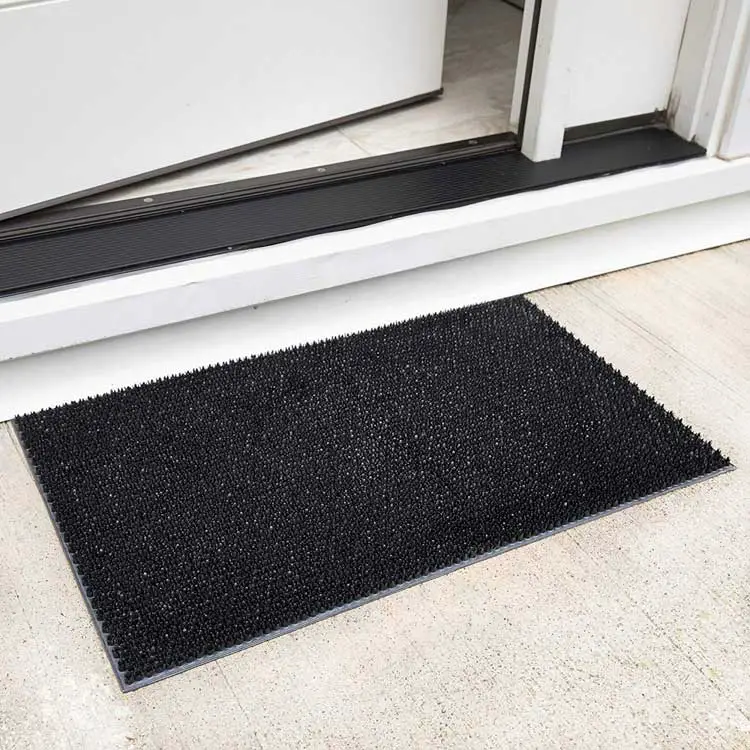 If you want a versatile doormat for both indoor and outdoor entryway at an affordable price, the Ottomanson RDM9603 will be an excellent choice. It is designed such a way that minimum dirt is let to enter inside the house.
Here the minimum is referred to near to zero. Also, the texture of the doormat gives it another shape to be like at the very first sight.
The rubber made mat keep your entryway free from mud, dirt, and slush. The surface of the doormat is so extensive that scrapes the dirt from your shoes and boots.
Also, the sturdy rubber is resistant to slip and used on the back to make it long-lasting. So this can be used for the season after season.
Moreover, the mat is ¼ inch thick but lasts seasons after season. Also, the thin doormat fits under the door without scraping and creates no problem while opening the door. Though it has a rubbery smell for the starting stage, the smell fades away after several days' usage. Here, remember that you may feel it rough if you use it on the barefoot.
Though the versatile doormat is suitable for both indoor and outdoor use, you can also take it to the laundry room, garage, patio, terrace or any other entryway. The mat rubbery mat is easy to clean. You can shake it to remove the dirt or rinse the garden hose for a complete wash. Don't forget to dry after each wash.
---
12. Fab Habitat Handwoven Extra Thick Coir Doormat for Patio Door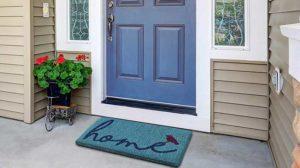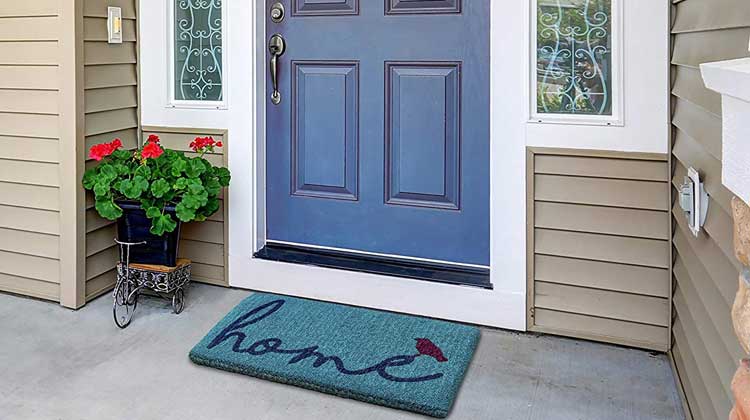 A stylish doormat for the front door may amaze your guests as they may think themselves welcomed and special. Fab Habitat has brought an excellent entryway coir doormat.
The eco-friendly doormat is surprisingly a handmade gift from skilled artisans. You must feel lucky to get this magnificent stuff.
The classical design of the entryway mat gives a welcoming impression before you open the door. The watercolor floral represents itself in a unique way that expresses elegance and style.
Also, the local skill artisans produce exotic environment from the traditional design of "Lhasa Kilim." Truly the unique design with a traditional pattern and earthy color represent your personality.
So, which is the most critical part of a doormat? You're dead right. It's the element. It is crafted from 100% Hard Wearing Coir. The element is entirely biodegradable and compostable. Also, the water-based pigment, popularly known as the earthy color, is painted from eco-friendly dyes. After all, the rug is completely friendly both for the earth and the environment.
It is thought that the reversible doormat is far better than a one-sided doormat. Though both sides of a reversible can be used, it is not all the truth that a one-sided doormat is less quality. In fact, it lasts a long time because it is made of high-quality materials. The Handwoven is rubber backed, but the back is extremely solid.
Now the thickness which determines the comfort of the mat. It is 2-inch thick which works better than most of the mats. As the mat is thicker and wide, it requires much space to be kept. So, you can't carry it around you while you are outing. The perfect place is the front door, so you can't take it for outdoor activities.
Finally, you can easily clean the mat by scraping off the dirt, dust, and mud. The natural color won't fade away. Even the sun can't do any harm to the durability and color. Ultimately, it is a worthy investment on front door sill to show your elegance as well as to keep your home clean.
---
13. Heavy Duty Waterproof Entrance Doormat for all weathers, Snow Scraper Rubber Back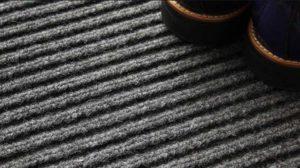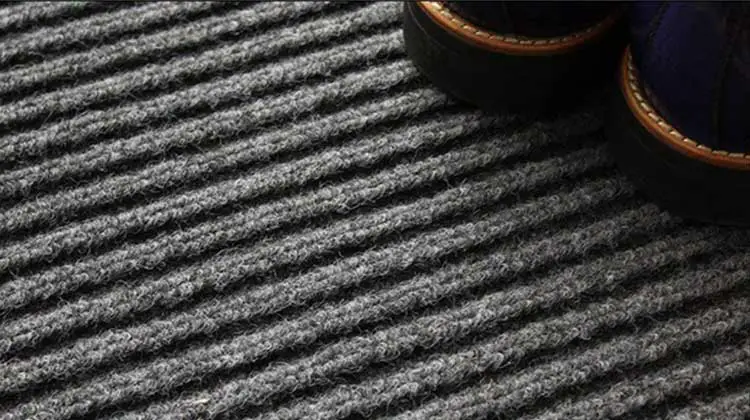 If you want a versatile doormat for the entryway, the Witty Gadget heavy duty can fulfill your need. It is a low profile entrance rug that can suit all weathers and conditions.
In fact, you can use this rug not only for the front door but also for the patio, garage, garden or any other high-traffic place. The carpet mat comes with suitable size for the entryway or exit way.
As the mat is made of robust materials such as fibers and polyester. So, it is extremely durable and strong.  The fibers can naturally resist stretching and shrinking. On the other hand, the polyester can be dried quickly. Also, it can quit any harshest weather. In fact, this product is great in nature for resisting wrinkle and abrasion.
If you are an environmentalist, it will be a great investment to take care of the environment. The materials are biodegradable and compostable quickly. So, the rug doesn't do any harm to the environment. Moreover, you can clean the mat by sweeping, shaking or hosing off.  However, though the mat is made of somewhat polyester, I won't smell harsh.
The most surprising thing is the fit for any weather and conditions. It will return in the original shape soon after drying.  However, this rug is not thick like Handwoven but has enough ½ inch thickness to feel your comfort. Also, the mat is pretty light but can keep it fixed in the strong wind.
---
14. Shepherd Hardware Indoor/Outdoor DoorMat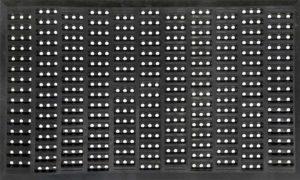 If you want to leave the dirt at the door, the Shepherd Hardware floor mat will exactly do the same. It comes with the large drainage holes which can prevent accidents and reduce slippery liquids and oils.
It is used not only for the indoor or outdoor mat but also for the garden, patio or garage. The mat is versatile to scrape the debris from barefoot to boots. Also, you can use it to clean puppy paws to grandmas.
As the mat is constructed with robust materials, it is eco-friendly, strong, sustainable and durable. The rubberized rug resists water and stain.
The fashionable geometric design can draw the attention of your guests. Even the pattern can remove debris effortlessly through the water drainage. Also, recycled rubber can help to save the earth.
The lightweight mat provides a high function with breathable non-sweating design. So, if you want something to fix on the floor for high-traffic, this rug can serve you best. The mat can create an anti-fatigue workstation as well as improve garage safety. Also, the self-draining system keeps the mat dry and clean.
You have already known that a dirt-full mat can't remove the debris precisely. So, you have to clean it effectively by vacuuming or sweeping out the loose particles. You can also clean the mat by shaking, rinsing off or scrubbing.
---
15. Masterpiece Aberdeen Welcome Door Mat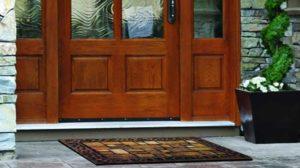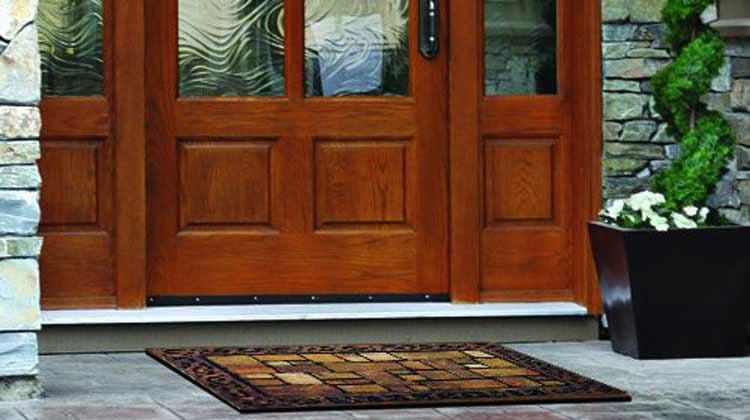 Masterpiece is a heavy-duty mat made of 100% recycled rubber. For the last 3 decades, Apache Mills has a tremendous revolution in doormat industry by bringing the Masterpiece.
Still, it is one of the best-selling doormats for its robust materials and strength. The fiber surface is full of magnificent color designs to astound your guests for the very first sight.
As we first said that the rug is made of heavy-duty recycled rubber, it lasts many days. As the old scrap tires are used to make this new mat, the recycling process helps the earth. It can resist stain and snow. So, the mat can suit all weather and conditions. Also, for this reason, the mat can be used both for inside or outside purposes.
Here, we can't but say about the exceptional molded construction of the mat. The construction is made with deep channels which help much to trap dirt and dust. So, a single dust particle can't enter into the home. Moreover, the lovely earth colors along with nice texture will amaze your guests.
However, the mat comes with standard sizes and different colors. So, it can fit perfectly in a standard-sized door. The fiber on the surface makes it comfortable. The rough fiber can scrape all dirt, dust, and debris from the shoe. As the mat is rubberized, the water can't soak the fiber of the surface. So, the fiber lasts seasons after seasons.
---
16. Super Absorbs Mud Washable Door Mat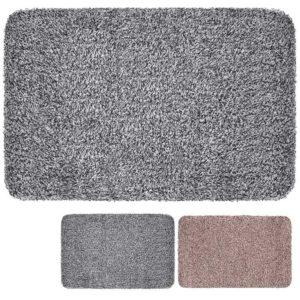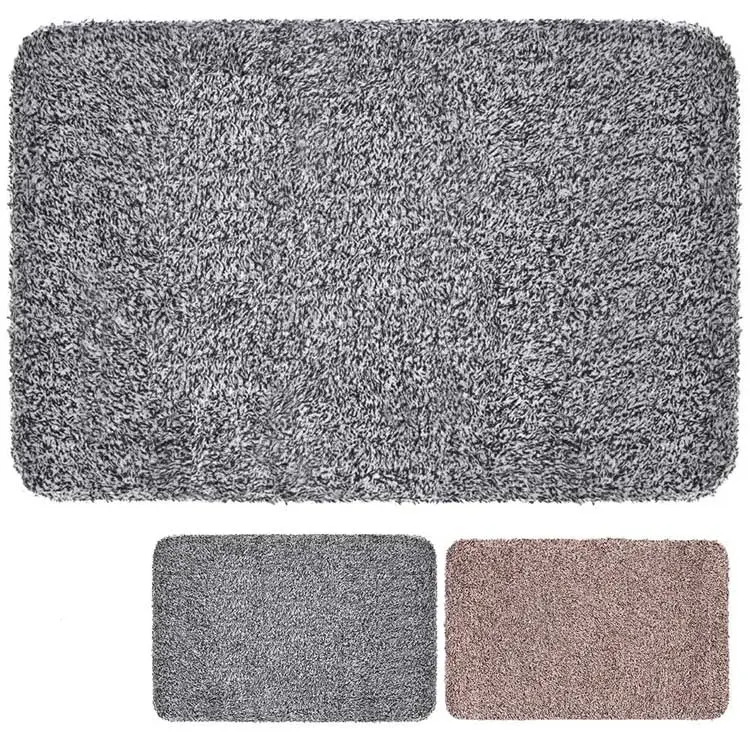 If you want to greet your guests with style, this mat is one of the best for the indoor-outdoor mat. It is a great combination of cotton and polyester. The scraper helps to remove mud from the shoes.
As the cotton can absorb moisture, it can't remove mud. So, you must need a doormat which can remove mud.
The mat is a low profile design which has a thin surface. Though it is thin, it can make you comfortable. However, the surface is thin but can't trap the door.
Moreover, the mat is backed by 100% latex. As a result, the mat can fit any harsh conditions and floor. Also, the latex backing helps it to prevent unwanted falls or to slip and to rack.
The mat is great to prevent RV. So, the natural color can't be fade away. Also, high-quality materials can ensure durability and functionality. So, the heavy-duty carpet rug can be used for both indoor and outdoor ways, patio and gardens, laundry room or garage.
Though it can clean the mud off your shoes, it would be better for you to rub your shoes several times before touching the surface of the mat. The mat is cleanable easily. It can withstand washing at 30 degrees. However, for the first time washing, wash the mat with cold water but without detergent or fabric softener.
---
17. Fasmov Indoor Outdoor Entrance Rug High-Quality Scraper Doormat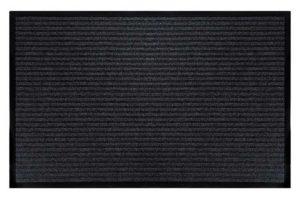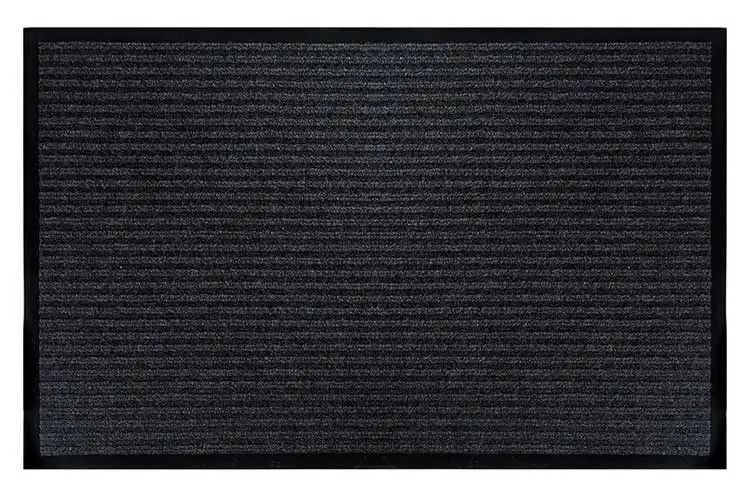 Fasmov entrance rug is a high-quality scraper doormat. It is a versatile rug used both indoor and outdoor, in a garage, on a patio, laundry room or any other entryway. It is one of the best doormats to use for high-traffic entrance.
Crafted of robust polyester and rubber, the rug is durable and suitable for long time use. It has much more air permeability, slip resistance, and water absorption.
The back is supported by non-slip rubber to prevent unwanted falls and accidents. Also, the materials are biodegradable that saves the earth by reducing pollution.
Moreover, the low profile design is thin enough to keep the door in place to stop opening the door. Though the mat is thin, it has enough thickness to feel you comfortable. Also, the durable materials are so sturdy that can withstand several seasons without fading or staining. The fashionable surface design can absorb the water and scrape the dirt and dust from the shoes to keep your floor clean.
Like any other mat, the Fasmov should also be kept clean. Unless you clean it, it can't scrape the dirt and dust precisely.  Though it is not a machine washable, it can be washed easily by sweeping, shaking or hosing off to back it to the original shape. The high level of safety retains toughness and texture after the cleaning.
---
18. Stalwart 75-ST6014 All Weather Boot Mat Tray for Indoor and Outdoor Use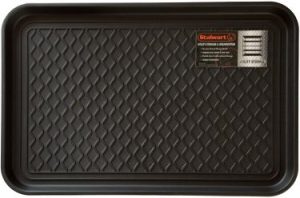 This multi-purpose tray is here to save the day, no matter what your day needs saving from. There's so much you can do with this tray, owing to its build and size.
So let's consider the options. Do you live in a cold area that is especially affected by cold weather? This is a perfect snow mat to shake your boots off on when you enter through the door.
It can also serve external purposes. It can be used to store your gardening tools and equipment, or stacked to form a shelf.
The storage abilities of this are also endless. Leave it by the door as a shoe mat where you or your visitors can take off your footwear and leave it there. Prevent dirt from entering your home!
So what makes this product so versatile?
The size of this boot mat ensures that large surface areas can be covered with it. It is 24"x15.5" in size and measures 1.2 inches in thickness. It will definitely stay put no matter where you place it.
It is constructed from the eco-friendly polymer of high quality that can withstand all environments. So, not only can it catch dirt, moisture, and debris, it can also bear other materials such as chemical solvents.
This product is great for pets! It's perfect for miscellaneous pet-related needs. You can use it as a food tray for larger dog breeds or as a litter box if you have cats. If you have a really small cat or dog, put some bedding into it, and voila—pet bed!
This mat can come in handy also in one of those just-in-case situations. Let's say you're repainting the walls and need something to place your painting equipment on. Use this mat.
---
How to Choose the Best Outdoor Doormat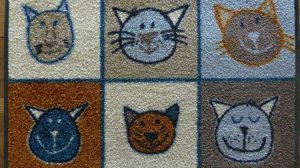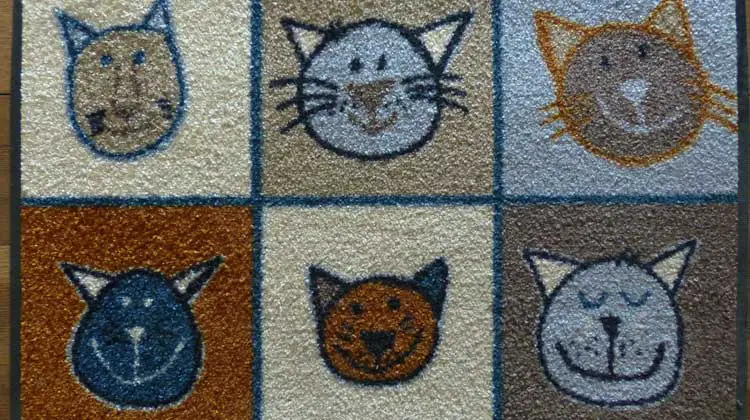 The entryway is the first way to let debris and moisture enter into the room. The notorious elements of debris and moisture can damage the floors. Here, a doormat can be your first line to prevent dirt, dust, grit, moisture, and debris to enter the room.
Though it is thought that a doormat costs huge, the actual scenario is completely different. A high-quality doormat won't require a huge investment but keep your room free from unexpected dirt. Remember that, the best mats you choose will represent your choice and need.
However, all doormats available in the market can't satisfy you. You should look for the best one which has all the necessary elements. So, we have compiled this buying guide to choose the best doormats to clean dirt.
Keep mat at all outside entrance
Almost every home has at least two doors for entrance. Surprisingly most of the people use alternative entryway instead of the front door to enter the room. So, you have to ensure that every entrance has a doormat to prevent dirt. The mat prevents dirt and moisture from entering the room. Unless you use a doormat, the room can be messier like workshop, garage or a basement.
Use mats for both inside and outside
Whether the outdoor mat scrapes al the dirt and debris from the surface of the shoe sole, the indoor mat cleans your bare foot if there is any dirt remaining. Usually, the outdoor mats are made of polypropylene or plastic grass. Here, the Grassworx is one of the best doormats for outside. One contrary, the indoor mats are soft and comfortable on the barefoot. They are made of soft microfiber or polyethylene fiber. Here, SliptoGrip can be the best indoor doormat for its soft and comfortable surface. However, always try to use a long and wide mat for door, which has at least four steps. These steps will help you clean the debris from under the shoe.
Consider the doormat surface
The doormat surface plays a vital role for scraping dirt. Generally, the outdoor door mats entrance with high-traffic has an abrasive or textured surface. It is worth looking as well as scraping all debris even the stubborn mud. The surface is specially made of brush-like fibers, loops or a bit of grit. The indoor mats have a comparatively thin but soft surface.  They are more like carpet which can absorb moisture.
But the best option is to choose the versatile surface which has both options of providing absorbency and scraping functions. These mats can be used for both indoor and outdoor purposes.
Check the size
Though doormats come in different sizes and shapes, you must choose the perfect one for your entrance. Remember that large is always not good regarding choosing door mats. Instead, it would help if you considered keeping the mat in the right place.
So, make it ensure that the feet will be fit on the mat to cover at least 80% of the width of the doorway. Also, the height of the mat should not hinder the opening of the door. Otherwise, the thick mat can get stuck while opening the door.
The standard door mat size fits all modern door for interior or exterior entrance. However, you can find in details about different size and the uses in the "doormat size guide".
Clean mats work precisely
You may sometimes notice that a new doormat can trap dirt and debris effectively. It loses the ability to trap dust sooner. It happens as the mat loses its capability due to full of debris, dirt, and moisture. So, you should clean the mats periodically to use it like new. In fact, you can use a door mat for years by cleaning periodically and dry it properly.
How to Clean Doormats
As you already know that a clean mat can work like a new one. But, many of us hesitate to clean the doormats as they don't know the proper way. So, keep reading to know the easiest way to clean the door mats.
At present many doormats are available which are washable in a machine. If your one is such machine-washable, don't think twice of its cleaning. Put the mats inside the machine and wait for a certain period. When cleaning is completed, take it out of the machine and dry it on the air.
Usually, the mats remain fairly dry. For dry mats, you can shake, sweep out or vacuum to remove dirt and debris. It can completely remove all the dirt from the mats to reuse it. Also, this step is the first step for wet cleaning.
Wet washing is essential for a complete washing of the mats. After completing the very first step of shaking or sweeping out the debris, spray down the mats through the nozzle a garden hose. When washing is complete, take it for air dry.
N.B: Never forget to check the washing instructions for the doormats. Follow the instructions and get your old-mat to a new one. Also, violating the conditions of washing instructions is a violation of getting a guarantee.
Final Remarks
A doormat is the first impression for visiting guests to your home. Without a doormat, the home can be a dirty place. So, it would help if you kept the best door mats to keep your home not only for the beautification of indoor or outdoor but also to maintain hygiene.
It is true that a doormat can protect the floor not
only from dust, dirt, and debris but also from snow, rain, and moisture. However, as different mats have different features, you should pick the best outdoor doormat up to fit your necessity. All the doormats in the above list may fulfill various necessity for different people.