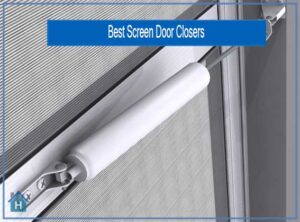 You don't want anything to happen to your doors. Trust us when we say that mending doors is a hassle some process.
If they keep slamming shut by the force of strong winds or the fiery tricks of untameable children, then they'll come to a lot of damage.
Also, in case you're concentrating on something, the tremendous slams will definitely break your concentration. Not to mention, the door frame will face the full brunt of it so that it becomes loose and unstable.
So, for increased stability in doorways, get the best screen door closer you can find.
We have some worthy suggestions for you down here.
Take a look and choose one without fear – they're all quality products.
List of the Top Rated Screen Door Closers we Reviewed
Types of Door Closers
When you are looking at door closers, you will mostly see two different types – overhead closers and concealed ones.
So, let's talk about the variations of overhead closers first. There are three types:
1. Standard Arm Closers:
Also known as the regular arm closer, these closers have two separate arms that work together to keep the door open.
One arm holds onto the frame of the door while the other arm is attached to a box with springs inside. These arms are strong, this their closing and opening action is very sturdy and controlled.
The only problem with them is that they protrude perpendicularly out through the door and that might not look appealing to you.
2. Top Jamb Closers:
These are also as strong and powerful in their action as standard arm closers. And they also protrude perpendicularly outwards from the door.
The spring-loaded box that they work with should be mounted on the face panel of the door's frame.
As such, top jamb closers are mostly used for commercially used glass or aluminum doors.
3. Parallel Arm Closers:
They are called so, because one of their arms always stays parallel with the frame of the door when the door is closed. Their spring box has to be located at the top of the door, and therefore, these closers look much better than the other two we discussed above.
However, these are not as powerful in action as them.
And despite that, they are widely used in commercial areas and in schools because they can't be damaged that easily.
Now, if you don't want to mount a closer right on top of your door, then you could also get a concealed door closer instead. Concealed closers can be found in two different styles in the market. Take a look at them below.
And the two types are surface mounted and floor spring closers.
1. Surface Mount Closers:
These are installed to a bar in the back of the door frame. They come in different colors to match the color of the door and they are mostly used for automatic doors that close on their own.
2. Floor Spring Closers:
These closers are the least detectable when it comes to door closers. They are installed into the floor and they can very well control the closing action of the door from there. Due to their stealthy nature, they are used in high-budget commercial designs.
Top 7 Best Screen / Storm Door Closer Reviews
From the several options available in the market, we have listed only a few below. They have been chosen based on quality and reliability. Please check out their specifications below.
1. Wright Products V920wh Standard Duty – Best Pneumatic Screen Door Closer
This is a steady and reliable door closer that regulates the self-opening and closing by the discrepancy of air pressure within its valves. When you hold the door open, the air inside this pneumatic door closer will become compressed. As a result, the door will be held open.
But when you release the door after you have passed, the air will expand again – this will push the valves outwards so that the door is pulled back to its frame without you having to place it into the frame.
Sturdiness is very important here. This is a closer that can be used on both heavy-duty and lightweight out-swinging doors. Use two if you have a heavy door and one only if you have a light door. And they'll go with both wooden and metal doors, so this is practically a closer that is good for all kinds of doors.
You can adjust the closing speed of this door by loosening or tightening up the screws as you need them.
The opening angle for this closer is a full 90 degrees, and that is quite enough space to comfortably walk through.
There are two mounting holes on either side of the closer. They'll help you to adjust the latching power of the door.
---
2. Touch 'n Hold Smooth – Dual Door Closer System – Extra Heavy-Duty Screen Door Closer
If you are into technology, then be prepared to be impressed.
This closer is designed to close and open without the least bit of effort from you. It has a patented smooth closing automation system that swiftly closes the door without exerting any pressure on the frame.
This is called a touch and hold closer that is a direct upgrade on the usual closers that you see being used everywhere. The closing cycle of this door will be activated as soon as you open the door. Speaking of opening the door, here is another amazing feature of this closer – it can be opened with a tap of a button.
That's right; you don't have to push your way through anymore. Just use the touch button, and the closer will release the door from its frame. Closing it is just as convenient. You have to give the door a little push and, at the same time, tap the touch button, and walk out. The door will close itself. It's a simple thing that makes life in the house much smoother!
There is a metal bracket that pivots the closer to one side of the door, and it's super sturdy and reliable. It has been painted to resist the damaging effects of moisture in the air, so it's quite resistant to corrosion as well.
Also, you can very easily turn the screws of the closer to adjust its closing speed. And if you need to change the latching capability of this closer, you will have to change the position of the brackets.
---
3. National Hardware N279-794 V1345 Touch 'n Hold Pneumatic Screen Door Closers
Closing doors or hold open the doors is actually a waste of time if you have a busy schedule. In that case, you can easily turn your manual doors into self-closing ones with a hold-open function. All you need is to install this pneumatic door closer from National Hardware.
The installation of this closer is very straightforward and simple. It has to be installed with a slide plate that needs to be mounted on the surface – this whole set up can be done by anyone with a toolset.
This closer is quite sturdy and firm by design with heavy-duty. This closers size is 2 x 4 x 4 inches. You can use them for heavy glass or mesh screen doors.
They can also be used for right-handed and left-handed doors alike. The closer is made with die-cast materials and has been given a top finish with a coat of white paint that makes it rust-proof for the long run.
On top of that, the paint and the smooth finish both make them closer appealing so that they complement any kind of decor you have at home.
The speed and the force with which these closers shut doors can be both adjusted by tweaking the screws.
---
4. Dynasty Hardware 3000-ALUM Commercial Grade Automatic Door Closer
The first thing that you should look at is the strength of the hardware door closer you're using. Now, this one happens to be rated Grade 2 by the certification of ANSI, which means, in simple words, that this is a smart door closer with great sturdiness and firmness about it.
It also means that these are built for residential homes only. So, if you need them for commercial doors, these closers are not recommended.
That being said, these closers are reliable for all kinds of residential doors, whether they be a left swinging one or right swinging one.
This closer is made with aluminum alloy, and it has a sprayed finish on the surface. As such is the appearance, these look pretty good with both wooden and metal doors.
It has a very compact design that doesn't take up much space for set up.
There are two valves on this closer that can be easily adjusted for controlling the latching speed and the closing sweep provided by the closer.
The closer can be mounted in several positions – at regular arm level, on the parallel arm, and also on the top jamb. So, you can suit the installation placement freely to meet your needs.
It has a spring inside that can take loads of up to 143 pounds. So, if your door weighs anything less than 143 pounds, then we highly recommend this closer for your home.
---
5. Kason 1094 SureClose Hydraulic Storm Door Closer for Home or Office
This one is a hydraulic door closer that works by the movement of the fluids between its reservoirs. It is a powerful closer that can keep holding the door ajar at 90 degrees.
To close the door, all you need to do is give it a slight push and step aside; the door will close slowly but firmly and place itself back on the latch.
The latch mounts on the surface, and it has an adjustable hook that sits flush on the surface about ¾ inches off to the side.
The closer is extremely durable. It has a housing made of solid steel and a hook that holds itself sturdy enough to handle heavy use. This is a long term investment, one that you will not have to replace for many years at least.
The hook of this closer is a bit wider than on regular closers. The width helps it to be more stable and sit in perfect alignment with the door.
Adjusting the latch and the speed of this closer is super easy because the mounting slots are on hooks that are more accessible for you to adjust.
The best part about this closer is the comfort of its use. It opens and closes smoothly, but more importantly, it does so without making a single sound at all.
---
6. FORTSTRONG Commercial Standard Automatic Screen Door Closer
This is a professional commercial door closer for heavy-duty doors that are constantly being opened and closed. It has a rating of Grade 1from ANSI/BHMA – this qualifies it as the strongest and the most reliable door closer there is in the market.
It has been tested through millions of cycles, and it also has a fire rating for up to 3 hours.
The adjustability of this door closer is quite meticulous. It has over six different adjustment levels that will give you all the control you want over its latching motion and sweeping speeds.
The closer has been made to last. With the first-class cast iron used in making the body, this closer is something that doesn't receive dents or gets disfigured, no matter how roughly its being used.
It has arms made of solid steel, and an aluminum coating on top to protect it from rust and corrosion. The casing is robust, and the hydraulics flowing through the valves are top-notch.
With such high specifications, this closer will give you the smoothest experiences from all the ones out there.
---
7. Lawrence Heavy Duty Commercial Door Closer for Storm / Screen or Glass Door
This is another heavy-duty closer that we have great confidence in. Commercial doors are often very strong, and they need an equally strong closer to keep them open. This closer is, therefore, a perfect fit for doors like that. To prove its efficacy, it has an ANSI/BHMAA rating seal of 156.4 on it.
Several tests have been done on them, and at last, it has been deemed suitable for the most frequent commercial use.
Like the previous one we discussed, this one also has 6 adjustable settings for its speed and latching mechanisms. You will be at full liberty to adjust them as you please.
This door closer is quite universal – it can be used on all kinds of doors. The material doesn't matter; you can use it on wooden doors, on metal ones, on aluminum, steel, and all kinds of materials.
It can be installed on either side of the door as well.
Everything you need for mounting it onto the door can be found in the kit. All the screws, brackets, and plates are inside.
The way this closer works is quite elegant. It will smoothly go off the latch and sit back with a slight push – and everything will happen soundlessly. You will be able to especially appreciate this when you have an important meeting going on in the room, and see the closer do its work so silently and gracefully.

How to Find the Best Storm Door Closer for Screen Door: Things to Know Before Buying
You will have to learn about door closers in more detail before buying a heavy-duty storm door closer that won't need a quick replacement.
So, take a look at these important factors listed below that must be considered before buying a door closer.
Type of Door
Not all door closers will fit all doors. For the alignment to be correct, you need to have a closer that's compatible for the door you're installing it on.
Now, there are two factors to look at here.
Some doors open inward, whereas some open outward. Then there is a difference between external and internal doors. You will have to look at these and then choose a closer that will suit your door.
But nowadays, you can also find universal door closers that can be used on all kinds of doors. To be on the safe and simpler side, you could just choose one of those ones as well.
Frame Distance
This is a measurement of vital importance when it comes to door closers. You must check this distance on your door before you go out to look for door closers.
Heavy doors will particularly require closers that are appropriately large in size, whereas lighter doors can make do with closers that are not the biggest in size.
And if there is very little space on the frame, then consider getting one of those special concealed door closers instead of the surface-mounted ones.
Frequency of Use
Door closers will be directly doing the work of holding the door open and of pulling them back into their latch. So, an important consideration to make here is the estimated number of times that the door will be used.
There are three categories that differentiate the frequency of use of these door closers. They are low, medium, and high.
Low is for doors that are in residents.
Medium is for doors that are used in the insides of commercial spaces, like in private offices.
And lastly, high is for doors that are under heavy use all the time – that is, those in shopping malls, hospitals, public offices, and so on.
Closing Force
This is the force that the closer will have to directly bear in order to open and close a door. So, heavy doors will need closers with a big closing force, whereas lighter closers will work perfectly fine for lightweight doors.
There are 6 levels of power sizes for doors of different weights and widths.
This is usually presented in the form of a chart by the manufacturer.
So, make sure to ask the store to let you check compatibility between closing forces and door weights before you start looking for closers.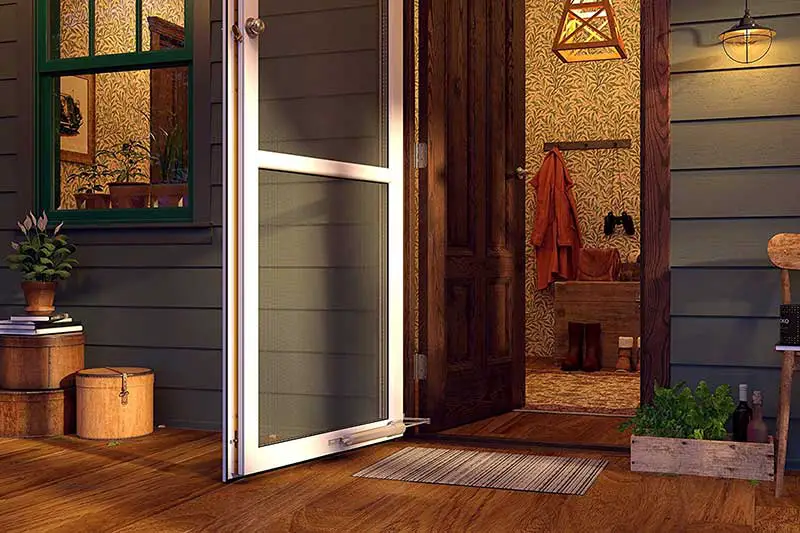 FAQs about Screen Door Closer:
1. How does a door closer operate?
Door closers operate by the use of the air compression inside its valves.
2. How many positions can I install a door closer in?
You can have it placed at arm's length, or vertically to the side of the door, and even on the top jamb of the door.
3. Do I need to oil the door closer to keep it working smoothly?
Yes, a few drops of lubricating oil once every 6 months or so is a good idea.
4. What is the main function of a door closer?
The main purpose of the door closer is to close the door in a controlled manner so that it doesn't slam hard into the door frame and get it dislodged.
5. Are pneumatic door closers better than hydraulic ones?
Both pneumatic and hydraulic door closers open to the same 90-degree angle. But the difference is that pneumatic door closers are more suitable for heavy-duty commercial security doors, whereas hydraulic ones are more suited for residential doors.
Final Words
A good door closer is essential in holding doors open and closing them smoothly, without requiring you to spend time being extra cautious about leaving the room silently.
When you are looking for a reliable closer, you must also look for a silent one. Fortunately, the ones we have listed here are both reliable and silent. So, you don't have to look any further than this article for the best screen door closer in the market.
Just choose one, set it up, and enjoy the comfort of silent exits. Good luck!