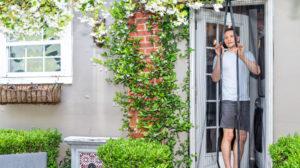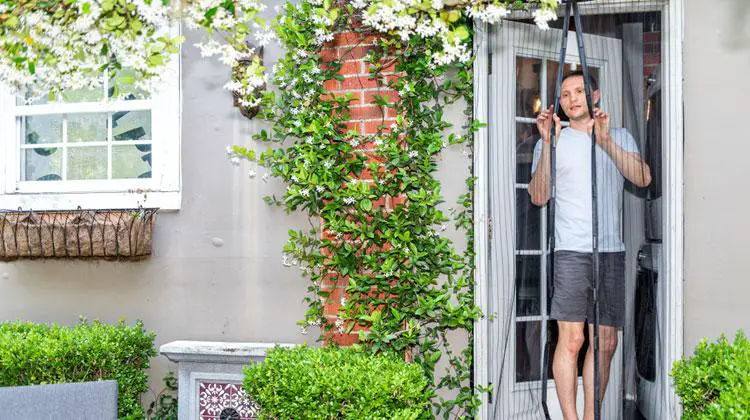 Screen doors are always a fantastic substitute for curtains on doorways, serving for the purposes of both doors and curtains. In a way, it provides you with all the privileges you want to get from an open doorway, minus the drawbacks.
However, one or two slight errors in the structure always seem to ruin the feel of that privilege. As we're talking mesh and fabric, it's not difficult for any conscious mind to get to the core reason behind these issues.
And they're solvable, the little problems that spoil the screen door's fun for you. Manufacturers are always working to give you a splendid experience; it's your job to make the right decision to avoid unfortunate situations.
How about we help you to avoid them? We have some of the best magnetic screen doors' names in our hands.
Top 10 Best Magnetic Screen Door Reviews
We have carefully checked everything and gone through buyers' reviews. So, we are quite sure our picks are the best ones in the market right now. Please scroll down and see yourself.
List of Top Rated Magnetic Screen Doors we Reviewed
1. Flux Phenom Reinforced Magnetic Screen Door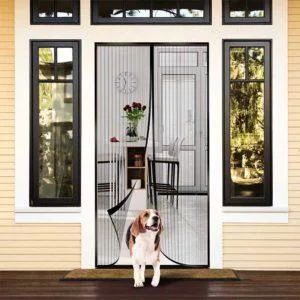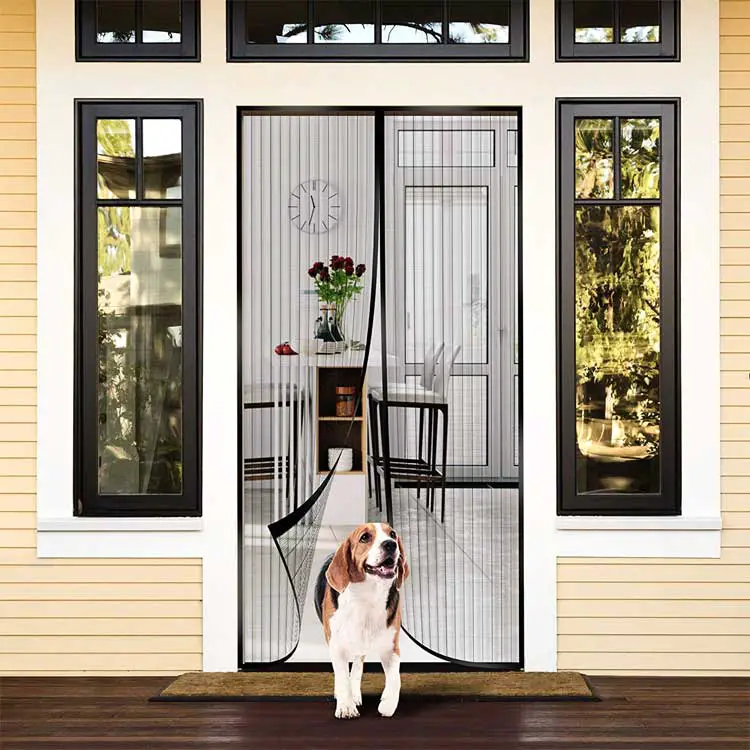 Flux phenom magnetic screen door is manufactured following the exact design you'd want to see in your magnetic screen door. 26 strong magnetic strips and cubes are included in the door's seam that enables hands-free operating and makes door opening/closing job super easy.
The door is constructed with heavy duty mesh. Choice of material and higher thread count make it several times more durable than the most other screen doors we come across in the market. Moreover, the edges are reinforced, so them wearing out pretty soon is out of the question.
Key Features
26 magnetic strips and cubes included in the middle seam enables hands-free access and automatic closure.
Heavy-duty mesh and reinforced edges make it a durable choice. The thread count of the mesh prevents insects from entering the house.
Comes with thumbtacks, hook and loop adhesive strips for quick installation. An assembly kit is also included for the same reason.
The door being frameless, detachable and retractable allows for easy detachment and storing privilege.
Inclusion of hook and loop adhesive strips, along with durable thumbtacks make the installation job super easy for everybody. Besides, an assembly kit is featured to help in the process.
Also, taking it down isn't a hard job either. For people's convenience, manufacturers made it frameless, which makes it a suitable choice for any door frame. Its detachable nature is the reason why you won't have to put much effort to remove the screen from the frame. It being retractable allows you to fold it and store it in all sorts of places, while also making sure to avoid possible damages.
Manufacturers made sure to make it an accessible choice for the majority of door owners, as it fits frames with the measurement of 38"x82" maximum. The mesh structure keeps the insects out of the house. The hands-free feature of the seam is so convenient, even your pets will be able to pass through it without any help.
---
2. Homitt Magnetic Screen Door with Heavy Duty Mesh Curtain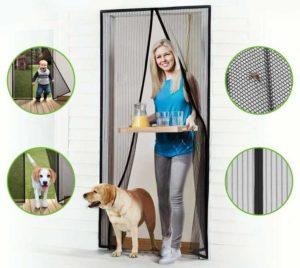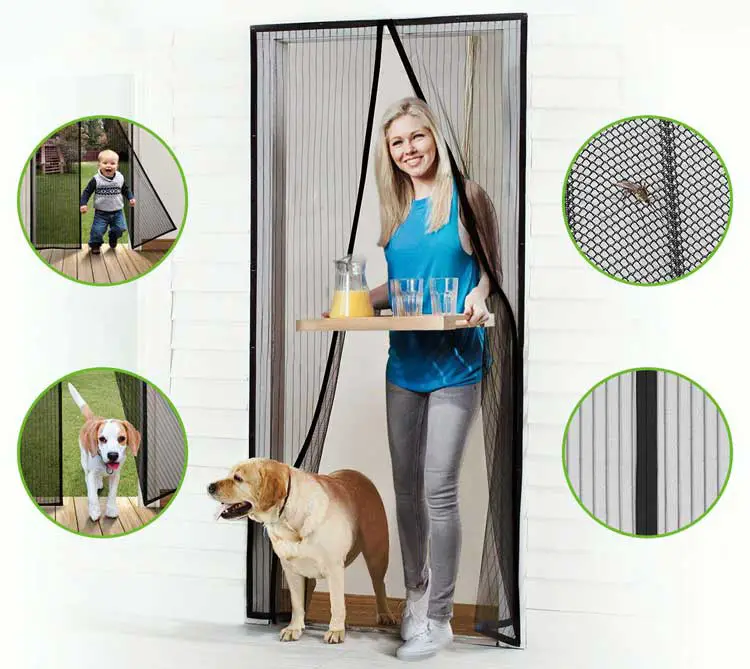 Homitt Magnetic Screen Door with Heavy Duty Mesh Curtain and Full Frame Hook&Loop FITS Door introduces features that will benefit you in every way. Following the current popular technology, 26 magnetic pieces were attached in certain points to enable easy opening and closure of the mesh entrance, without even needing to use your hands.
The door is manufactured with antioxidant and high-density materials which makes it durable enough for long-term use. The thread count of the mesh also adds to the privilege.
Key Features
The door's closure points are sewn with powerful magnetic pieces that allow automatic closure and hands-free access.
The door measuring 39"x83" makes it a perfect fit for most door frames out there.
The bottom part of the mesh features gravity sticks that stop the wind from moving the door from its place.
Push-up pin support feature helps to ensure stability, while full frame hook & loop design makes installation and removing easier.
Use of high-density and antioxidant materials ensures longevity.
The door enables easy hands-free access for humans and their favorite animals, but not for the annoying insects.
The door measures 39"x83", which is already bigger than usual door frame size; meaning it's fit for almost all door frames.
Installation and removal of the door are super easy, thanks to its full-frame hook and loop feature. If you are worried about whether it'll stay in place or not, don't. It comes with push-up pin support, make the frame super stable just by pushing the pins on the needed points. Besides, the inclusion of four sets of gravity sticks at the bottom of the mesh makes sure that the door always stays in its location, even at heavy wind.
---
3. iGotTech Magnetic Screen Door with 26 Powerful Magnets Full Frame Seal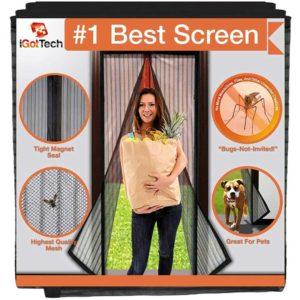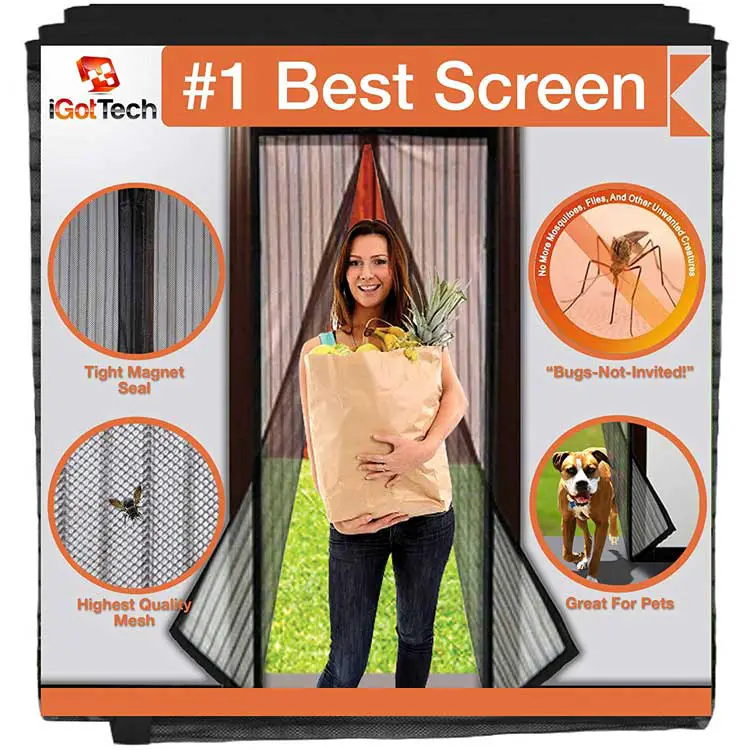 iGotTech Magnetic Screen Door is the perfect definition of 'A gift for you, a curse for your enemy'. Here the enemy is the bugs that want to go inside and bother you insanely. Not anymore, cause manufacturers made sure to get rid of the irritating insects for good with this door's brilliant structure.
Following the usual standard, 26 strong magnetic bits are featured into the closure edge of the door for ensuring automatic closure. The magnets are all safely packed inside, thanks to reinforced adjoining edge design. It's unlikely for the edges to tear up or break since they're reinforced.
Key Features
Reinforced adjoining edges with 26 magnetic bits sewn inside are introduced to take care of automatic closure.
Heavy mesh structure makes it impossible for bugs to make it through the door.
Reinforced hook and loop seals ensure easy installation and stability afterward, along with additional support nails.
It's not just the reinforced adjoining edges that make the door durable, heavy mesh construction also plays a big role here. The vertical closure not having any gap, heavy mesh surface; leave no chance for insects to get inside.
The "No bugs are allowed" rule has been heavily maintained in its installation process as well. Every inch on the top and the sides of the door features super-duty hook and loop seals to make the door's installation stable. The seals are reinforced, so them being damaged through time is least of your worries. Additional support nails are included in case you need it to ensure there's no space left for bugs making it inside.
---
4. Mkicesky Upgraded Fibreglass Magnetic Screen Door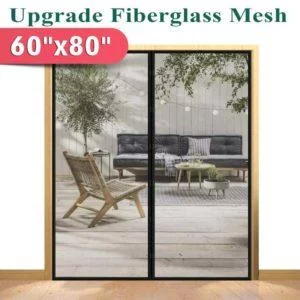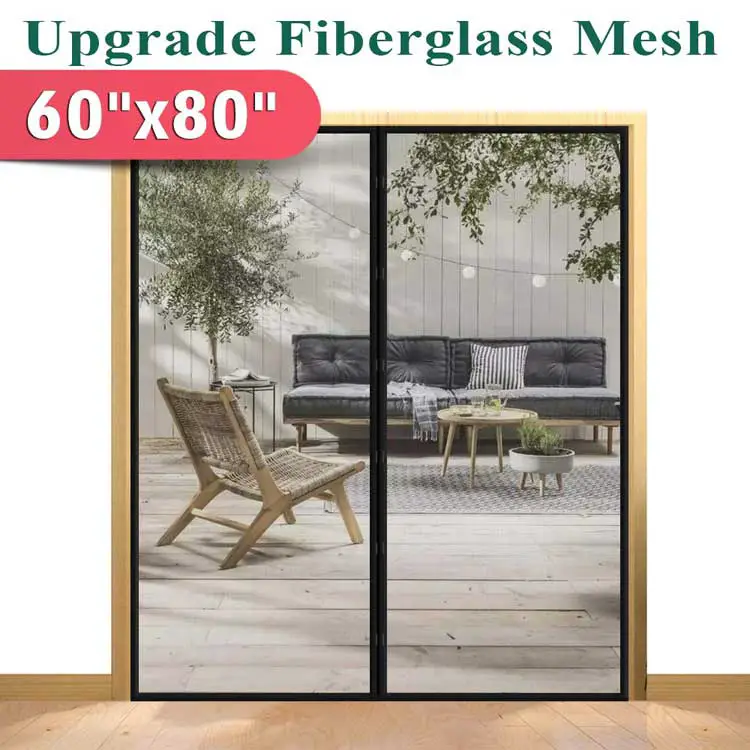 How about something that goes with French door? Mkicesky Upgraded Fibreglass Magnetic Screen Door is definitely the perfect choice for such criteria.
As it already says in the title, the door is made using fiberglass mesh instead of polyester. Fiberglass makes the mesh more stiff and long-lasting compared to polyester, thus more durable.
Fiberglass makes the screen anti-tear, so scratching or dogs attacking the door hardly cause any kind of damage. Moreover, it's fire retardant, so worries regarding that issue are also off of your shoulder.
Key Features
Fiberglass mesh makes the door anti-tear, fire retardant and several times more durable than polyester mesh.
Smaller mesh structure prevents bugs from entering the house.
Edges are also reinforced to prevent damage from scratches and attacks of animals.
Powerful magnets make it possible for pets and humans to enter through the door without needing any hands to open or close it.
Instead of hooks or something similar, the reinforced magic tape is used for attaching the door to the frame; this design leaves no gap for bug's entry.
The door is built with a smaller mesh structure, which makes it impossible for bugs to get through. On the other hand, inclusion of powerful magnetic bits into the edges enables hands-free operation that makes the entering job easier for both pets and humans. And like the whole mesh structure, the edges are also out of the risk of getting damaged by hands since they come reinforced.
Super-duty magic tape is included to make a more stable installation that will last longer. The tape is reinforced, so you can rest assured; the door won't be coming off of the frame anytime soon. The measurement is 72"x80", making it the perfect fit for most door frames.
---
5. MAGZO Magnetic Screen Door – Best Fiberglass Patio Door Mesh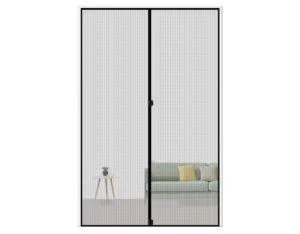 MAGZO Magnetic Screen Door is a solid proof that experimenting is always needed to bring something better to the game. From mesh structure to a stable arrangement for keeping the door in its place, MAGZO included something new to make the experience of all users much greater.
Instead of taking the usual nylon route, manufacturers went with fiberglass for the door's construction. Fiberglass makes the mesh fireproof and eliminates the possibility of chemical corrosion. High-temperature molding makes the structure more durable. The color of the material being grey helps with transmittance.
Key Features
Fiberglass makes the door more durable as it can withstand damage, fire and chemical corrosion, and allows for proper transmittance.
Magic sticker hasp makes the mesh wind-resistance.
Heavy mesh construction prevents insects from entering the house.
Features magic sicker and push pins for easy installation.
Magnets are obviously added to do their job, but the prior attraction of this door happens to be the magic sticker hasp that comes along. The hasp is attached to the bottom and the middle section of the door, it keeps it from blowing away with the wind. Doesn't require pinning or the support of heavy metal bits.
It was manufactured following heavy mesh construction design to keep bugs out of the house. Magnetic feature allows easy access for babies and animals though.
Manufacturers made sure to make the installation process easier for people. With the help of push pins and magic sticker, attaching the door is just a matter of time; and taking it down ain't difficult either because of the same reason.
Cleaning and folding the mesh doesn't require much effort.
The door measuring 34"x81" makes it a good fit for standard door frames.
6. AUGO Heavy Duty Magnetic Screen Door Self Sealing Mesh Partition Keeps Bugs Out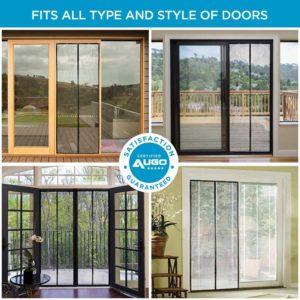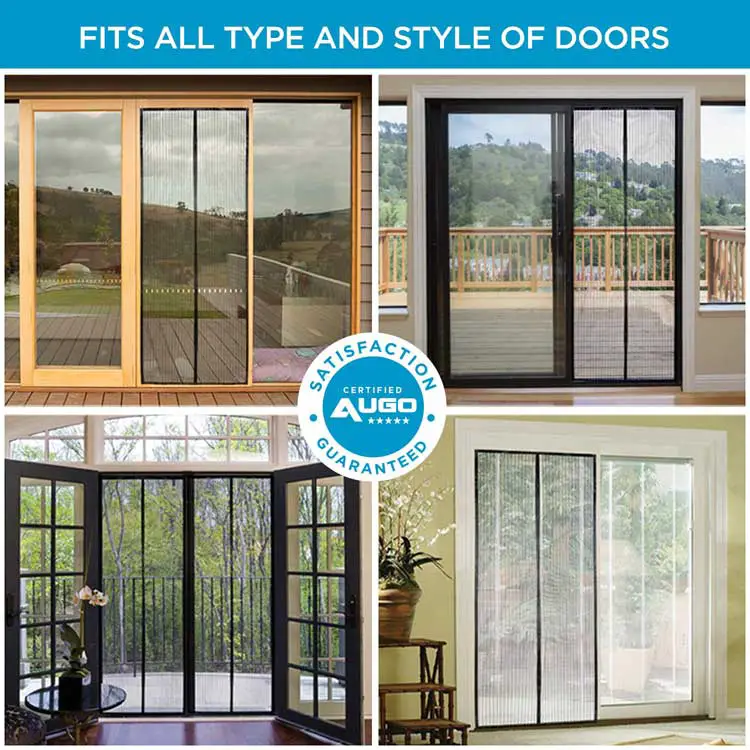 Coming up with an upgraded and improved version of traditional magnetic screen doors is what makes AUGO one of the best and premium magnetic screen doors in the market. Styled for the very same concept of the screen door, but in a new manner to ensure an utmost experience of comfort.
Manufactured with heavy-duty mesh that leaves no space for little insects attempting to make it through. Good quality polyester makes the screen durable and tear-resistant. If you happen to be an owner of a cat, an overly-excited dog or stubborn kid; rest assured that no crazy action of theirs will be able to easily damage the mesh.
Key Features
Uses polyester mesh that is tear-resistant and lightweight.
They made the closure ends all magnetic instead of adding little magnetic pieces to enable hands-free access.
Handy snaps are included to hold the mesh and keep the doorway open when needed.
Velcro-like strips and push pins are featured for installation.
The mesh is lightweight because of the polyester, which makes the job of folding and storing more convenient.
Instead of including magnetic bits and strips in places, manufacturers made the whole edge of the screen magnetic. Because of this, you won't have to worry about the door's functionality getting ruined if something happens to only one magnetic strip; from top to bottom, this door's functionality remains the same.
However, it has something that you won't be seeing in many other doors. It comes with handy snaps for occasions when you want to keep the screen open for a while. This feature is patent pending though.
The door doesn't rely on hooks and loops for installation, the whole frame comes with Velcro-like strips for that purpose. You can use push pins too that comes along to give it the extra support to establish needed stability.
Best fit for 36" frame size.
---
7. Apalus Magnetic Screen Door – Super Strong Fly Mesh with 28 Ultra Seal Magnets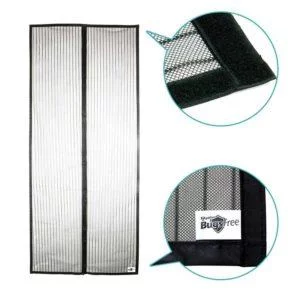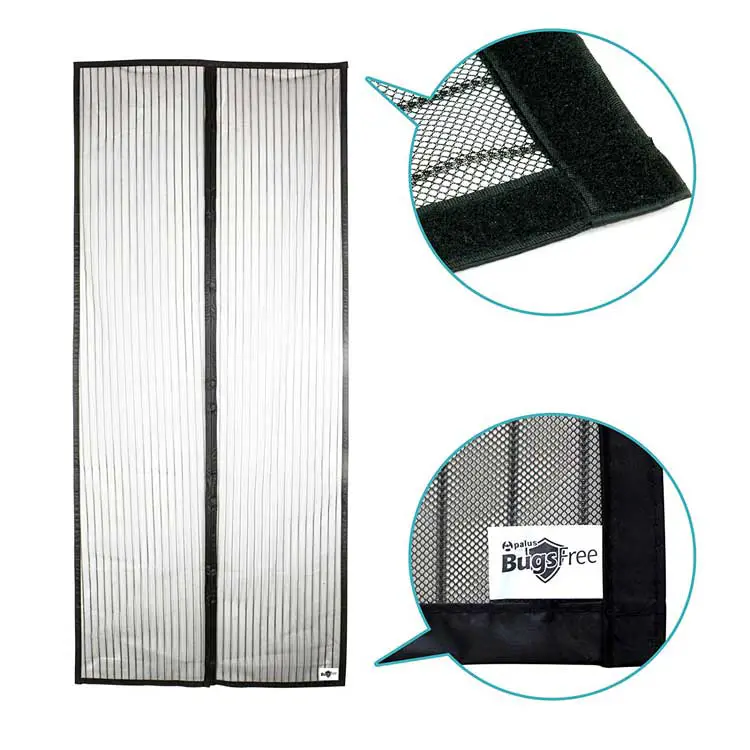 Apalus Magnetic Screen Door is one of the good magnetic screen doors out there when it comes to a perfect fit. In order to make you not worry about that certain issue, manufacturers decided to go with a design that will make this door a good fit for all sorts of door frames. And yes, this door goes perfectly with all door types, even the one in RVs.
To make the effect more powerful, 28 magnetic bits are included in the closure seal. This feature also allows for hands-free operation, making the door opening and closing an accessible task for both children and pets. However, it makes sure that insects are not granted the same sort of access.
Key Features
The door fits frames of regular doors, sliding doors and the doors of RVs.
28 magnetic pieces are included inside for enabling hands-free access.
The fabric is soft but windproof, washable and can be carried or stored when needed.
Adhesive hook tape is featured to help attach the door to the frame. It's removable too.
Even the mesh is pretty dense for bugs to pass through. However, it's constructed with soft fabric which makes the screen door touch and machine washable. The fabric makes the door windproof.
The installation process isn't difficult either. You won't have to rely on pins for attaching it to the frame. The door comes with strong adhesive hook tape to take care of the attachment job. The door doesn't come off easily, thanks to powerful adhesive added in the tape.
However, that doesn't mean you can't take it down whenever you wish to, all you have to do is remove the tape. The door is made portable for carrying and storing convenience.
The measurement of the screen door is 36"x83".
---
8. Lux Screens Magnetic Screen Door Full Frame Velcro & Fiberglass Mesh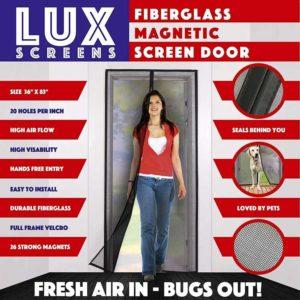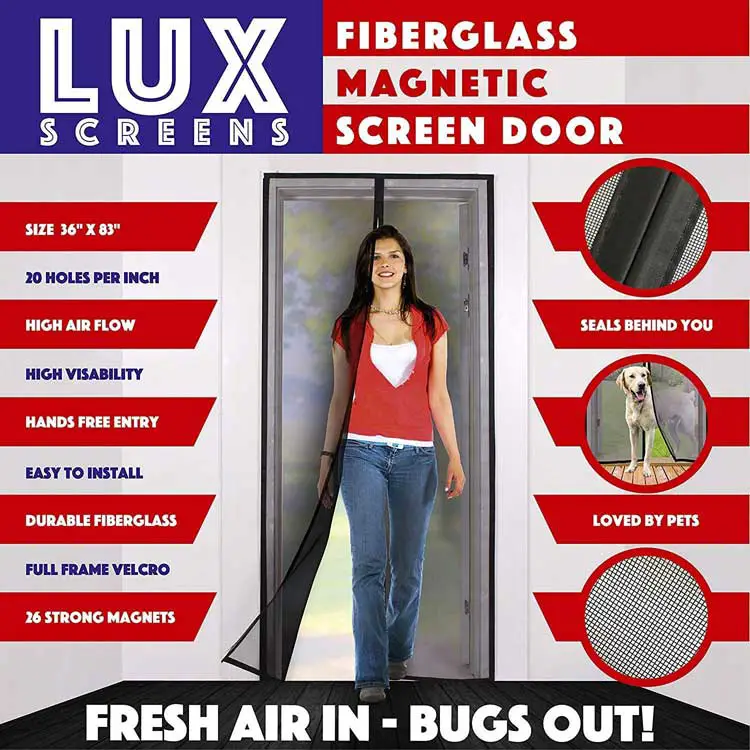 Lux Screens Magnetic Screen Door might not seem like much compared to other doors available in the market, but don't let the outlook fool you. The quality lies within the manufacturing, and this is what makes it one of the best choices for screen doors.
Manufacturers went with fiberglass while constructing this piece. Unlike polyester, fiberglass provides more durability as it's the strongest material out there. The mesh is more likely to not get damaged quickly like most other screen doors, let alone having gaps and tears after a while.
Key Features
Built with fiberglass that makes the door several times more durable and tear-proof.
Children and pets don't need help to pass through because of the magnets sewn inside the edges.
Edges won't get damaged easily as they're reinforced.
The whole frame comes lined with reinforced, super-duty Velcro to make the installation stable and long-lasting.
The edges are reinforced, so they're highly unlikely to wear out in a short period of time. 26 magnets are added inside that works to enable hands-free closure system. The insects won't be able to pass through tiny holes of PVC coated fiberglass mesh, but the presence of magnets enables easy access for kids and animals.
It doesn't come with pins and hooks like most other doors for installation, Velcro is featured to do the job. It being reinforced ensures durability, while its super-duty attribute takes care of stability. Every inch of the door's frame is lined with Velcro, leaving not the slightest gap for anything.
A tack fixing kit is included to back you up with needed support. Fits doors with the measurement of 34"x82" or less.
Just give it about an inch of overlap around the actual door opening, you're good to go.
---
9. Premium Magnetic Screen Door Keep Bugs Out Lets Fresh Air in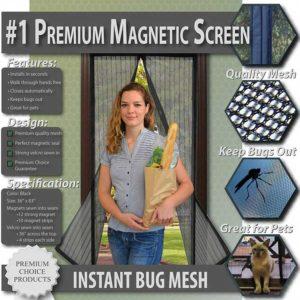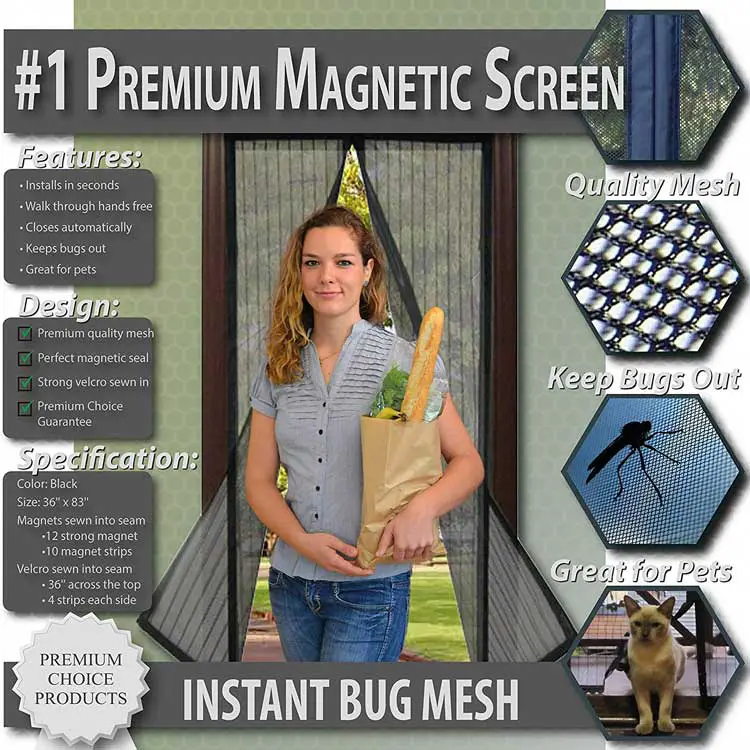 Premium Magnetic Screen Door gives you everything you want in your perfect magnetic screen door, but in a more appealing bargain.
As it says in the name, the door's seams are sewn with 12 magnet blocks and 10 magnetic strips inside that make the closure snap and shut every time someone is done passing through the door. Manufacturers made sure to leave no gap in the seams, so the functionality of magnet is all same from top to bottom of the edge.
Key Features
The door's seams don't feature any gaps to maintain the same level of magnetic tension all the way from the top to bottom of the edge.
No need to worry about closing it as the seams snap shut.
The premium quality mesh ensures durability and prevents insects from entering the house.
Velcro and push pins are included for quick attachment.
Premium quality mesh has been used in the door's construction, which benefits you in two ways. The mesh doesn't wear out in a short period of time and keeps insects away from entering the house; safety and durability ensured with one single attribute.
For installation, Velcro is attached to the frame of the screen door. Use of Velcro makes the installation process easier and less time-consuming, you don't have to go through any hard step or rely on tools. Also, you can make the installation several times more stable by using the push pins that come along.
The measurement of this screen door is 36"x83", which makes it a suitable option for standard door frames.
---
10. Sentry Screens Reinforced Magnetic Screen Door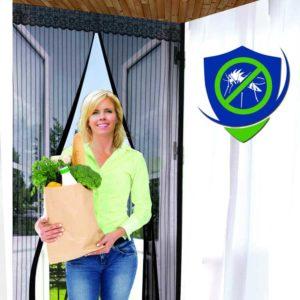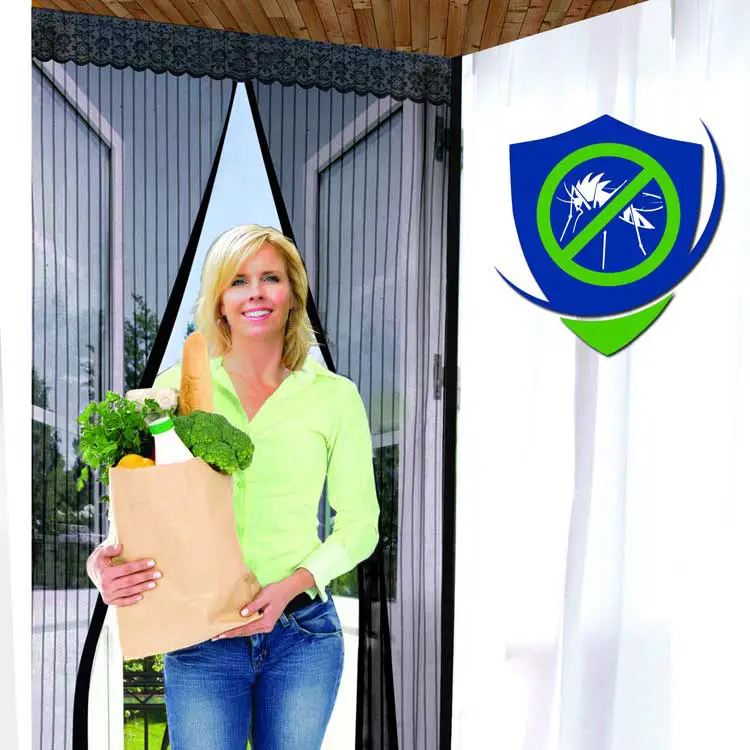 Sentry Screens Reinforced Magnetic Screen Door deserves to be on the pedestal with all the other magnetic screen doors out there. It comes prepared to give all the customers exactly what they want. 26 powerful magnets are included to give you the needed automatic closure you want from your screen door.
In order to ensure durability, those magnet pieces are sewn inside the seams. Because of this, pieces don't happen to break or fall apart in time. There are no gaps in the seam, so you get the benefit of the same magnetic tension from every inch of it.
Key Features
Heavier magnetic bits are sewn inside the seams that ensure a hands-free, faster and more intense seal. Also, the pieces remain intact for a long period as they're carefully sewn inside.
Use of fiberglass makes the mesh more invincible to damage.
Heavy mesh construction prevents bugs and anything similar from passing through it, US military approved.
Features hook and loop fastener to keep the door in its place.
Comes in different sizes.
These magnet pieces are heavier than usual bits used for this purpose, which makes the door shut faster and allows for a more powerful seal.
The mesh has been constructed with 60g fiberglass material. Polyester is good, but fiberglass makes the door more invincible to damage because of its structure. The density always provides with good support.
This mesh is being used in US military camps to provide our precious soldiers with protection, so you can guess well enough how compact the construction is going to be against insects.
The installation process of this door has been made super easy so that it can be done by anybody. You won't have to rely on any sort of tools to attach it to the frame. The instalation is a few minutes' job.
It comes with hook and loop fastener that is attached around the edges to make sure the door stays in its place without being affected.
You can enjoy the privileges this door offers anywhere you want. The door comes in several sizes to fit all sorts of frames, starting from regular single doors, French doors to RV doors as well.
Conclusion
It's always important to go shopping with enough knowledge about the product. Here we tried to help you exactly with that; with everything mentioned above, finding the right and best magnetic screen door shouldn't be that much of a difficult thing for you now.
This is Autem Decker. Main Author of 'TheHomeDigs'. You may not find her on the list of top 10 contemporary Canadian interior designers, but everyone who knows her says she was born to be an interior designer.
She makes her plan in her head and draws them in her years-old diary with a note in the corner. The way she plays with color and shape amazes us.
Connect Her On – Twitter