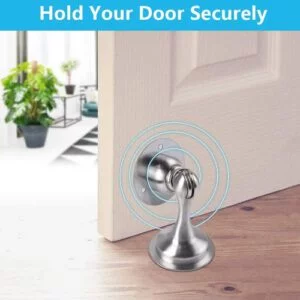 Are you tired of being slammed back by your door when you return home with a handful of groceries?
I know how it feels like when you return home after a hard-working day and then the door gets inside your nerves.
You can avoid the annoying doors closing on you with the help of a door stopper. Say goodbye to those days when you used to kick your doors open every time.
Along with issues like this, we also face problems when wind enters from under the doors. This makes the rooms colder and uncomfortable. So what's the solution to this problem? Well, you can always use a door draft stopper.
Today, I'm going to give you important information about the best door stoppers available in the market and with some extra details. So, without further ado, let's hit the topic.
What Is Door Stopper?
Not familiar with door stoppers? A door stopper is a hardware that holds your door to stop or limits its motion. It also prevents your wall, trim board or neighboring cabinetry from getting damaged as it doesn't let the door swing too hard on the wall.
Top 5 Door Stoppers Quick Comparison Table
 Top 5 Best Door Stoppers Reviews
1. Home Premium Rubber Door Stopper
If you can't take the hassle to install the door stopper on your door, then I will suggest you buy the Home Premium rubber door stopper. Remember the 'wedge door stopper' I mentioned earlier? Yes, this is the same type with more advanced features from Home Premium.
You can place the Home Premium rubber door stopper easily anywhere you need. Besides, you can easily remove it once you're done. Unlike its competitors, you can place this on unconventional places like the upper part of the door.
Home Premium is making sure that you get the bigger and stronger version of wedge door stopper. This rubber door stopper is more solid which makes it more unique. The 1.2 inch of height it has makes it taller than most of its competitors. It doesn't matter what type of door you use because, with the perfect sloped angle it has, the door stop will fit under any type of door.
The reason I can say Home Premium is one of the best door stops available in the market because it has multi-surface compatibility. It grips perfectly up to carpet, tile, hardwood, and uneven floor surfaces without making a single scratch on the floor.
I know how it feels like when your door stopper slips away. I myself have experienced this issue with some mainstream door stoppers. But I can ensure you that you won't face this problem with the Home Premium door stopper as it has the ultimate gripping power. Furthermore, you don't need to worry about this door stopper getting flipped as it has additional skirting around them that makes sure it never happens. So, there's no chance of your doorstop being waved off by a strong breeze.
---
2. Wundermax Decorative Door Stopper
This is another wedge door stopper brand which is running superbly in the market. Made with REACH certified odorless rubber, the doorsteps are SGS approved and safe to use. So that the customers can't question its quality, the product is thoroughly tested.
Wundermax is making sure the customers always get the best product pack with the most affordable price. For this reason, the set they're offering has three freeholder hooks that you can use to hang the product on any door safely and organized.
The Wundermax Decorative door stopper comes with unique slopped design along with the anti-slip base. These features make sure that the door stoppers can grip the surface very tightly.  Your door stopper will work on every floor surface.
Besides, it won't matter if you're using the heaviest door available. The Wundermax decorative door stopper can hold it as well.
You don't like scratches, do you? Keeping your problems in mind, Wundermax has made its door stoppers in such a way that they don't put any scratch on your surface, you can keep the wedge door stopper on the carpet, wood surface, cemented surface, surfaces that use vinyl and tiles. Besides, cemented surfaces and uneven surfaces won't have any problem with it. Even on the smoothest surface, the doorstop supports traction. It provides Real Durable Rubber which is flexible and odorless.
---
3. Halova Magnetic Stainless Steel Door Stopper
When it comes to magnetic doors, you'll have to make sure of two things.  Make sure the magnet is strong and the steel you're provided doesn't get rusty.
With lots of experiments and tests, Halova proudly presents its magnetic door stop which will save you from these two problems. Firstly, the magnets they provide is powerful enough to last longer than any of its competitors. It can hold your door open very tightly and strongly.
On the other hand, Halova magnetic door stoppers come with very high-quality stainless steel. It won't get rusty.
I know it's a tough work for you to get all those machines, get your goggles and then start drilling to install your door stopper. Besides, drilling can damage your wall. Keeping in mind that you don't tire yourself with drilling and keep your wall safe, Halova magnetic doors come with VHB 3M double-sided tape glue. You can use the tape glue to attach your door stopper, instead of drilling.
Furthermore, you can mount the door stopper vertically to the floor as well as horizontally to the baseboard or wall.
---
4. Tenby Easy-Step Kick Down Door Stops
You can say your old kick down door stoppers goodbye, as this new brand easy-step or kick down door stop is trending in the market. A lot of kick down door stoppers' springs get damaged, so when you try to lock it on the surface, there's a huge chance that it may not get locked. Rather, the stand that holds it, will return to its place.
But with the Tenby easy step stops, you don't need to think about this problem. The door stopper just lasts and lasts. You just simply need to get your feet on the stand and push down the door stopper and that's it. The stand will perfectly get locked on the surface.
Furthermore, you don't need to release it using your hand like you used to do with other kick down doorstop. As this may hurt your back, Tenby easy step stoppers come with a pedal. You just need to simply push it with your foot to release it.
It doesn't matter what kind of surface you use. Tenby easy step stops are friendly to tile, carpet, wood, and concrete. The strong gripping power it provides will grip the surface hard.
Not sure about the heights of your door? No worries as the Tenby easy step stops provide height adjustable rubber tip. You can adjust your desired height that goes friendly with your door. There's no need to change the rubber-tip as the one you're provided with will set all the game.
As far as installation is concerned, Tenby door stoppers have their uniqueness to ease things up. You don't have to drill holes again if you already have screw holes on your door which you made previously. The Tenby kick down doorstop will get matched with the screw holes that are already present. It may not be the best doorstop, but it is really helpful and handy.
---
5. Cast Iron Mouse Decorative Door Stop
Decorative doorstops come in various sizes, shapes, and forms.  Let me introduce a cute little mouse which you can use as a door stopper as well as a part of your home decor. One of the drawbacks of the mainstream door stopper is that rarely can be shown as a decoration.  However, with Cast Iron mouse decorative door stop, your guests will compliment your home decor for its unique design.
Decorative door stoppers can be available in any material. As the name says it, Cast Iron mouse decorative doorstop is made of solid cast iron. Here's a fun fact. The producers of this doorstop made it from recycled iron. To give it an antique rusted look, a special coating is given but here's the irony. Though the coating looks rusted, it actually saves the item from rust and ensures its durability.
Your floors will be safe from scratches completely if you use this mouse doorstop. This doorstop has a felt padded bottom which works as an anti-scratch feature. It may look small, but it is heavy enough to hold your door open very easily.
As you're taking a decorative door stopper, it's obvious that you give priority to home decor. This is why this mouse door stopper comes in a wide range of colors. You can find this product in rust brown, antique white, rustic blue, silver black, golden black, and copper black color. I personally don't think there's such a wide range of choice when it comes to other door stops. So, don't wait any longer and get your own choice right away.
Buying Guide: Things To Consider When Buying Door Stopper
Take a look around and see which product goes with your home. All these products are friendly to any place. However, you must know that even the best product may not suit you if you use it in the wrong way. Try to know which type of product you need and then buy it accordingly.
Not everyone has the ability to buy new products now and then. I knew a friend who needed to fix his air conditioning vents but couldn't do so just because he couldn't afford it. So first of all, fix your budget. I don't believe that you won't get a good quality product if you invest a fortune behind it.
Secondly, check the durability of the product. Imagine, within a month after buying a product, it suddenly gets damaged. You'll obviously regret it as it will not cause you an inconvenience, it will cost you more money.   Let it be a door stopper or door draft stopper, make sure that it lasts long. So that, even if it damaged, you are content with its durability and you won't hesitate to buy another one as you've already managed your cash.
If I were you, I would obviously keep my trust in a brand which I'm content with for years, rather than switching to a new one. Pick your brand and try to be with this in the long run. In fact, once the showrooms of a certain brand get connected with you, it will always have the tendency to give you the best customer service.
Frequently Asked Questions about Door Stopper
1. Is it easy to fix these door stops and door draft stoppers?
Ans. These are very simple products that you can take care of by yourself alone. They are made in such a way that you just need a few minutes to fit them. Besides, they do not weigh so much that you need an extra pair of hands to help you.
2. Is there different size available for these door stoppers?
Ans. The answer is yes and no both. Some of these products do have different sizes while others don't. The ones that do not come in any specific size usually made in such a way that you can either adjust its size or they can be used in almost all averaged sized doors.
3. Can I get any replacement offer or money back guarantee?
Ans. Yes, almost every product here has a money back guarantee or replacement offer. The duration varies as some gave the lifetime money-back guarantee offer, while others have limited this offers to 1 year.
4. Is the customer care center available in every state?
Ans. Not only every state, but you can find the customer service almost all the places around. You just need to ask for their contact info. After you call them up with any issue you face, they'll always fix your problem
5. I have some gaps on my door rather than under it. Can I use the draft stoppers on the door?
Ans. Yes, you can as long as there's enough space or room. Though this process may look a bit odd, it surely works fine.
Wrapping It Up
In this article, I could've given you more options. However, I brought a few so that you can choose the best door stoppers for yourself. I hope that this article will help you get rid of your problem and have a good experience with door stopper.
This is Autem Decker. Main Author of 'TheHomeDigs'. You may not find her on the list of top 10 contemporary Canadian interior designers, but everyone who knows her says she was born to be an interior designer.
She makes her plan in her head and draws them in her years-old diary with a note in the corner. The way she plays with color and shape amazes us.
Connect Her On – Twitter