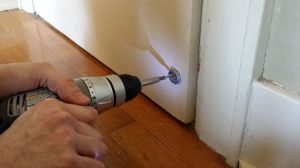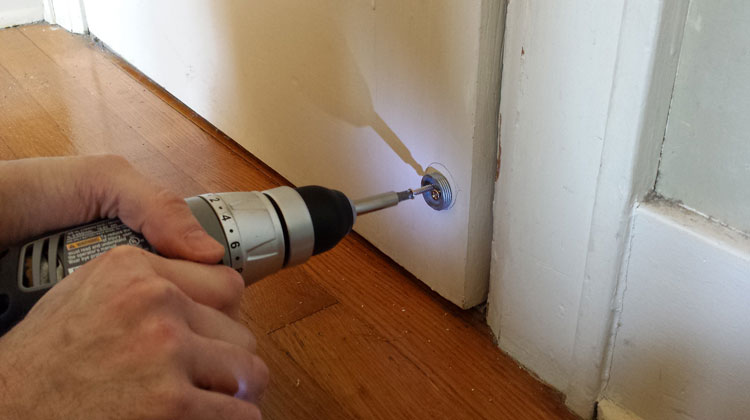 Who said practical couldn't be pretty? It offers you do anything precisely as you want it.
A door stopper is nothing else away from the practical if you show your elegance. Though a door stopper is relatively cheaper in price, a homemade stopper helps you get exactly what you want to have.  It should be heavy but not ample to take a lot of pace of the floor.
Though each door should have a door stopper, you can't find it everywhere. But a funny and exciting design can make your room a fantastic place. However, most of the people hesitate to select the design and material to form a door stopper.
Here, we have shown you a few great DIY designs which you can make at home by using home materials.
Different types of DIY Door Stopper
All the following ideas and designs are made from available materials. Also, it saves your bucks as well as expresses your creativity.
Designed Bag
A door stopper needs to be a massive thing doesn't mean that it should be a massive thing. It has to be substantial enough to stop the door from being touched to the wall.
Here, a small bag will heavy materials can be a great thing to enhance the beauty of the room. So, make a bag with fabric by sewing with thread and a needle. Then attach the bag around the sides by a ribbon. After making a bag, fill it with to make it heavy. You can also use plaster of Paris or cement to fill the bag.
Large Basket
Few things you use in everyday life and basket is one of them. The basket can be an excellent door stopper by taking a relatively heavier object and placing simply in front of the door. It looks like a flower vase by putting decorative marble.
Placing a large basket in front of the door looks cozy and homey. You can also add some eucalyptus leaves which work as a natural room deodorizer. Moreover, a basket offers you to put exciting things such as books, magazines, candy jar, etc. an overnight guest will enjoy these kinds of stuff much more.
Wooden stop wedge
A wooden door stop will be something special for your room. It is relatively smaller than a fabric bag or basket. You can design anything of your choice on it. You need a piece of wood, a saw, a drill, a leather strip, a brass washer, some screws, sandpaper and some paintbrushes. It holds the door open for cool summer breezes along with add a different touch to the living space.
At first, take a piece of wood and cut into pieces to form the wedge shape. While working with the saw tie the wood piece in a secure way so that it can't move. Then sand down all the edges and corners of the wood with the sandpaper. However, you can now paint the wedge for a decorative finish.
Kids Rubber Boots
If you want to bring something extraordinary and funny to the home, use kids rubber boots, old work boot or cowboy boot into the door stop. The boot has to be filled in with heavy materials which prevent the tension of the door. It is notably a rare home tool to use every day.
Fabric door stopper
The fabric is a standard material to be used in almost all things. Like other homey tools, you can use fabric made tool as a door stopper. Though it is simple and basic, you can make it unique and charming. So, you can consider burlap to make a door stopper.
It gives you a subtle vintage look. Also, it looks like a pillow by giving them a handle made of twine or thin rope. Remember that, it should be kept away from touching the water. However, you can customize the design by using a stencil to the fabric door stopper.
Customized Plastic Toy
Are you tired of searching design for door stopper? You may have to be creative to design a wooden or fabric door stopper. But, you can now add funny and ideal design for your doorstep. It's easy to make a plastic toy as a doorstop by customizing it.
You can attach some primary wooden particles to the toy by using powerful glue. It'll be a perfect combination of wood and plastic. However, after adding glue to the particles, spray some metallic paint to the entire thing to look it an undivided toy.
Cube-Shaped Oak Wood
A cube-shaped door stop looks stunning and adds elegance in the home. It is compact and heavy, durable and sturdy. Oakwood can be perfect material for cube-shaped design. Moreover, you can make it practical by adding a handle. The handle can be a crew-in-metal, or it can be a rope. No matter it is a metal or a string, everything depends on your preference.
Simple-Looking Door Stop
Simplicity is always gorgeous and makes the home elegant. As it is relatively cheap, you can purchase some simple-looking door stops. Besides, the simple-looking door stop is naïve and chic. So, you need a piece of wood, a saw, some sandpaper, a drill, and some thin rope. Moreover, the nautical-themed is also a simple door stop which is heavy and concrete.
DIY Door Stopper Video Guide
Final Remarks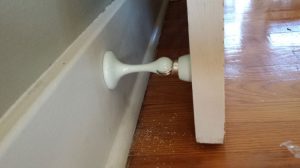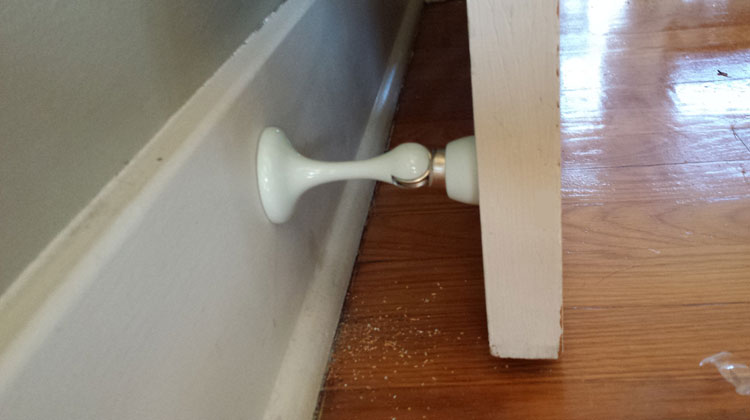 Doorstop not only saves your wall from the door but also makes the home funny and simple. Though you can buy a doorstop from online or shopping store, you can make it at home.
Even, making a door stop at home shows your creativity. It also saves a lot of bucks which you can spend on settling upon your room's music harmony.
This is Autem Decker. Main Author of 'TheHomeDigs'. You may not find her on the list of top 10 contemporary Canadian interior designers, but everyone who knows her says she was born to be an interior designer.
She makes her plan in her head and draws them in her years-old diary with a note in the corner. The way she plays with color and shape amazes us.
Connect Her On – Twitter