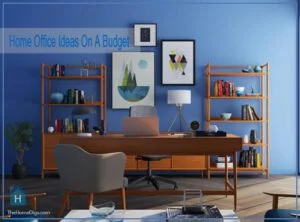 According to Forbes, there are 4 million employees at the very least in the US who work from home. This figure will keep increasing every year.
With the rapid advancement of technology and high-speed internet, the allure of working from home is getting more and more recognition and as such, more and more people are setting up home offices.
However, while setting up an office, a lot of people get overexcited, make poor decisions, spend a huge amount of money, and end up with stuff they didn't need. Pathetic, isn't it?
Well, the good news is that we have some excellent home office ideas on a budget for you to get started on building your professional and stylish home office.
How To Setup A Home Office On A Budget
The personality of the owner is often reflected by what home office setup ideas they have. What makes you comfortable, how you manage your time, are you organized on your daily affairs, etc can be figured out just by seeing a glimpse of how you handle your office.
Before you get started, please understand that you don't need a big budget to make your home office look good, as a matter of fact, there are loads of small home office ideas that you could get inspiration from. Keep reading as we introduce you to some expert tips on DIY home office ideas on a budget.
Find Out What You Need
Before going out and splashing hard cash on stuff, you need to come up with a plan. A home office makeover on a budget would only succeed if you're planning ahead. Different lines of work have different priorities.
Make a list of what you need and figure out if you have enough room for all the stuff, then make a budget, and prioritize accordingly.
Locate Your Ideal Spot
When choosing a home office, you'd need a place where you can work at peace. For example, the guestroom, or a corner of your living room, behind the sofa etc. If you're tight on space, a bedside office isn't uncommon either.
The key considerations are that there should be proper natural lighting and ventilation. For your peace of mind, your office should be in a quiet place or have minimum distractions.
Create An Interesting Surrounding
Paints can change the way you look at a room. If you go for some light colors it will set up for motivating vibes. To add some more touch you can print a few quotes or art which lift your mood and get a frame for cheap from the local stores. This beats buying premium art.
A calendar is another budget option, you have something to decorate the wall with and it helps you keep track of your schedule. A 2-in-1 solution! Placing a few plants around the office also adds beauty to the room as well as provide oxygen and absorb pollutants.
Use LED lights to save on the electric bills.
If you are a family person, then you can also hang some art made by the kids, a suitable budget decoration as well as a reminder of why and for whom you are doing all of this in the first place.
Floor Mapping
Make a floor plan so you exactly know how to arrange your stuff. Measure the components you want in your office and the total space you have.
From there, you can make a rough assumption of how much stuff you can place and choose your priorities accordingly. This way you can avoid overspending.
Recycle Your Expendables
Recycling and repurposing is a popular cost-friendly option for people on a small budget. There are so many things you could do:
An old jar or a half-cut plastic bottle can hold pens.
Foldable kitchen tables and chairs make a good makeshift workstation.
Use clipboards as an alternative to whiteboards, old dish drain as file holder, closet as a shelf, etc.
Making the habit to use a pencil and eraser and write on both ends of a paper for trivial matters.
You could use cereal boxes to keep your mail.
These are just a few examples; there are loads of things you can do with your household items.
Reusing your household materials also goes a long way, using a towel instead of paper tissues and using ceramic dishes in place of one-time use plates and cups are a long term replacement. The more you reuse, the lesser the trash.
Time To Go Shopping
When you've run out of household items to use, you have to no choice other than to buy stuff. This is the part where you are susceptible to high costs. For a home office makeover on a budget, you need to be smart. This includes not throwing your cash away.
Thrift stores can offer you some good furniture for an excellent deal or you can find second-hand furniture which is still good.
Keep Your Stuff Organized
A home office is organized only when it is sorted. A good idea for sorting is to color code. Keep your financial, personal, insurance documents in separate colored file folders.
Categorizing also goes a long way. Suppose, keeping all gadgets in one corner, and having all office utilities [labels, stickies, etc.] inside a drawer; you get the idea. See what works for you.
If you are a mess then you're wasting money. How? Because you are wasting your time. Wasted time is a waste of productivity and you need to avoid it.
Manage Your Space
Space management is a challenge when it comes to the home office. By managing your space you can avoid renting another room, and save a portion of your budget there.
Using your vertical space is a brilliant idea in this case. Bookshelves and cabinets provide you with a lot of space in this regard. Your walls are your allies. Document holders and attachable floor-to-ceiling shelves can get the best out of your walls. The more you use your vertical space, the less you have to spread out.
You also need to be light in your paper usage. You can use hanging shelves or baskets to keep the papers you need at arm's length. Even so, you don't need them as much as you think you do. It's 2020, file your documents virtually to save up on your computer to make space. Getting cloud storage is highly suggested.
Throw away any extra items that you don't use on a daily basis out of your office.
Keep An Eye On The Time
"Time is money" sounds like a cheesy old phrase but it can't be any truer. The more time you waste the less productive you are.
This doesn't mean you have to stare at a giant clock the whole day. The key here is scheduling your time and acting accordingly. If you're following and maintaining a schedule, then you are efficient.
It could come as a surprise but workers are also vulnerable to overworking even if they are at home. Physical and mental exhaustion are enemies of productivity. This is why you need to find a way to track your time.
Whether it's a clock or your phone timer it doesn't matter, as long as you have short breaks to rest and come back focused.
Go Virtual
By now you have an idea how to set your office but there's no reason to wait. You really don't need an all-out office to work.
Nowadays most works are online, you can do it as long as you have a computer and a phone paired with an internet connection. In all honesty, an office desk chair, an office desk, and a computer are all you need on a basic level.
You can start working immediately when you have managed them, Don't wait for the rest, they can be arranged as you keep working. Refraining from work until your office is picture perfect is a mask to hide procrastination.
Time To Rock The Workplace
A worker's efficiency is affected by the environment they are in, a brilliant home office will definitely boost your morale, and keep you focused and motivated towards getting the job done.
We have walked you through some home office ideas on a budget, now a little understanding and smart shopping are all you need.
No time to waste, get your computer, and start working and build your pretty office as you go ahead working from home.
This is Autem Decker. Main Author of 'TheHomeDigs'. You may not find her on the list of top 10 contemporary Canadian interior designers, but everyone who knows her says she was born to be an interior designer.
She makes her plan in her head and draws them in her years-old diary with a note in the corner. The way she plays with color and shape amazes us.
Connect Her On – Twitter