After the outbreak of covid-19, almost all offices around the world have to remain closed immediately to stop further spread of this killer virus. But, unfortunately, the situation is getting worse day by day and we have no choice but to stay home.
For this unavoidable circumstance, most companies are providing their employees' opportunities to do office work from home. Perhaps, you are one of them who is going to start a home office within a week.
But, before starting your office activities, you need to gather essentials for your home office that will turn your home's room into a comfortable and professional office room.
10 Essentials You Must Haves For A Home Office
The concept of a home office is getting popular gradually and it has many benefits too. But, if you fail to make proper adjustments to your work from home setup, you could ruin your home office facilities. That's why; a well-researched office essentials list will give you an upper hand in sorting things neatly.
Don't worry; we have done the hard work for you and made a list of essentials for an efficient home office. Let's see…
1. Comfortable Office table
The first thing that comes to our list is a comfy and sturdy office table. Moreover, a dynamic table will help you to set up the workstation precisely. Make sure the table is large enough to hold all your necessary tools required for office tasks. However, don't buy an excessively large table as it would cost higher and unnecessarily occupy a big area of your room.
If you have minimal space, you should buy an adjustable desk that can be disassembled and stored in the corner of the room when office hours are over. These types of desks also have integrated storage drawer and USB ports. Moreover, some modern desks have height adjustability settings and a childproof lock facility for further safety.
2. Ergonomic office chair
An excellent office chair will ensure a productive workday. It would be best if you don't buy or use any cheap chair for long working hours. Yes, a chair is a chair, but if you choose them wisely, you can get rid of many disgusting problems like back pain, hypertension, fatigue, etc.
Additionally, you can easily find top-notch chairs at a reasonable price with some outstanding features to make your home office hours special. And these wonderful chairs have some amazing features like adjustable height, reclining function, comfortable curved armrest, comfy backrest, relaxing seat, and durable rubber wheels to move quickly.
Talking about rolling chair wheels, ordinary plastic chair wheels can cause damage to your wooden floor. So, when you buy your office chair, ensure that the chair wheels are rubber made.
If you are having a good condition rolling chair in your home and thinking to use it for your home office, then it would be a budget-friendly decision.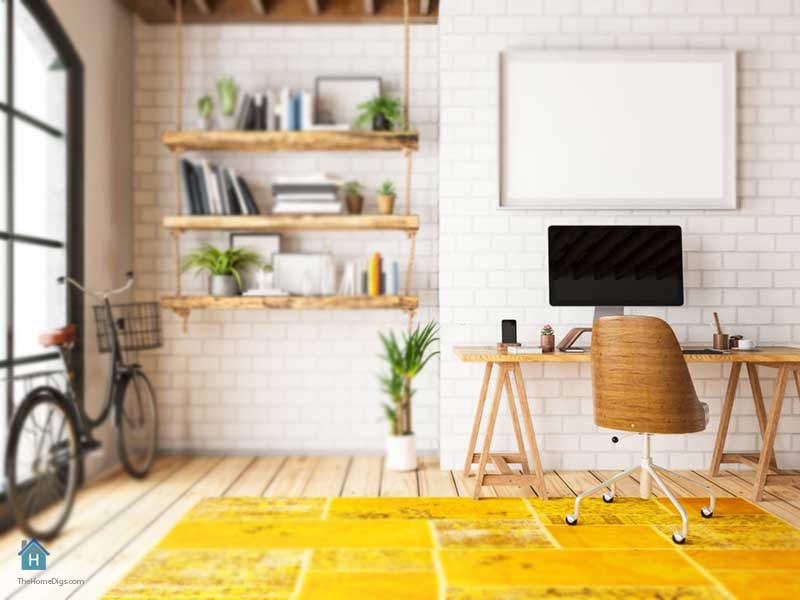 3. Laptop or desktop computer with accessories
Without a laptop or desktop, our must-haves for a home office list would be incomplete. In our modern era, every teen and adult member of our homes has a personal laptop or desktop.
However, if you don't have enough money to buy a laptop immediately, you can buy an average configuration and cost-effective desktop. In that case, make sure that the mouse and keyboard of the desktop suit well with you. Also, buy a good quality webcam for online video meetings.
But, if you are able to buy a laptop, then go for it because it will take less space on the desk and help to maintain a compact setting. As laptops offer years of service, you should not compromise with their configurations.
Believe me, a top-quality laptop will save lots of your valuable time, and you will have a first-class user experience. So, wisely choose a laptop considering the nature of your job. Don't forget to buy a laptop cooler fan and a laptop stand for more comfort and performance.
4. Big Monitor
Most of the time, we damage our eyes or cause problems to our eyes by constantly looking at the small screen of our small devices. Especially for job purposes, we have to stay in front of a laptop screen for a long time. But, the good news is that your eyes will be relaxed and stay away from harmful radiation of the laptop screen if you buy a large-sized monitor.
In addition to that, you can do your online task much faster and smoother by using 2 screens at a time. Plus, you can organize your program neatly. However, you will easily find a portable monitor in online marketplaces which will also be an excellent travel-friendly monitor.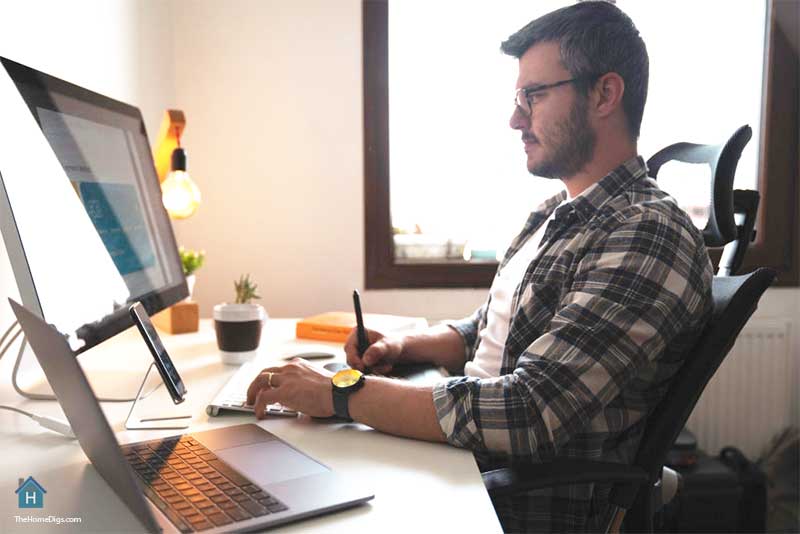 5. Colorful File Folders
These are those things that organize your worksheets while keeping them safe and secure. That's why; they are considered important work from home essentials. You can buy 3-5 different sizes of file folders to keep different types of paper and sheets.
However, make sure the folders are durable and flexible enough to serve their purpose. Also, ensure that metal clips and integrated label holders are sturdy.
6. Durable filing office cabinet
You need a durable steel frame filing cabinet to keep all the necessary tiny things like pen, pencil, stapler, etc. Ensure that the cabinet fits under your office desk. A lockable three-drawer cabinet will be more than enough for your home office.
Also, a 4-wheeler smooth drawer-running cabinet with an embedded handle will give you further comfort and control.
7. Robust printer and scanner
You can buy a printer and scanner separately, or purchase a 2 in 1 printer and scanner device. These devices will help you scan and send hardcopy files to others and print out softcopies to hardcopies. So, you must have them.
8. Vivid Office desk lamp
An office desk lamp is another important home office essential that you need to be added to your list. Make sure that the lamp provides luminous light and can be rotated towards any angle at any time. You can also purchase a powerful lamp that has some USB charging port.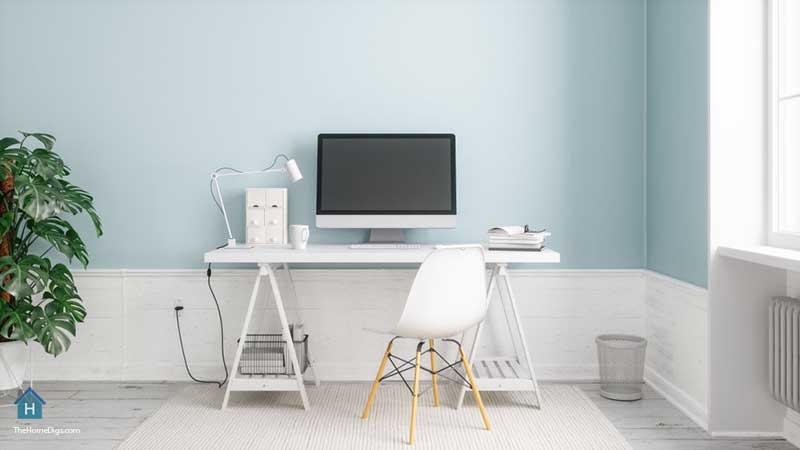 9. Quick Coffee machine
A coffee machine may seem unnecessary, but it will supply you with a fresh cup of coffee within a few seconds to keep your mind refreshed and focused. The good news is that you can also employ this coffee maker device for getting warm water too.
If you don't like coffee, you can use tea powder instead of coffee powder in the machine to have a cup of tea.
10. Paper Shredder
This tool keeps your desk, cabinet, and file folders neat and clean by destroying unnecessary papers. You might be thinking – why to use a paper shredder instead of a cheap dustbin.
Let me clarify things for you. Your office paper may contain your personal information. For instance – your full name, address, bank account number, and mobile number could be written on them. You can't throw this important information containing papers away without destroying them, right?  I think now you have got my point. So, get one because it quickly destroys lots of papers.
Now You Can Set Your Home Office!
I have added only the items that are essentials for home office. You may end up adding other furniture or equipment for your home office later.  However, we recommend that you should begin with these above-listed items and purchase other things as per your demand.
Therefore, you can undoubtedly use this guide as a checklist of the home office items you should never miss.
This is Autem Decker. Main Author of 'TheHomeDigs'. You may not find her on the list of top 10 contemporary Canadian interior designers, but everyone who knows her says she was born to be an interior designer.
She makes her plan in her head and draws them in her years-old diary with a note in the corner. The way she plays with color and shape amazes us.
Connect Her On – Twitter