Owning your own home for the first time is an incredibly exhilarating experience. Having achieved this important life milestone, you're probably all excited about decorating it.
Chances are that getting the house has used up much of your savings, and you're looking for low-cost options to make the place liveable but beautiful and functional.
The exciting thing is that several DIY decorating solutions are available that won't make much of a dent in your wallet, but will have your new home looking superb. Let's check out some of the best ideas you can use.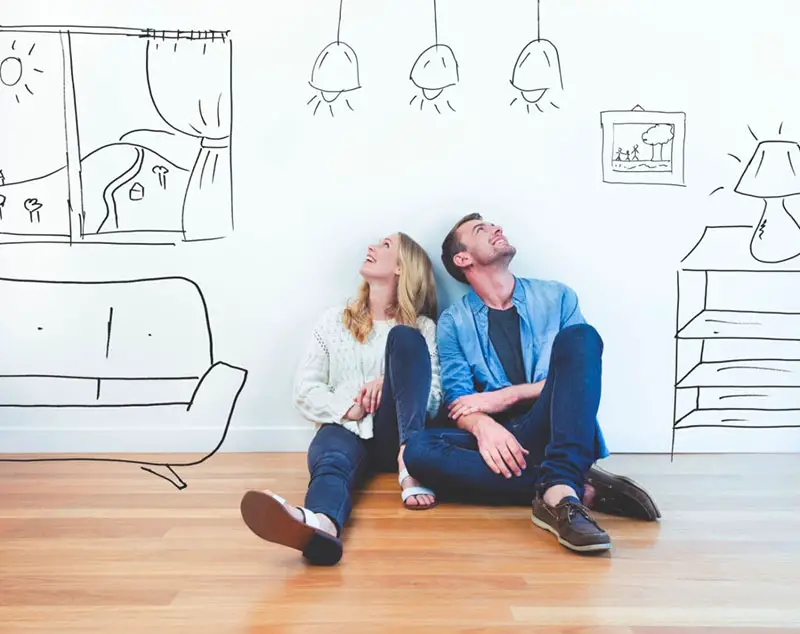 How to Decorate Your First Home on a Budget
We'll explore some tips and tricks to help you decorate your first home on a budget. These ideas will help you create a beautiful and welcoming home without spending a fortune. So, let's dive in and discover how to decorate your first home on a budget!
1.   Invest in Neutral Shades of Paint
Don't worry about not owning a lot of furniture. Take that as an advantage and opportunity to use the house as a blank canvas to show off your decorating skills.
Enjoy painting the rooms in neutral hues that will match with any kind of furniture you later purchase. Play around with soft limes, pale yellows, off-whites, pearly greys, and delicate pinks, segregating areas with different shades. Like, for instance, if you intend to use a part of the living room or bedroom as a home office.
Once you're ready to invest in furniture, you can add bold colors to accent a particular wall. Alternatively, try motifs, stripes, and any other patterns to add an element of interest to the bare wall. Instantly, it will turn into a piece of artwork. Don't forget to paint the closets, doors, windows, and trim to refresh the place entirely.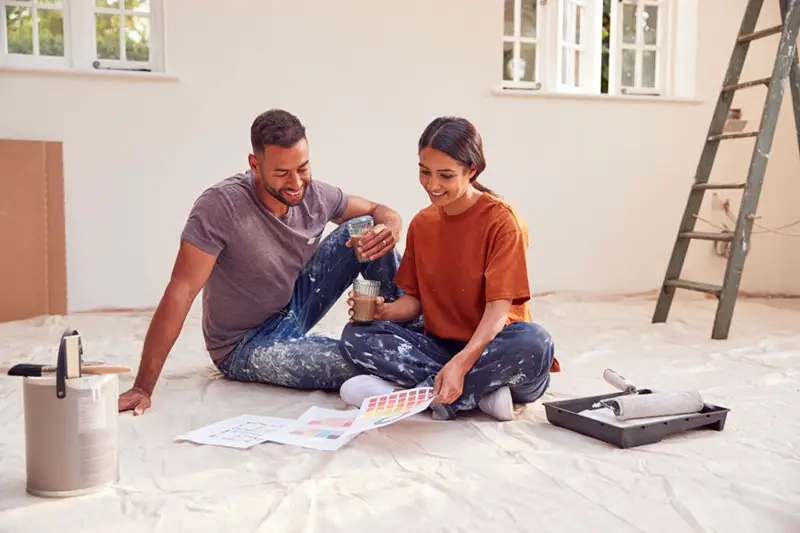 2.   Look at Options for Floor Coverings
Redoing the floor of your new home can be challenging since you can't be sure what kind of surprises are lurking under the old flooring. Consider getting vinyl floor planks if you need a low-cost option that will work for a few years. Available in sheets, planks, and tiles, PVC is easy to install.
Should you search around, you'll be enchanted by the immense variety of colors, patterns, and finishes that are durable and resistant to spills. Choose good quality brands, and you can expect the flooring to last at least 25 years.
Other options include area rugs which you can wash and replace or move around as the mood strikes. Cork tiles are yet another option that is easy to install, eco-friendly, and economical at $2 per square foot.
3.   Create a Collage for the Living Room Wall
Choose a wall and convert it into a dynamic showcase of your life. Add framed pictures of the happy moments you cherish forever. Think photos from a vacation you spent with the family, baby pictures, grandparents smiling at you, and even, finger-painted birthday artwork the kids gifted you.
You could also add a custom home portrait of the house you grew up in, along with mirrors in ornate frames. Keep adding to the wall to commemorate new events like the first day on a new job. Or, a first date with the person who'll later become your spouse. The wall will tell a story about the important events and act as a conversation starter.
4.   Revive Cabinets Using Inexpensive Techniques
Kitchen and bathroom cabinets can be given an instant makeover with simple techniques. If they look drab, chipped, and damaged, cover up the flaws with some stick-on paper. A little scouting will find you a stunning range of prints and designs that look fantastic. Measure and cut the sheets and attach firmly.
You could also invest in some new hardware like door pulls and hinges to have them looking as good as new. Remember the cardinal rule to clean things thoroughly before working out if they need replacing or rejuvenate with a cosmetic job.
5.   Ready to Talk Furniture?
When you're keeping costs down, it makes perfect sense to make do with the furniture you have. You may own a couple of pieces well-loved because of the savings that went into them. Or, the emotional value of having been gifted by loved ones. Find a place for them in the new house by giving each piece a makeover. Couches and chairs can be revived with some fresh upholstery or a couple of throw blankets and brightly colored cushions.
Instead of replacing the bed, paint it, and refresh it with new sheets and comforters. As for tables, get creative with deep pour epoxy and transform them into gorgeous pieces of art.
6.   Go for Layered Lighting
Use a selection of lighting solutions to give your home a warm, welcoming ambiance. Choose floor lamps to brighten dark corners, while table lamps look perfect on sofa tables and nightstands. Make sure to pick out styles that match the overall decor of your room. Stylish, contemporary lights look great for a modernistic feel with lots of LEDs that create a diffused look.
You can also install lights at floor level, like around the bed or below the sofas, to give your furniture the floating effect that is incredibly inviting. Here's another idea. How about a string of LEDs to brighten the handrails in the stairway.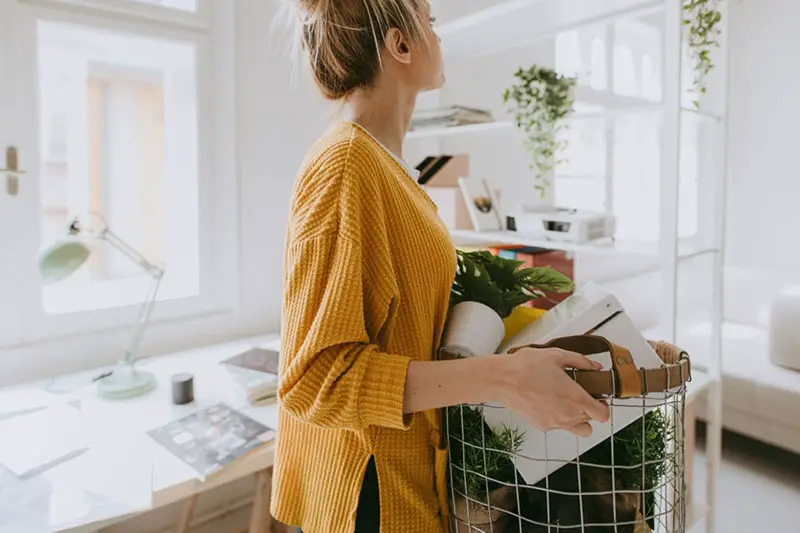 7.   Bring Home Plants
Plants bring a natural element and look great in any kind of decor. They're an inexpensive accessory that brightens your interiors and fills them with positive energy, not to mention, texture, color, and shape. Look for indoor species that thrive in shaded places and need only the minimum of upkeep. Adorn your window sills with fragrant herbs in tiny pots that will add a special touch to every dish you cook.
If you don't have much space, go for a terrarium, which is like a mini-ecosystem in a bowl. A light spritz of water each morning will have it flourishing. Homeowners who lack a green thumb or simply don't have the time to care for their green guests can go with faux plants and foliage.
When you're looking for decorating ideas that won't cost the earth, prepare to be surprised at the number of possibilities out there. Get creative. Use your imagination, and the new home will become an extension of its owner's personality–truly unique.
In conclusion
Decorating your first home on a budget can be a challenging task, but it's definitely achievable with the right mindset and approach. By following the seven tips outlined in this blog post, you can create a beautiful and welcoming space without breaking the bank.
Remember to prioritize your needs, shop smart, and get creative with DIY projects. Don't be afraid to mix and match styles and textures to create a unique look that reflects your personality and lifestyle.
Most importantly, don't forget to enjoy the process! Decorating your first home can be a fun and rewarding experience, and it's a great opportunity to express yourself and make your living space truly your own.
This is Autem Decker. Main Author of 'TheHomeDigs'. You may not find her on the list of top 10 contemporary Canadian interior designers, but everyone who knows her says she was born to be an interior designer.
She makes her plan in her head and draws them in her years-old diary with a note in the corner. The way she plays with color and shape amazes us.
Connect Her On – Twitter