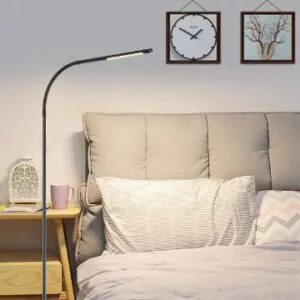 If you're an avid reader, chances are you've read books in the weirdest positions, from reclining luxuriantly on a couch to walking about reading whilst bumping into things with your book held in front of your face.
We don't blame you; reading can be intense! However, it's important to practice healthy reading habits, and one important aspect of that is good lighting. Without proper lighting, your eyes have to strain harder, causing damage in the long run.
The solution? A reading lamp!
Our best reading floor lamp reviews will help you find a good modern reading floor lamp, which will have an adjustable height, adjustable brightness, and high aesthetic appeal, as well. So those are the factors we've considered when laying out our recommendations.
Let's get started!
Top 7 Best Reading Floor Lamp Reviews
Proper illumination while reading is of utmost importance to us. That's why we've dedicated a significant amount of time in researching the following list of reviews. Sit back and read through—we bet you'll find something you like!
Quick Overview of Best Floor Lamps for Reading
1. Brightech Litespan LED Bright Reading and Craft Floor Lamp
Key Features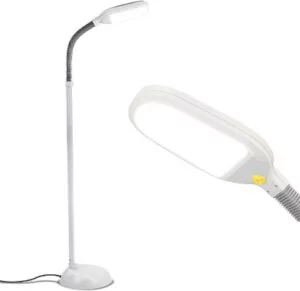 The attractive minimalistic design adds style to any room
The heavy stable base of the lamp ensures it won't be knocked over
LED bulbs will remain functional for at least 20 years without replacement
Available in 5 different colors: Alpine White, Classic Black, Havana Brown, Natural Wood and Platinum Silver
Offers an output of 6,000 lumens of cool white light ideal for reading and crafting
The Brightech reading floor lamp is one of the most popular products Brightech has ever put out. Combining a variety of functionality options with LED bulbs for maximum energy efficiency, this is one reading lamp that really stands out. Keep reading to find out why it's one of the most highly rated lamps out there.
First off, let's look at some specs. This lamp is able to produce up to 6,000K of cool white light, which makes it perfect for placing beside your work desk or reading nook. And it's doubly useful to those who are into crafts such as woodworking and sewing.
One of the things that stand out most about this reading lamp is its utilization of LED bulbs. As you may already know, LED bulbs are far more energy-saving in comparison to incandescent and CFL bulbs; the ones in this lamp are meant to last a staggering 20 years. What's more, they don't produce heat, so you'll be comfortable while reading.
All of that being said, our favorite thing about this lamp is undoubtedly its aesthetic appeal. With its minimalist design available in 5 different colors, it's the ideal modern reading floor lamp. But it doesn't just look good: the lamp has an adjustable neck, and the brightness of the light can also be manipulated according to your needs.
The best part? This lamp costs only $45! Compared to the vast majority of reading floor lamps out there, this price is nearly unbeatable, especially considering the durability and performance you can expect from this thing.
---
2. Verilux Original SmartLight LED Floor Lamp for Reading
Key Features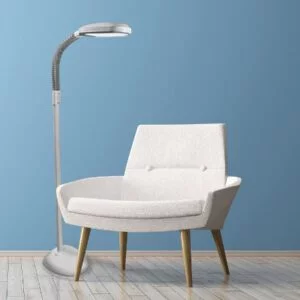 The user-friendly touch control panel makes it easy to make adjustments
LED bulb equipped with an Optix lens to reduce glare
Provides natural spectrum light for the true color representation
Adjustable gooseneck allows you to manipulate the direction of light
Color temperature can be adjusted between cool and warm
The brightness of the light can be reduced or increased according to needs
Next up, we have the VeriluxSmartLight. Outfitted with a durable LED bulb that mimics natural spectrum daylight, this efficient reading lamp offers you the option to adjust not only the light's brightness but also the color temperature.
When you go looking for an adjustable floor lamp for reading, it's likely it'll only be adjustable in terms of height and brightness. But being able to also change the temperature between warm and cool is an important distinction for many who are looking for a good reading floor lamp that can serve many purposes.
But don't let that downplay the importance of the gooseneck on this floor lamp. Being able to change the direction of the lighting is an important factor, especially if you're likely to be using the lamp for extended periods of time.
Which, by the way, you can do with ease, thanks to the aforementioned LED bulb. Not only does it promise reliable longevity, but the LED bulb in this lamp comes with an Optix lens that works to reduce glare. Once again, a highly useful feature for those who read or work for hours on end.
Now, it's worth noting that while this is a highly functional reading floor lamp, there may be some who don't vibe with its aesthetic appeal. The grey gooseneck, in particular, might seem unappealing. However, overall it's a pretty minimalistic look, and you can choose between white and black!
---
3. WERFACTORY Tiffany Style Reading Floor Lamp, Antique Design
Key Features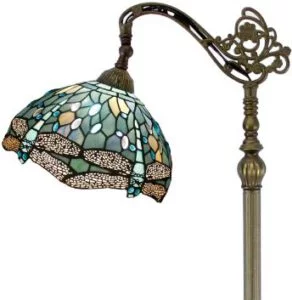 Tiffany style lamp shade has an antique vibe to it
Will accept different kinds of lightbulbs
Sturdy resin base helps the lamp stay securely in place
Blue and green stained glass lamp adds a touch of elegance to any room
Ideal for placement in bedrooms, living rooms, and reading nooks
For those of you who are tired of minimalist designs and long to go back to the romantic, antique designs of old, we've selected this Tiffany-style reading floor lamp from Werfactory. With its stained-glass lampshade and rustic bronze tube, this is a lamp that will appeal to fantasy readers.
Because this lamp does not come with built-in bulbs, you have the freedom to choose what kind of bulb you want to use on it. As always, we recommend an LED bulb, as they offer the brightest lighting at the lowest energy levels.
Unfortunately, this lamp does lack a lot of the features that, in our eyes, make a good reading lamp. Its height is not adjustable, and you won't have the luxury of manipulating the brightness of the light.
That being said, because of its height, and the positioning of the lampshade, the distribution of the lighting is perfectly suitable for the purposes of reading. Furthermore, the Tiffany design is bound to add an antique vibe to any room you choose to place this lamp in. The muted blue and sea green lighting create an ambiance that is perfect for living rooms, bedrooms, and cozy reading nooks.
Now, for the price that this lamp is available at, we do think that you can find a much better lamp suited to the purpose of reading. However, if you're not very high-maintenance or picky when it comes to selecting the right reading lamp for yourself, and are interested in a timeless aesthetic like that of the Tiffany lampshade, we think this is an ideal choice.
---
4. BrightechSparq – LED Arc Floor Lamp Over The Couch
Key Features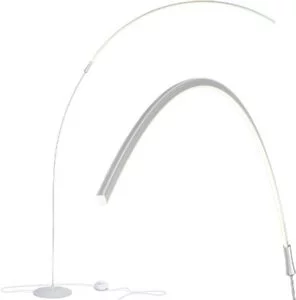 Arching design is perfect for placement behind couch or desk
Contemporary minimalist design is bound to liven up any room
In-built dimmer switch allows light to be adjusted between dim, bright and medium
Produces 2000 lumens of light in 3,000k warm white color
Built-in LED bulb is expected to last at least 20 years
Available in classic black and platinum silver
We're back with another Brightech lamp, and this one is, possibly, the most impressive reading floor lamp we've come across. With its unique and efficient arching design and highly lucrative functionality features, this is a lamp that will appeal to serious readers who aren't willing to settle for just any old reading lamp.
The first thing anyone notices about this lamp is undoubtedly its arching design. Standing 67 inches in height and bending over a width of approximately 45 inches, this lamp is nothing if not noticeable.
But beyond its contemporary aesthetic appeal, the arching design has many benefits. First of all, it opens up a number of possibilities when it comes to placement: whether you're putting it beside your desk or behind your couch, it'll spread its light evenly and efficiently.
That is also thanks in no small part to the high-quality in-built LED bulbs that come with this thing. Producing up to 2,000 lumens of light and warm white in color thanks to its 3,000K rating, this LED is expected to last up to 2 decades. Talk about durable!
All things considered, it's also true that this is not a cheap reading lamp. Plus, given the price, we would expect a few more features, such as the ability to change light temperature. However, it compensates in terms of durability: this lamp will stand upright for many years wherever you put it, and it will give you the light you need for as long.
---
5. NXONE Led Floor Standing Lamp, Top Rated Modern Reading Floor Lamp with Remote
Key Features
Outfitted with a built-in LED lamp with a lifespan of 20,000 hours
Height adjustable floor lamp
Can be switched between 4 color modes
Flexible neck can be adjusted according to needs
Stands on a sturdy base that resists toppling over
Adjustments for brightness and color are made using sleek CCT touch buttons
Available at a highly competitive price with all modern features
Given the vast range of options available in the market for reading lamps, it can be easy to believe that floor standing reading lights have to be expensive to perform well. Well, this top rated reading lamp from NXONE is here to disprove any such notion.
Like the long-lasting reading floor lamps out there, this one comes equipped with an in-built LED bulb that will not only save energy but stay operative for up to 20 years. Plus, it's not just the brightness that is adjustable, but also the temperature: you can easily switch between the modes. Make use of the sleek CCT touch buttons to make your adjustments.
But it doesn't end there in terms of functionality. The light comes with a memory function, which allows it to remember your preference for brightness and color. Furthermore, the neck of the lamp is, of course, adjustable as well, so you can change it up according to the needs of the situation.
You can expect this lamp to serve you well, and long, as it stands proudly on its sturdy base. And all of this is available at a price that is basically unbelievable, beating even the Brightech Litespan. All in all, we can't seem to find a single reason why this lamp wouldn't appeal to a conscientious reader looking to step up their reading habits!
---
6. BrightechLitespan 2 in 1 Modern Floor & Desk Lamp for Reading, Crafting
Key Features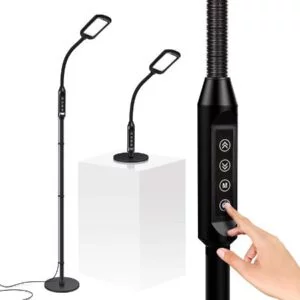 Offers 2-in-1 floor/desk functionality thanks to the removable 3-foot leg
Adjustable gooseneck allows you to change the direction of the light
The light temperature can be set between 3 warm and cool tones
The sturdy base has an 8-inch diameter ideal for fitting on desks
Stands 56 inches when in floor mode and 20 inches when in desk mode
In-built LED light has a life span of 20,000 hours
Yep, yet another Brightech product! You might think that we're very big fans of the brand, and you wouldn't be wrong. However, it's their products that enable us to love the brand so much, and this Litespan lamp is no exception.
This lamp stands out for, mainly, its 2-in-1 functionality. With this lamp, you won't be limited to a floor lamp; you can convert into a desk lamp as well! All you have to do is take out the leg, which measures 3 feet. And because the diameter of the base is 8 inches, it'll fit easily onto your desk.
But don't let that make you think that this lamp won't stand securely when you do put it on the floor. The base is sturdy, and it's heavy enough that it won't get knocked over.
So how does the lamp perform? Wonderfully, as per Brightech standards! The color of the light is adjustable to 3 different settings between cool and light, and the built-in LED bulb, as always, promises a lifespan of 20,000 hours.
And it doesn't end there: this thing is also programmed to remember the last light setting you put so that you don't have to readjust when you turn it back on the next time. And of course, the neck of the lamp is also adjustable, regardless of whether it's in-floor mode or desk mode!
---
7. Joly Joy LED Modern Floor Lamp, Touch & Remote Control Gooseneck Standing Reading Light
Key Features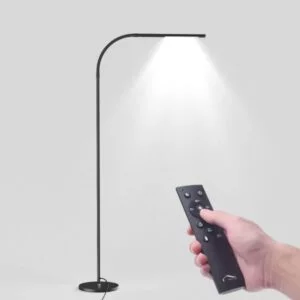 Comes with an easy-to-use remote control to allow you to make adjustments effortlessly
The lamp can be rotated 360 degrees to allow you to aim it in the required direction
You can select from 5 different brightness settings and 4 different temperatures
Sleek black body and minimalist design has a high aesthetic appeal
The final product on our list is an extremely attractive and highly functional reading lamp from Joly Joy. What we like most about this one is that unlike the others, we have reviewed today, it comes with—wait for it—a remote control!
Yep, you read that right, and we're excited just thinking about it. But the remote control alone does not determine the product's legitimacy as a good reading lamp, so let's see what else this lamp has to offer.
To begin with, we absolutely love how adjustable the light is. This floor lamp is able to produce 800 lumens of light, and it can be manipulated to put out the color in 4 different temperatures and 5 different brightness settings. And because you can do this effortlessly with the remote control, finding the right settings will be a walk in the park.
Next, our favorite feature of this product: the 360-degree rotational ability! The gooseneck of this lamp is adjustable in virtually any direction, which allows you to aim the light in whichever direction you need it.
Overall, the lamp has a very sleek and unassuming design that any minimalist design lover will appreciate. It will stand securely on its sturdy base, taking up very little space, and surprise you with its brightness when you do turn it on.
With its durable LED bulb, remote control functionality, 360-degree rotating ability, and easily adjustable settings, this is undoubtedly one of the best reading lamps out there. And for the price at which it's available, it's certainly a steal!

FAQ's about Reading Floor Lamp
1. Do I really need a separate lamp for reading?
Yes, It's recommended. Reading, especially for long periods of time, puts pressure on your eyes. A dedicated reading lamp can reduce the strain on your eyes. Furthermore, reading lamps can usually be adjusted in terms of height and positioning—an important distinction.
2. What does the lumen rating of a lamp indicate?
It is a measurement of the brightness of the light produced by the lamp. The sweet spot for reading lamps is anywhere between 1,500 and 4,000 lumens, although this can change according to your surroundings.
3. What kind of bulbs should I use to save energy?
LED bulbs provide the same output as standard incandescent bulbs while consuming less energy. CFL and halogen bulbs are next on the list of energy-saving bulbs.
4. What is the best reading floor lamp on a budget?
We don't like choosing favorites, but we have a soft spot for the Teckin Floor Lamp, outfitted with a durable LED bulb, customizable features, and a strong, sturdy base.
5. Is the color temperature relevant?
Yes. Cool lighting is perfect for formal environments, while warm lighting is ideal for situations where soft and pleasant lighting is required.
Final Words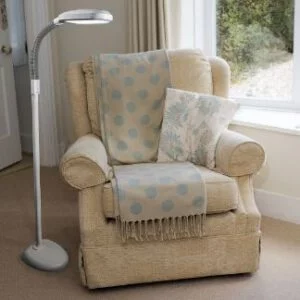 We hope that, after going through our best reading floor lamp reviews, you have a better idea of which reading lamp to choose. If you can go all-out, the BrightechSparq Arc should appeal to you.
For those on a budget, we would definitely suggest considering the Teckin Floor Lamp, as it combines a number of dependable functionality and durability. The similarly priced BrightechLitespan 2-in-1 lamp stands out as it can be used both as a floor lamp and a desk lamp.
We wish you good luck with finding the perfect reading lamp. You may also love to read our article for bed side reading light.
Happy reading!
This is Autem Decker. Main Author of 'TheHomeDigs'. You may not find her on the list of top 10 contemporary Canadian interior designers, but everyone who knows her says she was born to be an interior designer.
She makes her plan in her head and draws them in her years-old diary with a note in the corner. The way she plays with color and shape amazes us.
Connect Her On – Twitter