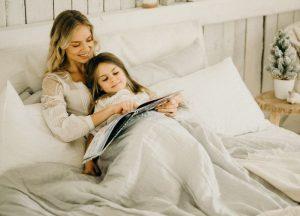 My most blissful moment is when I wash my face, brush my teeth, wear pajamas and slide inside those comfy soft sheets with a book in hand. Bedtime is certainly the most comfortable and relaxing time.
Today, when all of us are lacking free time and constantly working hard due to busy lives, these are the precious moments we want to take complete advantage of for relaxing as comfortably as possible. Setting into your favorite book for a few minutes, sometimes hours before going to bed is the best way to end a tiring day…
If you spend some time and energy on learning about how to read in bed comfortably, things can be even more heavenly. Want to Try? Then Keep on Reading!
How to Read in Bed Comfortably: Accessories to Get, Tips You Should Follow
Both e-readers and old school book lovers experience the same meltdown of whole day stress once they meet their favorite storyline.
Making the moments even better is what I'm about to talk about. With some inexpensive tools and tricks, you can enjoy the best thrill of book reading during your much-required pampering moments.
Reading Pillows Are Your Second BFF, After Books
I was a book nerd back then in my high school days. Sneaking into our extra bedroom with the over-and-again-used threadbare reading pillow was my favorite thing to do during vacations.
My parents sent me to college with a gift that literally stayed with me throughout my entire 20s. It was well used to study for exams and get to know recent authors. They gave me a plaid reading pillow with bright cyan shade.
Once I turned older, I forget about the reading pillow thing. One day I noticed how bad my neck pain started to get. Since after reading I used to sleep in a very uncomfortable position of using two regular pillows leaning against my back.
And after having a very bad week, I decided to buy myself some reading pillows. Guess what, they are my one of the most favorite things for leisure times. Not only do they help in improving my posture, but also, they give me the right amount of support.
If you are a book worm, there's no way you can escape from the dreadful neck and back pains after a while. Unless you decide to go for the smarter route and grab some quality reading pillows.


Proper Lighting Without Reading Lamps Doesn't Sound Right!
The need for proper lighting when reading a book is more than you'll ever realize. Imagine not being surrounded by good lightings because your wife is sleeping next to you. She prefers to keep lightings dim but you can't go to sleep without figuring out what happens to the serial killer in next chapter. A proper reading lamp can get you out of such weird situations.
Now many will think that a bedside table lamp is enough to get that lighting for reading a book. Of course, you can read the book but would you feel comfortable? Perhaps not!
Reading under the bedside lamp could cause eye strain that sometimes lasts until next day. And with that happening, you can already imagine that your next day's schedules are going to be like.
Those who wear glasses will face even harder reality. The lightings won't be any benefit to their power lacking. Instead, these will cause further trouble due to the strain. Buying a proper reading lamp can really save you.
With a reading light, you can also avoid the shadow that your hand creates while turning pages. It's going to be positioning the lights on right spots. You need barely 25 to 50 lumens of light to read in bed. This range will help to not strain your eyes.


Make Yourself Your Favorite Coffee
Reading is one of those things that I do to release my stress and every day tensions. It's worth nothing if you lay down in your bed holding a book without being able to focus on the storyline or topic. Usually, due to a current situation and some sort of stress, you may not be able to concentrate well. Hence the try to pass lovely before-bed time goes in vain.
It's something very personal to me but perhaps this trick is pretty common and lots of my friends say the same thing. Drinking a cup of coffee can keep your bad feelings away and help you with a nice vibe plus mood.
With each gulp, you will feel the stress radiating away from your body. And the caffeine energy should enter your body while you concentrate on plot even better. A mug of coffee with your favorite novel sounds too comfy and so, I thought about including this tip for today's writing.
Using the Right Posture
Using the right posture while laying and reading a book is one of the most important things to consider for a comfortable experience. Usually, it's good to keep your leg straight in bed while being in a sitting position.
Your back and neck should have support. Do so by placing against something (the reading pillow). Don't end up tossing and turning to discover yourself in a very awkward position that may feel comfortable for a while but once you start moving, a sudden pain will start getting noticeable. This could be even worse if you decide to unconsciously sleep in that position.
TIPS TO KEEP IN MIND
Reading should be done in a quiet environment. A place that is too noisy or full of sound will never let you relax and comfortably read.
Get special reading pillows that are not only good for supporting your back and neck in one but multiple positions. There are wedge pillows available today for the comfort.
Get yourself a bedside book caddy instead of nightstand getting clustered with books. It looks more relaxing and helps to keep the mood.
You should wear proper power glasses in case you have troubled eyes. Don't try reading for a long time without prescribed glasses. It'll ruin your eyesight gradually.

Frequently Asked Question
How to read in bed without hurting your neck?
To get rid of neck pains, you can use book holders. These are great for books and e-devices as well. You can provide some comfort to your hand and neck by using the holder. Just attach them simply to any surface and position it as you'd like.
How to read in bed without hurting your back?
You should lay in a comfortable position that does not allow extra pressure on your back. Usually, when you lie down without external support that could be placed against your back, the pain starts to appear.
So, make sure you use proper pillows for back support and also don't forget to keep them vertical. Try changing your position every half hour to not fall under a bad posture pain. Also, you can try bringing book closer and straightening your back at the same time.
How to read in bed without disturbing partner?
You should not be a disturbance for someone while reading a book. And by getting rightly equipped and prepared you can certainly avoid such situations. You don't need to keep the lights on since your book lamp is there to give enough lighting.
Also, buy your partner some earbuds in case you have a tendency to laugh due to comedic chapters. You may also want to transfer from bed to couch if tossing and turning make them awake.
How to read in bed without falling asleep?
You can make yourself some strong tea or coffee that can keep you awake. Also, try sitting instead of completely laying to avoid getting asleep suddenly. Some try to snack during reading books. This is a pretty fantastic trick since your mind focuses on eating instead of getting carried away due to sleep.
Also, you can chew a chewing gum if you don't want to add extra calories due to late-night snacking. However, if you are too tired and sleepy, just keep the book for the next day. You probably need some rest and the book can wait in that case.
Conclusion
And we are almost by the end of today's discussion on how to read in bed comfortably. I hope the writing will help you to complete some marvelous books without feeling the soreness in neck or discomfort due to awkward positions. Getting some good accessories for making your experience even pleasing is a thing you should mull over.
Moreover, you must take care of your precious eyes and don't put extra pressure on them. May Your Late-night Book Journeys Bring You Some Peace of Mind…
This is Autem Decker. Main Author of 'TheHomeDigs'. You may not find her on the list of top 10 contemporary Canadian interior designers, but everyone who knows her says she was born to be an interior designer.
She makes her plan in her head and draws them in her years-old diary with a note in the corner. The way she plays with color and shape amazes us.
Connect Her On – Twitter