It is usual for one's vision to deteriorate with age. Once you hit the age of 60, focusing on objects that are right in front of you can be an uphill task.
If you engage in detail-oriented tasks like reading and needlework projects, you can protect your vision from further deterioration by avoiding eyestrain.
So, how do you protect your eyes from straining when reading?
It's simple. You merely need to invest in the best reading lamp for elderly citizens.
We have summarized the necessary information that should help you find the ideal lights for your needs. Better still, we tested a range of popular reading lamps to present to you a list of the top 5 products in the markets. Hop on in and see!
Best Reading Lamps for Eyes at a Glance





LEDGLE Updated Neck Light for Knitting Portable Book Light for...
MagniPros 5X Large LED Page Magnifier for Reading with 3 Stepless...
4X Large Magnifying Glass with [Anti-Glare & Fully Dimmable...
Vekkia Rechargeable LED Neck Reading Light, Book Lights for...
Brightech LightView Pro Magnifying Floor Lamp - Hands Free...
Top 5 Best Reading Lamp for Elderly Citizens Reviews
Preventing eyestrain is one of the most effective ways of preserving your vision. With the right reading lamps for the elderly, you can engage in your beloved detail-oriented hobbies without risking further eyesight deterioration. Here are the top 5 lamps that are worth a look.
1. Vekkia Rechargeable 4 LED Book Light, Neck Hug Reading Lights for Reading in Bed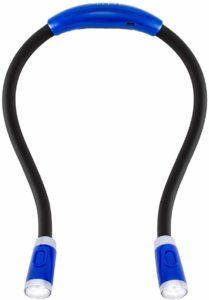 Let's begin our reviews with the best reading lamp for eyes. This is an LED neck hug light that is an excellent fit for book lovers who feel the urge to flip through a few pages of their favorite book before going to bed.
In my opinion, this is an ingeniously designed lamp that saves you from the trouble of holding flashlights or wearing headlamps when you want to read at night.
Another significant perk of this lamp is that it has 4 LEDs and provides three brightness levels for maximum customization. The bright light is directed to a central area, allowing you to enjoy your read in bed without disturbing your sleeping partner.
Key Features
Long-lasting rechargeable 700MAH Li-Ion battery
Soft padded neck-touching area
Customizable brightness levels
Flexible neckband allows you to direct light to targeted areas
Comes with a standard micro-USB charging cable
LED lights are bright, yet easy on the eyes
Its 4 LEDs and customizable brightness levels enhance the versatility of this flexible neckband hug light. You will also find it to be quite helpful when traveling or during detail-oriented repair and craft projects.
The bendable neck with a soft silicon surface allows you to maximize on the LEDs by directing the light to the areas where it is needed.
This lamp comes with a rechargeable 700MAH Li-Ion battery that has a 1000 cycle life-span. Well, this is equivalent to about 3,000 pieces of quality AAA batteries. You can go on wireless mode for 6-10 hours, and this can be quite convenient when hiking or engaging in other outdoor activities.
---
2. LEDGLE Updated LED Rechargeable Book Light, Reading in Bed Neck Lamp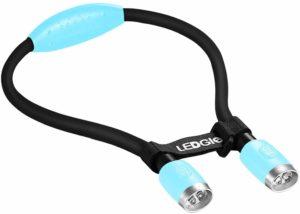 Here is another hands-free reading lamp that is a must-have for bookworms who prefer reading in bed. It will also come in handy when traveling by road or air, and you want to continue reading your favorite novel.
This model features a neck style design with highly flexible arms that make it super easy to direct the bright LEDs to targeted spots.
The LEDGLE reading lamp is lightweight and made of steel alloy arms that are covered in soft silicone, which feels soft on the skin. Just like the Vekkia rechargeable reading lamp, this model too comes with a rechargeable battery.
Key Features
Upgraded Li-ion rechargeable battery
6 brightness modes
4 LED lamps
Flexible steel alloy arms
Durable, lightweight and compact design
Comfortable around the neck
USB charging cord included
It is powerful enough to provide 5-20 hours of excellent lighting when in high brightness mode. When on normal brightness, this lamp can illuminate for whole 12 uninterrupted hours.
This is one of the best portable reading lamps on our list because it has 6 brightness modes and 4 LEDs. It is easy to use, and all you need to do is click it one time for a wide-angle light, two times for spotlight, and three times for spot and wide light. When you click the lamp four times, it automatically turns off.
The best part is that the book lamp comes with a USB interface design. You can use a USB cord to charge it from your power bank, PC, or even your car USB.
You may like to read: Best Pillows for Reading in Bed
---
3. MagniPros Ultra Bright LED Page Magnifier For Reading Small Prints & Low Vision Seniors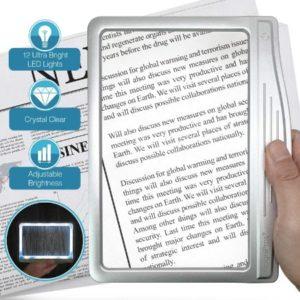 If you love reading for extended periods, this is a product you will like. The MagniPros magnifier comes in a stylish modern design, and the best part is that there are 12 non-glare lights.
This protects you from eyestrain without compromising the overall quality of the illumination you receive. You can bet on this model when searching for the best reading lamp for seniors with poor vision.
The 12 SMD LEDs are controlled by a dimmable switch. They provide an evenly lit viewing area and about 35% more brightness than the regular LEDs.
Key Features
Large 4.5″ x 7″ viewing area
12 durable and super bright SMD LEDs
Provides over 300% magnification
Optical grade magnifying lens for undistorted views
720 lumens at peak brightness
Excellent for seniors with weak eyesight
Lightweight (7 ounces)
Also, they last for 100,000+ hours, and this means their life span is two times longer than that of traditional LEDs. In short, this is a lamp that promises you great value for your money.
The most significant perk of investing in this product is that it has the most advanced reading light system on the magnifier.
It is also worth noting that it provides a reasonably large viewing area with the optical grade magnifying lens. The lens viewing area is about 4.5″x 7″, and this means you enjoy about 300% magnification.
This is an ergonomically designed lightweight magnifier that weighs only 6 ounces. Its compact size should not fool you because this is a beast that offers an impressive 720 lumens at peak brightness levels. Moreover, its LEDs are designed to last for 20+ years without a problem.
---
4. MagniPros 3X Magnifying Glass with Dimmable LEDs – Brightest Reading Light for Seniors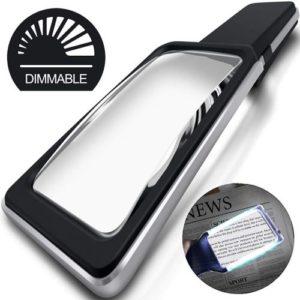 If you need top-quality low vision aids, one of the brands you can turn to with confidence is MagniPros. This is a fairly young company established in 2014 that has quickly grown into a brand that commands respect.
It has a long line of creative and innovatively designed low vision aids that make invaluable assets for those with aging eyes or vision impairment.
This Magnipros magnifying glass is somewhat similar to the third product on our review. The main difference is that it has a more horizontal shape, and it has 10 instead of 12 non-glare dimmable LEDs. This model, too, provides crystal clear magnification without straining the eyes.
Key Features
Super lightweight LED magnifier (6.5 ounces)
Comfortable grip
Large 4.35″ x 2.5″ viewing area
The 10 dimmable SMD LEDs provide evenly distributed light
600 Lumens at peak brightness levels
Knob switch for easy adjustment of brightness levels
Ideal for aging eyes and people with vision impairment
The 10 dimmable SMD LEDs surround the frame of the magnifier to create an evenly lit viewing area. Operating the lamp is super easy, and you can use the knob switch to adjust the brightness from 0-100%.
You get an impressive 600 Lumens at peak brightness levels. This is just what you need to enhance your vision if you suffer from macular degeneration or other eye issues that degrade your vision.
The ergonomically designed handle helps to minimize hand fatigue. In case you want to read for extended hours, this LED magnifier will feel comfortable in your hands because it weighs a mere 6.5 ounces.
---
5. Brightech LightView Pro – LED Magnifying Floor Lamp for Elderly & Low Vision Eyes
Let's wrap up our reviews with the best reading lamp for elderly citizens. This is a lamp that is loved by avid readers and crafters alike.
In case you suffer from vision problems, you do not need to give up on your beloved hobbies.
This lamp is designed to help you see small details with ease. It is the largest authentic diopter glass magnifier lens with 15 inches+ focal range and an impressive 175% magnification strength.
Key Features
15 inch+ focal range
The swivel head makes it easy to direct light
Ideal for bookworms and crafters
Flexible Gooseneck with adjustable height (55″-24″)
175% magnification strength
Versatile hands-free magnifier
Solid metal base prevents the lamp from tipping over
Handheld LED magnifiers have their perks, although they could pose some challenges when taking on tasks where you need to engage with both hands. This is a hands-free magnifier with an adjustable goose neck that allows you to direct the light where it is required.
The practical design of this floor lamp cannot go without mentioning. There is a solid metal base that anchors it firmly on the ground to prevent it from tipping over. You can adjust the height from 55″ to 24″. The best part is that this model has a swivel head, making it easy to direct the light to targeted areas.
---

You may also read: Best Outdoor Solar Spot Lights Reviews
Buying Guide for Reading Lamps for Elderly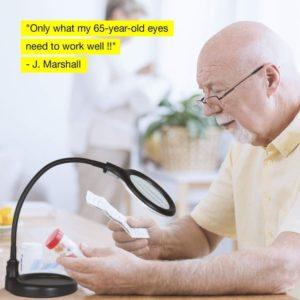 Quality reading lights can be used for not just reading, but also sketching, writing, craft work, and other detail-oriented hobbies. If you want a versatile lamp, focus on products that provide superior and shadow-free illumination.
Here are other vital aspects to take into account.
Lamp Type
There are two main types of lamps. Let's take a closer look at their unique perks and downsides.
Floor Lamps
If you want a wider illumination area, this is perhaps the ideal lamp type to choose from. Typically, these models have a brighter light beam. They also have an adjustable height or a multi-angle neck for directing the light to targeted areas.
Desk Lamps
Desk lamps are a perfect choice for those that need closer light. They provide a concentrated light beam and can be placed on bedside tables, reading nooks, and office workbenches.
Tabletop lamps and click on desk lights are almost similar, although the latter tends to be more portable. Both types of lamps feature a magnifying glass for enhanced vision.
Lighting Options
Modern lamps are versatile, and some of them even provide multiple lighting options. More light settings make the lamps useful for more than just providing quality reading light. At low power mode settings, the illumination can light up dark areas in a room to prevent falls and other unwarranted accidents.
Age can take a toll on the quality of your vision. According to the NHS, it is common for seniors to experience some level of vision loss. In fact, just about everyone, including those that enjoy 20/20 vision during their youth, will need to wear glasses or contact lenses by the time they hit the age of 65.
That said, high power mode settings deliver more lumens. This, in return, makes the light bright enough for seniors to enjoy more comfortable reading.
Reading makes an excellent hobby for senior citizens. If you do not have a favorite corner and prefer reading from different areas in your home, then you must consider the weight of the lamp you purchase.
Corded Vs. Cordless Lamps
Your needs and preferences should play the leading role in dictating whether you should choose a corded or cordless lamp. If you love reading from different spots in your home, find out whether these reading nooks have power outlets.
And if they don't, then perhaps you should buy a portable lamp that uses batteries.
Reading lamps can differ like day and night when it comes to their constructions. While some are more flexible with easy to pivot arms, rotating heads, and adjustable bases, others are more rigid.
I have a liking for adjustable lamps because they allow you to bring the light beam closer to your reading material. These adjustments make it stress-free to achieve the desired illumination angle.
With age comes not only vision problems but also concerns like back pain and arthritis. The first thing to consider when buying a reading lamp is where the on/off switch is located.
Any ideal lamp for senior citizens will save you from the trouble of bending to get to the switch. Moreover, switching your light on or off will be a piece of cake.
Even with thick glasses, my granny can hardly see the tiny letters on her prescriptions; leave alone the ones on newspapers, magazines, and novels. For her, a lamp with a magnifier is the best option.
This ensures she not only gets adequate light, but the letters are also reasonably enlarged for easier reading. Lamps with magnifiers also make it stress-free to engage in needlework hobbies.
Frequently Asked Questions about Reading Lamp

Which is the best light color for reading?
A suitable reading lamp will provide superior illumination, and this will protect your eyes from straining when reading. For most people, it is a little challenging to choose between blue and yellow lights. Well, it is easier to read under white or yellowish light. Avoid those bulbs that emit a bright blue light.
What is the best light temperature for reading?
Choosing the wrong light temperature can leave you straining to read even if your lamp provides a bright and uniform light. As I mentioned earlier, the yellow light is best for reading. Typically, the warmer the light, the deeper the yellow tone that is produced.
What is the best lighting for reading?
For an optimal reading experience, you need lights that illuminate 2700K-4000K. This is the normal temperature for halogen and incandescent lamps. From a professional perspective, halogen, LEDs, and fluorescent bulbs are better for reading when compared to standard incandescent bulbs.
What is the best wattage for a reading lamp?
In terms of wattage, your bulbs should have at least 60 watts. And in case you read from a room with minimal natural light, a 75 watts bulb will be better.
Are LED lights safe for reading?
Bright lights can cause vision problems, especially if you are using the wrong bulbs. Unlike the majority of energy-efficient bulbs, LED bulbs don't emit harmful UV or infrared radiation that can harm your eyesight.
Final Words
Poor eyesight is a common age-related concern. If you still love the world of books in your golden age, it is unfortunate that your diligence in getting your pair of prescription glasses updated is simply not enough.
You must also invest in the best reading lamp for elderly citizens to protect yourself from constant eye strains.
We have recommended the top ones in the current market. These models vary vastly in features, and designs, although they are all crafted to enhance your reading experience.
This is Autem Decker. Main Author of 'TheHomeDigs'. You may not find her on the list of top 10 contemporary Canadian interior designers, but everyone who knows her says she was born to be an interior designer.
She makes her plan in her head and draws them in her years-old diary with a note in the corner. The way she plays with color and shape amazes us.
Connect Her On – Twitter