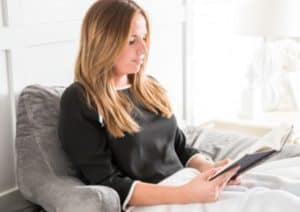 When watching a movie or reading in bed, we often tend to use our normal sleeping pillow as a support for our backs. Not only is this uncomfortable, but using typical sleeping pillows causes immense pain to the back and the neck.
The solution to this problem is getting a pillow that is specially designed for situations like this. That is why today we are going to help you find the best pillow for reading in bed.
So that you can enjoy your book without having to worry about sitting in a particular position that works with your back and your neck getting soar as well.
Top 8 Best Reading Pillows for Bed
As a lot of brands sell comfortable pillows for reading in bed, choosing which one will work for you and help you get rid of the problems you're facing can be tough.
So here are a few of the pillows that we think are top-notch, reviewed for you so that you can make the correct decision.
As the author's choice, the Husband Pillow is considered the best support pillow for reading in bed, this one is made from premium quality shredded memory foam. Exceptional comfort and support are just two of the many qualities that make it an ideal choice.
The Best Reading Bed Rest Pillows Reviewed:
1. Linenspa Shredded Foam Reading Pillow for Reading in Bed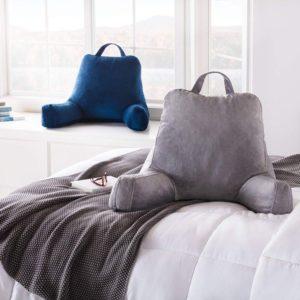 One thing that separates a good reading pillow from a bad one is what the product is made of. Pillows with bad stuffing are not going to make the situation any better.
That is why, this neck pillow, stuffed with CertiPUR shredded memory foam, is one of the best comfortable pillows for reading in bed. The stuffing is designed with technology and blend that allows you to mold the pillow to your liking.
This does not mean that the product will lose shape and become deformed; the pillow adjusts to your position to give you a comfortable platform.
A velour cover, available in two colors, navy blue and grey, makes this unit very soft to touch and pretty to look at. An average-sized pillow like this looks good on any bed and can be used by people of all ages; teens, adults, and even kids.
As well as being the perfect companion while watching movies, playing games, or reading a book, this model also helps people who have had surgery recently and are just recovering. Armrests on both sides of the pillow provide extra comfort.
There's no installation involved with this pillow. The product comes stuffed in a box, and all you have to do is fluff and shake the pillow. Within 48 hours, the pillow will have taken its indented shape and will be completely ready to use.
---
2. Husband Pillow – Reading Bed Rest Pillow with Arms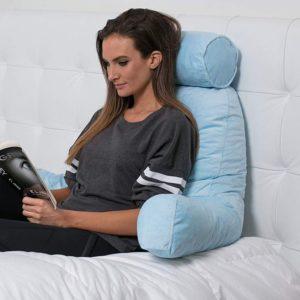 Imagine having a pillow that is so soft that it feels like a plush toy. Regarded as the best support pillow for reading in bed, this one is made with premium quality shredded memory foam, this one is just like that.
Shredded memory foam gives you a soft surface to rest on while taking care of your back and neck. This one might feel like a toy to the touch but is no less than any of the good pillows for reading available in the market.
The velvety-soft feel comes from the top quality micro plush cover. Not only does this exterior make the pillow incredibly fluffy and fun, but the material also transforms the look of the pillow. You can place this one on any kind of bed, and the pillow will just fit in with your other sleeping pillows.
And the ability to choose from more than 10 colors also helps a lot in this department. No harm is done to your interior décor. Pre-installed head and armrests really allow you to relax and become comfortable. The big size and sturdy formation make the product usable for everyone.
An extra pocket is added at the back so you can keep all your favorite magazines or the current book you are reading stored within the pillow. Can a pillow make for reading books in bed get better than this?
To adjust the pillow according to your liking, you can open the zipper at the back to take out or even add more stuffing. Whatever makes you more comfortable. You get extra foam with your purchase that you can use to modify the model.
---
3. Carepeutic Bed Lounger – Book Pillow with Heated Comfort Massager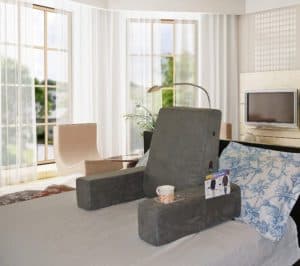 With more than 3 kinds of features designed to make your reading and lounging experience better, this one is all you could ask for in a reading pillow.
For ease of reading, this pillow comes with an attached LED light that hangs right over your head. No need to keep the lights on at night while others are sleeping. Now you can enjoy those late-night reads without disturbing anyone. The light comes with a long handle that is bendable so that you can adjust the position of the light.
If you have back pain or suffer from neck soreness, we cannot think of a better pillow for you than this one. Thanks to this pillow, you can enjoy full neck and back massages while reading your favorite book. Two levels of intensities are available for the vibrations of the massage for you to enjoy.
This massaging option is also complimented with a heating feature. Heat therapy is known to improve blood circulation. So when this is paired with a massage, you get relief from all your neck and back problems.
Headrests and armrests are included along with a carrying bag for the pillow. A zipper on both sides allows you to remove the armrests for ease of storage.There is no complicated installation process involved with this pillow. The zipper does all the work.
---
4. WOWMAX Triangular Wedge Reading Pillow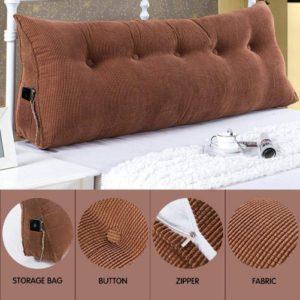 A common problem that people face with a pillow like these is cleaning them. Mostly they come in large sizes with undetachable covers. This pillow comes with buttons that not only make the product look good but also makes washing easier as you can easily detach the cover from the main pillow.
Made with 100% corduroy or polyester, the cover is soft, comfortable, and easy to wash as well. A wedge pillow for reading in bed like this is best for those of you who want smaller and more compact reading pillows. These are best for college students who have small single beds in their dormitory.
Given that, this pillow is also available in a lot of different sizes, so you can choose whichever fits your bed. Wedge shape pillows like this one are great for supporting your neck and keeping it fixed in one position. This way, there is no pressure on your back, and therefore, no soreness.
Shapes like this allow you to use the product not only as a reading pillow but as a sleeping pillow as well. A lot of people use wedge-shaped pillows for improving their posture while sleeping. So technically, this articles doubles up as both a reading pillow and a sleeping pillow.
---
5. Avana Kind Bed Orthopedic Support Pillow – Best for Reading &
Back Neck Support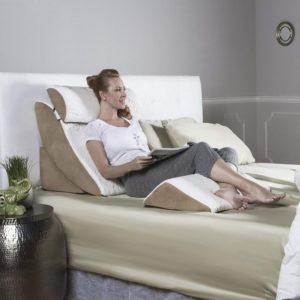 If you have a bit more money to spend on reading pillows, we highly suggest this one. Not only is this product just a reading pillow, but it is a four-piece system catered to work on your back problems.
All four pieces that are included in this set serve a purpose. The back scoop is the part you rest your back on. This portion can be slid to a different angle, flipped to the back, or flipped upside down to be adjusted to the problems you have and your needs. A scoop cradle supports this system.
Like most other high-quality reading pillows, a headrest is included, and with that, you also get a knee rest because sometimes our knees and legs also need a little bit of attention.
Made with high-grade polyurethane foam base that is mostly used in furniture, this neck pillow is here to stay. The product won't deform easily, and you won't have to replace this thing for years to come.
A bamboo fabric cover that is breathable covers the interior, which also has memory foam. All the covers are removable and machine washable so you can keep your neck pillow clean and looking brand new.
6. Xtra-Comfort Reading Pillow – Memory Foam Cushion Pillow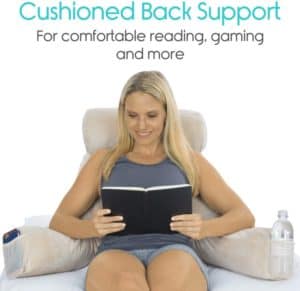 A pillow like this that is known to have so many storage pockets can really come in handy in many situations. To start off, you have the usual storage compartment at the back to store all your large-sized literature, books, and magazines.
At the front, you have to zippers on both the armrests that open to two large spaced storage compartments that can hold anything from more books, electronic devices, iPhones, Ipads, wallets e-readers, and many more things.
Two mesh compartments give you space to hold your favorite beverage or canned drink that you would like to sip on while reading.You can easily say that this product can serve as a reading cave that you can carry around.
Speaking of carrying around, this unit comes with a carry handle so you can take it wherever you want. The item also weighs less and is not a burden to travel with.
External cover made with tan plush material makes the pillow soft and cozy to rest on. An interior made with dense shredded memory foam makes sure your back is supported, and you have a pain-free experience.
Although the plush fabric is hard to keep clean, this one can be removed and washed by hand. You can also wash the pillow on the spot without taking off the cover. Use this plush reading pillow for your bed or as a lounge wedge for your kid. Soft material like this makes any pillow quite versatile.
---
7. Memory Foam Bed Wedge Pillow – Best Pillow for Reading, Sleeping & Back Pain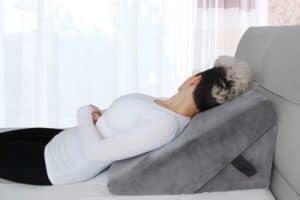 Wedge pillows have been used for ages to cure back pain and improve posture. So when you get a reading pillow that serves as a wedge pillow as well, the uses become endless.
A pillow like this will support your back and neck, support your spine and back for improved posture when you sleep, and also cover as a support for your legs if you want to keep them elevated when you sleep to improve blood circulation.
You can get rid of knee pain, back pain, sore muscles, varicose veins, and many more with just this one pillow. A bigger reading pillow can be tough to travel with. No more need to miss out on some comfortable reading when you're traveling.
With a grip handle and the ability to fold this entire pillow, you can now take this wherever you go. Folding this unit also allows for better storage. Keeping the pillow clean is also easy, thanks to the removable covers.
Made with high-density memory foam, this ergonomic pillow adjusts itself to your position. The pillow works around your body and shape to give you maximum comfort.
Even after months or years of use, you won't notice and indentation or deformation. When a product is made with such durable material, longevity is something that you don't need to worry about.
---
8. Book Couch iPad Tablet Holder Pillow for reading in bed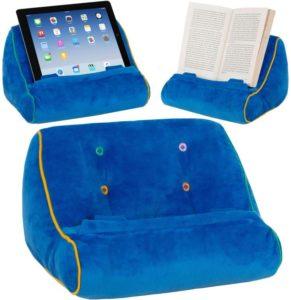 For people who are blessed with unproblematic backs and necks and for people who are looking for pillow book holders for reading in bed, this is the perfect option.A compact sized pillow like this makes storage easy. The product is made with high-quality material that is able to support all kinds of e-books, pads, and normal books.
Books and pads, when positioned like this, cause less harm and stress on your body. If you do not suffer from sore back and neck problems, getting this one is a good idea to prevent that. A perfect gift to give to teenagers and kids.
Small-sized pillows like these are easy to work with while in bed. After you're done reading, you can just chuck this to the side. No need to get up and remove a big pillow.
Cleaning is also easy because of its compact size. The cover is removable and dries in no time.Easy to use pillows like these make reading fun.

Final Words
These kinds of pillows are very helpful for people who have back and neck pain.
We hope this article will help you choose the best pillow for reading in bed so that you can enjoy your book in peace without any discomfort