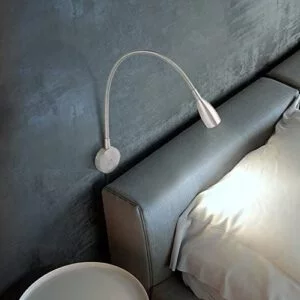 Do you know that your bedtime reading habit is an amazing way of relaxing your mind and body?
Reading is the best way to reduce stress levels. How good it is to reduce 68 percent stress before you go to sleep!
The contents of the book take you to another world where you can leave your mundane life hassles behind for a while. Thus your mind gets to relax and be able to lull you to calming sleep.
Bedtime reading is a good habit for many reasons. This habit can increase your brain's working ability. It is often suggested to insomniac people to read books before sleep.
Read a book instead of using a laptop, tab, phone that emits blue light. The blue light can harm your sleep hormone.
Top 5 Bed Reading Lights at a Glance
8 Best Reading Lights for Bed Reviews
Giving your brain muscle some relaxing task by reading a book in bed is always better. I am going to review here some handpicked bedside reading lights to accompany your bedtime reading.
The best reading light for bed must be eye-friendly, effortlessly movable, and easily rechargeable. Some people like to read everywhere they go, some prefer to sit and read in their favorite fixed place.
In this review, I will be reviewing 8 reading lights for bed keeping in mind different types of readers and their tastes.
1. LEPOWER Clip-on Reading Light for Desk, Bed Headboard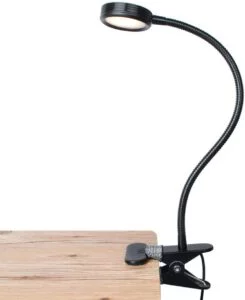 Eyes are the most sensitive part of our body. This reading light by LEPOWER has maintained the focus on making a vision friendly reading light. The non-flickering light keeps eye fatigue far faraway from you.
The light comes in round shape, and the black color gives it a classy look. You can use it on a table, bed headboard, desk or computer. It is 19.88 inches in height, 4.53 inches in length, and 2.36 inches is the maximum wide for the clip.
The most comfortable angle for best viewing can be adjusted thanks to the flexible neck. The light can be moved to different angles for its Gooseneck stand. You can try it if you are looking for the best neck reading light.
Key Features
The light gives a soft, comfortable, and non-flickering light that is not harmful to your eyes.
It has buttons to switch from white to warm mood and adjusting brightness.
It has gooseneck to adjust the direction of the light for your best comfortable position.
There are multiple using facilities where you can clip on the light.
Downside: Considering this lamp only works while plugged, a lengthier power cord would've been nice. It comes up short if you want to put it at specific locations way from the outlet.
The light has two switches on the cord. One switch has three functions: warm light, white light and off button. How convenient is this? Now, another button has the other two functions that are for adjusting the brightness! Yes, two dimmer switches for dim and bright light.
This LED light is featured with five feet cord and USB AC adapter, which supports the clip-on light. This space-saving light can be used with a 110 voltage usual household light setting. Its use is not limited only to bedtime book reading. You can fix it on desk, table, cabinet, dormitory or any other places where you can clip on the light.
Verdict
With a sleek design and an adjustable neck, this lamp fits in every room. Plus, the addition of three functions to provide different light brightness is super friendly for adults and kids alike.
---
2. acegoo Bedside Reading Light, LED Bed Reading Lamp Dimmable Touch Switch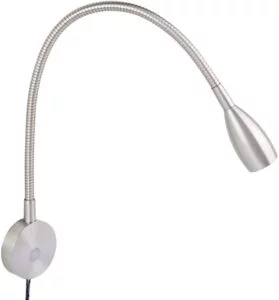 acegoo Bedside Reading Light is special for its narrow beam configuration. It does not spread light to the whole area, but only the spot you want to. This high-quality minimalist reading light keeps your place neat. You do not need to disturb others to do your work or enjoy your reading at night.
It comes with modern design and brushed nickel color. The material of the light is metal and nickel finishing.  The light shape is bullet-shaped. It is a corded electric light with the touch switch.
Key Features
It comes with a bullet-shaped design that gives narrow beam light to focus only on the spot you need.
This light's flexible neck and dimmer switch make your reading habit at night amazingly comfortable.
The soft illumination, flicker-free light gives you an eye-strain free, longer productive time.
Besides using for bedtime reading, you can utilize the light in other works like kids drawing, gaming, and studio task lighting as well.
Downside: This lamp has blue LEDs around the switch, which may affect your ability to sleep well.
It has a built-in LED with 160 Lumen bulbs. The bullet-shaped light gives CCI: 3000k soft warm white light and the CRI rating is 85.00. The cord of the lamb is 79", the adapter cord is 50" long and the gooseneck is 16" long. It has an in-built LED light that saves energy and the light does not get hot.
The light has a flexible neck. You can move the bendable stand to alter light towards where you need it.
This light can be mounted in three ways: surface mount, wall mount and headboard mount. It has a touch control switch. You simply touch the head of the lamp to turn off/on, switch mode and brightness.
Verdict
With this lamp, you'll have the opportunity to enjoy a good read before going to sleep. Mounting it is super easy, as it comes with all the hardware needed. As for the light emitted, it feels bright and focused, dimmed enough for nighttime.
---
3. acegoo Bedside Reading Light Dimmable LED Desk Lamp with Bendable Neck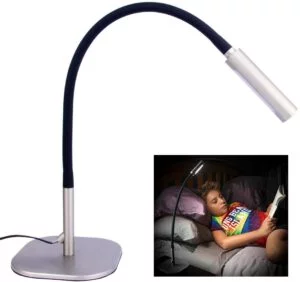 This light is another stylish and functional addition in acegoo light collection. This light is unique because, along with other important features, it is rotatable and portable. It is essentially a desk lamp, a little minimalist lamp with LED light for your reading time. This light is a streamlined and modern style light.
High CRI (> 92) integrated LED and recessed diffuser bulb has been used to make the light easy on your eyes. This lamp gives soft illumination (4000k) and even light, which let you work for a long time without feeling discomfort in the eyes.
Key Features
This minimalist designed light fits in various small places and works as a task light for any place of your house.
This light is portable and has a flexible neck to rotate according to your location.
This light can be dimmed with the smart touch control on the head of the light.
This light does not irritate your eyes as it has an LED bulb, which is almost like natural daylight power.
Downside: As a minor nit-pick, it's worth pointing out that the base is not as heavy as first expected.
You can adjust the light as it is rotatable with a 360° adjustable gooseneck arm & 320° rotary cylinder lampshade. It is designed with full metal, silicone-covered stainless steel pliable support, and the lampshade is machined with pure aluminum along with the metal base.
This light has a dimmer touch control switch as well as a dimmer switch for brightness adjustment.It can be your reading partner for a long time thanks to its durable design. It comes with 50,000 hours lifetime innovative combined LEDs.
Verdict
With a bright but soft light, this reading light is the perfect replacement for old nightstand lamps. The minimalist design is another plus, as it allows you to set up the light almost anywhere. For light reading before sleepy time, this light is terrific.
---
4. HomeFocus – USB LED Swing Arm Bedside Reading Wall Lamp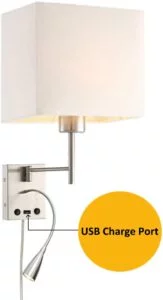 It is a wall-mounted reading light, and it can be installed as a bedside reading wall light and wall lamp for your living room.
The design is a combination of modern and traditional selection.
It can be installed with a plug as well as hardwire. You can use the LED light while reading and fabric light at sleeping time.
There are two lights, two on/off switches and two swing arms. 3 Watt COB LED with 3000Kelvin Warm White light creates a sweet feeling in the place.
Key Features
This LED light brings a sweet texture into the place with its 3-watt COBLED and 3000k warm white light.
This wall mounted reading light for bed features swing arm and gooseneck.
It can be plugged and hardwired both.You just need to cut the wire, and AC plug the light.
You can useits USB to recharge your phone.
Downside: Due to its wall-mount design, installing this light is tricky. Not as hassle-free as the others, meaning that it can be a problem for the inexperienced.
This Art Deco style light is Satin Nickel color and square-shaped. It is metal made and its shade material is fabric. The height is 25", 10" in length and 8" in width.
It is an adjustable fixture. The light can be directed up or down according to your choice. You get a very comfortable arrangement for reading with this light. It offers a tension-free long-lasting use with a duration of 30000-50000 hours under basic utilization.
It is a good choice for those who are looking for a wall-mounted reading light for bed.
Verdict
Once mounted, this fixture provides consistent light for your bedtime reading. It may be challenging to set up at first, but all the trouble is worth it. The unit is adjustable, so you can move it around as needed to fit your needs.
---
5. Glocusent – LED Neck Reading Light Book Light for Reading in Bed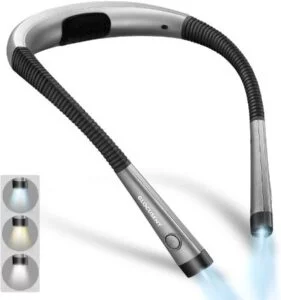 This light is a perfect choice for passionate readers for its easy-going soft light. It has three color temperature modes. You select according to your need from yellow(3000Kelvin), warm white(4000Kelvin), and cool white(6000Kelvin).
The brightness of the light is awesome but not too bright to hurt your eyes.You can adjust the brightness of the three color moods separately.
The light is blue light filtered, saves your eyes from getting damaged. You will not experience any flickering.
Key Features
This light has warm white, cool white and yellow color temperature mood to switch the mode easily touching the button on the light.
This blue light filtered product gives flickering free dual-color LED beam.
The light has a powerful rechargeable battery with 1000 maH. The USB type-c is easier to use.
This ergonomically designed light is very convenient for reading, needling, camping, walking in the dark just wearing it around your neck.
Downside: At times, getting the angle of the light in the right direction isn't easy.
It features a dual-color LED bean. Its narrow beam angle(90°) may often disturb others, but sufficient enough to read and do any other work without any distraction. It is like making yourself a very own place wearing the light around your neck.
This light is rechargeable (1000mAh battery)and long-lasting with 6-8 hours working time. It is a totally hands-free light; you can carry it anywhere like camping or garden at night.
Verdict
Due to its design, this reading light is a bit unorthodox. However, don't let that distract you from the fact that it works well. Furthermore, this accessory is friendly enough to appeal to both adults and children.
---
6. Vekkia Bookmark Book Light Reading Lights for Bed – Perfect for Avid Readers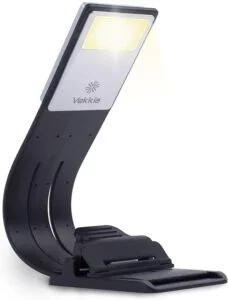 Vekkia'sBookmark Book Light is simply an amazing item. You can clip it on the books or make it stand on its own. It can be clipped on kindle too. You can adjust the position forward or backwards.
This tiny light is a perfect choice for the bookworm people. It can be used as a bookmark while you are taking a break.It is not heavy at all for clipping with the book.
This light is very eye caring even kids can use it without worrying for their eyes. Its step-less dimming and optical diffusor lens make a very soft light instead of harsh light in the dark.
Key Features
It has a step-less dimming system and optical diffusor lens to make sure harmless eye-friendly light.
You can charge it anywhere. It is portable and very convent for charging.
It is very flexible to attach to your book or kindle whenever you need.
The brightness of the light is adjustable with three amazing color temperature.
Downside: Despite offering balanced illumination, some people consider all of the light settings to be too bright.
You do not light up the whole room to read at night. This reading light gives proper brightness, not too little yet not to bright that creates discomfort. With a push-button in the side of the light, you can adjust the suitable color.
It has three color moods: warm, white and mix color. Press the push button switch to fix which color you need. Long press the button for low and high brightness setting.
This light is rechargeable with 250mah Lithium battery which is energy saving. You can charge it by a mobile adapter, computer USB, power bank and other ways which are very convenient.  You can easily carry the light inside your bag.
Verdict
As far as innovation goes, this reading light is one of the most fascinating. It provides just the right amount of lighting to guarantee proper reading without disturbing your partner. Therefore, this is a convenient accessory that any bed-reading lovers must have.
---
7. Vont – LED Clip On Reading Light for Reading in Bed, 16 Eye Protection LEDs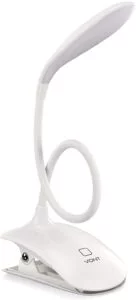 Vont's LED Clip-on Reading Light has amazing eye-protective quality.
It has 12 high quality LED bulbs that boosts optical clearness and provide flicker-free light. It removes glare which diminish eye strain and upsurge productivity. You can rely on this light for bedtime reading.
This light has three brightness intensity options to switch to suit your need at different times.
This light is dimmable. You can adjust the brightness with the touch-sensitive switch.
Key Features
It gives flicker-free light. Your eyes do not strain as it eliminates glare.
The bendable neck makes the light very easy to use in any position.
You can use its 3 brightness levels with dimmer switch the high mode for reading, the low mode for a low-profile night lamp to read without disturbing others.
Along with books, you can clip it almost every object such as bed, desk or notebook as it has a wide clamp to attach.
Downside: The clamp opening is fantastic, but it isn't as wide as needed. It won't secure the light to thicker table countertops.
You can clip the light on book, desk, bed or anywhere as it has wide clamp opening. You can also keep it standing on the desk. It has 360 degrees flexible gooseneck to position according to your preference. Its gooseneck makes it easier for the reader to read their books in any position.
This light can lit up any space with its narrow shaped bendable stand.It is the best clip on headboard reading light.
This light is rechargeable with 1000 Mah powerful battery. You can carry the light anywhere as it is a little light. Along with reading, it is a handy tool at night for travel or car emergency.
Verdict
This is a magnificent reading light due to its portable properties. It attaches to almost anything, including sofas, thin tables, desks, and more. If you ever feel like reading at another place instead of the bed, keep this light with you to get a clear view of each page.
---
8. DEWENWILS – USB Rechargeable Reading Light, LED Clip-on Book Lights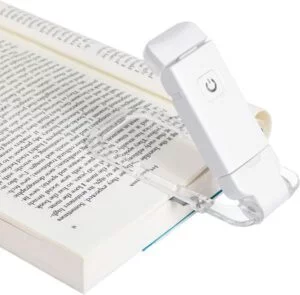 This tiny book reading light will easily fit inside your pocket. It is 1.3 ounce, flat, slim and lightweight. You can fold it completely.
It is pleasantly portable; take it on aeroplane, train, or backseat of the car when traveling. You can use it as a bookmark or mini torchlight for an emergency.
It is a perfect bed reading light clip on with LED light. While reading, you do not need to constantly reposition the light.
It is a very flexible light for reading books with LED lens which can be wheeled 90°counter-clockwise, 180° clockwise, and 45°downward. This light's 350°flexible holder bends to any angle for your best viewing.
Key Features
This light is very small and lightweight. Just fold it and put inside the bag or pocket and lit up whenever you need.
This light has a flexible light stand. You can put it into your desired position effortlessly.
The easy recharging system makes it really convenient. You can just recharge it with whatever gadget or port you can reach.
This light is dimmable. You can increase and decrease the brightness and read as you like.
Downside: Since it doesn't have wide coverage, this light needs constant adjustment as you move forward down the pages.
This light has 3000k warm white LED that can be adjusted in two brightness level. Adjust the brightness by pushing the button. This light gives eye caring soft glowing brightness.
You do need to carry any cable or battery for this light. The light can be directly plugged into a computer, power bank, adapter, car charger, or USB outlet for recharging.
Verdict
Unexpectedly, this book light becomes a favorite to most people that use it. It's small, lightweight, and the clip is surprisingly strong. Because of that, it firmly attaches to the book to keep the lines fully illuminated. This product is definitely one to consider if you don't want anything too bulky.

Bedside Reading Light Buying Guide
If you are thinking of buying a reading light for bed, you should consider some very important features. Based on my research and experience, I am writing some important tips below;they may come to your help.
Eye-friendly Light
While buying a bedtime reading light always look for how eye-friendly the light is. It should not be too bright that your eyes find it harsh, neither it should be too dim that your eyes feel the pressure. Around 4000-5000 kelvin is appropriate for reading light.
Do not choose the light which reflects brighter glare. Check if the brightness of the light is adjustable or not. You will always need to switch brightness and dimmer switch and this is a must for reading light.
Lumens of Light
When buying lights for reading at night, concentrate on the lumens of light. You need your reading area of the book or kindle to be focused with even and soft light. Check how many lumens the light is producing.
A few lumens that can make the light properly focused on the reading area are enough.25 to 50 lumens per square meters are enough for reading books at night to save you from eye strain.
Color of Light
Color of reading light is very important, especially when you are reading in the darkness. Lights that emit blue light are a big no for nighttime reading. You must choose a warm color for reading and avoid cool color. Warm white, white, warm yellow are the best choice.
Adjustability
Bendable stands of lights are very useful for your comfortable reading session. Make sure you can easily reposition the light while reading. Keep in mind you may read while sitting or sleeping or maybe moving into another place, so it would be good if you choose movable one.
If you tend to read solely on the bed, wall mounted scones are best for you.

FAQs about Reading Light for Bed
Here are the answers to some frequently asked questions about bedside reading lamps. Hope the answers meet your queries.
1. What is the best reading light for the bed?
Ans. Every kind of glowing light in darkness prevents melatonin, the sleep hormone release. But a proper selection of lighting for reading can reduce the problem. Task lighting is the best arrangement for reading. Choose a light that gives enough focus on your book, yet the light should not be so bright that it makes your eye strain.
Choose a bulb that filters out blue light and. Do not use cool colors for reading. Make sure the light is glare and shadow-free. Use flexible lights so that you can read comfortably.
2. How can I read on the bed without disturbing my partner?
Ans. You should not disturb the person beside you while reading at night. In that case, choose a book-light instead of overhead lights that overs a big area. A small book-light that can be clipped on the book or kindle is an easy solution as the light only concentrate streaming on the page of the book.
3. What is the function of a dimmer switch?
Ans. A dimmer switch is one of the most important parts of any lighting.
A dimmer key gives you the flexibility to adjust the amount of light you need depending on a specific place, time, mood or individual preference. Not every light has a dimmer switch with them, but they have the option to include a dimmer switch.
Best reading lights have a dimmer switch with them; some of them may have multiple keys for the multiple color lights.
4. Is LED light good for reading in bed?
Ans. Yes, LED light is good and recommended for reading. LED lights are energy-saving, do not produce residual heat and do not emit UV light.
It is an amazing creation of technology so far that gives not only beautiful and charming light but also it is harmless compared to the other lighting facilities.
For reading, you can choose neutral and warm color LED lights that do not create contrast with the page.
Ending Words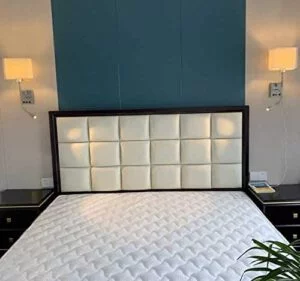 All in all, you must keep in mind that the product should be comforting to you. Do not choose a light that may harm your eyes or body.
The 8 lights that have been reviewed here are the top 8 picks of the year. I hope this review post will help you choose the best reading light for bed. Happy Reading.
This is Autem Decker. Main Author of 'TheHomeDigs'. You may not find her on the list of top 10 contemporary Canadian interior designers, but everyone who knows her says she was born to be an interior designer.
She makes her plan in her head and draws them in her years-old diary with a note in the corner. The way she plays with color and shape amazes us.
Connect Her On – Twitter