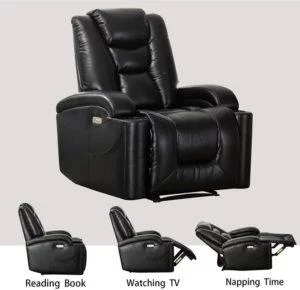 Power recliners sofas are in high demand. This has left every manufacturer flexing muscles and creating one awesome reclining chair after another.
Going over the specs and reviews of the wide selection of models in the current markets is exhausting.
Modern electric recliners come in different variations, and they are nothing like their predecessors. They have handcrafted frames, high-density foam padding, luxurious upholstery, and of course, high tech capabilities.
Are you searching for the best power recliner that is comfortable, stylish, durable, and affordable? We spent weeks accessing and assessing different power lift chairs and sieved out the top 12 models.
Read on to also learn about what to look for in a top-quality power recliner.
Quick Overview of 5 Best Power Lift Recliners
Top 12 Best Power Recliners Reviews
It is not every day that you buy a recliner. If you are going to invest in one, you owe yourself the favor of choosing the very best model. We present to you the ten best models that offer you the perfect combination of modern features, comfort, and durability.
1. Ashley Yandel Contemporary Power Lift Oversized Recliner Saddle for Elderly, Dual Motor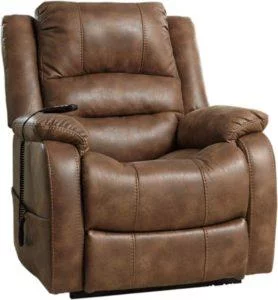 This signature design model from Ashley Furniture provides unbeatable comfort. It is crafted using the most durable materials and is the best power lift recliner in the current market.
Thanks to the robust corner-blocked frame and effectively reinforced footrest, this over sized chair can support over 300 lbs. of weight.
Among the reasons why it is on top of our list is because it will not leave you with a wish list. Its design is stylish and, at the same time, focused on ensuring you get a roomy and comfortable space to sit or sleep.
Key Features
Excellent backrest recline
Easy to assemble with straightforward instructions
Corner-blocked construction for enhanced durability
Polyester faux fabric (more affordable and durable than leather)
Visually appealing classic brown leather-like design
The oversized chair can support over 300 lbs. of weight
The classic brown faux leather upholstery feels gentle against the skin. Then again, this chair has a fantastic motor lift reclining capacity that enhances its functionality.
Operating the recliner is easy. Just one press of the button, and you can convert it from a stylish couch into a comfortable recliner. Put your legs up, ease your back, and recharge after a long day of hard work. It is also worth mentioning that this chair comes with straightforward instructions for easy assembly.
The fabric quality, construction, and overall handiness of this model make it a worthy purchase. This is just the chair you want if you are not prepared to hit the markets anytime soon for a replacement.
However, the only significant downsides we noted is that the footrest does not go too high, and users do not get any power backup option.
Downside: There's only an issue: the remote brightness. It can come across as too much, and there doesn't seem to be an option to turn it off without using the chair's power button
Verdict
Though it doesn't have actual leather, the fabric used to make this chair is fantastic. It's super soft, comfy, and well made. Another pleasant benefit is that you won't slip over like like it'd happen with some leather-made chairs.
---
2. Mcombo Electric Power Lift Recliner Sofa – Best Power Recliner with Heat and Massage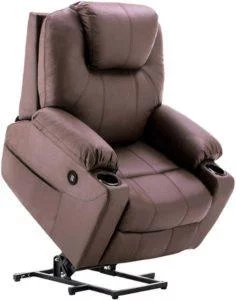 If you are searching for a power recliner with heated massage and multi-function, this is one of the best options you have. With the simple push of a button on the side or on the convenient remote control, you can adjust the chair to achievea comfortable, relaxing, sitting, or napping position.
This model uses a high-quality TUV motor that supports quiet operations. It is reliable, and its mechanism lasts for decades without any malfunctions. There are a few convenience-rich quirks available as well. Apart from the handy remote control, there are also storage pouches, cup holders, and USB ports.
Key Features
Solid construction with heat and massage function
An excellent reclining system with convenient controls
Easy controls make this a suitable sofa for seniors
Advantageous set of handy features like storage pouches, USB chargers, and cup holders
Comfortable design and extra-padded cushions
Soft, durable and stylish upholstery
Even though this sofa was designed with comfort and functionality in mind, it is also stylish with a dark brown suede-like fabric that is soft to the touch. This is a durable fabric that is resistant to scratches, stains, and wear. It also has an elastic, anti-felting, and an anti-pilling design.
This may not be the best recliner for tall and huge 6 footers, although it can comfortably accommodate people who are as tall as 5 feet 10 inches. For a reasonable price, you can get yourself a chair with a sturdy frame construction that also brags of an outstanding weight capacity.
Downside: The back side of the chair doesn't feel as sturdy as the others do, which is slightly disappointing.
Verdict
This chair offers a multi-purpose design to ensure optimal comfort. Besides the lifting function, it also provides heat and massages to treat its guests properly. These functions are accessible via the remote, which means there's no need to put in any effort at all.
---
3. Irene House Dual Motor Lays Flat Power Lift Recliner Sofa with Side Pocket, Suede Fabric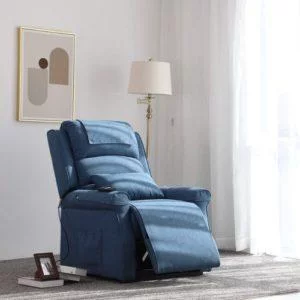 This is yet another excellent power recliner sofa with an outstanding customer rating on Amazon. It comes with a dual motor, allowing you to operate the footrest and the backrest separately.
Now, this proves to be a convenient feature, especially for those who prefer to sit upright with their feet raised for a more comfortable gaming position.
Also, it is worth mentioning that this is a durable chair that is designed to last for decades on end. And it has premium quality soft linen suede fabric upholstery and robust overall construction.
Key Features
Dual motor for operating the footrest and headrest separately
Premium quality upholstery
Sturdy construction
Easy assembly
Up to 300 pounds weight capacity
The power lift features make it easier for people with mobility issues such as the elderly to sit and rise from a sitting position without much trouble.
This recliner is adequately padded with a high-density sponge. It is designed to provide sufficient lumbar support, and this helps in easing back pains. You will also find its design desirable when healing after an operation or if you have mobility problems.
The weight capacity of the recliner is 300 lbs. and it also has an extended footrest. These features make it a perfect choice for bigger people.
Operating the chair and taking full advantage of its functions is a piece of cake. There are different easy to press buttons, and you will also find two side pockets where you can conveniently place your remote controls.
Assembling the recliner is quick and straightforward, and it should not take you more than half an hour.
Downside: This chair lacks the length to support the feet area. Unfortunately, this issue happens to both tall and short people
Verdict
Other than a mild issue in the lower section for the feet, this recliner offers the power and convenience to keep you comfy. The addition of a dual-motor takes it next level, making it an ideal choice for those dealing with mobility issues.
---
4. Esright PU Leather Ergonomic Lounge Electric Power Recliner for Elderly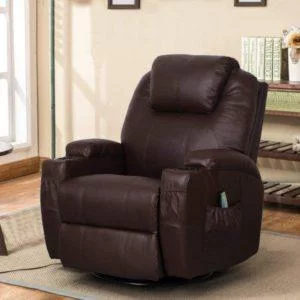 If you are searching for the best electric recliners that offer the perfect blend of great features, elegant looks, and affordability, this is an option you should consider. The Esright ergonomic power lift recliner is an excellent chair for senior citizens because it provides both vibration massage and lumbar heating.
The pocket-friendly price tag of this recliner should not fool you. This is a sturdy chair that is built to pass the test of time. It has a solid frame, and all wood boards are formaldehyde-free. This sofa also comes with a TUV approved motor that supports silent operations.
Key Features
Power lift feature tilts the chair forward, making it easy to stand up
Stylish synthetic PU leather covering
Excellent heating and vibration massage
You can select the massage duration (15, 30, or 60 minutes)
Extra padding on the head, back, and armrests
There are 5 massage modes that include press, wave, pulse, auto, and normal. The massage focuses on the head, lumbar, thigh, and shin. And the best part is that this recliner provides timer options, and you can set the controls at 15, 30, or 60 minutes.
Also, the heating is on point. It's at a comfortable level, and users do not complain of the heat being either too low or too high.
This feature comes in handy when nursing back pains or when easing arthritis pains during cold winters.Typically, the heat targets the lower back for a more rejuvenating experience.
Downside: The massage function is fine but not great. It feels more like vibrate than anything else, so not really much to expect there
Verdict
With this chair, spending some quality time with your significant other, children, or pets never felt as good. Putting the recliner together takes about twenty minutes, after which you can enjoy its comfort and multiple functions available.
---
5. CANMOV Power Lift Recliner – Heavy Duty Reclining Sofa with Anti-skid Fabric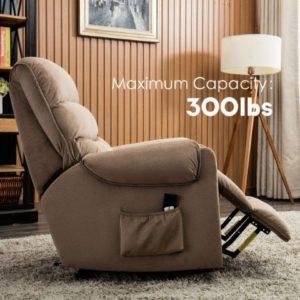 If you have back or knee problems, there are good reasons to consider investing in this electric power lift recliner.
The power lift feature tilts you forward, allowing you to stand without putting more pressure on your already aching joints or muscles. What gives this chair an edge above its competition is that it has a heavy-duty reclining mechanism.
Finding a recliner that provides maximum comfort is an uphill task, especially for tall, huge people. This one has a weight capacity of 300 pounds, thanks to the sturdy metal frame. Its dimensions make it ideal for bigger people, and it measures 32″W x 37″ D x 38″H and the seat height is 19″.
Key Features
Premium quality anti-skid fabric for maximum comfort
Generous padding on the head, back, and armrests
300 lbs. weight capacity
Convenient power lift function
An excellent option for tall, huge people
The majority of over sized models, ideal for big people come with dual motors. This model, however, has a single motor that allows numerous recliner positions.
You can recline, sit, and raise your feet. The easy-to-use wired controller gives you full control of the adjustments so you can stop at any position in between.
Also, you can tell that this is a comfortable chair because of its generous padding, especially around the head, armrests, and back. The thick foam cushioning is made of polyester and packed with a high-density sponge for optimal comfort.
Better still, it has a premium quality anti-skid fabric that makes it comfortable to spend hours on end on the recliner.
Downside: Cleaning the chair is a bit tricky, so be sure not to spill anything over it
Verdict
Comfort and durability make this power recliner a solid pick. After a long day of work, sitting down on this recliner is the perfect way to relax and spend some quality time. Furthermore, the chair is a magnificent addition for households with kids and the elderly.
---
6. MAGIC UNION Power Lift Heated Vibration Massage Recliner for Elderly – Best for the Money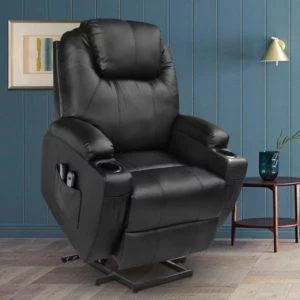 If you are searching for a cost-effective recliner that is comfortable, yet it does not take up too much space, you may want to consider this model. We picked this as the best power recliner for the money. It is more of a wall hugger and only requires about 17-20 inches of wall clearance.
I will not oversell this recliner and claim it provides a luxurious seating experience. The truth is, it is not overstuffed, and its padding is made of conventional block foam. This makes it somewhat stiff, a feature that works perfectly for some people and stands as a turn off for others.
To be fair, the seating experience is not bad because the chair reclines far enough, and the headrest and armrest pillows are comfortable. You can use the remote to control the lift and recline functions to get to your most comfortable napping or sitting position.
Key Features
Best budget power lift recliner
Vibration and heat therapy features
A range of massage intensity modes and timer settings
Only 17-20 inch wall clearance is needed; excellent for small rooms
330 pounds weight capacity
This is a power lift recliner, so you also get controls that gently and smoothly get you to a standing position.
With the package, you receive two remotes. One controls the lift and recline functions, and another that controls the massage feature.
There are 8 fixed nodes that vibrate gently to massage your back and legs, and you can customize the experience by choosing from different massage intensity settings. The massage timer allows you to set your sessions at 15, 30, or 60 minutes.
It is also worth considering this model because of the heat therapy it provides. This is an excellent feature, although the heat is limited to your back and lumbar region.
Downside: This power recliner has a pleasant massaging mechanism, but it does make noises while active
Verdict
This chair comes in two boxes with all the hardware included for a quick assembly. Doing so is quite easy, even when it comes to hooking up the wires. Hence, this is a chair that will quickly become a fantastic ally for the elderly and disabled people.
---
7. Mcombo Faux Leather Electric Power Lift Recliner Sofa for Elderly Citizen with Side Pockets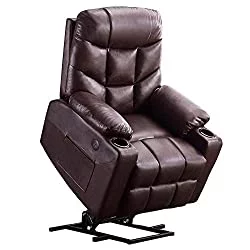 This is yet another impressive recliner from Mcombo electric that had to be on our list. It comes with the bells and whistles of this renowned brand, and it features a power lift as well as a TUV motor for smooth yet quiet operations.
This medium-grey beauty is designed to blend perfectly with existing furniture pieces in your home.
At a glance, you can tell that this is a comfortable recliner. It has plush padding, and the thickly padded backrest provides excellent support. Unlike most recliners that merely have adequately padded armrests, this model also has pillow top arms that offer optimal comfort.
Key Features
Solid metallic frame for enhanced durability
320 lbs weight capacity
TUV-certified lift motor
Easy controls for adjusting the chair to a comfortable position
The backrest can recline to 140-degrees
Dual motors allow you to elevate your feet without reclining the head
Excellent padding for maximum comfort
Durable and elegant upholstery with clean line sketches
The upholstery cover is soft with simple line sketches for enhanced aesthetics. This fabric has good elasticity and is resilient enough to last for decades on end. It is also worth mentioning that this recliner comes with extra features such as a side pocket for storing your remote control, two cup holders, and USB ports.
In a wrap, this is a sturdy sofa with a solid metal frame that can handle a weight load of up to 320 pounds. It is a perfect option for people with limited space because it only reclines up to 140 degrees.
Downside: The sitting area is firm but not extremely cushy.
Verdict
If you favor firmness over cushiness, this is the chair for you. While sitting on it, you remain in an upright position for optimal view of TV or anything else. Besides, the chair isn't heavy nor difficult to move around. It's definitely a must-have due to its friendly design.
---
8. Bonzy Home Electric Recliner Sofa – Soft Fabric Power Recliner with Remote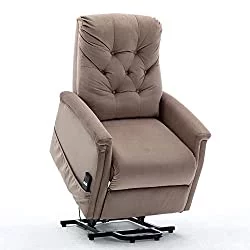 This Bonzy lift recliner is the perfect balance between comfort and price. It has a more compact design and is smaller than recliners from Ashley Furniture. In case you have limited space, this is a chair you may want to consider.
It is, however, crucial to know that it is recommended for 5'4″ or shorter users. Taller users, however, still claim that the chair is pretty comfortable.
The recliner allows three positions. First, you can use the lift function to transition from a sitting to a standing position without putting unnecessary pressure on your knees and legs.
Key Features
Top-quality steel frame for enhanced durability
Convenient side pocket for placing the remote
Soft, durable and easy to maintain upholstery cover (microfiber velvet)
Attractive and comfortable design
Gliding base mechanism
Easy to operate the reclining mechanism
You can also raise the footrest to elevate your feet when watching TV. The third position allows the chair to recline backward for you to get into an almost horizontal position.
The fabric on the chair is soft and more breathable. It's just what you need to remain comfortable when relaxing, gaming, or watching TV for hours.
Another plus point is that this sofa has a sturdy, durable steel frame and reliable reclining mechanism. You do not have to break a sweat to get into your most comfortable sitting, resting, or napping position.
Unlike most recliners on our review, this one has a gliding base mechanism. It can make smooth and steady back and forth motions for enhanced relaxation. Even with these sophisticated features and functions, the chair remains pretty easy to assemble.
Downside: The included instructions aren't good, leaving much of the process up to the user. Luckily, the design of the recliner makes the assembly pretty straightforward
Verdict
This is an ideal power recliner for the price. Everything from size to the features offered is super convenient, as most people will make good use of them easily. Therefore, this chair appeals to every audience.
---
9. Bonzy Home Power Recliner Chair Overstuffed Electric Faux Leather Recliner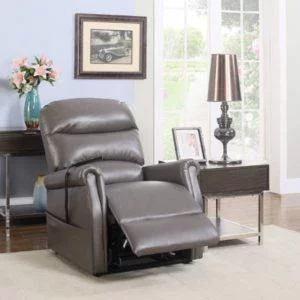 The Divano Roma EXP57-PU-1S-GR is one of the most affordable power lift recliners in the market. It is hard to deny that this is an enticing deal, mainly because the chair is sturdy and comes with features and functions that you can only find in more expensive recliner models.
For the price, you get an attractive sofa that can give any living room a touch of class and style.
This chair has a reliable lifting and reclining mechanism. Its remote control allows you to make a range of adjustments by the simple press of a button. The lift and recline functions operate at a reasonably slow pace, which in my opinion, is good, especially when acquiring the sofa for an elderly loved one.
Key Features
Power lift option
Excellent lifting and reclining mechanism
Soft, durable bonded leather upholstery
Extra padding for the ultimate comfort
Furthermore, the super-soft textured velvet fabric enhances the aesthetics as well as the comfort of this sofa. There is also plush padding all over the recliner for added support. The couch arrives in two pieces that you need to join. Fortunately, the assembly process is super easy and fast.
Even though this is not an overly broad or over sized chair, you need plenty of space to take full advantage of its reclining function. When fully reclined, it measures 31.5 inches wide, 36 inches deep, and 65 inches long. This is hence not an ideal model for people with limited space.
Downside: Like some of the other chairs, this one also has some size issues. For example, tall users may struggle to find room for their legs
Verdict
This recliner offers a mechanism that provides quick and easy sitting down or standing up for disabled users. The build materials are another plus, as they last longer and put up with considerable weight. Add to the mix a super comfy cushioning, and this recliner earns its spot as one of the best.
---
10. Delange Three Seater Reclining Power Sofa with Adjustable Headrests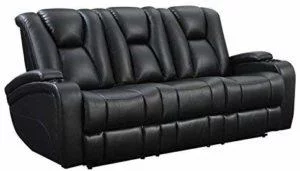 Last but not least is a comfortable modern reclining power sofa from Delange. This is a model designed to give any room a proper face lift and take entertainment to the next level.
The classic design of the couch makes it blend well with just about any interior décor theme.
Key Features
3 seat mode sofa
Comes with a range of high-tech features
Modern design blends well with any décor theme
Well-padded recliner for enhanced comfort
Quality upholstery made of 80% polyester
There are numerous high-tech features you stand to enjoy. They include adjustable headrests, drop-down table with USB chargers and power outlets, hidden LED lights in the middle headrest, storage in armrests, and light-up cup holders.
Therefore, this is a sofa that is packed with functionality, yet it's remarkably easy to operate.
The upholstery fabric is soft and comfortable. It's made of 80% polyester and 20% polyurethane. This makes the seat breathable and skid-resistant even during the hot summers. The sitting areas are adequately padded for extra lumbar support and enhanced comfort levels when sitting for extended periods.
Even though this is a relatively big 3 seat mode sofa, it does not consume too much space. It's a wall hugger that only requires about 4-inches wall clearance.
Downside: One thing you may not like is the padding, which doesn't feel like it's enough
Verdict
It doesn't take much time since the first use to love this recliner. The whole unit is a bit firm but not enough to be stiff. Instead, the sofa is large and has multiple useful features like cup holders. If you ever had trouble with recliners that were too small, this is the perfect solution to those problems.
11. La-Z-Boy James 40 Inch Wide Power Lift Assist Standard Recliner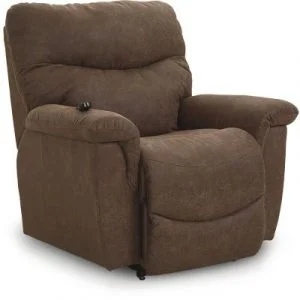 This fantastic recliner by La-Z-Boy James is one of the most prominent ones in the market right now. When it is about top-notch quality and exceptional comfort, you can rely on this product without any doubt.
Thanks to the innovative power lift technology, you can easily adjust the height of your seat without any struggle. And it comes with a 40-inch wide body; hence anyone can enjoy a well-rested evening on their recliner.
On top of everything, this chair is equipped with battery backup. Therefore, the user can always have a cozy experience while sitting on it.
Key Features
Offers multiple seat positions for maximum ease
Can tolerate up to 400 lbs to support heavyweight users
The contoured bucket seat design offers excellent lumbar support
It arrives partially assembled to save you the hassle
The power lift feature ensures a comfortable experience
Furthermore, it arrives partially assembled; thus, you don't have to waste much time on fixing this thing. You can start using it as soon as you get your hands on it!
This recliner is designed with an ergonomic footrest and chaise seat to ensure maximum comfort.
So yes, after a hectic day, you can adjust the seating position according to your preference. Once you get this one, nothing can stop you from getting the chill pill!
The bucket seat design makes sure that the user is getting the most admirable lumber support. And it can withstand up to 400lbs, which is good news for all the plus-size fellas out there!
So, when you are looking for a warm hug at the end of a long day, you can pick this recliner without any hesitation.
---
12. Birch Lane™ Donoho Wide Genuine Leather Power Wing Chair Recliner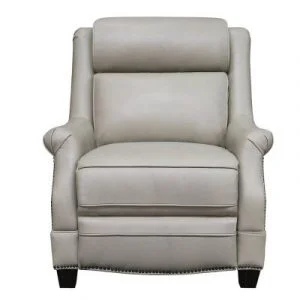 This Birch Lane Donoho recliner comes with premium-grade leather construction, which makes it more luscious than its competitors! Moreover, it has a sleek and aesthetically pleasing outlook; hence, it is suitable for any contemporary décor.
The down-fill cushion of this chain offers a super comfy sitting experience to you! When your body touches this recliner, you will go to the Zen world; there is no doubt about that!
As it can tolerate up to 300 lbs, any big size user can use it without any damages. And the heavy-duty base adds enhanced stability, which adds the cherry on the top.
Key Features
Can withstand up to 300lbs; great for heavyweight people
The genuine leather construction makes it super elegant
You can easily adjust the positions with the remote control
Down-fill cushions offer the ultimate comfort
Just with the push of a button, you can achieve your desired sitting position. And the possibilities are numerous; that's why anyone can hit their sweet spot quite easily.
In addition, when you receive this armchair, it will be already partially assembled. Therefore, if you are not blessed with mechanical skills, you will feel blessed!
And yes, to make things more commendable, you can lock your seat position every time you adjust this thing. Thus, for a trouble-free experience, choosing this one seems like a great idea!

Electric vs. Manual Recliners: Which One Is Better?
Electric and manual recliners are both excellent options, and it's challenging to choose between the two. For you to make an informed decision, there are a few basics you must understand. Here are the variables to consider.
Mechanism
Electric recliners have a power mechanism, so you use electricity to make different adjustments. On the other hand, manual recliners have a pull lever.
Cost
Typically, electric recliners have more features than their manual counterparts. This affects their pricing, and they tend to be more expensive.
Maintenance
Electric recliners have numerous delicate components that are prone to damage or failure. Hence, they require more maintenance. Because manual recliners have fewer and more basic components, they require minimal maintenance.
Versatility
As we mentioned earlier, electric recliners have more components, and this means more features and settings. Some have rocking, heating, and even massaging capabilities. In other words, electric recliners provide more versatility than standard manual recliners.
Durability
Power recliners operate using electricity. This leads to lesser tear and wear, and they tend to last longer than manual recliners. We must even so insist that irrespective of the type of recliner you choose, poor maintenance practices can lead to premature deterioration.
How to Sleep Comfortably and Better in a Recliner?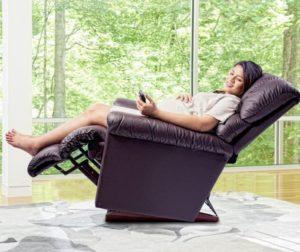 Did you know that sleeping on a recliner can be more beneficial than sleeping on a bed? Because of the adjustable features, some of the health benefits you can enjoy include –
Better blood circulation
Back pain relief
Easier breathing to prevent snoring
Improved digestion
Relief from osteoporosis pain
If you want to sleep on a recliner, you must adjust the heights properly. Raise the footrest and prop up your legs. This should make you feel better if you suffer from back pains or you are heavy with child.
Make sure your recliner has comfortable bedding. Apart from throwing in a warm blanket, you may also use a pillow to support your neck. We also recommend switching off electronics for you to enjoy deep uninterrupted sleep.
It is vital to understand that not all recliners offer superior back support. Then again, the designs of some models automatically enhance your overall comfort and soothe you to sleep.
Sleeping through the night on recliners that offer minimal lumbar support can potentially cause back pain. To be on the safe side, you must first find out whether the model you intend to buy is well padded for enhanced support and comfort.
What to Look for in a Power Recliner When Buying?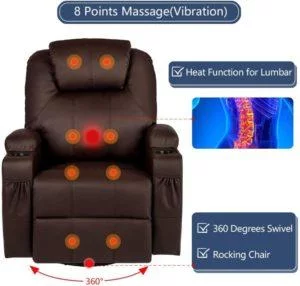 A recliner is a big, comfortable chair with adjustable features. It is designed to help you de-stress and relax after a long day. Finding a sofa that fits this description is easier said than done.
The markets have parades of unique options to offer, so you have to be extra careful when shopping around. Here are the vital aspects to consider before making a purchase.
Size
Size is a paramount aspect to consider. You must check out not only the size of the recliner you want to buy but also the size of your space. If you have limited space, choosing a wall hugger would be great. This is a recliner that is designed not to recline too far back, so you can place it close to the wall.
Take measurements of the width, depth, height, and total length of a power recliner and make sure it can fit perfectly into your space.
Stylistic Choices
Just like when choosing any other type of sofa, it is vital to select a recliner whose design blends well with your interior decor. The ideal design will rhyme well with your existing theme, and perhaps even complement it.
You must take note of the color, patterns, and overall styles of different recliners. Fortunately, there are so many variations in the markets, and finding a model that fits perfectly into your rooms should not be a hassle.
In case you are not sure about the best style for your home, it is safe to settle for the timeless classic designs.
Upholstery
The right upholstery will be durable, aesthetically pleasing, and practical. If you do not intend to refurbish your recliner after a few years, take the time to ensure the upholstery is of the best possible quality.
Durability
Buying a power recliner is not a cheap affair. If you are like most people, you will want your investment to serve you for years on end without the need for refurbishing or replacement projects. Hence, it is crucial to affirm that you buy the sturdiest model that can withstand consistent usage over several years.
Durability is dictated by several aspects, including the materials used and the quality of the frame. Before a purchase, get to know about the quality of the solid wood, support, and reinforced steel. Moreover, confirm that the sturdiness of the gliding, rocking, swiveling, or reclining systems is not in question.
The quality and durability of a recliner are likely to affect its cost in a significant way. If you want furniture that can last for a reasonable while, do not shy away from digging a little deeper into your wallet.
Comfort
Certain features determine the level of comfort a recliner can provide. For instance, you need to ensure the sitting region and armrests have a plush design and adequate padding.
Also, check whether the seat is engineered to provide sufficient lumbar support. If you are a tall person, you must affirm that the model you choose will match your height.
Extra Features
Technology has advanced tremendously over the years, and modern recliners come with all kinds of functions. Before money changes hands, some of the questions to ask include:
Is this chair ideal for gamers?
Does it have massage features?
Can it swivel and glide?
Does it provide heat settings?
These are crucial questions you should ask beforehand. This will reduce the risk of spending a fortune and getting bored with the furniture after a few months.
FAQs about Power Lift Recliner
1. What is the average longevity of a power recliner?
The durability of a recliner is highly determined by the quality of its materials and the reliability of its construction. How long it will last may also be dictated by the environment where it is used.
In case the chair is used every day for hours on end, or you have pets and kids, this could harm its longevity. On average, a top-quality power recliner can last for 10 years with proper maintenance.
2. Why am I more comfortable sleeping on a recliner than a bed?
Recliner chairs boost proper blood flow. It is normal to feel comfortable and soothed to sleep as soon as you adjust the chair for a more comfortable sitting or sleeping position.
A good chair will also provide proper lumbar support and help ease back and neck pains. These are just a few reasons why you may feel more comfortable sleeping on your recliner.
3. I weight 270 lbs. Which recliner model suits me best?
Choosing a recliner that can withstand your weight is crucial. One of the best models for heavier people that is also featured in our review is the Signature Design by Ashley Yandel Power Lift Over sized Recliner Saddle. This over sized chair can support up to 300 pounds of weight.
4. Is my health at harm if I regularly sleep on my recliner?
Sleeping in a bed is indeed healthier than sleeping on a recliner. Irrespective of how comfortable your chair is, continuously sleeping on it can cause knee and hip contractures.
However, doctors sometimes recommend sleeping on recliners, especially if you are expectant, have sleep apnea, suffer from acid reflux, or you just underwent a knee replacement.
If you have a health concern that makes it crucial to sleep on your chair, implement our tips for sleeping comfortably and better on a recliner.
5. How much does a good recliner cost?
There are more than a few key aspects that determine the cost of a recliner. They include the quality of the frame and materials, as well as the infused features and functions. If you want a quality recliner, your budget should range from $350-$5000.
Final Words
Modern recliners vary vastly in their designs, features, and functions. To find the best power recliner, you must first consider your unique needs and preferences.
Our list contains fantastic stylistic choices that are ideal for different kinds of people. Whether you like gaming for hours on end or prefer sleeping on a recliner because of back issues or sleep apnea, our recommendations will come in handy.
This is Autem Decker. Main Author of 'TheHomeDigs'. You may not find her on the list of top 10 contemporary Canadian interior designers, but everyone who knows her says she was born to be an interior designer.
She makes her plan in her head and draws them in her years-old diary with a note in the corner. The way she plays with color and shape amazes us.
Connect Her On – Twitter