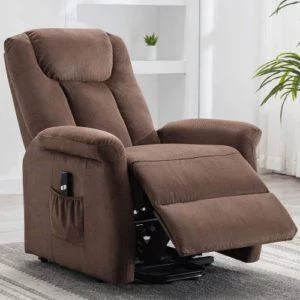 If I had to name one furniture that is damn common and popular for its comfortable aesthetics then it's going to be an electric power recliner.
After a long exhausting day you can relax on it, also can be used the recliner sofa for sleeping as well. You just need to touch or push a button. And the amazing recliner will give you comfort of your life that probably is next level.
Compared to manual ones, these are definitely more adored by users. Because of all-electric parts, usability becomes a piece of a cake.
But just like any electrical equipment, the recliner also sometimes falls apart and stops functioning. And on those moments, you want to know a bit deeply about electric recliner sofa problems. We are here to do that today.
Some Common Electric Recliner Sofa Problems & Solutions
There are more than a few parts inside an electric recliner. These need your attention and it could be anyone part that is facing the difficulty. No doubt all parts are equally crucial to keep the recliner working well.
It could be a simple power surge due to electrical storms. Or maybe an overload/underload came up. No matter what the background story is you can definitely try some common analysis to figure out problematic element inside your recliner.
Not wasting any more time, let's just jump right into some common power recliners problems…
The Opening/Closing Function Is Not Working
One of the most common problems with power recliners is opening and closing inability. There are a lot of springs, hinges, and joints that work together to keep this function alive. And something because of any of these part's stiffness, the machine stops working completely. This later results in not being able to open or close recliner the way it should.
To solve this trouble, you need to apply some force to open or close it. If it does not work, call the service center and ask for help. One fantastic tip to keep away this problem from happening is by using grease. You should always depend on lubrication consistently to keep these parts alive.
Also, keep a note if spring or bolt should be replaced. Make sure you change these parts whenever there is a need. Also, you should do deep cleaning consistently.
 You May Read:  How to Keep a Recliner from Sliding on Hardwood Floors 
Not Working When Plugged In
Sometimes even with plugged-in form, the chair does not respond back or work. This could be due to power not reaching the chair. So, try unplugging it and connecting once more. Try keeping battery backups to avoid such problems.
There are more than a few wired connections functioning inside the recliner. Any of these connections being loose can bring such problems at door. So, you need to check all those connections and ensure they are intact.
Due to regular recliner movements, it might cause tension on wires. And this can also make connections lose. So, it's important to check wiring following a habit or regime.
Also, the motor might be causing trouble and so, even with power supply, recliner is not working at all. So, in those cases, you need to think about a motor replacement. Hand control changing might also be necessary. A multi meter can help you find out whether the motor or hand control is causing trouble.
Movement Is Unappropriated or Making Noise
Sometimes you notice that the recliner is moving intermittently. You should try holding the lever for around five seconds. This could be done in either recline or incline position. Due to pulling or pushing the lever in various directions, actuator gets worn out. And so, it becomes hard for the part to engage properly.
You should also have a check on the footrest. There should be nothing obstructing the movement of footrest. If there is a trouble, try replacing the actuator. The left-hand armrest may also need replacing. Sometimes the scissor mechanism or metal lift frame gets broken. And so, the restricted movement problem takes place.
The folded footrest inward position will make a slight mechanical sound, it's quite normal. However, if the noise feels extremely loud and clunking type, then there is a problem. The footrest rod should be the main culprit in most cases.
A pop up towards the recline movement direction could be a valid reason for the issue. However, the overall function should work as usual even with noise. You can simply replace the footrest rod or backrest to resolve noise problem.
  Also Read: How to fix a recliner that leans to one side 
Electrical Parts Being Damaged
The power recliner has a special tool that keeps protecting every part religiously. It's called the surge protector. The wires are usually rounded away from electric parts to keep damages away.
And the surge protector has the responsibility to keep electrical components in a safe region. This can be a straightforward solution to keep the damage of electrical parts away. Do read the manual and instructions for proper installation.
The Seat of Recliner Feels Uncomfortable
There are certain times when you sit on the recliner and feel sinking inside. This could badly trouble back hurt and other uncomfortable problems. The case here may happen because of faulty padding.
This part could get compressed and it may have made the sink in trouble. You should consult a repair tech and he or she will find the proper solution to avoid compressed padding in lumbar area.
A Hole in Recliner Seat
You suddenly can notice a hole in the seat while sitting down. This was not there the previous day but now it is. What could be the reason? Well, probably the broken seat spring or webbing is causing problems.
You can bring your chair upside down and have a look at the spring underneath. If you notice a broken spring, this could hang down or poke through. You need to immediately call a repairman to reattach or replace the problematic spring.
Conclusion
And congrats, you have your unofficial degree over most common electric recliner sofa problems. This sort of knowledge is really helpful when you need to find out the actual cause for your recliner's sudden mood swings. And also, it helps to determine whether there's a need to call someone for help or it's a small error that you can fix yourself.
No matter what's the case, don't delay in fixing these troubles or keep it for another day. The recliner is an important furniture and needs quick attention when in trouble. So always give it the importance and maintenance priorities it deserves to have… Best of Luck!
 You may also like to read : 8 Best Recliner Brands Reviews 
This is Autem Decker. Main Author of 'TheHomeDigs'. You may not find her on the list of top 10 contemporary Canadian interior designers, but everyone who knows her says she was born to be an interior designer.
She makes her plan in her head and draws them in her years-old diary with a note in the corner. The way she plays with color and shape amazes us.
Connect Her On – Twitter