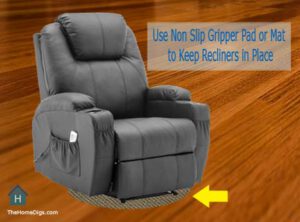 This is not a new story. You bring your recently bought a power lift recliner and placed it over your hardwood floor with love and admiration. With the hope to get a relaxing time, you sit on it and it starts moving all of a sudden. The thing is sliding!
There goes your head worrying about what would happen to your hardwood floors and if it will catch a scratch with such vigorous sliding.
Bringing stability to the piece of furniture for avoiding such sliding is what you start thinking about. You want to avoid all the unnecessary tumbling and spilling. And that brings us to find some ways on how to keep a recliner from sliding on hardwood floors.
 How to Keep a Recliner From Sliding on Wood Floors with Four Means
Even if your recliner makes no noticeable movement, it's better to have enough knowledge about how to keep recliner from sliding on floors. Why you may ask. Well, whenever you activate recliner's footrest or simply try to relax on the chair by sinking down, the thing will surely make some back and forth scooting motion.
And that is surely applying less but still existent pressure on the flooring. With passing time, these movements will create scrapes or scratches on your hardwood floor. And you will discover it all of a sudden regretting why precautions were not taken earlier.
On that note, Let's enlighten you with some really effective ways on avoiding recliner sliding on hardwood floors right below
Protective Pads for Hardwood Floor
You need some peel and stick gripper pads for this. Simply let the footrest go in. Then on the recliner's back, tip it on. In some cases, there may not be any feet. If so, then look for metal bars instead. You should find them in the chair's framework on each side. There is a ring style base in swivel recliner types.
Simply apply the gripper pads on every foot. You should maintain a minimal six placed along with both bars or circular base to stick these on.
The pads are excellent to avoid any traction over hardwood floors. These drastically lessen the chance of sliding on hardwood. And so, go for a sturdy, thick enough, and good quality pad that will stay tight beneath the heavy furniture. Also, don't forget to check them every once in few months. So that you can replace religiously the ones that wear out from constant use.
Tiny Mats Can Help
Traditional chairs will never be able to hide the things you lay beneath them. And that's something not a problem with recliner. Since these are pretty good at concealing anything underneath. All you can do with this fact is to take advantage of it. How? Well, place a tiny mat beneath the recliner. The bottom needs to be no-slip.
Beneath the recliner, this mat will stay invisible. And at the same time, it'll prevent any sort of sliding incident from background.
Now, when buying such mats, you want them to be as small as possible. So that they can actually stay hidden without the slightest corner reveal. Just make sure the metal framework area is covered well and that should be enough.
Also, you should pay attention to the mat matching recliners' color. You can also pair the mat's shade with floor's color. So that even when recliner is open, it catches the least attention.
Grippers That Don't Leave Sticky Adhesive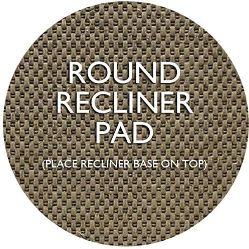 You can definitely get some grippers for the recliner if sticky residue left behind on floor is a concern. These come without any adhesive, the rubbers one specifically. Also, the tool is not a permanent one. So, you will find it much easier to dispose of later on. Especially when you decide to move the recliner to an area with carpet.
You will most certainly find a wide range available at hardware and furniture stores. The small discs variety meant for four-legged furniture are pretty popular. However, recliner usually comes with metal framework instead of legs. So, you want to purchase enough small discs to arrange at every corner of the framework.
The area rug non-slip rubber pads are also a choice you can make. These are available in sheet format. You can cut them into any size depending on what furniture you'll place them beneath. And this makes the whole thing even simpler. You want to trim the edges nicely into approximate size. Just make sure the thing does not show up after placing beneath your recliner.
Corks at Each Corner of Recliner
Another more natural type of option you can try for such a problem is getting corks. Quite similar to the rubber grippers, these are also a not-permanent option. You need some pre-cut cork squares for recliner though. Make sure cork squares are slightly bigger than the recliner's metal framework. So that the recliner can sit on it.
Surely corks are a more environmentally friendly option. But these are going to be quite thicker. More than the rubber grippers. And so, expect your recliner to sit a bit higher.
Also, with passing time, the recliner will gradually sink into corks. This will not cause any sort of sliding to take place. However, the recliner may feel a bit uneven. Unless each side decides to wear out similarly and evenly, which rarely happens.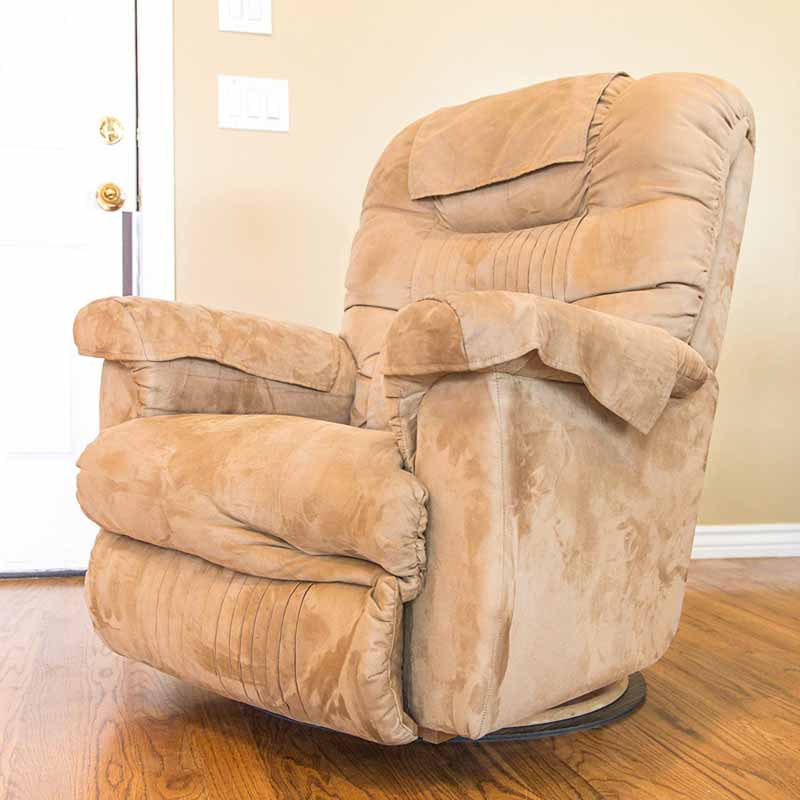 Wrap Up
When you decide to get some quality time flopping into your recliner hoping a moment of peace, sailing across the room on it will surely annoy you the most. And a recliner that keeps sliding on the hardwood floor is more than just a nuisance.
The scratches left behind can be permanent and unremovable. Make that story never happen with these clever methods. Knowing the nitty-gritty of how to keep a recliner from sliding on hardwood floors with such type of tools will serve you in long run. So, don't neglect it thinking the scratches will never happen.
Take Precaution, Do What You Need to Do & Save Your Hardwood Floors from The Disaster of a Sliding Recliner!
This is Autem Decker. Main Author of 'TheHomeDigs'. You may not find her on the list of top 10 contemporary Canadian interior designers, but everyone who knows her says she was born to be an interior designer.
She makes her plan in her head and draws them in her years-old diary with a note in the corner. The way she plays with color and shape amazes us.
Connect Her On – Twitter