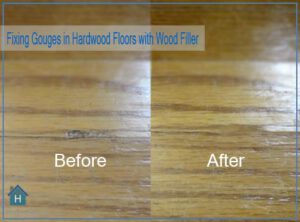 Imagine, you have a wooden floor that has some gouges. Does it look nice? Not at all!
Also, it is harmful to the lifespan of your hardwood floor. You need to fix it immediately. Because, if you have gouges on your wood floor and you don't fix it, then it will get bigger day-by-day. And gradually, it weakens the floor that causes you a great loss.
So, that's why you have to repair the gouges as soon as possible. But how? To repair the floor's gouges, You need to know how to fix gouges in hardwood floors properly.
And to know details about it, check out some of the effective ways here in this article. Let's get in!
6 Pro Tips on How to Fix Gouges in Hardwood Floors
When you are in trouble because of the gouges in the hardwood floor, you need to know some basic but effective ideas on wood floor scratch repair and fixing gouges. And it helps more than you imagine.
So, Let's get right into the proper process of it.
Fixing gouges using a hardwood fixer
You can fix small gouges using a wood floor fixer or repair kit. Wood fixer is very useful in woodworking tasks, especially in wood furniture and floor repair works.
Start the process by getting a good quality hardwood fixer. While buying a wood fixer, ensure that the color of the fixer is matched with the color of the wood floor.
Take the fixer and fill the gouges with it. You will need a spatula to do the filling easily.
Make sure, you don't overfill it. But carefully try to fill it according to the level of the wood. leave the fixer just for a few moments.
After that, now you need to scrape off the excess. When you apply the fixer, you notice that the fixer stays at the outer part of the gouges too. And to get rid of it, you need to scrape off.
For scrapping, you need to take a spatula made of steel. Scrape off the residue and try to make it a level. But you have to be sure that you don't do the scrapping too hard.
It is because if you do it, then you might make some scratches over the floor. So, take care of that thing and do it well.
After that, use sandpaper to make the area smooth. You should Use Polyurethane Finish to give a shiny look to the areas. And that's enough to get a new-looking hardwood without any visible gouges.
Using Blend Sticks to fix gouges
For covering deep scratches or small gouges, you can use blend sticks as it's affordable and easy to apply.
Blend sticks are available in the market from many brands. Almost all blend sticks are the same. But you need to take any of these sticks according to the color of your hardwood floor.
If you don't choose the proper color that matches your wood floor color, then it will look worse. So, that's why you need to be careful of that thing.
The entire process is simple. You just need to take the matching blend stick and start removing scratch or filling small gouges with it.
Use Brown Crayon for Fast Repair
Using brown crayons is another way to fix deep scratches or tiny gouges. it is affordable and easy to use.
So, take the crayon and apply it by rubbing it all over the area. And the rest of the method is almost the same. Start leveling after applying properly.
Now, take a card or a spatula to get rid of the residue. Give it a nice finish and then you are all done.
Use Handy Color Matching Wood Filler
Wood filler is ideal for filling gaps in hardwood floors. Especially for floor gaps between planks. There is a lot of different kinds of wood filler you can get. For deep gouges or floor gaps, then get the stainable wood filler. And its application process is the same as the 1st method.
But if you want some handy solution for small scratches, then you can use a color matching wood filler marker. It might not be the best for deep gouges but it can cover lighter ones and the scratches too.
You can get any of these in the local store or online marketplace. But you just need to choose the proper shade or color according to the color of the floor.
And then you can start the process. The method is simple. Just take any kind of matching marker and fill the gap with it.
After doing that, do the finishing. It's super easy to apply to make small scratches and gouges filled and look like new.
Using Wood Putty for Deeper Gouges
Wood putty works great for deep gouges and large holes. Most people think that wood putty and wood filler is the same thing. But it's not. There is a difference between these two.
Wood filler is a water-based filler that is used for leveling surface or filling hardwood floor gaps between planks. But wood putty is oil-based most of the time. And it can do several kinds of filling. It is effective for deep gouges and large holes too.
You just need to know the basic using process of it. The basic process is easy and similar to the 1st method.
Just take the wood putty and fill the gouges/gaps with it properly. Take a spatula to scrape the excess. You can also use your old credit/debit card. After leveling the wood putty, let it sit to properly dry.
After that, sand the whole area using sandpaper to make the area smooth. Now you can use hardwood floor Polish and Restorer to get back the natural shine of your wood floor.
Some DIY Can Help You Out Too!
You can also use your handmade wood filler to fix large holes. To make DIY wood filler, you will need epoxy glue and sanding dust.
Mix these two ingredients properly. That's it, your DIY wood filler is ready to use. Start filling the gouges using an easy DIY wood filler with wood glue & sawdust.
Final Verdict
We have described to you some of the basic but handy ways to get rid of the gouges of hardwood floors. If you are facing this kind of problem with your wood floor, then you should go for the above methods by knowing how to fix gouges in hardwood floors.
We know how important is the beauty of your wood floor to you. And to take care of it, and keep the wood floor new looking all the time, you should maintain the things properly. So, learn the basics and then apply them.
This is Autem Decker. Main Author of 'TheHomeDigs'. You may not find her on the list of top 10 contemporary Canadian interior designers, but everyone who knows her says she was born to be an interior designer.
She makes her plan in her head and draws them in her years-old diary with a note in the corner. The way she plays with color and shape amazes us.
Connect Her On – Twitter