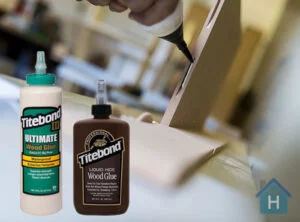 The best wood glues for furniture repair are PVA, Polyurethane, and Hide Glue.
Hide glue is being used since the time of pyramid making. Carpenters still use this adhesive type for wood furniture because it never creeps and provides various degrees of initial tacking.
PVA glue has a trademark; this type of glue bond is recognized as stronger than the wood itself. The wood breaks, but the glued part never departs and it performs best for wood to wood joining.
Polyurethane glue is known as strong, durable glue that has longer open assembly time. This type of glue reacts specifically in contact with air and moisture and hardens the glue to ensure a solid joint.
Best Wood Glue For Furniture Repair Reviews
I do not have a weakness in any special type of glue. Each one has unique expertise. So, I tried to pick the best five glues for wood repairing regardless of the type.
List of Top Rated Wood Glue for Furniture Repair
1. Elmer's E7310 Carpenter's Wood Glue
Elmer's E7310 is high strength wood glue for interior and exterior gluing work. We keep it at the top of the list for its best-painted formula that ensures the strongest bonding capacity. We always see this super sturdy glue in workshops and homes. It has been gluing over 60 years!
Glues that have strong odors are difficult to use. That means it has toxic and harmful fumes. Luckily, we get this glue-free from any harmful or toxic ingredients.
Be sure you are giving enough time to clamping. It takes 20 to 30 minutes for the initial rest, but you can give some more time if you can manage. Give a full day rest to get the ultimate bond. It gives the best result for sanding, painting, and staining.
I love the proper thickness of this glue. You can easily apply from the pop open top and use the amount you need, very easy to use. You can clean this glue easily without destroying anything. It is heat resistant glue and prevents mildew or mold.
Surprisingly you get this best product at a lower price than the other wood glues! Don't you think this 16-ounce strong wood glue for furniture a total win-win?
---
2. Titebond III Ultimate Wood Glue, 16-Ounces
Titebond is another reputed company that has been working for decades.
Titebond III ultimate wood glue is the most advanced wood glue. It is the best amongst the other glues for outdoor use. Experts tend to use Titebond III ultimate glue because the cool outside temperature or any moist contact never hamper the work. This glue has earned type 1 ranking passing the USA boil test. It has also been certified by ANSI/HPVA Type I water resistance.
This PVA glue has the strongest primary tack and maximum open assembly period to finish your work efficiently. The carpenters recommend Titebond glue because they have longer exposer time to assemble the glue to bond perfectly and nicely. And this item is no different!
It is good for interior cementing too. FDA approval makes sure you can use this glue in kitchen utensils. Consequently, people use to glue up tools like a chopping board. Besides, you can use it without any fear of toxic elements that may harm you.
It takes 30 to 24 hours to dry up and bond the broken wood piece depending on the condition. Ultimately, you will love the ultimate III glue because of its flexible applying process with strong, durable, and safe outcomes.
---
3. Titebond 1416 III Ultimate Wood Glue, 1-Gallon
I don't think I should introduce this amazing sealant with you, most of you already know. I am sure most of you have been grown up seeing this gallon on the shelves of your houses like me.
I got emotional seeing such best reviews in Amazon; some are saying they have been using this glue for 24+ years! It feels so great to have such reliable items, right? From a chopping board to a sailing boat, people use this high strength wood glue to make/repair anything.
It is Type I waterproof gum that passed ANSI/HPVA specifications too. You can rest assured, it works great. The company has been working to make it better as we see the application of advanced proprietary tech. You can use the glue without having any threat of toxicity or harmful elements.
As it is FDA approved, you can use it in your kitchen stuff without worries; there will be no harm even if it comes to food contact indirectly.
This super-strong glue doesn't let your product soften while sanding, and it is good for both inner and outer applications.
Most importantly, it gives you a clampless gluing experience making a strong primary tack. It takes less amount of time to glue up and make the strongest bond.
---
4. Franklin International 5013 Titebond Liquid Hide Glue
How about instant glue without any prior heating?
We do not get informed before any sudden breakage that needs emergency fixing. The traditional glues need to be prepared, but Franklin liquid Hide Glue is ready to work anytime.
It is great wood glue for antique furniture.  It is especially known for creating a crackling effect on wood.
I loved this glue as I had to use this glue for the chair repair process. Actually, it was one of an urgent call where I was in charge of decoration at a house party. They needed some extra chairs but it was not possible to buy new chairs. Some slightly broken chairs attracted my eyes which were kept in the storeroom. I took the chance and luckily I had this instant one and it worked awesomely!
Even though people say it takes more time to bond, but I do not find anything to complain once it gets fixed which took the same 24 hours. Professionals love this hide glue for its long assembling time and strong gluing capacity.
So, if you are working on any DIY project or renovating your home, this one will light up your brain with various ideas and, of course providing a great result.
---
5. Gorilla Wood Glue, 1-gallon Bottle, Natural Wood Color
Our last pick is Gorilla Wood glue, and I live it for its natural wood color and high-quality bonding capacity.
If you are in search of an extremely fast drying item, try this one. This fast-drying glue takes 20-30 minimum minutes and 24 hours of clamping for the ultimate result.
I needed to tell you first about another astonishing excellence that it makes a natural color after drying up the glue. You will like how smoothly it removes the glued line forming a natural color.
Like the other best glue, our Gorilla Wood Glue also meets FDA quality. You do not need to be worried while using in kitchen or dining utensils since it does not harm if it comes in food contact. Another confirmation message is this glue is completely waterproof.  It has successfully confirmed ANSI/HPVA Type 2 water-resistant grades and earned its reputation for the best performance.
This PVA glue is water-based and very simple to apply yet confirms everlasting bondage. Professionals and random people use if for versatile purposes like softwood, hardwoods, or natural projects.
And yes, you are good to use this wood joining paste for both exterior and interior sticking projects!
Wood Glue for Furniture Repair Buying Guide
Concentrating on these important facts will help you buy the right glue for furniture repairing. Make sure you patiently check them before making the final purchase.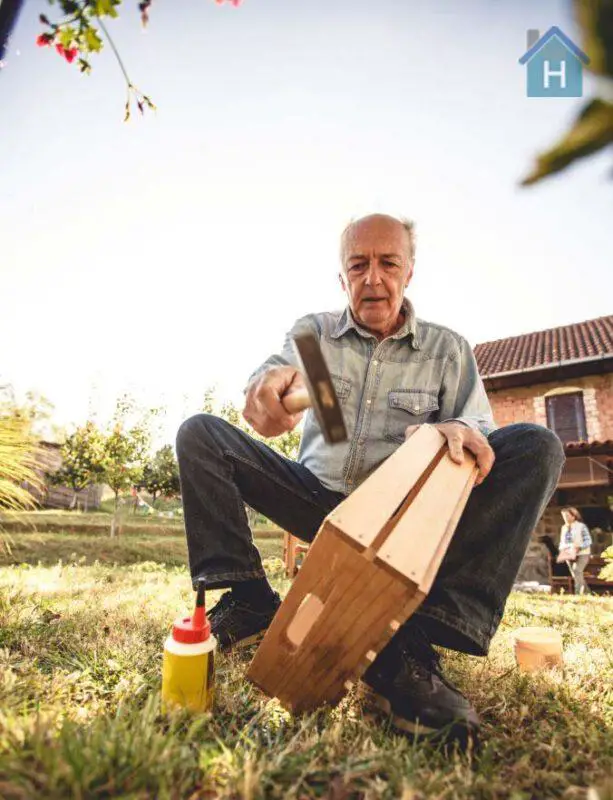 Strength
Why did I buy wood glue for a chair? I needed to repair the broken chair. Hence I had to get the glue for chair repair. If the adhesive cannot make sure that it can join woods in the strongest way, there is no point in buying the glue. So, the most important part of any adhesive is how strongly it can join and repair so that it never splits even if the wood breaks down.
Water-Resistant
Wood glue needs to be waterproof. That means the bonding by this fastening paste should not get disjointed in contact with water. The best glue one use for a boat does not let the boat break down when in water. If you scroll up and read the reviews, you can see I have enlisted the glues which are ANSI/HPVA certified type I or type II waterproof wood glue. While you are buying wood glue has the waterproof certificate to make sure the glue secures your project.
Fast Drying
Most of the glue takes 24 hours to dry completely. Your furniture must be glued perfectly. You must give it proper time.Otherwise, it will not work. The entire best wood glue brands provide this fast-drying quality of 24 hours. If you are buying glue that offers less time, then you must verify the quality. Two valuable tips for those who want an even faster result,
Try applying a thinner layer of glue. Thin layer dries faster than a thick layer
Keep your furniture in a warm place to absorb the water faster and dry out quickly.
Spot After Drying
Best glue confirms that there remains no mark of glue application. Keep in mind that the glue should not spoil the look of your furniture. Its duty is to preserve the look.
Toxicity
You can work with glue that has a toxic element in it that makes you sick. So make sure your glue is free from any toxic elements and FDA approved for safety while it comes in food contact.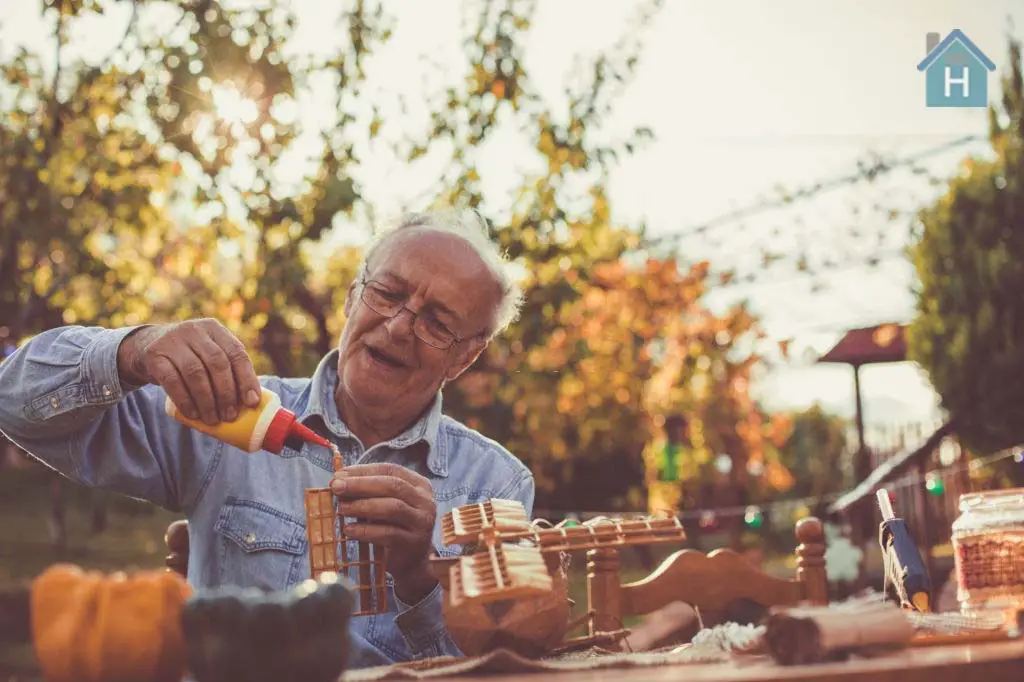 FAQs about Wood Glue for Furniture Repair
I would like to answer some frequently asked questions so that you can make the best use of your wood glue. Check them out.
1. What is open assembly time?
Ans.  Assembly time refers to the period of applying and drying of wood glue. You might get confused about two assembly time people talk everywhere. One is open assembly time, and another is total assembly time.
Open assembly time means the primary time after opening when you apply glue thoroughly, and the glue does not set while exposed. The longer time the glue can stay exposed without getting hard, the broader chance for you to apply correctly. It is the reason we like the glue with longer open assembly time.
Total assembly time is the time-period the glue takes to bond the wood parts for ultimate alignment.
2. How to glue broken wood furniture?
Ans. Before applying the glue, you need to prepare your furniture. Wet the wood piece with water and let it soften for a while. Sponge up excess water and now you can apply glue using a paintbrush. While applying, make sure you are reaching every corner and painting smoothly. Once you are done applying glue, clamp the wood, and leave to rest for 24 hours or more.
3. Does wood glue have an expiration date?
Ans. Yes. The expiring time is essentially 12-24 months. The glue becomes hard and moldy after the expiration date. However, some best quality glue may remain good for more than two or three years if you can store the bottle in good condition.
4. Is wood glue stronger than screws?
Ans.  Glue is stronger than screws. The screw joints break easily but with glue, the chance of breaking is simply zero. Glue prevents the woods from slipping from the point while screws enforce extra pressure on the wood to settle themselves.
You may read: The Best Glue For Hardwood Floors Installation

Final Words
You do not always need to go to the carpenters to make any simple wooden chair, table, or to fix broken furniture. Easy solutions are near to your hands; you just need to know how the glues work. If you can pick the best wood glue for furniture repair, you can successfully finish your project.
Hence it is true that you need to do a lot of practice to master the job. You can try to use different types of glue to know their nature. Learn to prepare the glue faultlessly, apply with caution, and maintain the right assembly time. Go ahead, bring the fixative to home and just start working. Trust me, You Will Rock!