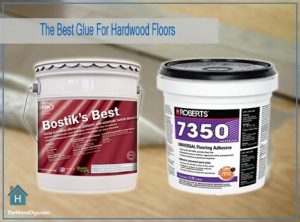 The one thing that you need for a professional-grade hardwood floor installation is proper glue. This is one of those things that makes or breaks your installation at home. The adhesive needs to live up to your expectations and give you the perfect finish.
Finding the best glue for hardwood floors can be a daunting task. With so many options available, the decision can be hard to make.
The list that we have created for you contains a few of the well-loved products in the market.
These products have very good user reviews in the bonding sector. So they will surely keep your hardwood glued onto the floor!
7 Best Glue For Hardwood Floors Reviewed
To make the process of selecting the right glue for your hardwood floor installation a little bit easier, we've made a list of the top 7 ones that we love! Out of the 7, we especially love the QEP CO INC ROBERTS 1407-1 Multipurpose-Flooring-adhesives the most. Keep on reading if you want to find out why.
1. QEP CO INC ROBERTS 1407-1 Multipurpose Flooring Glue
Key Benefits
Waterproof formula that protects expensive wood flooring
Cures in just 24 hours, and the application take 50 minutes
Amazing wide coverage of 45 to 55 sq. ft on engineered wood
Works with APA rated Plywood, concrete, and even acoustic cord underlayment
The first product on our list is loved by most at-home DIY enthusiasts and professionals. Now the versatility of the product and its amazing formula is what makes the glue worth the purchase.
Luckily, the QEP CO INC ROBERTS has a waterproof formula that cures in just 24 hours. So the waiting time on this one isn't too long. If you want to be extra cautious, you can also let it sit for 48 hours.
In total, the opening and applying time is just under 50 minutes to an hour.
You could easily say that this is the best wood floor adhesive, especially for engineered wood flooring on concrete.
When used on prefinished parquet flooring, you get a coverage of 70 to 80 sq. ft. and for engineered wood flooring, the coverage comes to 45 to 55 sq. ft. We'd say that this is quite a decent coverage for the price you are paying.
Downside: You need to work quickly as it has a fast curing time. There is little room for error.
Verdict
If you are someone with adequate knowledge about how to glue down your hardwood floors, this will be a great choice for you. Overall this product gets an A+ from us for its adhesiveness, ease of use, and formula.
---
2. Roberts/Q E P R1535-4 Premium Wood Flooring Urethane Adhesive
Key Benefits
A versatile glue that can be added to engineered hardwood. Bamboo, solid wood, cork, and teak floors
Creates a tenacious bond to hold everything in place
Adds a moisture barrier and helps reduce cracking sound
Can be added on top of floor warmers and heated subfloors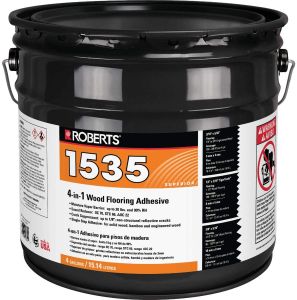 Now, this is another product from Roberts that we could help but put on our list.
Not only is this adhesive easier to spread and work with, but it also has less odor. So even if you forget to crack open the windows before getting to work, you won't feel suffocated by any pungent smell.
The glue acts as a tenacious bond to hold any kind of floorings such as bamboo, solid wood, cork, and teak. Because of its amazing capabilities to reduce the cracking noise and add a moisture barrier, this is surely the greatest glue for engineered hardwood floors.
If needed, you could also apply the moisture-barrier added glue to radiant heated subfloors and over-floor warmers without any additional prep.
Downside: Does not give the same coverage for all wood types.
Verdict
If you are looking for a hardwood floor adhesive that does not have an unbearable smell and also helps minimize cracking noises, then this is the product for you. With no need for any extra prep for heated subfloors, this glue can be easy to apply.
---
3. WF Taylor MSPLUS-4 Metatec Glue Down Wood Flooring Adhesive
Key Benefits
Polymer-based formula that does not react with wood
Helps to keep moisture away to increase the lifetime of your hardwood floors
Isocyanate and the solvent-free formula with no odor
Kid and pet-friendly adhesive that is also non-flammable
UL GREENGUARD and RFCI FloorScore certified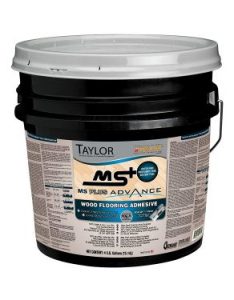 MS polymer-based hardwood glues as such as better for wooden floors. It does not react with the wood and helps keep them in better condition as time passes.
This is mainly because the formula of this component has better moisture blocking capabilities. Therefore, the formula prevents rotting and fungus buildup.
In compliance with the STC building code requirements and also the IIC, the glue helps keep your floors quiet and less squeaky.
Keeping your health in mind, the glue is also isocyanate and solvent-free. There are no hazardous chemicals added to the mixture. As the product is UL GREENGUARD and RFCI FloorScore certified, it is also non-flammable and has no odor.
Made with care, this adhesive for glue down hardwood floors is not harmful to your health at all. It is kid and pet-friendly.
Downside: Mainly Compatible with engineered hardwood floors and does not work well with other wood types.
Verdict
We highly recommend this product if you want to buy a good eco-friendly glue for your engineered hardwood floors. Its non-toxic formula keeps your health in mind and also protects your hardwood floor from water damage.
---
4. DAP 142 00142 Weldwood Multi-Purpose Floor Adhesive
Key Benefits
Mistakes can be cleaned with water given that the glue is not completely dry
Gives you enough time to move around the pieces according to your liking
Prevents water from seeping into the flooring
An off-white colored adhesive that is not noticeable when dried
Low VOC and low odor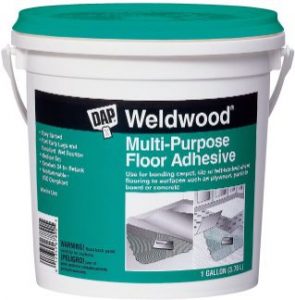 Quick-drying floor adhesives can be a great thing to have if you know what you are doing. But if you're a beginner who does not have that much idea about hardwood floor installation, a quick-drying glue will be your worst nightmare.
So if you are a beginner, the DAP weldwood is going to be a great choice for you. While it does not take forever to dry, the glue gives you just enough time to move around the pieces as you like. This gives you plenty of room to make and correct your mistakes.
Another feature that has made us fall in love with the product is its ability to resist moisture. Too much water and hardwood floors don't mix well, so this engineered wood floor glue will help keep all the moisture out to protect your flooring.
Downside: Does not have the best holding power.
Verdict
Glues that give you time to work around the flooring are great for people who are newbies. With this one, you can get your desired finish without having to worry about the glue drying up. We'd say that this is a great adhesive that will give you great performance for a couple of months.
5. Bostik GreenForce 0 VOC Adhesive for Wood Flooring On Concrete
Key Benefits
Urethane glue helps keep your wooden floor in better shape
Allows slight movement to prevent cracks in the wood
High adhesive power, will stay on for years to come
0 VOC formula designed to be safer for health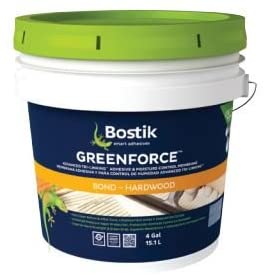 Many people would agree that urethane adhesives are the best glue for engineered wood flooring on concrete. And they are undoubtedly right!
Bostik Greenforce is a urethane glue that will dry up quickly but remain flexible. This allows the hardwood floors to remain intact and not crack when pressure is applied to them. A feature as such can be really helpful when it comes to hardwood flooring on concrete.
The bonding strength of the glue is also remarkable. Once the glue is on, you can count on it to hold things together for quite a few years.
Keeping your health in mind, this glue is also a 0 VOC formula. So it does little to no damage to you, your pets, or your children's health.
Downside: No room for error must be applied by experts.
Verdict
Not only does this hardwood glue keep you, your children, and your pets safe, but it also cares about the integrity of your wooden floors. By allowing slight movement and giving a bit of flexibility, the glue prevents any sort of cracking.
So if you've got any expensive hardwood floors that you want to glue on for good, this adhesive is the one for you.
---
6. Henry, WW Company 12236 Urethane Wood Flooring Adhesive
Key Benefits
Gives you better working time with a strong initial hold
Easy mess clean up using water
Easier to spread around will less pressure needed
4 gallon gives you great coverage of 460-500 sq. ft.
Given that the 4-gallon glue can give you up to 460-500 sq. ft. of coverage, this is an adhesive that is worth the money.
This also means that the glue is much easier to spread onto hardwood floors. So you won't have to deal with a sticky mess that takes too much pressure to move around.
The formula of the glue gives you enough time to move the hardwood around according to your needs. This can be great if you are using glue on wood that is hard to position.
Even if you do end up making too much of a mess, you can easily clean up the glue with some water. You have to do this while the glue is still drying.
One thing that you have to keep in mind, though, is that you have to work with this one in a well-ventilated area.
Downside: Odor is quite strong; glue should be opened and worked within a well-ventilated area.
Verdict
If you can get over the overpowering smell that the glue has initially, this can be a great investment. It will give you enough time to set things right before it starts drying, but the commencing hold of the product is strong.
---
7. DriTac Professional Floor Repair Adhesive – Best for Repair Hardwood Floor 
Key Benefits
Great for repairing cracks and gaps in hardwood floors
Keeps cracks from reappearing by blocking out moisture
Has great bonding strength once dried
Easy to apply and does not make a mess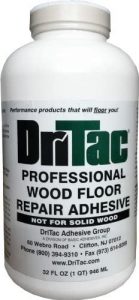 Lastly, on our list, we have this one from DriTac Professionals. Found after a lot of research, this is the best glue for hardwood floor repair.
Cracks and gaps in the subfloors can cause severe damage to your hardwood floors. You can easily use this one to get rid of the cracks without needing to replace the whole flooring.
The product works best when used with plywood subfloors. Although you cannot use the glue to hold down hardwood in place, it is a great repairing agent.
Since the formula has a great bonding strength, once dried, the cracks and abnormalities in the hardwood floor will be well taken care of.
To keep the same cracks from reappearing, the glue is made to be water-resistant. As moisture cannot get in, the structure stays stronger and in better condition.
Downside: Does not work with hardwood floors that have been placed on concrete. Cannot be used to glue down hardwood floors, only made for repairs.
Verdict
A product like this is a must-have for the aftercare of your hardwood floors. It will come in handy when you find a crack or gap in your hardwood floors. When applied, it gets rid of the problem at once and prevents further damage as well.
---
Frequently Asked Questions
1. What do you put down before hardwood floors?
Now before you install your hardwood floors in your house, you first have to make sure that the floor of your house is leveled. It means the floor should be plain. Next, you need something to attach your hardwood to. For this, you will require a subfloor that allows you to glue the hardwood on it.
2. Should you glue hardwood floors?
When you install the hardwood, it needs to be firm. To keep it firm, you can either nail it or glue it. If you have an apartment where the subfloor is made of concrete the gluing is the best option. However, if the subfloor is made of Plywood or any other type of wood, then you have a lot of options open for you.
3. Can you use white glue instead of wood glue?
White glue is not made for wood. It will not be durable if it comes in contact with water. Therefore wood glue is always recommended.
4. Can I install hardwood floors myself?
The process is not very hard, so yes, if you want, you can do the installation yourself. However, it will take a lot of time, and you might not be able to get a professional level finish.
5. Should I float or glue the wood floor?
Floating is only possible with a special type of wood. Not all types of wood will work well with floating. So, if you are using normal hardwood, it is recommended that you glue it. 
Final Words
Experts always recommend gluing the hardwood floors for the best outcome. The process will be far easier, and the result will be more fruitful if you glue it down. The list we provided has the best glue for hardwood floors.
We have surfed through thousands of products in the market, collected user reviews, and finally settled on the top 7 list. So, if you're buying your glue for the hardwood floor from our list, rest assured you'll get a good one!
This is Autem Decker. Main Author of 'TheHomeDigs'. You may not find her on the list of top 10 contemporary Canadian interior designers, but everyone who knows her says she was born to be an interior designer.
She makes her plan in her head and draws them in her years-old diary with a note in the corner. The way she plays with color and shape amazes us.
Connect Her On – Twitter