It is furniture pad that allows us to enjoy the beauty of wooden floor and comfort of home furniture at the same time.
You can't, actually you shouldn't, decorate your Bedroom, drawing and dining room with aesthetic chairs, table and sofa on your expensive wooden floor unless you cover their bottoms with the protectors. Because I am sure that you never want to hurt the freshness of your floor. And nobody doesn't want to.
Furniture pads are made of foam, plastic and rubber. They are available in different sizes and shapes with different installing systems. Some pads come with inbuilt adhesive, some need external glue to stick them and others require a nail to attach them to the furniture.
People use these pads on the bottom of their chair, table, sofa, beds and other home appliances mainly to protect their laminated floor from scratches and scuffs.
Preview
Name
X-PROTECTOR Premium TWO COLORS Pack Furniture Pads 133 piece!...
SlipToGrip Gripper Multi Size - Make 4", 1", 2", 1"x2"Pre-Scored...
X-PROTECTOR NON SLIP FURNITURE PADS – PREMIUM 16 pcs 2"...
PREMIUM NON SLIP Furniture Pads 16 piece 2". Best SelfAdhesive...
Floor Effects Felt Pads, Heavy Duty Adhesive Furniture Pads -...
You already knew that the pads are available in different sizes, shapes and installing systems. Now, can you choose the right furniture pad for your floor? We think knowing only those aspects is not enough to own the best pads.
To help the users like you who don't have enough knowledge and understanding of protection pads, we prepared this comprehensive content.
In the first section of the content, you will get to know about top 10 hardwood floor protectors, then a buying guide that will guide you through the whole journey. Finally, you will know about some most frequently questions and their answers people ask while shopping for furniture pads.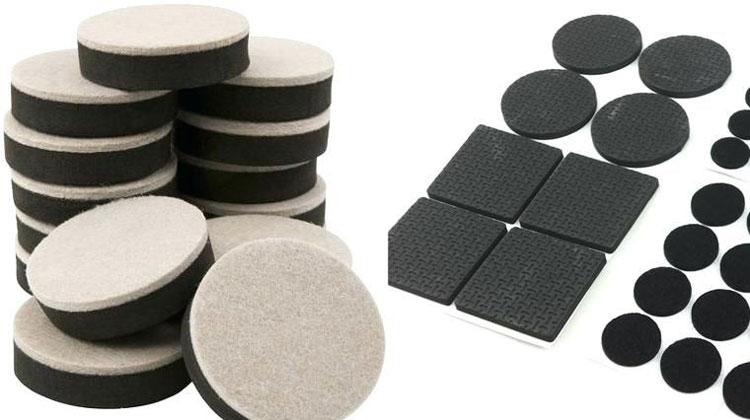 10 Best Furniture Pads for Hardwood Floors Review
Among the plenty of furniture protector pads, we selected only 10 protectors for our readers. Why?
Throughout our extensive research, we prioritized user satisfaction most to select the pads for our review list. Here all ten protection pads are adhesive/ glue-based pads.
Though these 10 pads are different from each other, they have a similarity. All of them are great performers in their respective position. After going through each product overview and their key features and benefits, we are confident that you will get one or more pads that meet your needs.
 1. X-PROTECTOR Premium Two-Color Pack Furniture Pads
X-protector is a leader in the design, creation and distribution of surface protection products. The producer uses the latest technology and development to deliver top quality products for all furniture.
This collection of pads from X-protector has 133-piece of guards. Which includes different colors and sizes.
All the pads are manufactured in a nature-friendly way. So, you will get yearlong environment-friendly protection for your luxurious floor.
Pads for Dark and Bright Furniture
These protectors come in two different colors for different shades of furniture. Between those two, you can use brown color for your dark furniture and beige for the bright shade furniture.
Packed with Popular Shapes
For the dissimilar shapes of furniture bottoms, X-protector packed this collection of pads with different shapes. And, the best part is you will get almost all the popular shapes for your needs within this single collection.
Easy to Use
These floor protectors are perfect for any type of furniture feet, chair legs, table legs, and various types of home and electrical gears. You can stick these pads easily on all those furniture and equipment.
Tenacious Adhesive
All these floor protection pads are produced with tenacious adhesive, which tightly holds the pads to the furniture. Once you install them on the furniture, they will be glued to there for a long time.
Accurate Shapes for Solid Attachment
Among all the shapes, most of the pads are round and square. Actually, these are needed most for our regular furniture, like for the feet of the dining chair and table. Having the accurate shape pads means, solid attachment of the furniture and pads is guaranteed.
Good for Both Hardwood and Carpet
You can use the pads for various styles of floors protection including the hardwood floor, laminate surface, vinyl, tile. Unlike the chair mat, you can use these for the protection of your carpet floor.
Sale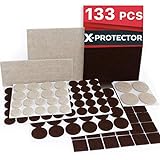 X-PROTECTOR Premium TWO COLORS Pack Furniture Pads 133 piece!...
X-PROTECTOR FURNITURE FELT PADS - best protection for Your wooden, laminate or tiled floors. Our furniture coasters create strong shield between floor and furniture, desks & tabletops, which carefully protect surface from scratches and scuffs.
ONLY NOW 1 + 1 PACK X-PROTECTOR! 1 brown (106 piece) + 1 beige (27 piece). Total 133 chair glides. That's all furniture floor protectors You need at home - brown for dark furniture and beige for bright furniture.
DIVERSITY SIZES X-PROTECTOR anti scratch furniture pads - brown 106: (45) ¾", (24) 1", (36) 1x1", (1) 3x4" + beige 27: (10) ¾", (8) 1", (4) 1 ½", (4) ½x6", (1) 4 2/3x6". A lot of sizes of chair leg floor protectors will ensures, You will find pads that fit to all of home furniture and items which you have.
2. Prescored Furniture Grippers for hardwood floor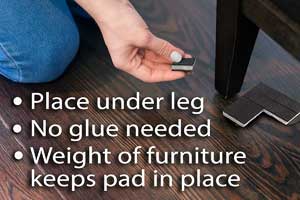 Getting this pack of protection pads, you can say goodbye to the sliding and floor damaging. No matter how many times you move back and forth sitting on your chair, your floor or carpet both will be safe.
when you own the pads, you don't have to worry about purchasing glue or nails to attach them to your home equipment. They have inbuilt glue with them. You just need to uncover the paste layer to place on to the furniture. After attaching, both of your furniture and floor will be protected as long as pads are in working condition.
Best for Square Bottoms
If most of your furniture or other equipment of your home have square bottom shape, then this pack of floor protectors will benefit you much. However, they also work for round and rectangular shapes.
Dotted Design
The outer side of these pads is designed with small dotes. The dots ensure solid grip and perfect placement of the furniture. Sometimes after the installation of pads, user become tensed about the gripping, using these Prescored pads you will be out of that type of tension.
Effective for Hard Floors
Using these protection guards, you will enjoy the safe and effective service on all hard floors, especially on the hardwood, laminate, tile, vinyl, marble, linoleum, and concrete ground.
Different Shapes
Pads are manufactured in three different shapes. L-shape, square shape, and rectangular shape.  You can use L-shaped pads to the corner-bottom of your table that is made of wood or other glue friendly supplies.
Floor Friendly Pads
Throughout the protection period, the pads will not leave any marks on the floors. They are also waterproof and won't allow moisture to raise up to the wooden legs of your favorite home appliances.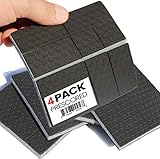 SlipToGrip Gripper Multi Size - Make 4", 1", 2", 1"x2"Pre-Scored...
REGISTERED BRAND ON AMAZON: Protects and Anti Slip Pad with MULTIPLE SIZES - already "scored" to make easy cutting. Sizes 4"x4", 2"x2", 1"x2", 1"x1", 2" L Shape - You can make sixteen 2"x2" pads for example.
Why buy anything else? Solid Felt Core. Anti Slip Rubber will not mark floors. Protects floors. No nails. No glue. Anti Slip rubber grabs leg and floor.
Non adhesive. Use under Sectionals, Beds, Chairs, Recliners, Tables, Ottomans, Sofas
3. X-Protector Non-slip Furniture Pads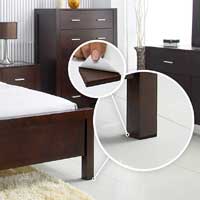 If you want to save your expensive surface from any unwanted damages, you can allow these X-protector pads to work for you.
These 3-layer protection pads can be your ultimate floor damaging solution. The first layer of these guards is a layer of adhesive, the second is felt, and the bottom layer is ended with a smooth rubber.
Integrated Adhesive
If you buy non-adhesive pads they may lose their position by normal pushing or shaking. But, these protectors have integrated tenacious adhesive that helps them always glued to the furniture.
Felt for Absorption
The foam felt in between the adhesive layer and rubber coating, helps the pad to carry the entire weight of furniture without being unstable.
Bottom Rubber Layer
The bottom rubber-coated layer has two important benefits, perhaps the most necessary layer of the pad. Firstly, this prevents sliding and enables the furniture to be firmly attached to the surface. The second one is it will prevent stains safeguard your laminated premium floor lifelong.
Work for Long
These 2-inch pads are super durable. Once you install them with your furniture, they will be in a fixed position for a long time.
Solid Engaged Layers
The pads are not only stayed in position on the furniture for long, but they also remain supremely engaged with their layers. Even after long use the layers never go apart from one another.
Premium Non-Slip Furniture Pads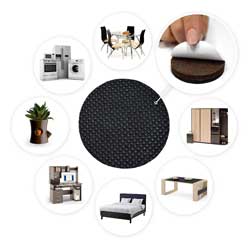 X-protector is a well-charted supplier of floor protector and furniture pads. The supplier is popular over the e-commerce sites for their durable quality and clammy protection pads.
These X-protector pads are also a good combination of quality and value. Pads have every quality to be the trusted defenders of anyone's floor. They will steadfastly glue to all types of the home appliance to protect your surface from any unfriendly contact between ground and furniture.
2-Inch Powerful Thickness
These 2-inch protectors have a good thickness to absorb the weight of furniture even when users sit on them.  This thickness also works for keeping the pads in working condition even after a long time of using.  Moreover, having this good thickness these pads can make imbalance furniture balanced.
Textured Exterior
The manufacturer designed the exterior part of these pads with full of rubber textures. This design not only maintains a smooth contact between the furniture and floor but also makes furniture constant.
Includes Both Round and Square Guards
You can satisfy your need of both round pads and square pads at once by getting this pack of protectors. Here you get 8 round shape pads and 8 square shaped pads.
Durable Adhesive
Once you buy and stick the guards to your furniture they will remain there for months. Durable adhesive mainly works for the successful attachment.
Easy Attachment
Having inbuilt adhesive to the pads they are very easy to install. To attach, remove the paper layer from the adhesive side, clean the furniture bottom, put the pads on furniture, and put some pressure to make sure that they glued firmly.
Sale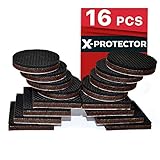 PREMIUM NON SLIP Furniture Pads 16 piece 2". Best SelfAdhesive...
SOFA MOVING TOO EASY AND INTERRUPT YOU REST ON IT? OR MAYBE YOUR CHAIR SLIDING TOO FAST AND SCRATCHING FLOOR? Stay furniture grippers X-PROTECTOR will keep in place all furniture and protect floors in Your lovely home from scratch and scuff!
X-PROTECTOR TENACIOUS ADHESIVE - FORGET ABOUT COME OFF NO SLIDE FURNITURE PADS! Our non slide hardwood floor protectors have strongest adhesive which doesn't allow them to come off from furniture legs and tightly hold non slip pads on the furniture feet for a long time.
STRONG AND EFFECTIVE DOUBLE FURNITURE GRIPS X-PROTECTOR - 8 SQUARE and 8 ROUND non skid rubber feet made by thick felts 1/5" and soft rubber. This create heavy duty shield for all types of Your lovely floor (Hardwood, Laminate, Tile, Carpet) and fix any furniture in place.
4. XXL SIZES Furniture Pads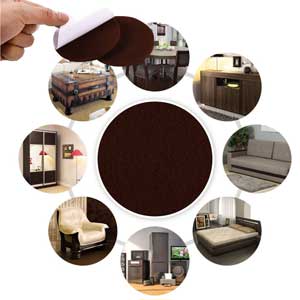 You know what? you can forget about all the scratches, scrapes, dents, dings, etching and gouging just owning these pads. These premium X-protector's XXL furniture pad will help you this way.
Pads are made of solid materials in such a way those are able to provide smooth service for their users' month after month. Apart from pads materials strength, this collection of pads is popular for the arrangement of some uncommon sizes.
Eco-Friendly Pads
Here all the protection pads have been manufactured using strong eco-friendly materials with recycled fibers. So, you will get a heavy-duty performance in an eco-friendly manner.
Attach with All Bottoms
It doesn't matter what type of your furniture bottoms are, these guards will stick to them definitely. Once they are attached, they will be there for long. The tenacious adhesive will guarantee the attachment.
Good for All Sizes
You may have small size chair and table legs or large size sofa. Basically, these pads will fit with all types of furniture and home decorators.  They come in circle, square, and rectangular shape as well as with different width and length.
Heavy Endurance Capacity
Pads also have the capacity to endure the heavyweight. Even if the weight is heavy, they don't let the furniture unstable on the floor.  The felt in the middle along with the rubber layer makes a firm connection of the furniture with the ground.
Sale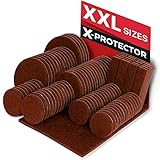 X-PROTECTOR Premium XXL SIZES Furniture Pads! BIG SIZES of Heavy...
ONLY NOW XXL SIZES PACK WITH BIG AND UNCOMMON SIZES - brown 101 piece: (1) 4 1/3x6", (20) 2½x½", (4) 3", (12) 2 ½, (16) 2", (20)1 ½", (28) 1 1/3". Variety pads and sizes of our chair leg floor protectors with solid thick 0.18" gives a guarantee You will find felt pads to ALL HEAVY HOME FURNITURE and HEAVY ITEMS which you have.
FORGET ABOUT SCRATCHES WITH HEAVY DUTY Furniture Felt pads X-PROTECTOR!! BEST PROTECTION for Your wooden, laminate or tiled flooring in Your lovely home. Our furniture coasters CREATE SHIELD between floor and HEAVY FURNITURE, which carefully protect surface from scratches and scuffs.
X-PROTECTOR SIUTABLE FOR ANY HOME FURNITURE, ESPECIALLY HEAVY - our wood floor protectors are perfect for Your chairs, tables, sofa, beds, recliners, ottomans and other home furniture. It's very easy to stick our felt floor protectors to Your home furniture and items.
5. Furniture Pads for Hardwood Floor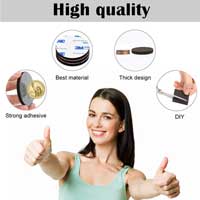 If you want to move your furniture freely without any fear of leaving scratch and scuff on the floor, you can go for these protectors.
These pads will keep your floor fresh and new always with their smoothness. The supplier makes a good combination of pads that have round, rectangular and square shapes. Because of these pads' quality and durability, they are getting fantastic responses from the users.
Ensure Smooth Contact with Floor
The pads are designed with a comfy smooth end layer. When you stick these pads to your moving furniture, its movement will not harshly touch the floor and will not leave any mark. The smoothness will keep your floor new and spotless.
Strong Adhesive
Pads are powered with adhesive. If you have them, you don't need to buy glue separately for the installation. And the best part is the adhesive also very strong. Once you attach them to the equipment they will serve you for long.
Durable Guards
Here the guards are soft but durable. Because of this durability, you have to expense very few bucks through the entire life of your furniture. If you buy for one, they will work for you for long.
A Combination of All Regular Sizes and Shapes
Pads are available in various sizes and shapes. Theses readymade sizes and shapes almost cover all types of regular furniture feet designs.  One interesting fact is, here you will get even different sizes pads of a particular shape.
Customizable Protectors
Among various sizes and shapes, if you do not find your desired shape and size, you can customize the protectors. They are thick and smooth enough to change them into a new size and shape.
Sale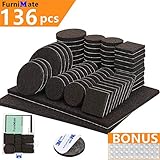 Furniture Pads 136 Pieces Pack Self Adhesive Felt Pads Brown Felt...
STOP SCRATCHING YOUR FLOORS Place our felt furniture pads on the legs of your furniture to avoid scratching or scuffing your beautiful wooden, laminate or tiled floors. And you never have to hear that annoying scraping noise again. Protect the value and beauty of all floors with durable yet soft furniture pads on the feet of all furniture, including beds, desks, tables, chairs, sofas, electrical appliances, bar stool and cabinets.
LARGE VARIETY PACK Our 136PCS Pack with Storage Case contains furniture pads of the 6 most useful sizes, round & square and in dark brown: (52) 1", (20) 1.5", (4) 2", (28) 1"x1" and (2) 4"x6". Plus you get (30) 0.4"clear rubber bumper pads. These should be more than enough coaster pads to protect all your floors from being damaged by ugly scratches.
STRONG ADHESIVE BACKING Premium heavy-duty soft furniture leg pads 0.2inch thick with a very sticky self-adhesive backing to ensure the pads stay in place. Our top-quality felt pads are made of the most advanced materials, designed for many years of use. To protect the value and beauty of your floors from unsightly scratches and scuffs, our premium quality furniture leg pads are a must!
6. Floor Protectors for Keep in Place Furniture Stoppers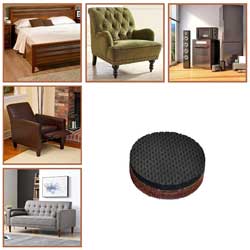 If you have a kid in your house who loves to play pushing or dragging his/her chair or toys on the floor, but you are conscious that your expensive laminated floor is going to lose its beauty, in this situation, these furniture guards can give you relief.
X-Protector Grippers will save your floor from any scratches that caused by the chair, table, beds, cabinets, almirah and all other types of home appliances. If you attach the stoppers to the bottom of your home furniture, any pushing or dragging won't leave any mark on your floor.
Best for Black Furniture
The pads are available in black color and will be the best match for any dark color furniture. Moreover, if your furniture is white, brown, or some other bright colors, you can also use them. As the pads always remain hidden.
Solid Rubber Grip
Apart from the scratch protection, using these guards you will get a firm grip for your furniture on the ground. Here the outer layer of the pad is designed with a rubber texture. Which helps the protector to be stable bearing all the loads.
Strong Adhesive Pads
There are some protector pads in the market that don't have adhesive and lose their position even with a little push. Here all the X-protector's pads have strong adhesive and never let the furniture go alone.
Glued with All Exteriors
Whether your home appliances are made of wood, steel, glass or some other materials, these pads will go with them all.  Strong sticky layer helps them to make firm contact with any exterior.
Sale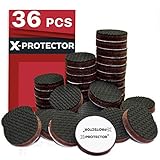 X-Protector Grippers Premium 36 pcs 1 Best Non Slip Pads Rubber...
CHAIR MOVING TOO EASY AND SCRATCHING FLOOR? Premium rubber furniture pads X-PROTECTOR & reg; will keep in place all furniture and protect floors in Your lovely home from the scratches!
X-PROTECTOR & reg; 36 pcs 1" Round PREMIUM FURNITURE GRIPS SUITABLE FOR ANY LIGHT FURNITURE! Our anti slip furniture pads for hardwood floor are perfect for any type of light furniture and WILL STOP IT - dining chairs, table, cabinet, stools, sofa, couch.
X-PROTECTOR & reg; TENACIOUS ADHESIVE - FORGET ABOUT COME OFF FURNITURE GRIPPERS! Our hardwood floor protectors have tenacious adhesive which will hold grippers on the furniture for a long time. And it's so easy to stick our floor protectors to the furniture feet!
8. Non-Slip Furniture Pads X-PROTECTOR for Hardwood Floor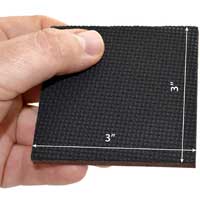 Though these chocolate-like pads from X-protector will not satisfy your hunger they will satisfy the protection needs of your luxurious floor.
The upper portion of the pads looks like a sweet layer of black chocolate, which is actually a rubber pad that protects furniture from slipping and skidding. And the middle layer that is covered with adhesive looks like a layer of Nutella which is actually made of foam. This layer helps protectors to carry the weight of the furniture.
Best for Black
These chocolate-like pads will match perfectly with your black and coffee color furniture.  Also, a good choice for other dark color home appliance.
Strong Adhesive
Super adhesive sticky layer of these pads will always maintain solid contact with the furniture. So, when you move your furniture for rearranging, the guards will not go off form the furniture.
A Pack Of 12 Pads
The supplier included 3-inch x 3-inch 12 pieces of pads in this package. If your furniture bottom suits this measurement these one pack will be enough for your need.
Smooth Protection Shield
Protectors are able to create a strong but soft shield for all types of lovely floors including, wood, tile, laminate, and carpet.
Resizable
If the original size doesn't fit your need you can trim the pads.  While trimming, be careful about the adhesive layer of the pads. Make sure that all parts, after cutting, have their individual cover of the sticky layer.
Sale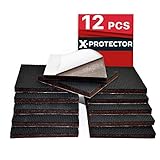 Non Slip Furniture Pads X-PROTECTOR – Premium 12 pcs 3"...
SOFA MOVING TOO EASY AND INTERRUPT YOU REST ON IT? OR MAYBE YOUR CHAIR SLIDING TOO FAST AND SCRATCHING FLOOR? Rubber Furniture pads X-PROTECTOR will KEEP IN PLACE ALL FURNITURE & PROTECT FLOORS in Your lovely home from scratches & scuffs!
TENACIOUS ADHESIVE - FORGET ABOUT COME OFF NON SKID PADS! Our hardwood floor protectors have STRONGEST ADHESIVE, which does not allow anti skid pads to come off from furniture feet and HOLD ANTI SLIDE PADS FOR A LONG TIME.
STRONG AND EFFECTIVE DOUBLE NONSKID PADS - 12 SQUARE LARGE 3 inch furniture coasters made by thick felt 1/5" and soft rubber. This create strong and soft shield for all types of Your lovely floors - wood, laminate, carpet, tile, etc. Our anti slip pads FIX ALL FURNITURE IN PLACE!
 9. Floor Effects heavy duty Felt Pads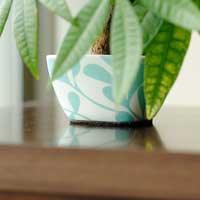 Love polished hardwood flooring and keep the stunning finish for years? If yes, you can buy this collection of heavy-duty adhesive furniture pads.
The pads are made to provide you the equal protection on various grounds and surfaces. They not only work for floor protection also work for balancing and furniture surface protection. People have been using this kind of pad for their floor protection only, but installing them to your home furniture you can protect the laminated finish of your furniture too.
Multiple Usability
These pads come in multiple sizes and shapes, so you can use them for multiple purposes. For example, you can use them to the bottom of furniture, electrical equipment, and decoration stuff.
Thin, but Strong
Though the pads are skinny in terms of thickness, they have power to subtly fit under your furniture and other equipment legs. And this fitting remains hard and solid during movement of the equipment.
Help to Be Balanced
Though the bottoms of these pads are not covered with any rubber layer, they have the capability to provide a balanced position for your furniture.  Moreover, you can also use them to improve the balance of your flowerpot, table lap, and other small home decoration materials.
Solid Foam Designed
If you look closely to the density of these pads, you will see those are superbly manufactured with durable foam. As a consequence, a user will enjoy months long service from the one-time installation of the pads.
Rough Yet Smooth Bottom Layer
When you looked closely, we think you also noticed the foam doesn't look so much smoother. But don't worry, they are flat enough to protect any scuffs and scratches.
Sale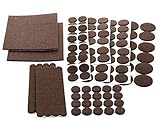 Floor Effects Felt Pads, Heavy Duty Adhesive Furniture Pads -...
EZ FELT pads; protect wooden, tiled or laminate flooring from furniture scratches and scuffs!
VARIETY PACK; multiple sized furniture pads, perfect for use on chair legs or metallic furniture.
LOW PROFILE; thin yet tough felt chair pads that subtly fits under your furniture's legs.
10. SIMALA Furniture Pads 124 Pack – Chair Leg Floor Protectors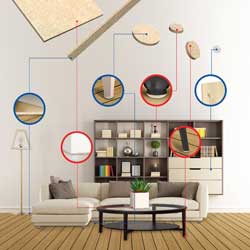 Though these Simala furniture pads will not cost you so much money they can save a handful amount of your bucks. Attaching these high-quality adhesive pads to your furniture, you are reducing the chance of damages that would have been the reasons for your expenses.
Simala pads are one of the thickest type pads in the market with the density of 1000g/sqm. This combination of density and thickness made them an ideal choice for floor and noise protection. While forming this guard pack, the supplier included many shapes and sizes so that you easily find many applications for these pads and door buffers.
Best for Bright Color
The pack contains 124 pads and all of them are beige color. So if most of your home furniture is beige or other bright colors they will be a perfect fit for them. You can also use them for dark color furniture as pads are always fitted to the bottom.
Meet the Regular Needs
These 124 pads are a combination of various shapes like round, rectangle, line and square. And these shapes are most needed for our regular furniture like for the chairs at the dining table.
Reduces Irritating Sound
Along with the floor protection, the pads also reduce the harsh sound during dragging of chair and table. So, buying the pads you can ensure a peaceful dining time for your family.
Ensure Strong Attachment
If you put the pads once on the bottom, they will be there for your protection. Strong adhesive layer will do the job of solid attachment. Moreover, if your move furniture less, the pads will remain strong over the year.
Durable Protection
With the help of 5mm thickness felt pads and 1000g/sqm density, these Simala pads will provide premium and durable protection for any surface including, home ground and furniture surface.
Sale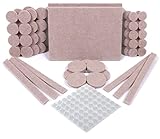 Furniture Pads 124 Pack - Chair Leg Floor Protectors, 60 Felt...
Furniture pads provide vital protection for your hardwood floors from scratches, they are ideal floor protectors for furniture legs whilst the clear rubber bumpons dampen harsh sounds
Chair leg floor protectors made with strong adhesive to ensure that they are long lasting & remain firmly stuck on
Felt furniture pads in beige color & assorted sizes and shapes to suit all furniture feet
Furniture Protector Pads Frequently Asked Question
Here we collected and prepared some of the most asked questions and their detailed answers about furniture protection pads.  The questions and answers session covers user experiences, installation techniques, maintenance strategies, and other aspects of furniture protectors that surely will benefit a buyer.
Question-1: Why should I use a furniture pad?
Answer: Furniture pads are normally used for protecting expensive floors from any type of damages caused by furniture movements. However, you can also use them for:
Keeping your chair, table, beds, sofa balanced on the floor.
Protecting your furniture bottom from any damp and wet ground.
keeping your home decoration materials balanced.
Balancing the imbalance furniture.
Question-2: How I install/ stick my furniture pads?
Answer: Pads installation is relatively easy for adhesive protectors. Nail installing needs special consideration and attention.
Before installing the adhesive pad, thoroughly sweep and mop the floor as well as furniture bottom. If you don't wipe floor properly dirt and dust can cause damage to the floor, especially hardwood floors. And if you don't clean your furniture the pad will not last long. After that, remove the adhesive cover and carefully stick the guard to the bottom of the furniture.
You can install the nail pads in two ways. First, you can make a hole by drilling then insert the pad's nail into it. Second, you can directly insert the nail along with pad by a hammer. Whatever way you follow, be careful about any damaging of the chair legs. Especially make sure that the nail goes through the middle of the furniture leg.
Question-3: Does furniture pad work?
Answer: Some individuals have doubt whether furniture pads work or not. For them, we can assure that they work very well. To get the best service form the pads, you have to install and maintain them in a proper way.
Question-4: How do I maintain my pads?
Answer:  Protection pads are not installed and forget type thing. You have to check them periodically to get top class protection every time.
Whether you attach adhesive pads or nail pads to your furniture, you have to check around the pads. Dirt and dust are the common enemies for both types of pads. You can use a wire brush to remove dirt and dust from the pads. Also, debris in the pads can cause damage as if no pad had been attached.
If your installed pads are adhesive pads, you have to pay special attention to the adhesive when you clean them. Dust loosen the attachment of pads with furniture and then the pads become less effective. Clean this attachment area too when you do cleaning.
During your periodic cleaning, also make sure that protectors are still secure. If you find them worn or flattened, it's better to replace them with new pads.
Question-5: Do the pads cause any damages to the furniture?
Answer: No, they do not harm the furniture. There is a misconception about the pads that they may harm the furniture when you remove the pads from the furniture. Which is not a valid claim. If you can remove them properly they will not damage your furniture.
Question-6: Are the pads themselves left any mark on the floor?
Answer: No, they don't. The outer layer of each type of the pad is made with a rubber or other plane materials. This layer is smooth also has a strong grip. So you don't need to be worried about it.
But always clean beneath of the pads and make sure that the underneath of each pad never gets dampen. Accidentally, if you get any mark beneath the pads it must be the result of irregular cleaning.
Furniture Protector Pads Buying Guide
We think, you already got that not all the pads are ready to satisfy the needs of everyone. In that way, you have to choose the right pads.
Here, in this buying guide section, we will help you to learn in detail about the important as well as considering factors of a furniture protection pad. At the end of this section, hope your learning will guide you what to buy for yourself.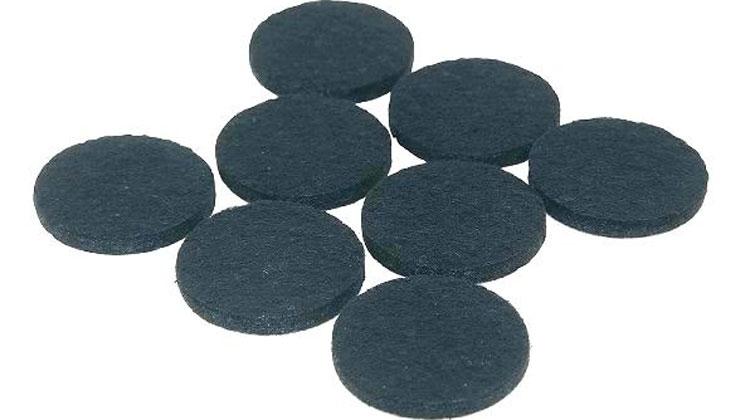 Factors to Consider
---
Size of The Pads
Before moving to the size, let us clear one thing. Sometimes the pads are customizable, but you should always try to use them in their original shape and size.
If you notice to your home appliances, you will see they appear with different size of bottoms. Like the chair and table have smaller size bottom legs than the sofa. So before buying make a list of the measurements of your appliances with the number of pads of a specific measurement you need.
Among all the sizes, 1-inch, 2-inch, and 3-inch pads are widely used. As these sizes are used for regular moveable furniture like chair and table. You will get even larger size pads for covering large bottoms like the bottom of a large flowerpot.
Shape of The Pads
When you look to get your furniture bottom legs sizes, you will also get to know about their shapes. The shape is also an important influencer. Because, if the pad unable to cover the maximum area of the bottom legs, it will not work properly for the user.
Rectangular, round, square are the three most used shapes of protection pads. Other than these, you will also get L-shape pads to cover the corner of your furniture.
The most interesting fact about the shape is, you can create new shape considering your requirements. Such as, you can make comparatively small size rectangles cutting the square pads into two equal sizes. Inversely, you can create two new squares from a rectangle shape pad.
Moreover, placing one after another rectangle pads, you can create a longer line to cover a long area of your home furniture. Additionally, going through the radius of a round shape pad, you will get two semicircular pads from one round shape protector.
Nail vs Adhesive
You can install the furniture protection pads to your furniture in two ways, by a nail or by glue.
Nail protection guard has three parts, nail, high-quality plastic case and a density felt pad. Inbuilt nail pads come with a nail penetrating through the middle of the two layers. Other nail pads come only with two layers. The user has to penetrate the nail by himself during installation.
The best part of nail installation pads is, there is almost zero chance of separation of the pads from the furniture. And the negative aspect is, this installation leaves a hole in the furniture bottoms.
Adhesive pads have three parts including their sticky layer. The other two layers are a rubber gripping layer and a foam felt. Sometimes they come with only a sticky layer and foam layer.
Though these pads will not create a sturdy attachment with furniture like nail pads, they will remain solid days after days. And, they will not leave any kind hole to your furniture bottoms. A user can easily install them on the legs, he will not require additional glue too. When the pads are worn out, he can also easily replace them with new pads.
You can choose any type of guards considering your furniture bottom structures. And one additional facility you will get from the adhesive pads is, they are customizable, but nails pads are not.
Grip vs plain
Some furniture pads provide facilities just other than the protection. You will get more additional benefits from a gripping exterior layer than a plain exterior coating.
The pads whose are featured with grip comes in the three-layered state. And there, the out layer is the gripping layer. Most of the time, this layer is made of rubber and designed with a dotted texture.
Both nail pads and adhesive pads can be either plain or griping. The pads those have grip layers will support the furniture to be stable on the surface. As a result, that furniture will not move from its original place by any minor push. So, your furniture will be balanced even if your kids or pets put pressure to move them.
Inversely, plain pads only ensure that your floor will be safe from even small damage. They don't play and rule for the balance of the furniture. Because of this nature, these plain pads are used for heavyweight furniture that needs very small movement in their lifetime.
Actually, there shouldn't have any good or better comparison between these two, as they both can be good for different furniture. You should decide by asking you what type of furniture do you have in your house?
Thickness
Thickness helps the pads to absorb loads of the furniture. In a nail pad, both plastic part and felt part has the same thickness. But in adhesive protectors, the foam is the thickest part of the pad.
Other than just absorbing weight, the thickness also helps the user to maintain a healthy distance between floor and furniture. Without maintaining a healthy distance, you can't protect your wooden floor from damages.  But too much distance can be the cause of the imbalance.
However, here you are also independent to choose the thickness of your pads calculating the distance you want to maintain between ground and your home appliances. If you need more thick pads, you can either buy them or get them adding two or three low-thick pads one on another.
In Conclusion
You will agree with us that there are some things or actions which are small but have the ability to bring significant changes in our life.
Purchasing a pack of protective pads is something like that.
But the sadness is some buyers are deprived of getting the benefits as the consequence of choosing wrong guards.
However, as you have already read about the industry best furniture pads and how to choose the right floor pads, we are confident that you will be able to get all the benefits of furniture pads.