After a hectic day, you need a soothing bed for clearing your mind and relaxation without distractions. An all-white bedroom creates a tranquil environment to refresh you utmost. In fact, psychology says that- white color can calm us. Though white color can create a calming backdrop, you must pay attention to the design and other little details of the room.
Moreover, a white bedroom is not only eye-catching but also less expensive than typical kid or cartoon theme. So, it will abstain you from spending much more when your child gets older.
So, learning how to decorate a white bedroom is essential for creating style and serene which make you thrilled. Here, you'll get some spanking white bedroom ideas to make your imagination real.
Best White Bedroom Ideas & Decorations
White color has a natural power to calm us. The elegant color resembles your choice as well as creates an excellent environment. The best white bedroom ideas you will get below are not too expensive but looks flourishing and vivid.
1. Brown Wooden Bed Frame with White Cover
An elegant decoration of your bedroom can be the perfect getaway of love. You can create a luscious environment by mixing classic white color with the décor. A flower vessel, a large whiteboard at the back and the fluffy white bed can bring the sense of romance without spending a hand a leg. Moreover, the upholstered bed frame with a double bed along the duvet can make it comfortable and elegant.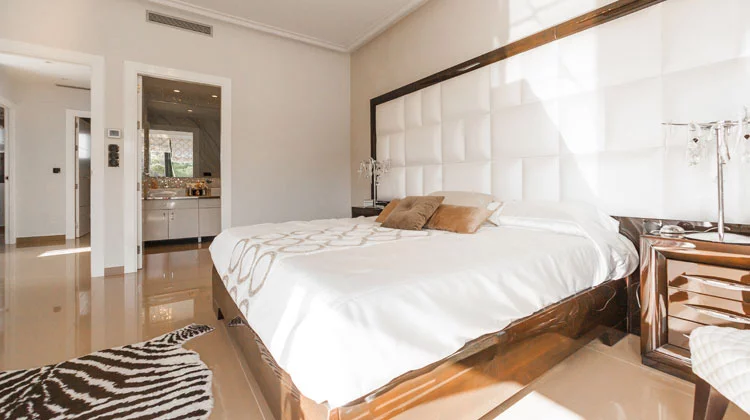 2. White Bed Comforter near Glass Window
Do you want a vintage look for your bedroom? You can bring the vintage look by adding dramatic accents without spending too many bucks. Even a chandelier, a sheer lamp or an elegant crystal can create a romantic environment if you can arrange them well. Though too many pieces of furniture aren't required to make the romantic ambience, the vintage pieces generate the sense of romance and drama. Also, you can use some silver pieces or antique brushed metal in the all-white bedroom which can bring your nostalgia.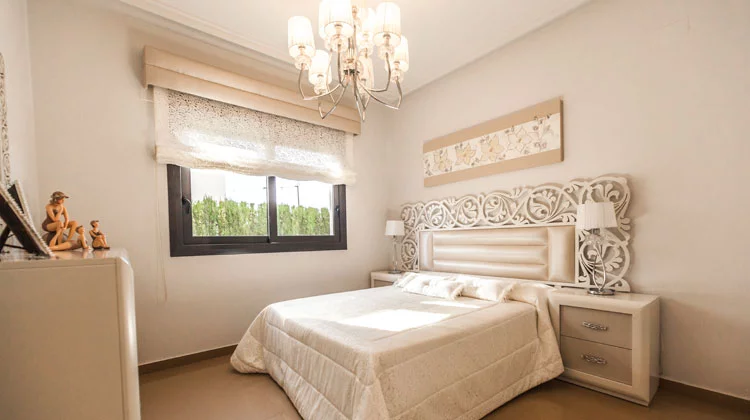 3. White and Blue Floral Comforter
If you have a small room to live at, you can make it look visually expand by using white color. So, you need at least a window to enter the natural light and air. The natural light makes the room airy and open which helps it looks spacious. Also, you can use the bed near to the window to bring texture to the small bedroom.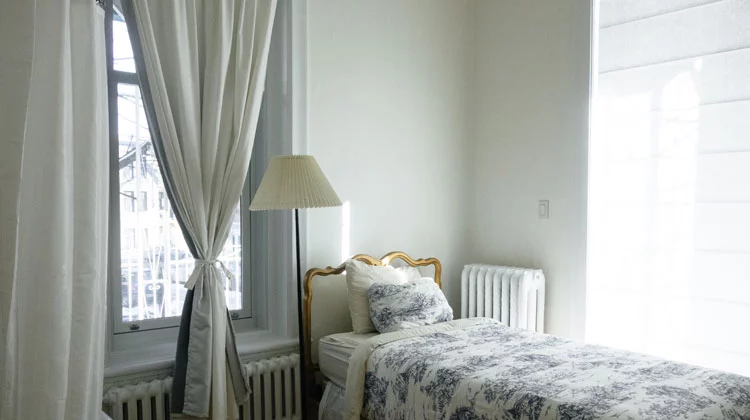 4. White Wooden Bed Frame Beside Brown Wooden Table
Collecting the favorite items and a piece of art is an admirable inspiration for the personality. You can gather these items to decorate your bedroom. A large gray and white painting will be the perfect match for the white color of the wall. Moreover, you can add a brown wooden table beside your bed to keep a showpiece or a table clock. Even, you can add a set of the sofa in the room which you can use to rest a while.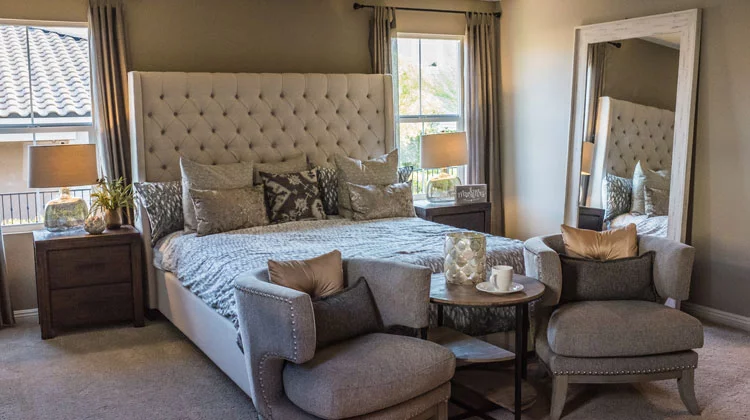 5. White and Blue Pillows beside Brown Table Lamp
An artist's palette is a dream for many a man. If you have any interest in creating an artist's palette in your room, you can quickly turn your room into it. So, use a large piece of artwork on the wall to inspire the color accents of the white bedroom. The painting above the bed can jazz up the neutral furniture as well as add crisp to the white walls. Furthermore, the combination of blue, white pillow along with the white bed cover enhances the sense of sensibility.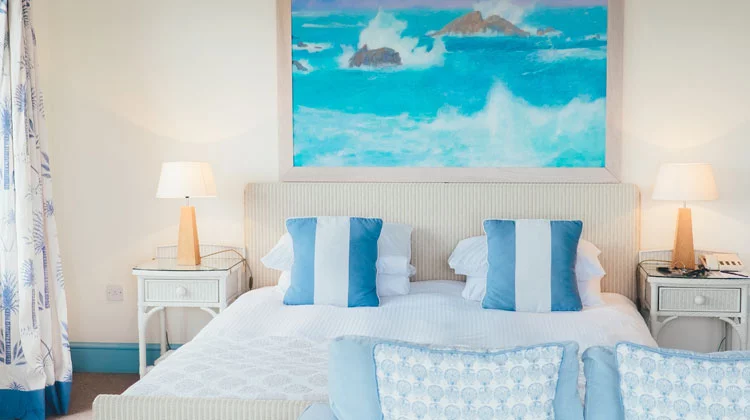 6. Blue Door and Window With White Curtain Inside Well-Lighted Room
The gorgeous blue and dark silver chandelier hangs make a simple but impressive environment in an all-white room. Without adding different pieces of paintings or showpieces, you create a vintage feel in the room by adding a dramatic piece of the chandelier. The white curtain with the well-lighted room is a perfect example of creating an accent look without overpowering it.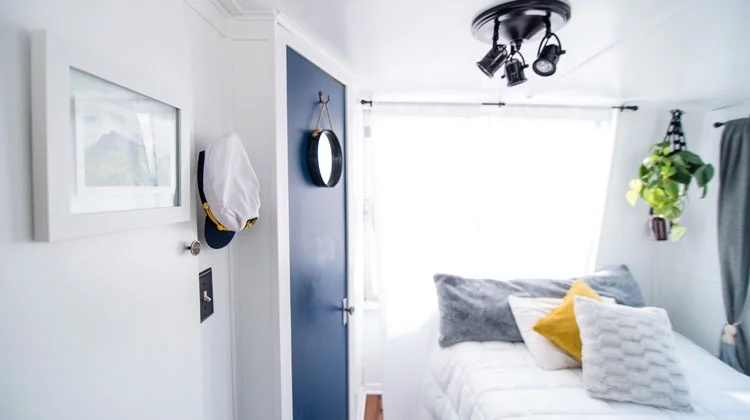 7. White and Grey Bedroom Interior
If you like to decorate your room elegant and style, some textures will help you a lot. A variety of textures, as well as patterns, will make the room inviting and cool to look. Also, you can feel adore of nature from the various natural textures and subtle wood tones. The white headboard adds the interest of white-painted walls. Lastly, the subtly patterned pillows will give you comfort as well as the bed a splash of personality.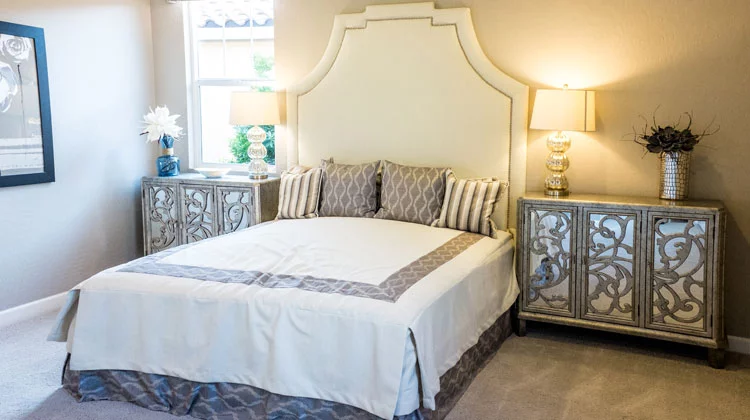 8. Black Platform Bed with White Mattress inside Bedroom
If you want cottage comfort within the all-white decorating scheme, the white mattress can bring the comfort a lot. You can use it to prevent being washed out and boring. A well-planned wall treatment will be decorated with different textures and cottage-inspired style. Also, the sleek banks of windows will surround the room. So, the room will be lighted naturally.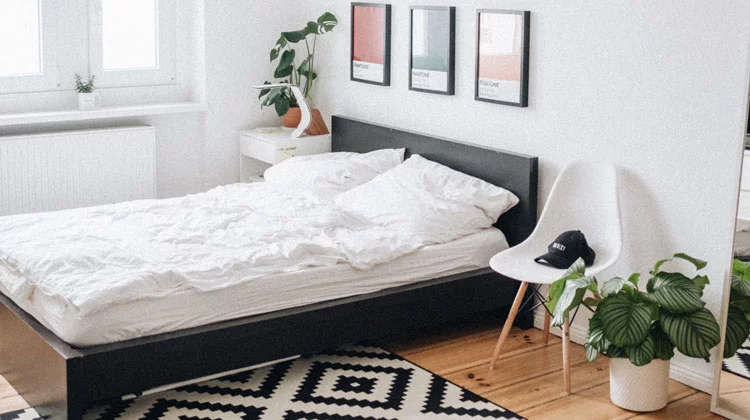 9. White Mosquito Net with Brown Wooden Bed Frame
Each bedroom doesn't fit the pattern and color. So, you can add visual interest and subtle contrast by adding throw-pillows on to the bed. The white net with painted headboard will add personality to the room. Also, the spacious window will help you a lot to get natural light all the year round. Moreover, the brown wooden bed frame will make you feel living in nature.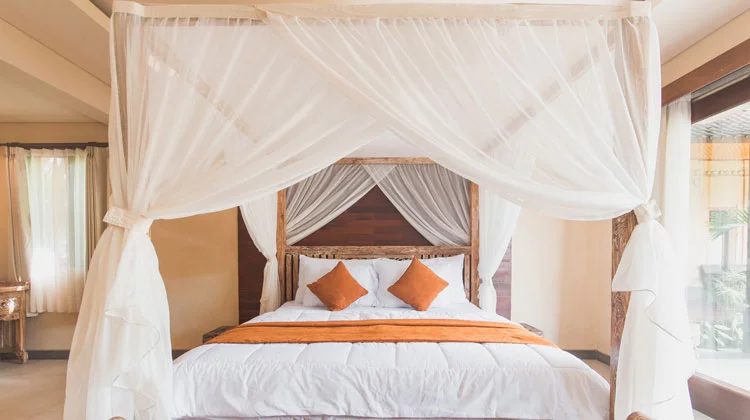 10. Gorgeous Dark Silver Color with Natural Decorations
A calm and minimal bedroom is the perfect place to remove tiredness as well as to relax without any distractions. As it is scientifically proved that, white color helps to create a calm environment, this bedroom will snug checked all the needed requirements for the restful place. The multifaceted color of the room will draw your eyes without distracting from the feel. However, if the room seems small, you can make it spacious by applying the color concept.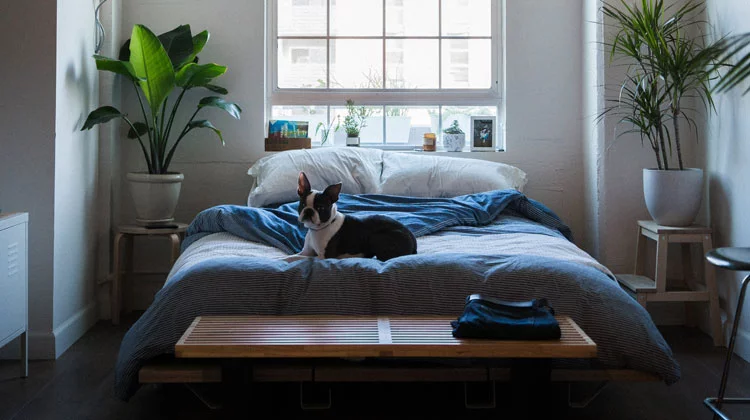 11. Bedroom Interior for Two Persons
A perfect white is the white on white which creates an all-white environment. Monochromatic white color is quite a tricky with some smart moves of the decorations. So, always emphasize the white walls of the master bedroom as well as other white bedrooms by adding white curtains. You can use the gray shed to add depth on the color. The decorative and patterned throw pillows will help to break up the stark look on the white walls. You can use some white-gray combination wall mats which help to reflect the light on the white walls.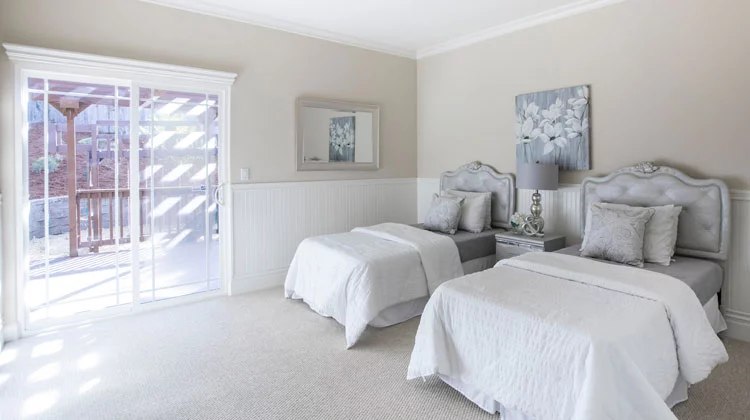 12. Royal Look with Warming Trend
If you have to keep too many furniture and decorations in the bedroom, you have to be conscious and creative while decorating the room. So, a great variety of white is available on such situation of using furniture and decorations. Here, different shades of white look different with so many details. However, a warm off-white wall with wooden or wooden-colored floor looks subtle contrast. The brown accents, the wood side table, and the shag rug add texture and depth to the color scheme.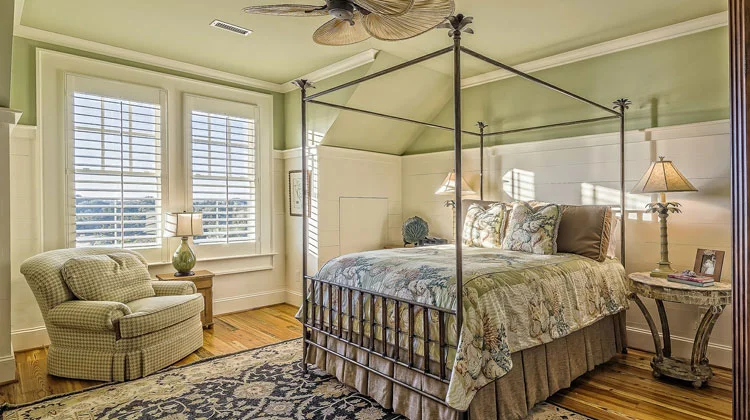 13. White Color Bedroom with Color Stripe and Spacious Window
The chocolate color with brown paint floor against the white ceiling looks it spacious and elegant. The surrounded brown decorations along with white bed inside the room makes it vintage. You can add a magnificent headboard with some white lights to feel cozy. Moreover, the vintage bed frame and bedside table make the room spacious and cool. You can also use some antique details and decorations.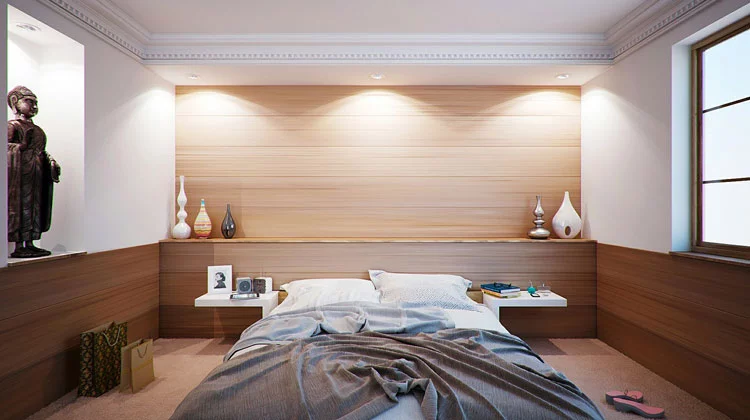 14. Long and Spacious White Room with Elegance and Comfort
A spacious room is favorable to all as you can decorate the room with your interest. The white ceiling with brown wall remains together in the room along with other textured bed throw and cabinet. Along with the wooden cabinet against the bed, the modern and gorgeous light in the middle of the room makes it truly unique and special. Also, a textured carpet on the floor makes you feel cozy while walking on the floor. In fact, a spacious and long room offers you several ways of entering light into the room.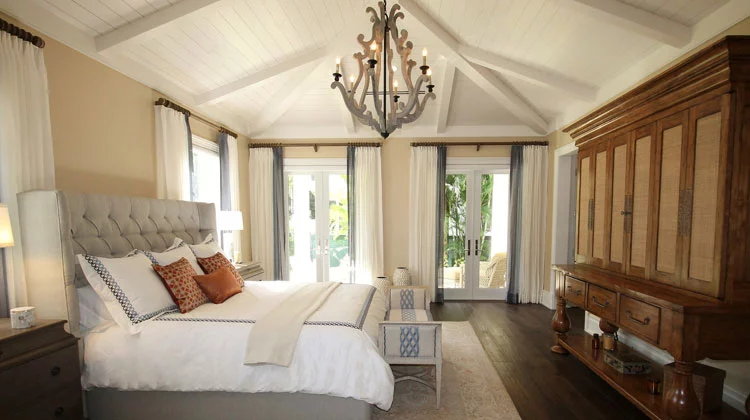 15.  Minimalist Bed Frame with Eye-Catching Photographs
Some photographs and furniture can make your room subtle, simple and elegant. The white color of the wall and ceiling makes the room looks spacious. You can open the window to let the natural light enter into the room. Moreover, use some unique details and subtle decorations which help to remove the distractions. Also, some artistic elements on the wall against the bed can make the room fresh and clean. The bedside table along with a decorative reading table can add the character of the space.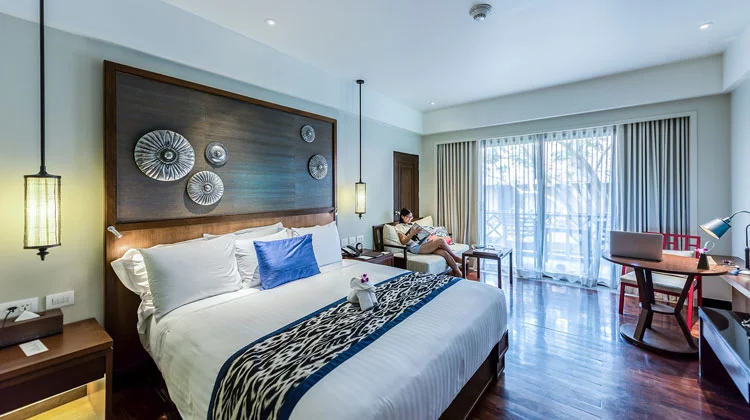 16. White Color Environment with Royal Accents
The natural wooden beams always make the room looks natural and dynamic. A white upholstered bed frame brings the rustic look of the room. You can also use an attractive framework to showcase the shape of the furniture. It creates a monochromatic space as well as the environment to feel monarch in the room. A hanging light from the ceiling makes a dreamy environment. You can also use a carpet to walk comfortably around the room.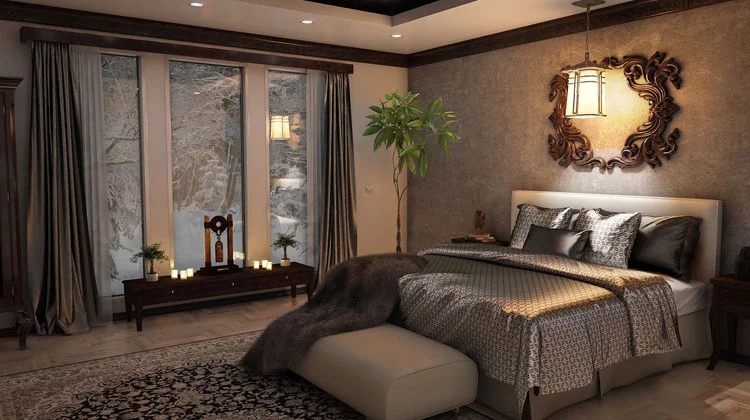 17. A Black & White Color with Decorative Details
A contemporary look in a bedroom is always gorgeous and welcome. An all-white space is nothing but only the requirement for creating a contemporary look. Also, the all-white bedroom idea includes everything such as wall, ceiling, and floor along with the furniture of the room. You can use dark wood furniture and a charcoal bed skirt to create such a look. However, the deep shade on the wall resembles the white color while the natural light enters into the room. Moreover, some photographs will enhance the beauty of the room as well as your personality.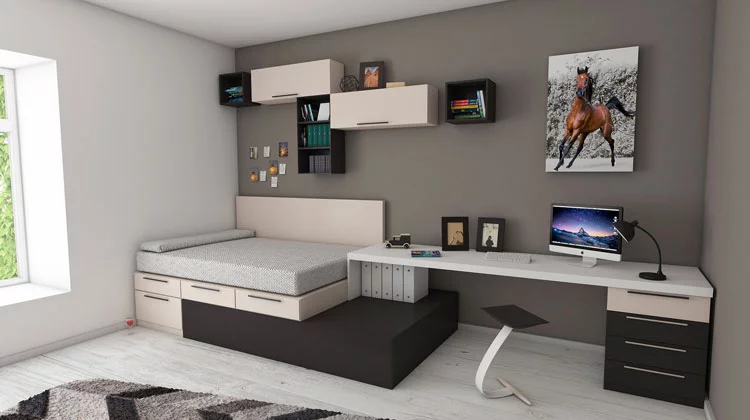 18. A perfection of White and Gray with Textured Bed
Overpowering of anything is not always welcomed for simplicity and elegance. If you want a simple but gorgeous bedroom, the bedroom as mentioned above is a perfect choice for you. You can paint the wall with white color during floor with gray. It creates a cozy accent in the room for relaxation. Moreover, the textured blue bed with comfortable duvet removes the tiredness without any distractions. However, don't forget to allow the natural light to enter the room.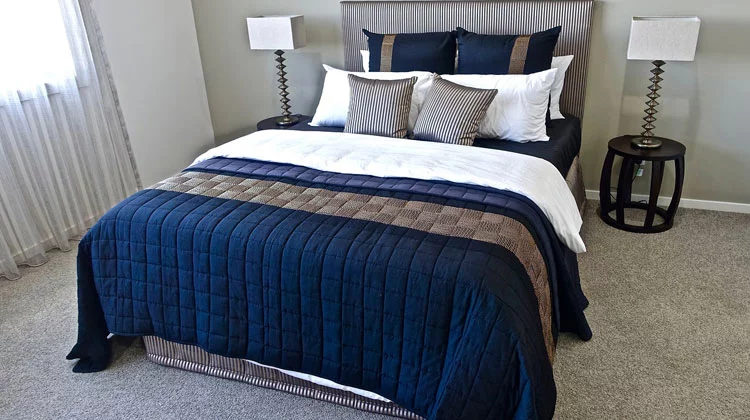 19. Comfy Look of White and Gold Color Theme
If you want a modern theme in your room with elegance, the above theme is perfect for you. It has the super perfection of gold and white color mixture. You can use blocked color accents on the wall along with funky statues which makes the room a gorgeous color palette. Also, the elegant bedside lamp makes the classic environment with golden accents. A natural sea-beach picture on the headboard creates a natural look of the room.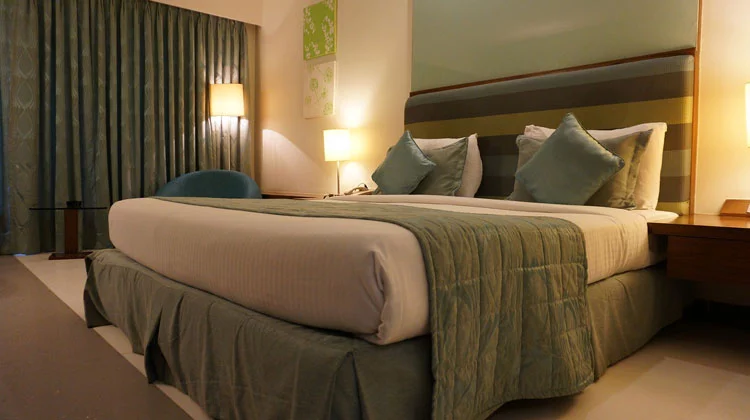 20. King Island Style Bedroom with white color
White color has an exceptional feature of being turned into any color. You can change the color of the room by changing the color of the light. Hence, if you want a dreamy golden environment in the room, change the light. An all-white bedroom denotes everything off the room is white colored. It resembles the purity as well as the elegance of your personality. Also, it helps the room look spacious enough. You can add some lucrative details on the headboard which shows your choice.  Moreover, you can add a natural flower vessel beside your bed to bring a natural environment in the room.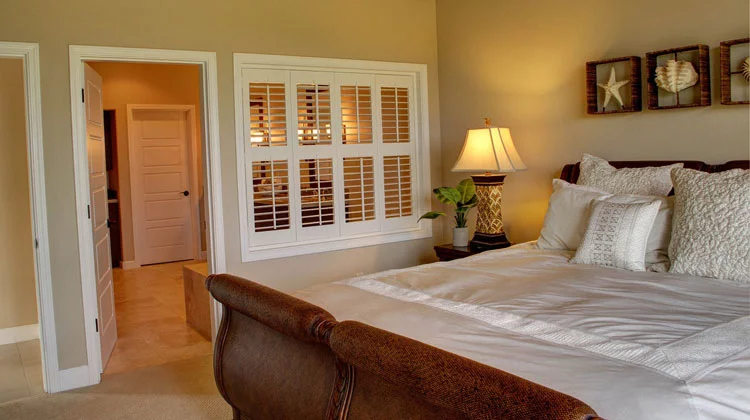 How to Decorate A White Bedroom?
If you have the eyes that admire art and thrive for something aesthetic, you're always capable of turning a simple white bedroom into something really wonderful. And we believe you want exactly that!
How amazing it would be to wake up every morning with a soothing view before your eyes or have your night coffee in a dreamy bedroom environment?
Your white bedroom holds the full potential for that if you're willing to contribute wholeheartedly.
Is it that hard? Not at all!
In fact, we could give you some suggestions in case you're feeling confused about the whole decoration.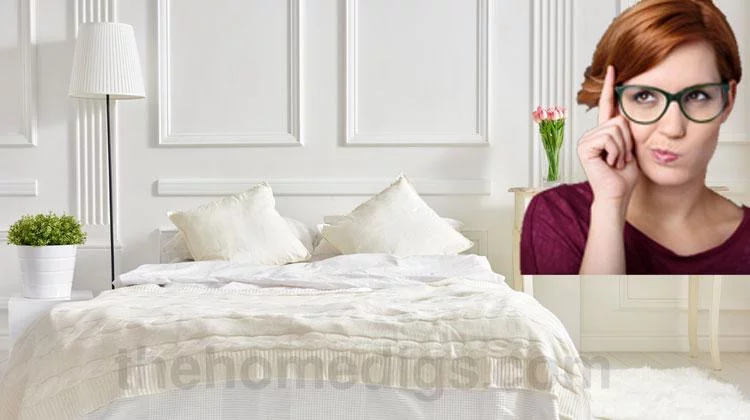 Keep A Gentle Vibe
White is generally regarded as the color of peace and serenity. Respect that theme. Sure you can go all loud and dazzling if you want to, but that will just bring more distraction to the whole aesthetic. So, don't go too extra on decoration.
Go With Light Colors
Now, it's your bedroom, the choice is totally up to you. You can keep it all white if you want to, or you can bring a calm vibe with a diverse collection of color.
Since we're talking white bedroom, obviously we can't choose a color that will outdo white. We have to choose something that will COMPLIMENT the theme. And only a few light colors are capable of doing so.
Black or grey shades are perfect for the purpose, they do the proper justice to white decoration as a member of the same grid.
However, for a lot of people's mood, this choice might seem a little clumsy or depressing.
In this case, you can always go for a little touch of pastel color to brighten the atmosphere.
Blue or pale shades of brown also work quite well with the attributes of a white bedroom.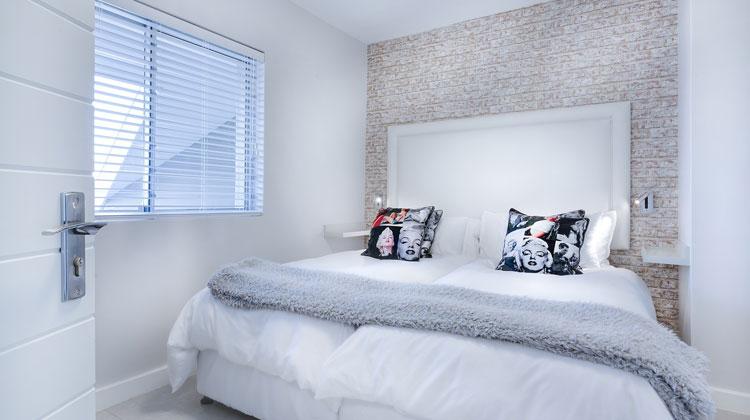 Mirror Works as A Great Piece of Decoration
We're confident that you can guess where we're going with this one. It's obvious! Mirror decoration for a white bedroom is not a new concept. It's pretty old and quite the admired one.
And for those who are clueless, we're not talking about turning your room into a fancy mirror world from fairytales (unless you want to). We're talking about using pieces of mirror here and there to add some reflecting, sparkling vibe to the whole room.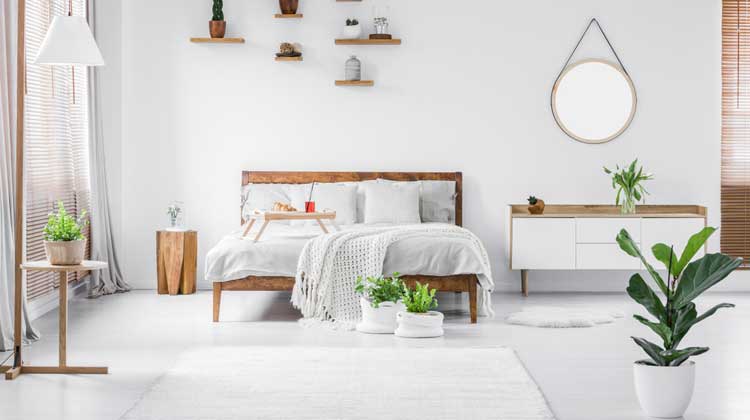 You can put different sizes of mirror on the powder table or use mirror curtains to adorn the room with that stunning dazzle of silver. You can also make a wallpaper/poster out of mirror mosaic or include mirror crafts to spread the sparkle all around.
Pretty Wallpapers Always Add To the Beauty
You'll have to admit that a cute wallpaper is just like relishing icing on the cake. Not less than that.
And it plays a more significant role in a white bedroom since furniture doesn't do a lot of explaining in the scene.
Yes, make the wallpaper more inclusive so that you don't feel clumsy amidst all-white decoration.
However, keep in mind that we already told you earlier how loud and vibrant decoration kind of ruins the whole aesthetic of a white bedroom. Focus more on the drawing or patterns. Try to make the room seem energetic through the outlines instead of colors.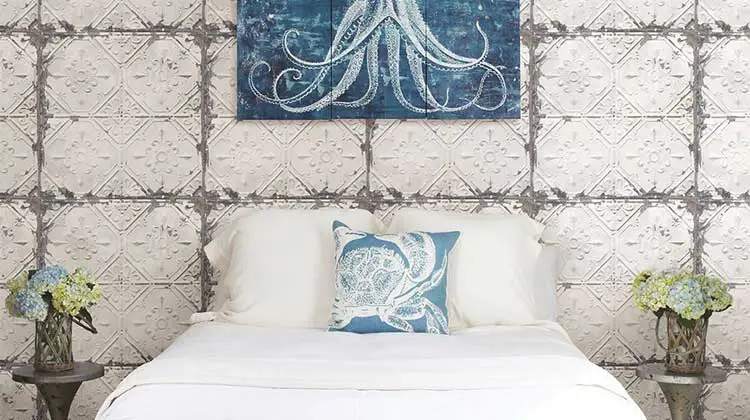 Choice of Curtain Matters
Not just for the white bedroom, this statement is true for every bedroom. In order to give your room the accent you want, you have to put on the curtain that suits it the best. No other way around!
Obviously, you can go light color or all white for the curtains, but what about the fabric?
You can go either linen, monochrome or damask to work more on the heavy accent of the room. It actually depends on the room's decor. You can choose something sheer if you're planning to go with something soft.
Use several layers of curtains to add more elegance to the outlook. Pale shades of brown works really well with white layers, you can always put these two together to match your bedroom decor. However, if your room is partial towards any other certain color, you can go with them too. Just remember, white has to be the hero of your theme.
Laces are a wonderful attribute to add there when you're going all white. Layers or not, laces will complement the room in every way.
Include Vintage Furniture
We don't know what your actual preference is, but vintage furniture can always bring some sense of classy outlook to your white bedroom. Especially if you're going for something Victorian or Edwardian.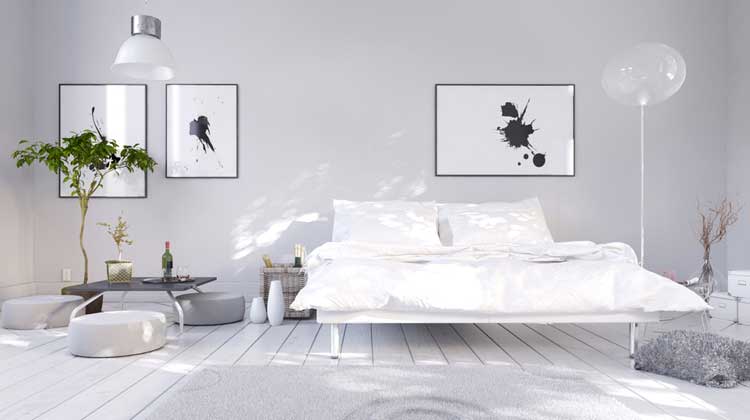 That profound burnish of vintage wood or old polish on the edge is not something you'll find in modern furniture. Add that nostalgia of lost time by including these splendid pieces of furniture in your white bedroom.
White Pots Will Look Splendid
Whether you want to put some plant or not, don't forget to put some pots in the room. It will definitely add some more details to the whole room's theme.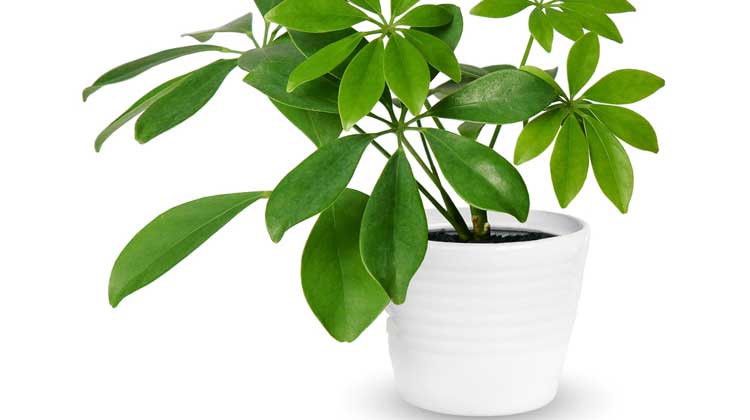 We'll suggest you go with a blank canvas.
Yes, since we're giving priority to a gentle, calm atmosphere; blank white canvas or any light color like grey would simply accentuate the mood you're trying to showcase all over.
However, make sure the pots are of suitable size and don't look odd with other pieces of décor.
Consider Having Soft Lamps
What's a room without some divine lamps to showcase the elegance and class of the whole decoration?
Yes, lamps are not meant to illuminate the room in the dark only, it also works as a great medium to illuminate your way through a person's taste and preference in stuff.
Non-aesthetically speaking, as you're obviously going to have lamps in your room, have something that goes perfectly with your white bedroom. Something with soft, sheer shades; you know those gentle, chic lamps? Yeah, we're definitely talking those!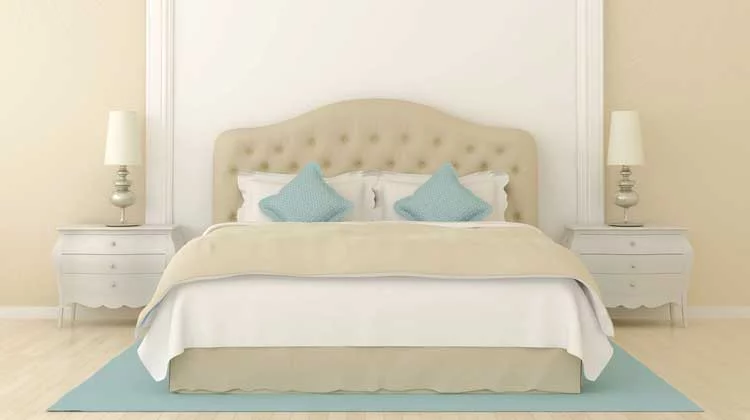 White Wall Is the Ultimate Goal
Yes, no argument on that one.
You want a white bedroom? Nothing says MORE WHITE than a room with decently painted white wall.
It is what sets the whole theme and prepares the accent. Everything you add, every pattern you choose; come together when your walls are there to back them up.
Is the room even an ACTUAL WHITE BEDROOM without some white strokes on the wall?
Final Remarks
White is the symbol of purity. Also, an all-white bedroom creates an environment of feeling cozy. It helps to remove tiredness without distractions. So, you can choose the styles as mentioned above for decorating your bedroom.
Moreover, the quirky and exciting furniture with highlighted accents remains clean, crisp and lucid in an all-white room. Also, you can quickly turn your bedroom classic, vintage or luxurious. After all, the white bedroom offers you endless opportunities to decorate with various lights and furniture.
Image Source:
pixabay.com
unsplash.com
This is Autem Decker. Main Author of 'TheHomeDigs'. You may not find her on the list of top 10 contemporary Canadian interior designers, but everyone who knows her says she was born to be an interior designer.
She makes her plan in her head and draws them in her years-old diary with a note in the corner. The way she plays with color and shape amazes us.
Connect Her On – Twitter