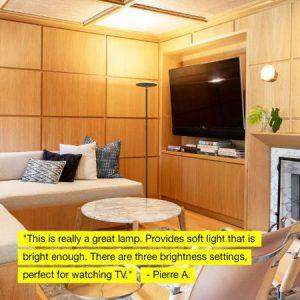 Room interior is one of my favorite topics since it adds a new dimension to a space giving a better approach to show your guests what type of person you are and how your tastes are.
And so, focusing on little details to combinedly built a strong interior that is the focal point of your house needs many considerations. One such criterion is deciding on floor lamps.
If chosen right with a suitable type, you can increase the brightness in a dark space and vice versa. Interesting, right?
Well, let's walk on the route of finding more about what type of floor lamp gives the most light in certain areas of your house to keep it going interesting.
What Type of Floor Lamp Gives the Most Light: Exploring Different Types
To enhance the brightness, temperature or color of your space, choosing right floor lamps is more important then you'll ever realize.
If you are stumbling on making a perfect decision since it's your first time, walking through different types of floor lamps may help.
And to make that happen, I'll be spending a good amount of time to tell you about the bright floor lamp types available today. Make yourself a cup of coffee with extra cream and keep exploring through the types I'm about to disclose…
Going Traditional with Tall Standing Floor Lamps
Now, this type is probably the most common standing lamp out there. It comes with a base of a tall standing lamp and shade to cover. The drum or barrel shape shade is sometimes lightly narrower at top than bottom. These are great for lighting upward and downward with a bit on the side as well.
You can easily set these up on the room corner or next to any chair. If you consider reading below it, the experience will be super smooth. Sometimes this type of floor lamp also comes with multiple light bulbs. You may get extra switches with these as well. The base and shade are usually prettily decorated. These are right for areas that need some bright lighting in certain areas rather than the entire room. Reading or drawing sounds perfect with these types.
Spread Brightness in Entire Room with Torchiere Floor Lamps
You've seen those rectangular shaped floor lamp that looks more like a torch? These are known as torchier floor lamp basically. The light usually travels upwards. Since it has shade or reflector facing upward. So, the light usually produces ambient light since it bounces against ceiling.
Now, these are the exact opposite of task lights. You can use the floor lamp to increase brightness for entire room or area. There are however many versions available with additional downward-facing reading lamps.
So that you can use it for task-specific lighting needs as well. You can play with the placement since this type looks good at any position inside a room. However, the best placement is certainly a bit far from foot traffic. Seating area's back part or room corners are also good options to place the light.
Overhead Lighting with Arc Floor Lamps Without Additional Fixture Installation
Arc lamps are a bit specially design with an additional long curvy arc. The arc basically extends out from a pole coming along with it. This type of floor lamp is great to place over seating and furniture. The light usually aims to travel downwards. But that highly depends on the lamp shade's design.
These are seen mostly over a chair and Couch to add some contemporary vibe to room decor. To enjoy the brightest overhead lighting, arc floor lamps can be an ideal choice. You don't need to set an additional overhead light fixture as well.
Adding Some Extras Space with Lighting Sounds So Right with Shelve Included Floor Lamps
Now I'm not sure whether to call it a type or not, but there is these extremely cute small floor lamp that adds a shelf around to double the piece of furniture. The addition of shelves simply creates an illusion of extending lamp. And this also sometimes come with an optional tray to surround the pole's midsection. This is an excellent idea to store tiny objects such as TV remote or your recently read book.
Inviting Technology with LED Floor Lamps
I'm sure there are several readers right now cursing me for including lamp options that take a lot of money, energy, and wattages. My friend, I've got something for you as well! LED floor lamps are what you need the most.
Yes, these are the newest technology that benefits with fantastic light outputs without being super waster in terms of wattage, energy, and money. These use multiple LED lights that work with diodes as the main emitting electric component.
The LED floor lamps have a better record of longevity compared to traditional ones as well. You can enjoy full-spectrum lighting that looks pretty white and these are flawless for rendering accurate color as well as lessening eye strains.
Want Beautiful Glaze & Radiance? Go for Tiffany Floor Lamps!
The modern genre of lighting is basically a style that uses tiny fragments of stained glasses. The tiffany floor lamp uses lots of tiny glasses connected together to make a design that produces light through illumination.
These are the type that luxury and posh lifestyle holders will prefer mostly. Geometric patterns are noticeable these days in tiffany floor lamps such as animal or floral themes. The price is all you need to care about. Except for that one point it's the most luxurious and wanted floor lamp you'll be proud of owning.
And the BrightnessTsar, Halogen Floor Lamps
Because of the invention of fluorescents and LED lightings, the halogen is today less loved since these are pretty traditional in design. However, there's no doubt that halogen floor lamps come with super bright bulbs that are fantastic for the intimacy of lighting.
The light, however, gets hot due to its intensity and so, touching it with fingers could be unsafe. Also, it may react by breaking when in contact. Sometimes due to dust, the element gets burned and a stink starts surfacing in that area. There are LED bulbs available today that produce similar brightness and intensity without creating much heat. However, for decoration purposes, it could be a pretty amazing vintage and retro-styled stuff to include.
Recommendation for Brightest Floor Lamps to Light a Room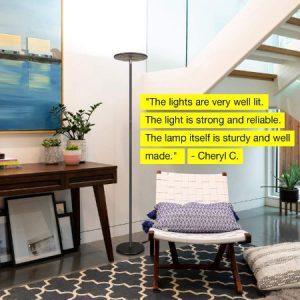 Now if you are interested to instantly find out floor lamp options that come with fantastic brightness to light a room, I've two recommendations to make. Of course, there are various other models you can opt for and feel free to explore more.
First one in my mind is the Brightech Sky LED Torchiere Super Bright Floor Lamp that fits perfectly into living rooms and office areas with the touch of contemporary. The dimmable floor lamp comes in 7 aesthetic color options to try from. I love the fact that it needs no expensive or harsh fixture and still provides a good amount of brightness to light up an entire room.
Another marvelous option is the TROND LED Torchiere Floor Lamp. With two super casual color options, you get a natural daylight-like color tone that also features dimmable lighting. This one, however, is meant more to add modernism and comes with recent technologies used in the best way to get easiest light accessibility.
Conclusion
Are you still questioning, what type of floor lamp gives the most light? Hopefully not! The options I talked about today should make your mind convinced on a certain right type.
Bright lighting with other points in check is what you should be going for when considering a floor lamp. And to ensure that, you need to go for in-depth research and finding. That way you can make the best investment for floor lamps. Good Luck!
This is Autem Decker. Main Author of 'TheHomeDigs'. You may not find her on the list of top 10 contemporary Canadian interior designers, but everyone who knows her says she was born to be an interior designer.
She makes her plan in her head and draws them in her years-old diary with a note in the corner. The way she plays with color and shape amazes us.
Connect Her On – Twitter