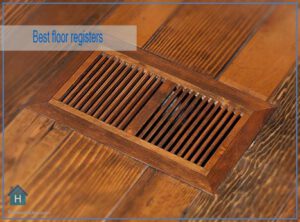 Whether you are building your new home or redoing the old one, finding the perfect floor register can be of trouble.
To complement your house, the need for the best floor registers for wood floors is enormous.
If you live in a particularly colder area, floor registers are a must for you. They keep your house warm during cold nights and provide you the much necessary comfort.
But are all floor registers durable enough? The answer is no, and changing them every now and then is hassling.
Also, floor registers can ruin the look of your beautiful wooden floors if not matched with them. That is why choosing the right floor registers takes more than just looking at their designs.
Best Floor Registers/Heating Vent reviews
Below are the honest reviews of the seven best floor registers for airflow that can be of your use. So read ahead and choose the one best suited.
1. Homewell Wood Floor Vent 4×12 Inch Unfinished- Best Flush Mount Floor Registers with Damper
Key Features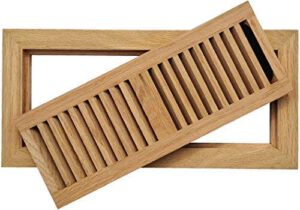 This is of a beautiful design
Ensures precise heating
Tough and durable
Lays flat with the surface
Rust-proof and able to take load
Easy to control airflow
Downside: This vent is significantly loud when the heat/air is on. Compared to metal vents, the difference in noise is pretty noticeable.
This beautifully crafted floor register is the perfect companion to your wooden floor. The lovely oak color is sure to enhance the decoration of your house.
Being made of solid oak, this floor register is tough and durable. One inch frame of this floor register can take the load of an adult standing on it. Therefore, stepping on it will not cause any accidents.
The louvered design adds to the elegance of your place. This register lays flat with the surface of your floor so that your floor doesn't look odd at all.
This is one of the best wood floor registers with dampers. So overall, if it matches the color of your floor, this floor register is what your house needs.
Specifications:
Manufactured by Suzhou Homewell Wood Co., Ltd
Product weighs 1.75 pounds
Product dimension- 14.5 x 6.75 x 0.75 inches
Fits the duct opening of 4″ x 12″
Flush mount register size including frame: 6-3/4″ x 14-1/2″
Fit for a thickness of 3/4 inch
Color- red oak
Made of oak
It is of rectangular shape
Verdict
As one of the most good-looking wood floor registers with dampers, this product matches the floor's decoration with ease. Furthermore, stain and poly them by hand is a breeze. All of these benefits make it the top pick for this list.
---
2. Accord AOFROML Red Oak 4×10 Floor Register with Dampers – Best Wooden Floor Registers
Key Features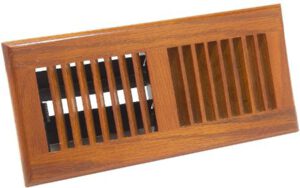 Gets its toughness from solid materials
Looks elegant
Stain lasts long
The damper box is rust-free
Ensures proper heating
Strong and durable
Downside: Since the register features a fixed position, controlling the baffles as you wish is not possible. It's a particular design that lets the airflow in a single direction only. Not good for high-traffic areas.
These wooden floor registers are made with the highest quality materials. The red oak color of these registers soothes the eyes and the performance of this wood register is sure to give you a warm ambiance.
It is rust-proof and there is almost no chance of it breaking! One register will last almost as long as your house does.
The sliding damper makes it easier for you to control the airflow. Hence, you get the right amount of warmth.
One exception is that the size mentioned of this product is not the actual size of the floor register, instead, you have to measure the duct opening and match it with the given size.
These can only be used on floors and cannot be set up in high traffic areas.
Specifications:
• Manufactured by Accord
• Weighs 9.1 ounces
• Product dimension is 11.19 x 5.23 x 2.04 inches
• Size- 4" x 10"
• Available in oak color
• Traditionally styled floor registers
• Medium oak finishing
• Louvered design
• Rectangle-shaped
• Damper box made of plastic
Verdict
Due to how beautiful this register is, looking past its flaws is pretty easy. Generally good-looking, this product is far more eye-catching than the conventional powder-coated aluminum registers. Plus, it functions well, guaranteeing proper heating for a long time.
---
3. Homewell Red Oak Flush Mount Wood Floor Register with Damper, 2X14 Inch, Unfinished
Key Features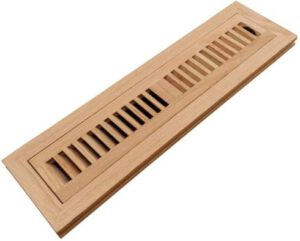 The structure stays stable
Strong and durable
Easy to install and use
Lays flat with the surface of the floor
Elegant look
Keeps the house warm
Prevents accidents when stepped on
Downside: As mentioned, this register is most suitable to mount as you're installing the flooring. Otherwise, the edges will stick out above the ground.
Homewell makes some amazing home decor products and this wood register is another successful crafting by them. This red oak register is one of the most well-performing unfinished wood floor registers.
The vent is strong and its structure stays stable even when someone steps on it; there is no risk of it breaking.
The filter pad can both be fixed and removed according to the need. So it is easy to clean and repair. The damper is made of metal. It allows being moved back and forth, which makes the airflow spontaneous.
It is better to install this floor register while installing the wooden floor. That way, it fits well and matches with your floor, making your house look gorgeous.
Specifications:
• Manufactured by Suzhou Homewell Wood Co., Ltd
• Weighs 1.7 pounds
• Product dimension 16.37 x 4.5 x 0.74 inches
• Fit for 3/4 inch thickness
• Fits the duct opening size of 2-1/4″ x 14″
• Comes with a sliding damper
• Red oak color
• Made of oak
• Unfinished registers
• Louvered design
• Damper made of metal
Verdict
As far as unfinished floor registers go, this is one of the most satisfying. You get to customize it, stain it, and polish it as much as needed during the installation. Afterward, what remains is an appealing floor register that matches the decoration perfectly.
---
4. Imperial RG3061 Pop-Up Floor Register 4 x 10-Inch air heating vent
Key Features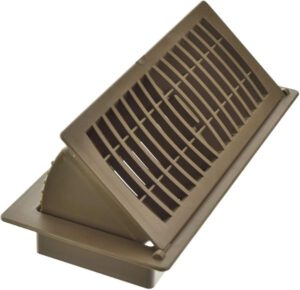 Can be used both as a conventional floor and air vent
Rustproof and long-lasting
Scratch-resistant
Can be installed on the ceiling
Efficiently deflects air
Downside: As mentioned, this register is most suitable to mount as you're installing the flooring. Otherwise, the edges will stick above the ground.
Imperial is a trusted company that produces various exquisite products and this pop-up floor register is one more exceptional invention by them.
The pop-up feature makes it much unique than all the previously mentioned floor registers. It can be both a part of your conventional floor and a floor register.
You can just close the register and it will mix up with the rest of your floor, you will not even know there is a floor register!
When in need of more heat, easily pop it open. It will efficiently deflect the air and warm your house up.
This floor register is the most ideal choice if you have children and pets in the house who might fall under accidents in open floor registers. Also, many people don't like the look of floor registers. For them, this pop-up register can be the solution.
Specifications:
• Manufactured by Imperial Manufacturing
• Weighs 9.9 ounces
• Product dimension is 11.25 x 5.5 x 3.25 inches
• Size 4 x 10-Inch
• Available in tan color
• Part number GID-131950
• Polystyrene construction
• Knockout at each end for installing on the ceiling
Verdict
Though the lack of guidelines is frustrating, investing time and effort into installing this register pays off. It's resistant, durable, and versatile as well. Besides the floor, you can use it for air ventilation, set it up on the ceiling, and more.
---
5. Decor Grates AJH412-NKL Oriental Decorative Metal Floor Register 4×12 inch
Key Features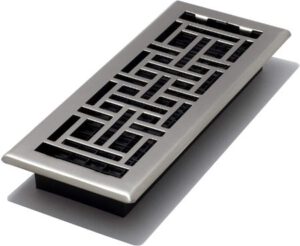 Suitable with all kind of floors
Easy to install
Tough and durable
Comes with a 12-month warranty
Matches any home décor
Enhances the beauty of the house
Downside: Regular exposure to water causes rust in some parts of this floor register.
These drop-in wood floor vents are easy to install and comfortable to use. Being made of the finest materials, they serve their purpose well.
It doesn't matter if you are building the floors or redecorating your house, installing these registers is a task of minutes. You just have to bring and drop them in the duct opening and that's all!
They are beautifully crafted and give your house an elite look. The brushed nickel finishing gives these registers a shiny look that goes well with any kind of floor.
Although, maintaining these floor registers take a bit of work. While cleaning the house, it is better to take these registers off. Because if they regularly come in contact with water, they may rust faster.
But cleaning them is pretty easy. You can just use dry clothes or a vacuum cleaner to clean these.
Specifications:
• Manufactured by Decor Grates (Import)
• Weighs 1 pound
• Product dimension 1.39 x 5.45 x 13.5 inches
• Product size- 4×12
• Made of metal
• Available in nickel color
• Oriental steel-plated register
• Brushed Nickel Finish
• Comes with an installation guide
• Plastic damper box
Verdict
As long as you keep them clean, these registers will be a highlight in every room. With a unique look and beautiful patterns, it'll surely grab everyone's attention quickly. Additionally, the drop-in build means that the installation is hassle-free.
---
6. Accord Ventilation AMFRSNB 4×10 Floor Register with Decorative Wicker Design
Key Features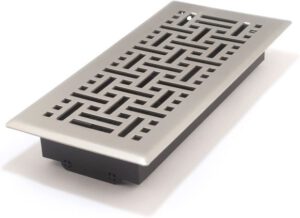 Super easy to install
Durable
Elegant wicker design
Matches all kinds of floors
Easy to clean
Damper is rust-proof
Downside: The provided measurement guidelines can be a bit confusing to understand.
Next up on the list of best floor registers for wood floors is from the Accord brand. The look, features, and performance of this wood register are all spot-on.
This is a register made using the finest materials and the quality shows in its durability. One register will last for years.
You can install them whenever you want to, either while still building the floor or when your old register gets decayed. Just drop this register in the duct opening and it is done!
The only thing that you need to keep in mind is that, like the previously mentioned Accord register, this one's size needs to be decided by measuring the duct opening. The size mentioned on its selling page is not its original size, rather it is the size of the opening that it fits.
Specifications:
• Made by Accord Ventilation
• Weighs 1.15 pounds
• Product dimension is 11.23 x 5.25 x 1.75 inches
• Size- 4″ x 10″
• Made of metal
• Available in Satin Nickel color
• Modern styled registers
• Satin nickel finishing
• Wicker patterned
• Rectangle-shaped
Verdict
Once you've confirmed that this register fits your floor's measurements, be sure that it'll serve its purpose right. One reason to love this product is that it can mount during or after the floor installation. Therefore, it offers you plenty of room to customize your decoration as much as needed.
---
7. Decor Grates PL214-MTG 2×14-Inch Plastic Floor Register Vent
Key Features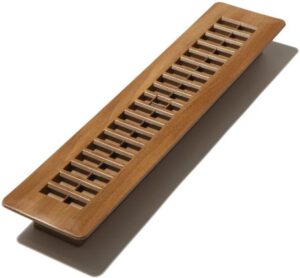 Economical registers
Can be used for a long time without troubles
Easy and worry-free cleaning
Available in different styles and colors
Comes with a limited 12-month warranty
Downside: The plastic construction isn't as durable as some of the other high-quality materials like wood or metal.
If you are looking for cheap options to cover the duct openings of your floor, then this register is perfect for you. Regardless of being cheap, its performance is no less than average registers.
In fact, this is a quite strong and durable floor register. The solid plastic construction is crafted to last long enough.
Since this is made of plastic, you don't have to worry about it being rusted. But the stain may last less if it regularly comes in exposure to water. Therefore, it is better to use dry clothes for cleaning this register.
The mahogany tan makes it look as beautiful as expensive wood registers. So, the look of it is sure to increase the beauty of your house. Overall, this is one of the best floor registers for wood floors that doesn't cost you a fortune.
Specifications:
• Manufactured by Decor Grates (Import)
• Weighs 6.2 ounces
• Product dimension- 1.41 x 3.47 x 15.25 inches
• Made of plastic
• Laminated with mahogany tan
• Plastic grid construction
• Available in Tan Mahogany color
• Rectangle-shaped
• Lattice design
• The package includes one register and installing guide
Verdict
Go with this floor register if you're working on a tight budget, as there's none better within its price range. However, don't expect it to last many years. Though it won't rust due to the plastic build, the register isn't as durable as expected.
---
How to Choose the Best Wood Floor Registers for Proper Airflow
Choosing the perfect floor register for your floors can take some work, but when you find the right fit, it adds to the comfort and beauty of your house.
For your ease, below is a guide on how to choose floor registers for hardwood floors.

Size of duct opening:
The first thing that you need to do before ordering any floor register is, you must measure the size of your duct openings. If the registers do not fit by any chance, it will just waste your money.
If you are building your floors, then it is easy to adjust the duct openings and you can buy any registers according to your choice.
But if your floor is all done, then take a measuring tool and carefully note the size of your duct opening. Then choose the floor register that best fits the opening.
Note that the size referred to as 2 inches often means 2.5 inches including the damper box. So, confirm the size before ordering.
Material:
Floor registers can be made of different materials, such as wood, metal, plastic, etc. Their looks and service also vary accordingly.
Usually, Metal registers are the most durable. There is almost no risk of metal registers being broken, even when people step on them.
The durability of wood registers depends on their thickness and solidity. They can either be prone to breaking or able to take load.
Plastic registers, on the other hand, should never be stepped on. They can easily get smashed and cause accidents. That is why it is better to use plastic registers only on ceilings.
Wood and metal registers are usually much costly than plastic ones.
Design:
Registers come in various shapes, colors and patterns. The color usually depends on its materials, but it can also be stained with paints or tans.
It is best to use registers that are of the same color as your floor. That way, they will not look odd or different.
There are also various patterns of registers, such as grid, wicker, louver, etc. Every pattern looks elegant when bought matching with the rest of the room.
Installation Process:
The installing process of registers also varies. Some registers need to be fixed during the building of floors, others can be used later too.
A lot of registers need to be set up by using screws. There are also some drop-on registers. Installing them is much easier, you just need to drop them on the duct opening.
Pop-up or lay flat registers:
Most of the registers fill up the duct openings by being on the same height as the surface of your floor.
Some pop-up registers serve as conventional floors when kept close. When in need of air ventilation, you can easily pop these open.
So if you don't have a problem with the registers showing on the floor, you can buy lay flat registers.
If you do not like the look of traditional registers, go for pop-up registers.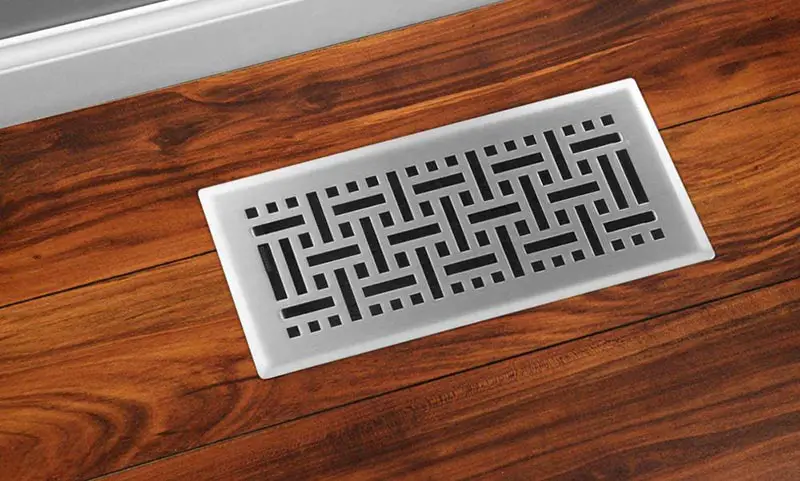 FAQ's about Floor Register Air Heating Vent
1. Which floor registers are better, wood or metal?
In the battle of wood vs metal floor registers, I would keep wood floor registers ahead.
Metal floor registers are more prone to being rusted and that is why they might last for a shorter amount of time. But the strength of metal floor registers are more than wood registers, and they are less likely to break.
But a good quality wood register is almost as strong as a metal register and they last longer.
Also, wood registers look much more elegant than metal registers. So, if you care about the look of your house, wood registers are the right choice.
2. Are registers any different than air vents?
Registers are more of a versatile version of air vents. Air vents can only let air flow through them when kept open or stop airflow when closed.
Registers, on the other hand, can adjust the airflow. Registers come with fan or damps that can change the direction of air flowing. This way, they can contribute much to the temperature of your house.
3. Why should I get floor registers?
Floor registers help you to keep the temperature of your house in an ideal state. Through them, hot air or cold air is blown out, so that your place stays warm during cold nights or cold during hot mornings.
4. Can registers be set up anywhere other than the floor?
The position of setting up registers can vary. Some can be set up on floors, some on walls, some on ceilings.
But the service of these registers also varies according to their position. Registers on walls and ceiling are used for keeping the room cool. They help air to fall into the room; while registers on floors let heat arise, to make the room warm.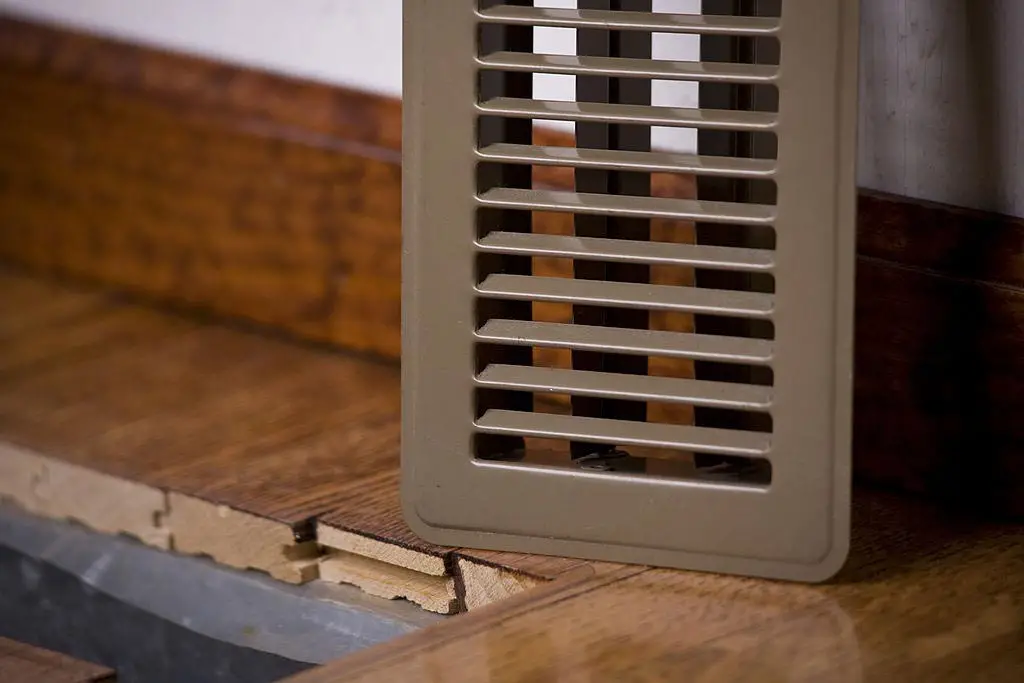 Final Words
Floor or wall registers may not be the main attraction of the room, but they definitely add to the environment and beauty of your room. That is why it is important to get only the best floor registers for wood floors.
Choosing the right floor register is a tough job, having so many options in the market can be overwhelming. You must go for a register that is well-performing and fulfills all the criteria that your house needs.
The reviewed registers are all amazing with their unique features and looks. From them, choose the best-suited one without any doubt and give your house the elegancy that it needs!
This is Autem Decker. Main Author of 'TheHomeDigs'. You may not find her on the list of top 10 contemporary Canadian interior designers, but everyone who knows her says she was born to be an interior designer.
She makes her plan in her head and draws them in her years-old diary with a note in the corner. The way she plays with color and shape amazes us.
Connect Her On – Twitter