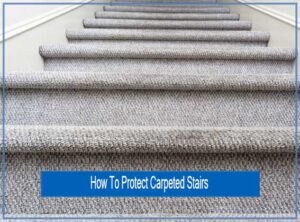 Carpeted stairs often show wear and tear in a home. In general, they must deal with foot traffic at any moment. But they also suffer from spills, pet accidents, and other messes. Over time, all of this can lead to a dull, lifeless carpet.
So, do you know how to protect carpeted stairs from these issues?
You can protect carpeted stairs in many ways. Among them, vacuuming and cleaning the spills are the most effective. Thus, you can use other methods like adding blinds, stair carpet cleaner, and stair treads. You may contact the professionals if everything you try becomes dull or fails to satisfy. Lastly, replacing old carpets can be a good alternative, especially if you renovate the home.
I know the importance of keeping the carpeted stairs neat and clean. After all, it is a matter of impression and way of expressing our lifestyle. That's why I have brought 11 ways to protect the stairs covered with carpet.
Ways to Protect the Carpeted Stairs
The methods below are elementary to do. Some procedures require tools that you can get from local hardware stores. Hence, all of these are effective methods and easy to follow.
Vacuum Your Stairs Daily
Vacuum cleaning once a week is a practical idea to keep your stair carpet clean. It is an affordable idea to keep dry soil, dust particles, and other debris away from the carpet. Likewise, a lightweight, cordless, and portable vacuum cleaner for this job can be an ideal choice. Even if your stairs have treads or runners, you should vacuum the surface at least once a week.
Keep Stairs Out of Spills
Spillage on the stair area happens more frequently. Due to the gravity and structure of the stairs, the spilled liquid penetrates and spreads throughout the stairs. As a result, it deteriorates the carpet and decreases its lifetime. Even leaving the stains or spills for a long time without cleaning can be tough. So, you should keep the carpeted staircases clean as quickly as possible.
Add Blinds to Keep Carpet Out of Sunrays
Many homes have stairs that are visible throw the window. The sunlight can directly fall onto the carpet through the wind. Hence, it is not so good as the premature fading of carpet happens soon. In this case, adding mini blinds to windows can prevent the impact of sun rays. Yet some people will not like to see the blinds or curtains that make the stairways shadowy.
Install Stair Treads
Installing non-slip stair treads can work as a barrier for the carpeted flight of steps from any wear and tear. If you install them, there will be no formation of risky bumps. Also, they are effortless to install and protect the staircases while revealing the beauty of the carpet. You can install them yourself or call the carpenters.
Stair Carpet Protector can be Good-to-go
If you are worried about stairway protection, add a stair carpet protector (also known as a stair runner or vinyl runner). It is a thin film made of durable, lightweight Polyvinyl chloride (PVC) plastic. Thus, you can install it on the tread or main surface of the stairs. It lies beneath the carpet and works as extra protection for stairs and the carpet. One more thing, you can install them on all mats.
Steam Clean Your Stairs
Any spillage causes a stain on the carpet of stairs that can appear hard to clean. Even rubbing the area is not possible to remove the stains. In this condition, a steam cleaner can do the job. The warm steam makes the stains vulnerable; you can easily wipe them off after using the steam cleaner.
Use Doormats
Many experts and homeowners put doormats on both ends of the stairs. It works like a magnet to grab all the dirt and debris that heavy traffic produces. When you enter the home and clean your shoes or feet on the doormats, there will be no chance of growing dirt and grime on the carpeted staircases. It also helps maintain a healthy environment.
Install Another Carpet of Existing Carpet
It is one of the most accessible solutions to protect the carpet layer on the stairs. When you install a new carpet over an existing one, the layer becomes effective in protection. Again, the layer of two rugs can catch more dirt and debris which cannot reach the main stairs.
Change the Filter on the Furnace
Changing the furnace filter may sound unusual to you. But it is also a reason to reduce the health of a carpeted set of steps. Duct heating systems release dust, pet hair, dander, etc., in the air that eventually settles on the carpeted stairways. To remove the unexpected buildups, you should replace the furnace filter regularly.
Replace the Old One
Replacing anything can be a worry if you fail to replace that with the similar one. Similarly, you can replace the existing carpet with a new, similar one. Installing a new carpet on stairs is effective if the old carpet is completely damaged. Again, the replacement carpets are available at affordable prices. However, prior experience and necessary tools can make the replacement job easier.
Contact Professionals
If all the above methods fail, or you don't have sufficient time to look after carpeted stair protection, try this method. In fact, many people recommend availing of professional cleaning services. They know better ways to keep things beautiful. You should schedule professional services after every 1-1.5 years. But this method is not suitable if you want to save some money.
Conclusion
People having carpeted staircases often think of their maintenance. Hence, carpeted stairs must be protected to extend their lifespan and prevent falls.
But these people hardly know about other ways to protect the carpet. It is what I have written throughout the blog about how to protect carpeted stairs. You can follow any of the methods I have explored in this article. 
This is Autem Decker. Main Author of 'TheHomeDigs'. You may not find her on the list of top 10 contemporary Canadian interior designers, but everyone who knows her says she was born to be an interior designer.
She makes her plan in her head and draws them in her years-old diary with a note in the corner. The way she plays with color and shape amazes us.
Connect Her On – Twitter