Hardwood floors can bring a rich vibe to your home. They're durable, stylish and make your house look shiny.
However, not everyone can afford them. You see, when I say, 'rich vibe', I literally mean it can cost you a fortune if you want to take the best taste.
However, if you're someone who's on the 'I'm going to have it anyway even if I have to cut down few things' group, you're in the right place. With the right tips, tricks and decisions, you can actually have hardwood floors in your house at a low price.
As you can guess, I'll tell you how to save hardwood flooring costs in the most effective ways. So, what's keeping you waiting, let's know the secrets.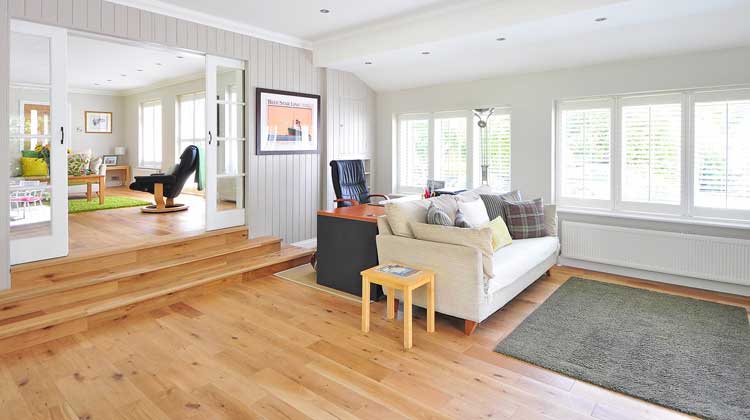 Hardwood Flooring Costs Saving Tips
Don't Replace It, Rather Refinish It
Replacing your hardwood means getting a new one. You're going to sand it, work on attaching it anyways (after you replace it), so, you'll have to spend extra money on the new one.
If you think your current hardwood floor looks great, but the problem is the quality, you can have it refinished. Just sand it and apply a fresh coating finish on it.
That's it, you'll see your floor looks like a new one. So, you won't have to buy a new floor and your money will be saved.
If you're having solid hardwood, you'll be able to refinish it multiple times. While on the other hand, the engineered woods can be refinished fewer times.
Get the Right Species
Of course, you want to have the floor with the right color and shade. If you are into light-colored floors, you might want to go for maple or ash. You might try favor hickory or oak if you like medium-shade floors.
Some people love it dark, so if you're one of them, choosing mahogany or walnut flooring is a great idea. Now, when it comes to the species, each of them has its own price range. If you want to save your money, you might want to go for the ones that come at less price.
Mahoganies are very expensive, so if you're on a budget, you might want to give these species a second thought. You can shift to oak and hickory as they look beautiful and also come in a budget range.
Consider the Grain
Woods come in different appearances and the differences depend on how they were cut at the sawmill. Different patterns and shapes have different prices. The more stunning the cuts and grooves, the more the price.
You can find woods in wavelike patterns, these are known as the 'plain-sawn' cut. These cuts are the least expensive ones. There are also the ones that come with the grain running in lines down the boards' length. These cuts are known as 'quarter-sawn' or 'rift-sawn' cuts. Compared to the plain-sawn, these are pretty expensive.
If you're on a budget, you can go with the 'plain-sawn' cut. Not that these cuts look bad, not at all. Woods with such grains are made for people who're having a budget issue.
Choosing the Grade
Wood floors have grades that depend on their physical characteristics.  The planks that come with no wormhole and knot and hold a uniform color, are known as the 'clear' graded ones.
If you want to go for the planks which come with more of a natural look, you can try the 'select' graded planks. These planks also have knots, mineral streaks, and color variation.
The planks that have even more color variation, knots, and even wormholes are known as 'No.1 common' grade. If you want to go for a rustic version of No.1 common, you can try the 'No.2 common'.
Judging from the price, the clear graded woods are more expensive than the select graded ones. Common grades are less expensive compared to select graded woods. So set your priority and pick the one that suits your budget.
Solid Wood or Engineered Wood
Solid woods, as the name says it, are the ones that you get straight from trees. On the other hand, there are several plywood layers when it comes to engineered woods. Also, engineered woods have an anti-moisture feature which will save your floor from excess moistures.
Both of the types have varying qualities, so it's kind of impossible to give you a blanket statement about their costs. However, I personally think engineered woods are a bit expensive because of their features.
Don't Hire Anyone, Do It Yourself
If you're going to hire someone to get rid of your old hardwood floor and to install a new one, you'll have to charge him. You don't have to go through that situation.
Installing hardwood floors is just easy-peasy. All you got to know is how to install the hardwood floor yourself. If you know the process, you can save a lot of money. There are lots of DYI tutorials on YouTube which might help you.
Finally
Well, that was everything on how to save hardwood flooring costs. Yes, you might have to switch to the best quality woods to the mid-quality ones, you might have to do some works all by yourself.
But hey, you can look at the bright side, right?  Even if you choose the mid-grade things, you're having a nice durable hardwood flooring in your house. Your family will love it, your friends will love it and most importantly you'll love it.
This is Autem Decker. Main Author of 'TheHomeDigs'. You may not find her on the list of top 10 contemporary Canadian interior designers, but everyone who knows her says she was born to be an interior designer.
She makes her plan in her head and draws them in her years-old diary with a note in the corner. The way she plays with color and shape amazes us.
Connect Her On – Twitter