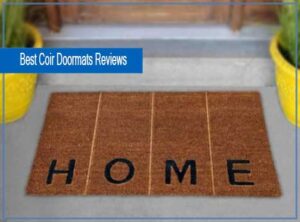 When we invite guests over to our place, we do not want to welcome dirt and debris that comes in with their shoes, right? Additionally, making the front patio aesthetically pleasing is important because we want to make an excellent first impression on the guests.
On that note, doormats are probably one of the first things that people notice when they visit. But, how do you find a doormat that best fits your porch exterior and keeps shoe dirt at bay?
It would be best if you indeed considered getting one of the best coir doormats available out there in the market. To help you choose the suitable coir doormat that will align with your taste and choice, we have compiled below the best coir doormat reviews with crucial features and downsides as well; let's get going!
Top 8 Best Coir Door Mats for Trapping Dirt
Coir is a type of coconut fiber and can give your front porch the vintage looks while making sure all the dirt and debris stay where they belong-outside!
In case you do not have enough time to read the reviews, let us inform you that Theodore Magnus Natural Coir Doormat is our best pick from the list. That is because of the high-quality pure husk coir fibers it has. Additionally, its extra vinyl backlining and durability are the icing on the cake.
With all that being explained, let's go over our reviews of the eight best quality coir doormats for trapping dirt.
1. Theodore Magnus Natural Coir Doormat with Non-Slip Backing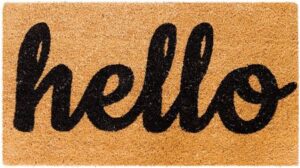 The Theodore Magnus Natural Coir Doormat is one of the best-rated coir doormats for the front door. Not only is it easy to clean by just shaking properly and brushing away the dust, but it also adds up to the beauty of your front porch.
The doormat is made from premium and high-quality coir (husk coconut fibers) that will give your porch the beige aesthetics while keeping away all the dirt and debris that comes with shoes.
The husky bristles take on all previous dirt and trap it inside. So, you can also wipe your bare feet easily on this durable doormat. It has a plastic back lining that will prevent any trips or falls. It is 30 x 17 x 0.01 inches and weighs about five pounds.
Downsides
Not weather resistant
Coconut husk might shed (only first two weeks)
This Theodore Magnus Natural rectangular coir mat is undoubtedly our best-rated coir doormat. It is an excellent pick for uses for both porch entrances and indoor entryways to make a good ambiance indicator.
---
2. mDesign Rectangular Coir and Rubber Entryway Welcome Doormat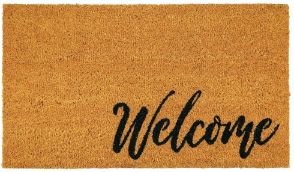 Secondly, we have another coco coir welcome mat from mDesign. The rectangular design of this mat is perfect for usage by bigger crowds or regular family members since it offers more surface area.
It is made from tough and strong pure coconut husk fibers with a durable backline to accommodate the right weight when people use it. Meaning it offers suitable friction to avoid any falls or slipping. The mat weighs around 4.2 pounds and measures 5 x 5 x 17.5 inches.
This doormat from mDesign is made of pure coir extracts, ensuring the durability of a good time. Good quality bristles help keep mud, snow, debris, and other dirt at bay while welcoming guests in your house with their designed greeting wishes.
Downsides
Not weather resistant
It might lose colors eventually if drenches frequently
Verdict
mDesign has brought us one of the best quality coir doormats for trapping dirt with quality back lining and flexible cleaning features. You should surely keep this as a considerable pick.
---
3. Fab Habitat Handwoven Extra Thick Entryway Coir Doormat for All-Season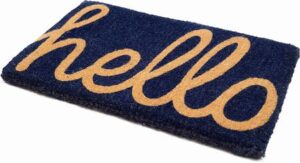 This intricate handwoven outdoor thick coir doormat from the Fab Habitat store is one of our favorite picks. The size measures 18″ X 30″X 1.60″ inches, and it comes in rectangular shapes.
The material is thick, and the mat weighs about 7 pounds. The carpets are recyclable and can be made into compost, perfect, right? They are intricately handmade with tough coir fibers that ensure durability. They are super easy to clean after taking up all the dirt from shoes.
We loved this doormat because, unlike most coir doormats, it comes in classic neutral colors and designs of handwoven floral and other colorful arrangements. As a result, the mat is a perfect choice for people with a lively household and kids. On top, the colors are water-based as well.
Downsides
Quite heavy due to being extra thick
Might shed
As you have already read, this mat is one of the best elegant front door mats from Fab Habitat and is a versatile pick with its unique, eco-friendly, solid, and aesthetic features. It's a must-have for prominent families with different décor tastes.
---
4. Gorilla Grip Natural Coco Coir Doormat for Trapping Dirt and Moisture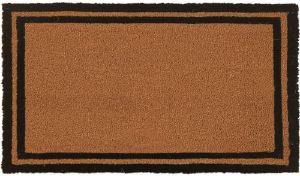 The super-versatile and large coir doormat from Gorilla Grip is a must-have mat for people who are good party hosts. It measures about 36 x 24 x 0.5 inches and weighs approximately 7.5 pounds.
Because of its rigid material structure that consists of tough and tall coir husks that make its height to about fifteen millimeters, it is one of the best doormats for trapping dirt. The height enables you to scrape away all types of dirt and place it on the very thick bottom lining of the mat.
The mat is manufactured from pure coir extracts and thus, ensures durability as coir is a stiff fiber. Additionally, it offers versatility even with its classic coir design but with a pinch of several scripted prints to choose from.
Downsides
It might wash away colors when drenched excessively
Might shed
This doormat from Gorilla Grip is a versatile doormat that gives you both options of using it at front porches or grand entrances as it blends nicely with your house's ambiance and décor. So don't fret away from hosting the best parties anymore; with this mat, it's all going to be tidy!
---
5. PLUS Haven "Home Sweet Home" Coco Doormat with Heavy Duty Backing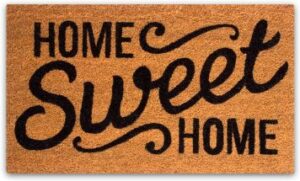 This doormat from PLUS Haven is an excellent all-around choice for indoors and outdoors. Coming in the standard 30″ x 17″ size, this is one of your absolute favorites. It weighs around four and a half pounds.
They are made from 100% pure coconut coir, a strong natural fiber that catches dirt, mud, moisture, and other particles quite efficiently, leaving your house clean and tidy.
Did we mention the materials are eco-friendly? The thick pile is around 0.6 inches to ensure no patches are ever visible. Some shedding is expected, but it is kept to a minimum, thanks to the fantastic craftsmanship.
It is also easy to clean and maintain. Lastly, we found the mat to be durable and sturdy — ideal for harsh weather and environments.
Downsides
Some reviews indicate the black-colored letterings start to fade after a couple of washing
A fantastic all-rounder choice for a doormat, whether you are using it indoors outdoors, this Home Sweet Home doormat is undoubtedly one of the sweet good coir doormats out there.
---
6. DII Floral Design Collection Natural Coir Doormat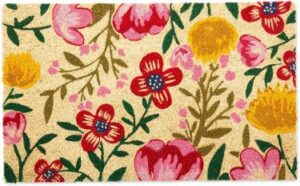 There are plain doormats that we all know and love. Subtle and non-eye catching, but then, there is the DII Floral doormat guaranteeing stares.
This 18x30x0.5 inches indoor coir mat is the ideal size for your porch or entryway, and with its half-inch thickness, it allows for easy clearance for your door and reduces potential tripping. Constructed from 100% coconut fiber, it is tough, durable, and ideal for scraping mud and dirt from your boots.
The back of the mat is enforced with non-slip PVC to prevent accidental slips and ensures the mat stays in place, even during harsh weather. These doormats come in various designs and colors, which are pretty festive and seasonal, which we absolutely adored. It weighs about 4 pounds.
Downsides
May lose color or start fading if not cleaned properly
Might shed
Although this DII Floral design doormat is perfectly suitable for the outdoors, we believe this is more of an indoor mat which will go nicely with the décor if you manage to find a design to match.
---
7. Kempf Natural Coco Doormat – Best Outdoor Doormat for Rain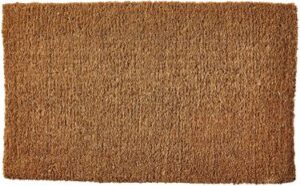 If you are in the market for a plain doormat you can personalize, we highly recommend you take a look at this natural coco coir doormat from Kempf. The size measures 30x17x0.6 inches and weighs about 4 pounds.
This thick coir doormat is made from 100% coconut fiber, ranging from 30-inch to 72-inch. The threads are also weaved on the bottom, which means there is no synthetic rubber on the back. This makes it easier for rainwater to drain out through the mat, making it our pick for the best outdoor doormat for rain.
The thick fiber of the mat can prevent floor damage, especially if you have wood or tile floor; on top of that, the safety on these mats has been improved to reduce any unfortunate slip and falls.
Downsides
Might shed due to excessive cleaning of shoes
No rubber backing
This natural cocoa coir doormat from Kempf works exceptionally well to dry water and trap dirt. It might shed a bit but works very well in a wet and muddy environment.
---
8. NEW Kaf Home Coir Doormat with Weather Resistant Non-Slip PVC Backing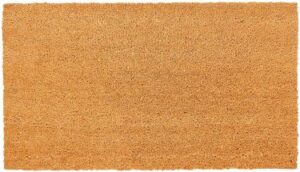 If you are looking for a doormat that has both modern and a classic flair to it, the KAF Home coir doormat will certainly not disappoint. Make any doorstep feel welcoming with this one!
This unique doormat has 100% natural coir material, ideal for everyday use. A much more minimalistic design and 36 x 22 x 1-inch size mean that it can be used in almost any location. Place it on your garage, laundry, kitchen, and on your patio, and it will fit right in. It weighs about 7 pounds.
The back of this doormat is made with non-slip PVC, which makes it suitable for most climates and harsh weather. They are also relatively easy to clean with just a vacuum cleaner or a water hose which it will need as these mats will keep mud and dirt away from your lovely home.
Downsides
The New Kaf Home coir doormat is a fantastic choice for a warm and welcoming doormat. The simple design makes it very versatile and suitable for multi-use.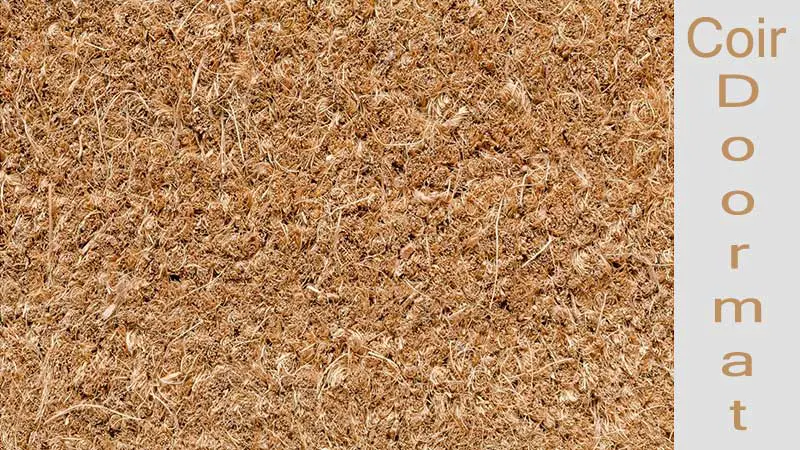 Frequently Asked Questions
What is the best doormat for trapping dirt?
The Natural Coco Coir doormat from Gorilla Grip is the best doormat for trapping dirt with its 15mm height of coco bristles.
Are coir mats good for outdoors?
Yes, Coir is made from coconut fibers, a great natural medium that scrapes off dirt and debris.
Can coir mats get wet?
Yes, they can. While they are water-resistant, excessive drench or water might cause them to wear out quickly.
How long do coir mats last?
It may last from six to ten years, depending on how you use it. Otherwise, coir is a durable material that lasts long naturally.
What is the best way to clean a coir doormat?
Allowing the doormat to dry (in case it had been wet) and then brushing off all the first is an excellent method to clean coir doormats without ripping them apart.
Final Words
We hope we enlightened you well about the excellent coir mats available out there. The doormats we talked about are versatile and have their unique value.
They will keep dirt, debris, snow, mud, and so on at bay while also adding beauty to your beloved home. Thereby, without any delay, go and start shopping for your chosen best coir doormat!