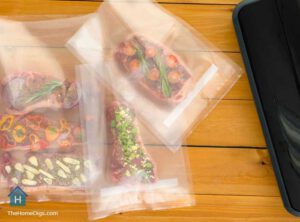 Did you just run out of your vacuum sealing storage bags?
People normally tend to choose the same brand again and again. I think you should often try something new.
If you start digging, you will see many types of bags with many features come at so many different prices. It does not only make a huge difference in the quality; it creates a big difference in what you are paying too.
So, you should give it a go and check out our list of best bags for vacuum sealers. Who knows this might surprise you, and you start having a new vacuum sealer bag from now on!
Top 5 Vacuum Sealer Bags at a Glance
Top 6 Best Bags for Vacuum Sealers
For making your search easy and quick,I have only picked the top six vacuum sealer bags and will review them here. I hope you find yours on the list.
1. FoodSaver 11″ x 16′ Vacuum Seal Roll, BPA-Free Vacuum Sealer Bags
Key Features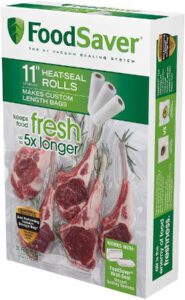 Each pack contains 3 rolls of 11inches by 16 feet.
Versatile in use. Can be used for dry storing, freezing, cooking or microwaving.
Perfect for sous vide cooking.
100% BPA free and food grade ensured.
For your FoodSaver vacuum sealer, you would not find a perfect match other than Foodsaver vacuum seal bags. Besides making ready bags, this renowned brand also has a collection of 11 inches by 16-foot vacuum seal rolls, to help you save a fortune by buying in bulk.
The material of the bags is of very high quality. Not restricting the use only to freezing and storing, you can also use them while cooking. You can pop it in your oven or stove straight out of the refrigerator.
If you love sous vide cooking, you should definitely give these bags a try. These are ideal for this cooking style. The thickness and the air locking capability of the bags make it perfect for sous vide.
The best part about rolls is that they give you enough room for customizing your own bag. As per your requirement, you can cut off the length and use it.
These 100% food-grade ensured plastic is BPA free. Made out of toxic free substances, it guarantees you healthy usability.
---
2. Nutri-Lock Vacuum Sealer Bags, Commercial Grade Food Saver Bags Rolls
Key Features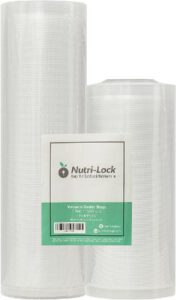 It contains 2 rolls in each pack of sizes: 11"x50' and 8"x50'.
BPA free and food safe. Made out of non-toxic substances.
Works in any clamp sealer.
Super-versatile in use.
If you are looking for something at a low price, here you go, you found it. Nutri-Lock vacuum sealer bags that come at a very reasonable price and does its job neatly.
This collection of bags come in a roll form. Each pack contains 2 rolls of 2 different sizes. Both rolls are 50 feet with one 11 inches and another 8 inches width.
The food-grade quality bags are super flexible and safe for vacuum sealing your food. You can be free from the tension of leakage and ripping. The special channels create an airtight blockade for locking all air out and the nutrients trapped inside.
Surprisingly the heavy-duty material of the bags does not limit you to store only foods in them. You can vacuum seal your precious jewelry, or any antique showpiece you want to keep away securely or any other items.
You can use them in any of your vacuum sealers. They work well in any clam type sealers. The basic size of the bag lets you fit it in any of them.
---
3. Vacuum Sealers Unlimited, Heavy-Duty Commercial Quality Vacuum Sealer Bags
Key Features
Each pack contains 2 rolls of size 11" x 50'.
It can work on any vacuum sealer without creating problems.
Very versatile. It can be used for multiple purposes.
Non-toxic multi-ply material bag.
If the first three did not give what you wanted, this one would surely do. The vacuum sealer bag rolls from Vacuum Sealers Unlimited is just the thing you needed.
Each pack comes with 2 rolls of 11"x50' size. It would not let you have any bag size issues. The rolls give you enough room for customizing your own bag for sealing.
You do not have to worry anymore about which bags will work with your vacuum sealer. These versatile plastic bags work effortlessly on any vacuum sealer without causing problems.
Food preparation time would not be an issue anymore. You can now do it in minutes. Just prepare and store your food in these bags before-hand and use it later.
If you are still cannot make up your mind, then you should know it from the users. Among all the vacuum sealing bags, this particular bag has received the most positive feedbacks from its users. So, you can trust the users if you cannot trust your instincts.
---
4. O2frepak Quart Size Vacuum Sealer Bags, BPA Free Sous Vide PreCut Bag
Key Features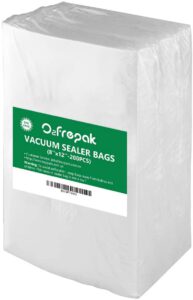 Pre-sealed ready bags of specific size.
Comes in the most basic size of 8"x12". Best for storing any food item.
Heavy-duty bags with maximum protection against leakage.
It can be used in any vacuum sealing machine.
O2frepak brought out a premium quality vacuum sealer bag collection for giving you a professional food storing capability. You will get bags of great value at a very reasonable price.
If you are not comfortable with cutting out a new bag and then seal it every time you go for vacuum sealing, then these will be a great alternative for you. These are pre-cut ready to use bags. Here all the works are already done for you. All you have to do is put your food in the bag and vacuum seal.
As they are pre-sealed, there is no chance of making mistakes while sealing or cutting the bags. You get nicely cut and sealed faultless bags for your storing purposes.
One pack contains in total of 200 pieces of bags. Each bag comes in a size of 8"x12". It is the most basic size for storing any food item that you might require.
These are made of heavy-duty non-toxic plastics. Its 3.5mil front and 4mil back panel ensures maximum precaution for giving you a leakage-free seal.
---
5. Vacuum Sealer Storage Bags for Food Saver, Seal a Meal Vac Sealers
Key Features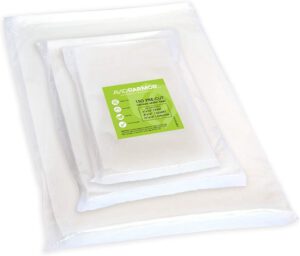 Each pack contains in total of 150 ready bags of 3 different sizes: pint, quart and gallon size.
It comes at a very affordable price.
Pressed air channel pattern on the backside for minimizing airflow.
It can be used for sous vide cooking.
Where all the other brands are giving one or two sizes of bags in one pack, Avid Armor came out with a collection of sealer bags of 3 different sizes. It can be the best deal for you if you consider its reasonable price.
In each pack, you will get 150 bags equally divided into three sizes. For storing different food items, you will need different sizes of bags. Sometimes the bag becomes either too big for your thing or too small. But with this sealer bag set, you would not face the issue. There is a size in the setfor all your requirements.
These economical sealer bags are a must-keep item for your kitchen to upgrade home cooking. You can easily take out and use these bags whenever you need them.
The structure of the bag such that it seals the air out perfectly and keeps food fresh and secure for a longer time. Not only that, but it is also qualified for sous vide cooking because of its efficiency in locking air.
---
6. Simple Houseware Vacuum Storage Bag for Clothes, Bedding, Pillows, Blanket
Key Features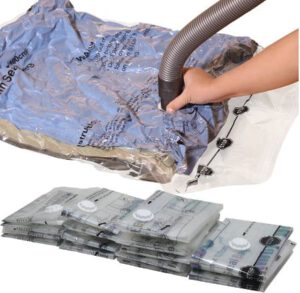 Vacuum sealer storage bags for bedding materials.
It comes in 4 different large sizes in a total of 15 pieces a pack.
Any vacuum cleaner can be used for vacuum sealing.
These are reusable. It can be used multiple times.
You will be needing something bigger for storing your clothes or your bedding materials. That's why we put forward this collection from Simple House ware.
Your pillows, too many bed sheets, and blankets can eat half of your cupboard's space. The best way to deal with this issue is to vacuum sealing the item and store it. That way, you can store your object for a longer time without any damage and save maximum space.
This big collection contains verities of sizes of bags. It has 4 medium and 4 large bags, 5 extra-large bags, and 2 jumbo-sized bags for your meeting your needs. In total, each pack gives you 15 vacuum sealer bags.
For using these bags, all you need is a vacuum cleaner to vacuum seal your designated item. You have the flexibility of using any vacuum cleaner, no matter what company or what model.
The best part about these bags is that they are reusable. You do not necessarily have to throw it away after one use. You can use it multiple times.

 FAQs about the Bags for Vacuum Sealing Machine
1. Can I use regular bags for vacuum sealing?
Ans. No, you absolutely cannot do that. Vacuum sealer bags are manufactured in such a way that it can withstand vacuum sealing. Vacuum sealing includes a lot of pressure which gradually damages the bag completely.
On the other hand, the sealer bags can endure that and ensure a leakage-free sealing, which is not possible for a regular plastic bag.
2. Are not plastic bags harmful to health?
Ans. Yes, regular plastic bags are harmful to health. But the food-grade ensured vacuum sealer bags are rather good for your food and eventually for health.
When you store your food on random poly bags or other plastic bags, it cannot assure freshness of food for a longer time. Thus, it may also affect your health after eating that food.
Whereas, in the sealer bags, you can keep your food vacuum sealed which retains freshness 5 times longer than a regular bag. They are made of non-toxic elements and do not hamper your food quality.
3. Are vacuum sealer bags reusable?
Ans. Not all of them can be reusable. Each sealer bags have their own properties.
Some bags are permanently sealed after vacuuming. Such bags cannot be reused. On the other hand, some are made for temporary use and can be opened and closed whenever required. Such bags can be used multiple times.
Buying Guide for Food Vacuum Sealer Bags 
Buying vacuum sealing bags would not be tricky. But there are a few things you should always keep in mind before buying them. Let's check them out.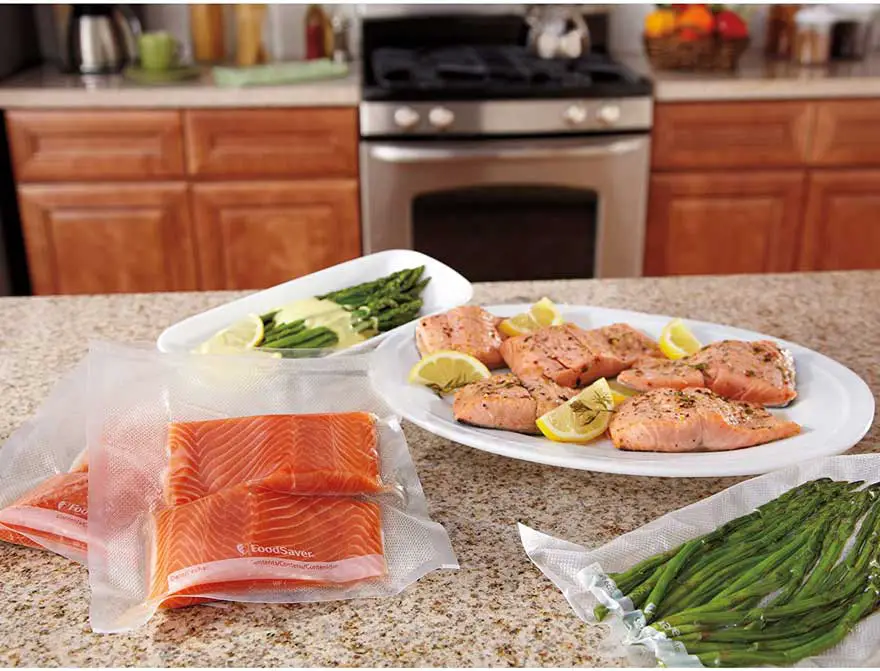 Size of the Bag
Size is the most important factor to consider when you are buying vacuum sealing bags. Different sizes have different uses. One size cannot meet the needs of others. You must be careful to check on the size before buying the bag.
Big bags are necessary for storing multiple items at a time. For a big family, you can buy your food in bulk, separate them in portion for each meal and store them for later. For storing moisture containing food items or marinated food, it is necessary to have a big bag. You need to keep a big empty space from the top to avoid the liquids go towards the sealer while getting vacuumed. The benefit of big bags is that you can store more in one pack.
However, when you are storing a small amount of food, big bags can be a huge waste. It is when you will need a small size bag. You apparently would not be storing only your proteins or fresh produce. You also need to seal your dry foods like cereals, chips, or the packet of rice you do not want to use now. For all these, you would not need a large size bag.
A medium or small bag will do the job for small families. It will save both space in your storage and your money.
If you are still not comfortable, you can buy the rolls. It could be the best thing to do. You get the benefit of customizing your bag if you buy them bulk size in rolls. You can get a big or a smaller size bag as per your needs.
The Material of the Bag
Before buying a plastic bag, the first thing you always should check is whether the bag is food-grade ensured or not. It is very important for your health and your family's too. The bags that are not food-grade ensured are made of toxic substances. It is very harmful to health and can be lethal too. That's why you must ensure before every purchaseif your sealer bags have these below-given features:
BPA Free: Check before buying if your chosen brand produces BPA free bags. Before, plastics were made of this organic compound Bis phenol A in short BPA. It is very harmful to health for which it has been replaced in modern plastic manufacturing.
FDA Approved: FDA stands for Food and Drug Administration. It is a government agency to legalize foods or food-related items or other products that are related to human or animal health. If the product is FDA approved, it means that it is risk-free or might have mild side-effects but greater benefits.
100% Non-Toxic And Food Safe: The food-grade quality bags will have it mentioned on their package if it is food safe or not. They normally come with a big food-safe seal tag.
Before buying your sealer bag, make sure that the bags have these tags on their package. If you cannot find them, try to contact the manufacturer or the dealer.
Compatibility with the Vacuum Sealer
Not all bags are compatible with all vacuum sealers. To get the best results, you must know if the bag you are buying can work with your vacuum sealing machine.
In most cases, you have to buy the vacuum sealer bags from the same brand as your machine. It ensures higher compatibility. You can be sure that it will work with your device, and you will be risk-free as your money would not go into waste.
However, many high-quality bags work with any vacuum sealer machine. They do not limit you to a small number; you can use such bags on almost any machine you want. So, before buying a sealer bag, you must check if it ensures 100% compatibility with your machine.
Final Words
Hopefully, you have found the one you were looking for. Nonetheless, if you are still confused, we will suggest you go through your requirement list once again.
If you are looking for something compatible with your sous vide cooking, you must go for our first recommendation FoodSaver Vacuum Sealer Roll.
Whereas if you have a clamp style vacuum sealer, you can go for Nutri-lock Vacuum Sealer Bag or the one from Vacuum Sealer Unlimited.
However, if you need bigger sized bags for vacuum sealing your bedding materials, you should go for Simple Houseware V15 Vacuum storage bags. It will be the best choice in that case.
This is Autem Decker. Main Author of 'TheHomeDigs'. You may not find her on the list of top 10 contemporary Canadian interior designers, but everyone who knows her says she was born to be an interior designer.
She makes her plan in her head and draws them in her years-old diary with a note in the corner. The way she plays with color and shape amazes us.
Connect Her On – Twitter