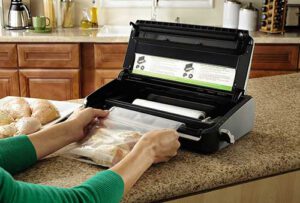 Who wants to go the groceries every day? Everyone is busy enough to buy in bulk and keep it for later use. Pretty sure you do the same. Well, it's not a crime unless you store it purposely.
We all know that food is perishable. You cannot keep it for a longer time without a proper storage facility. And with proper storage means no contact with air. Air contains oxygen which accelerates oxidation and ultimately spoils the food.
The only solution to this problem is to vacuum seal the food. It saves money, time and space on your refrigerator.
Vacuum sealers are not for commercial use only; you can find plenty of best vacuum sealer for home use too.
Top Picks of Food Vacuum Sealers at a Glance
Top 6 Best Vacuum Sealers for Home Use
Throughout our research, we found so many quality-ensured vacuum sealers for home use. I am not going to flood you with that big number. I have handpicked only six vacuum sealers and will review them unbiasedly here.
1. VAC-VIDA VS301 Chamber Vacuum Sealer – Perfect For Serious Home User Or Restaurant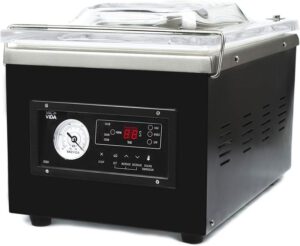 For starting with the best one, we put forward a chamber vacuum sealer. It will be the best choice for heavy users.
If you put your money once in this device, you will be tension free once and for all. Your food will be safe and have an extended shelf life–for your big family or small, and your hobbies of catering or others.
You can save a fortune with this vacuum sealer even with your heavy usage. Unlike other vacuum sealers, it allows you to use any cheaper plastic bags.
Key Features
Let's you save money through the use of cheaper plastic bags.
Best for heavy usage.
Can seal liquid food items.
It offers the best customer support.
The most unique thing offered by a chamber sealer is that it allows you to seal liquids. Without pulling the air out, it equalizes the air inside and outside the bag. Thus, when you seal your marinated meat, instead of the moisture coming towards the sealer, it gets pushed into the meat. This enriches the flavor even more.
This machine is a very powerful one with an oil pump of ¼ horsepower. You can use it for hours non-stop if you need.
The exterior of the sealer is made of black stainless steel with a modern control panel. You can swiftly change the settings for different types of food. But as a newbie, if you face any kind of problem, you can contact their customer service right away. They have the most remarkable support system waiting to help you in every way possible.
---
2. NutriChef Vacuum Sealer – Automatic Vacuum Air Sealing System For Food Preservation
If you are on a tight budget, but you need a vacuum sealer badly, this will be the perfect choice for you.
The small-sized lightweight countertop vacuum sealer from Nutrichef is very efficient and easy to use. You cannot find an alternative to such an inexpensive device with so many cool features.
Key Features
Small size lightweight countertop vacuum sealer. Perfect for kitchen use.
Touch-sensitive control panel with LED indications.
It comes at a comparably cheaper price.
Very straightforward and easy to use.
It is so straightforward that anyone even with zero knowledge about vacuum sealers can use it too. A touch-capacitive control panel is placed on the top of it for easy usage. After closing the sealer by firmly pressing on the two edges, you have to push only one button. The sealer does the rest.
You can effortlessly vacuum seal your soft food items with gentle mode without crushing them. Besides, it has an option for a hard vacuum too. It leaves no air inside the pack.
Not only packs, but you can also vacuum seal jars too. With its air suction hose, you can seal your jars without any effort.
For this vacuum sealer, you may use basic bag materials. You cut off a portion and seal one end of the bag with the sealer. Thus you get a customized size for your food item. And with the other end, you vacuum seal your food.
---
3. Foodsaver V4400 2-in-1 Vacuum Sealer Machine with Automatic Bag Detection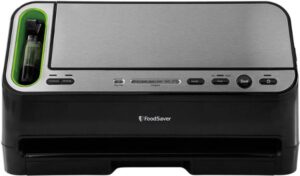 Not always you need sealing for long time storage. You need a sealer for temporary packing now and then too. Considering this issue, the third one in my list is a 2 in 1 vacuum sealer from Foodsaver.
The most advanced electronic vacuum sealer from Foodsaver has the option of vacuum sealing for both long term and short-term use. You do not need a separate device for your daily usages. You will have
Both in one place and get all of it for a very reasonable price.
Key Features
Has sealing facility for both long term and short-term storage.
Very organized device having all necessary elements within itself.
Smart device with automatic bag detection, mode setting, and functioning facility.
Easy cleaning and maintenance.
There is a handheld vacuum port fixed on the device for temporary storage. You can use a Freshsaver Ziplock bag for this purpose.
You are completely in freedom to use bags from any manufacturer without any constraint. You can fit 11 inches wide by 10 feet long roll in the built-in package roll storage compartment. You can cut your required size bag by pulling the given cutter and use it without any hassle.
As soon as you put your package on the sealer, it automatically detects the bag and starts working. Not only that, but this smart technology can also detect moisture and choose the mode of work accordingly.
In case the liquid run-offs to the device, the detachable drip tray will store them without letting them damage the sealer. As it is dishwater safe, cleaning and maintenance are super easy.
---
4. KOIOS Vacuum Sealer Machine – Automatic Food Sealer Up To 40 Consecutive Seals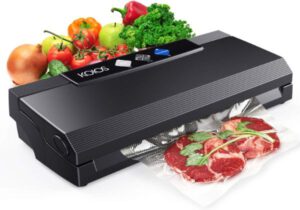 Vacuum sealing can take time. You do not want to wait for sealing too many bags on the line? No worries. The food vacuum sealer machine from Koios is to the rescue.
This clamp style has a longer sealing wire giving you the space for multitasking. The wire has a length of up to 11.8 inches. This long wire allows you to input multiple small packages at ones and seal at the same time.
Key Features
Best for multitasking. The long sealing wire allows you to seal several small packs at a time.
Heat is dissipated at a faster rate allowing to seal 40 times uninterruptedly.
Small and slender structure makes it easy to carry and store.
Secured locking system for safety issues.
The multitasking does not decrease the efficiency of the sealer. It offers great productivity. You can seal 40 times uninterruptedly without causing any harm to the device. From plastic packs to jars– you can vacuum seal them all.
Although having a simple design, it is heavy-duty equipment. The advanced vortex vacuum chamber has greater suction power with less suction diminution. This vacuum seals the packs smoothly.
Its small size lightweight body makes it very handy. You can easily carry or move it without facing any trouble. Storing would not be an issue for its slender structure. The sleek and classy look makes it a good accessory to place on your kitchen countertop.
Safety is also an important fact for this sealer. If you do not lock properly, the machine does not start operating. The lock system has been emphasized for security purposes.
---
5. Vertical Vacuum Sealer by Vesta Precision – Perfect for Sous Vide Cooking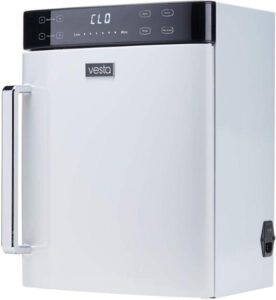 Sous-vide cooking is not only for restaurants, but you can also have it at your home. This home vacuum sealer is perfect for sous vide style of cooking.
Sous vide needs your food item to be completely vacuum-sealed. For the best result, you need an air-free pack that remains submerged on water. You can get sous vide rated vacuuming with this vacuum sealer and have restaurant-quality food at home.
This standard maintained vacuuming helps in storing food for a long time. You can store food for 3-5 times longer than normal storing arrangement. No matter what you preserve, it will retain its freshness and be good as new.
Key Features
Best vacuum sealer for sous vide style of cooking arrangement.
Can vacuum seal dry products, fine powders to even liquid food items.
Unusual vertical chamber design.
The chamber can be hung on the wall to save space.
With this vacuum sealing machine, you can seal fine powders, dry produce, meat or moistened food items. Not limiting you to only these, this vacuum sealer can even seal liquid food items. Let it be a marinade or even soup, sauce or brine– you can vacuum seal all.
The sealer itself has a very unusual look. You might misunderstand it as a small refrigerator from some distance. Its sophisticated vertical design makes it very appealing for a countertop gadget. You even can hang it from the wall to save some space in your kitchen.
---
6. FoodSaver V2244 Vacuum Sealer Machine for Food Preservation with Bags and Rolls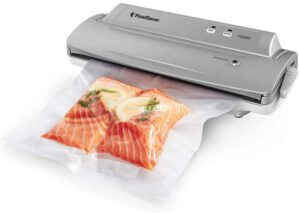 The last one on the list is Foodsaver V2244. You would be surprised to see how simple a device can be. It is the most straightforward machine with the simplest mechanism.
The control panel of this vacuum sealer contains only 2 buttons. Eliminating all the issues of touch-sensitive switches, it has the physical buttons. One is dedicated to sealing and the other to vacuum sealing. It is so simple that you would not have any chance of getting confused over the functions.
Key Features
Vacuum sealer with the simplest mechanism and a very straightforward design.
The sealing button itself is very useful for sealing half-eaten food packs.
No force required to close the clamp-style lid. The side knob locks the lid.
Removable drip tray to store trespassed liquid.
The sealing button has extra benefits too. It lets you seal any type of plastic; it can be your chips packet or cereal packet or any half-eaten food item pack. You do not necessarily have to vacuum seal it, but merely seal it for eating later.
Though clamp style sealers are a little hard to lock, you would not face the problem with this device. You do not have to use force to lock the lid. Just turning the side knob will do your job.
With this easily controllable sealer, you can vacuum seal your protein food, dry fruits, veggies or any other produce. You can even marinade your food and vacuum seal it for later use. If any liquid passes by, it is stored on the drip tray, which is removable and washable.
---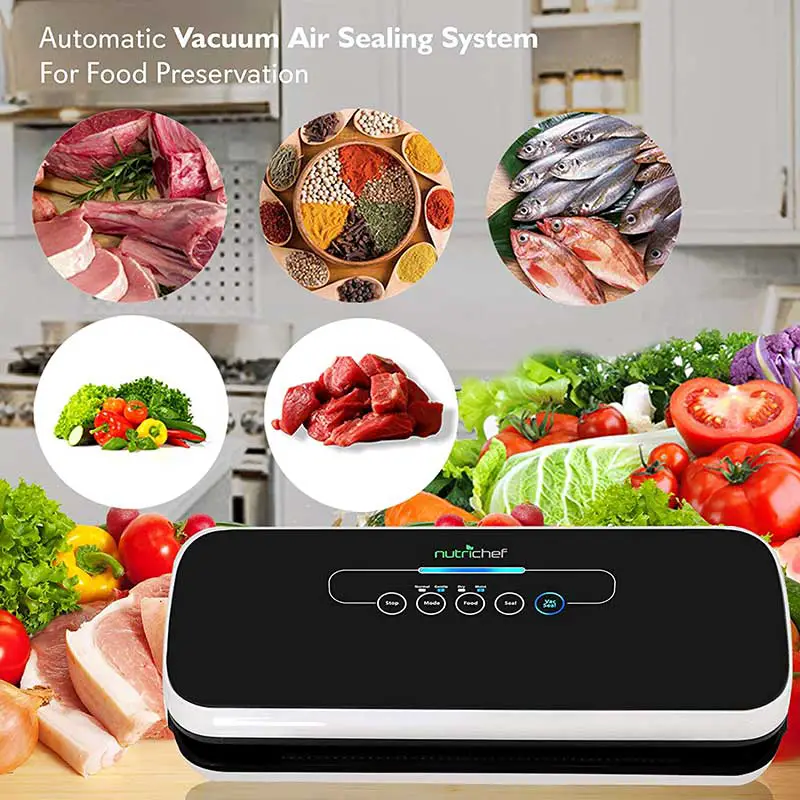 FAQ about Vacuum Sealer for Home Use
Q: How much time does it take for vacuum sealing?
Ans. It takes a very short time to vacuum seal. A normal sealer can take at best 1 to 2 minutes in vacuuming. This process can even be faster for many vacuum sealers.
Q: Can you vacuum seal any plastic bag?
Ans. You can seal any plastic bag with your vacuum sealer. Just inserting your bag in your vacuum sealer, press the seal button. You can seal any plastic bag without vacuuming. But for vacuum sealing, it is better to use a vacuum sealer bag.
Q: How long does food last after vacuum sealing?
Ans. Vacuum sealed foods last 3 to 5 times longer than normal packaging. If stored in a normal refrigerator, the food may stay fresh for weeks which otherwise would last only for a couple of days. And the vacuum-sealed frozen foodscan last for years.
Q: How to clean and maintain a vacuum sealer?
Ans. Cleaning a vacuum sealer is pretty easy. First, you need to unplug the device. Make sure it's totally detached from the electrical outlet. After that, take some water and some antibacterial soap in a bucket. Gently clean your device with a towel or a sponge. Do not flood it with water. Try to keep it as much dry as possible.
Different vacuum sealers have different structures. So, try to take out the removable parts and wash them thoroughly following the instruction pamphlet it came with. For some sealers, there is a detachable drip tray, and it is also dishwasher proof. To know about your device's cleaning system, follow the instruction book properly.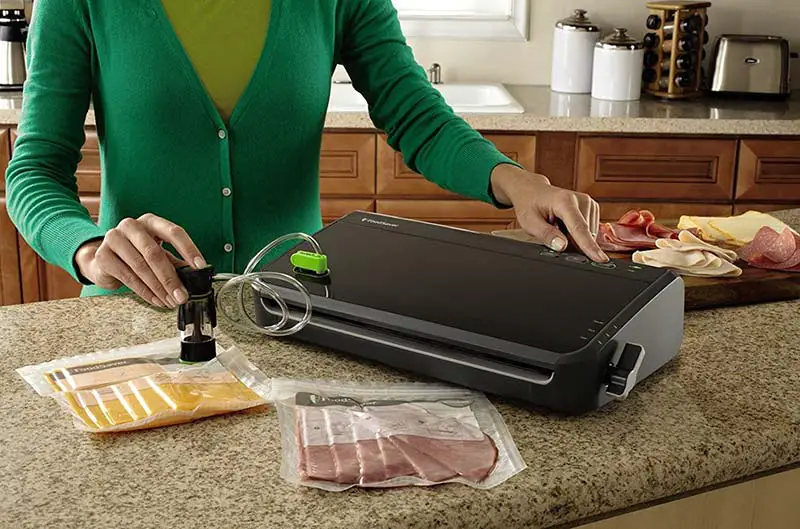 Things to Consider Before Buying Vacuum Sealer for Home Use 
When you are shopping your dream vacuum sealer, you need to put a little effort into finding the right sealer for yourself. I have talked about some core features here. Make sure you check them all before making the final purchase.
If the Machine Worth the Price or Not
The first thing to notice is the price of the gadget. Obviously, you would not be buying without knowing the price. But you must check if the device worth the price or not.
You may find vacuum sealers with so many cool features, but they come at a very cheap price tag. Again the opposite can happen too. In order to make the best deal, you must be cautious about where you are pouring your money.
A few vacuum sealers come at a very high price. They offer high-quality service and also made of standard maintaining material ensuring high durability. Such devices are worth paying for. If you buy one, it will last a lifetime.
But not all the products in the market are worth its price. You must check carefully before making a purchase what are you paying for.
Size of the Vacuum Sealer
The size of a vacuum sealer is an important fact if you have a small kitchen. The bigger size kitchen might not face this problem or even understand the struggle of space in a small kitchen area. The size of the device is important for a smaller working space.
The vacuum sealers normally come in bigger sizes. They always have a comparatively larger size. Some have a box shape, and some are flat longer on the sides. Before buying the sealer, you must check if you have enough space to fit the vacuum sealer on your kitchen. Varieties of sizes and shapes of vacuum sealers are available in the market. You will definitely find one fitting your settings.
Noise Level
Vacuum sealers are meant to make loud noises. However, not all of them have the same range of noise-making capability. Some make louder noises, and some are quieter than the others.
Now if you are buying online, you can not test this aspect. Yet if possible, you can search for YouTube reviews of your chosen collection of vacuum sealers. Maybe not that accurate but you can still have a slight idea of how much noise your sealer can create.
Control System
Always buy a machine with an easy operating system. The easier the controlling system, the better the usability.
You will get confused about how to manage the device with a complicated control panel, let alone using it for the designated purpose.On the other hand, you can get along with it easily with an easy system.
For the best result, you need to vacuum seal the packs properly. Otherwise, the whole effort will go in vain. That's why it is important to know the vacuum sealing process. Every single step and all the techniques of the device must be known. With a complex controlling system, it will be very hard for you to deal with it. So, look for a simple device with an easier control panel.
Strength of the Device
Vacuuming is not an easy task. No air must be left in the pack to ensure maximum protection of the food. The device must have enough strength to pull out all the air from it. The purpose of the machine depends mostly on its strength. For this, you must check the power of the device while buying it.
Many tests were done in the manufacturing laboratories to know the power of the vacuum sealer. The easiest way by which even you can determine its strength at home is by vacuum sealing a plastic bag containing empty cans. The strong vacuum sealers will pull out all the air from the bag by crushing the cans and squeezing them into smaller sizes.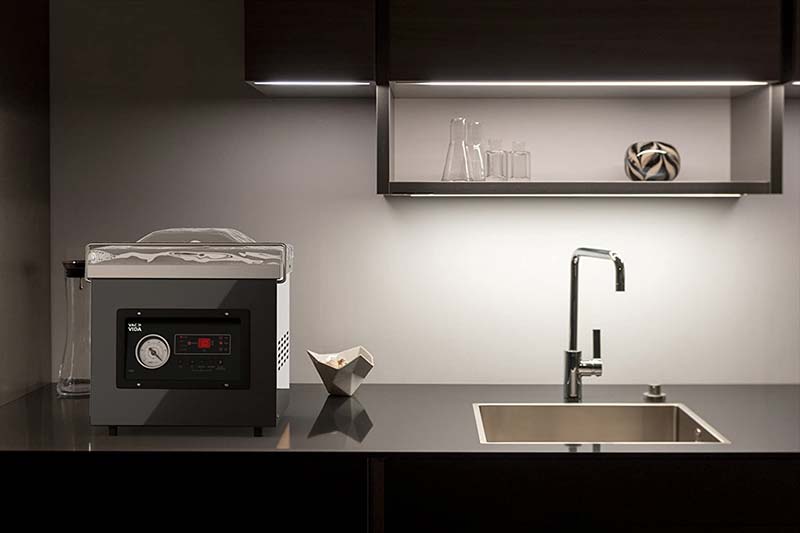 What's Now?
Freeze burn is the worst thing that can happen to your nice tender meat. But if you have a vacuum sealer, you would never have to go through that experience.
Imagine yourself in your kitchen with your brand-new vacuum sealer. How is it transforming your hard works into effortless jobs?
Cooking will not be a hassle anymore. As you prepare your meals and store them for weeks. It would not affect the freshness or tenderness of your food. You can cook dinner in no time for family and guests. All those fresh foods and good meals will keep your foods healthy and make your life perfect.
Does it feel good? If so, get back to reality and get yourself the best vacuum sealer for home use.
This is Autem Decker. Main Author of 'TheHomeDigs'. You may not find her on the list of top 10 contemporary Canadian interior designers, but everyone who knows her says she was born to be an interior designer.
She makes her plan in her head and draws them in her years-old diary with a note in the corner. The way she plays with color and shape amazes us.
Connect Her On – Twitter