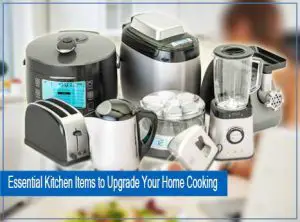 Did you know that a kitchen upgrade could greatly help you save on time, space and money as well?
While your kitchen could be currently running and equipped with some basic cooking tools which are serving you to some degree, a well thought-out upgrade can help transform everything and offer you amazing functionality.
In this article, we shall discuss some advanced kitchen items that will help advance your cooking options and meals whether you're a novice or a pro chef. Read on…
Essential Kitchen Items for Advanced Cooking Experience
There are many modern essential kitchen items that provide the best cooking experience possible and ease's our life. Here are the 7 most versatile kitchen items you should add to your kitchen gear list.
1.  Slow cooker
This is one of the essential kitchen items that every homeowner would definitely like to have. Slow cookers come in different shapes and sizes but the bottom line is that they are designed to help you prepare your meals with a hands-off kind of approach.
In our modern fast paced lifestyle, you only need a little planning when using the slow cooker, prepare your ingredients and throw them into the cooker before setting it up.
A slow cooker allows you to come home to a warm, yummy meal thus saving you from the stress of eating junk foods and poorly prepared meals. There are different brands of slow cookers and you can pick one that offers you advanced technology and more useful features.
2.  Instant pot
An instant pot is a must consider essential tool for kitchen upgrade. The multi-functional appliance is easy to use and works as a slow cooker, pressure cooker, yogurt maker and rice cooker all in one.
With this appliance, you can free your kitchen cabinets of several other appliances thus creating more space and enjoying greater functionality.
The multi-purpose appliance can help you steam and sauté your meals while helping you save time for cooking. This is a great investment to consider in your kitchen upgrade plans.
3.  A Dutch oven
A Dutch oven is yet another must have kitchen appliance as you plan your home cooking upgrade. You can use it to braise your chicken, prepare your butch of soup or even bake your bread. You can use it to cook almost anything in your kitchen thus replacing some of your basic tools for whatever reason.
The Dutch oven comes in different brands and prices thus giving you an option to pick what suits your needs. The casseroles do not take much of your kitchen space and you'll find different sizes that'll cater for your needs.
Read Next: Most Popular Interior Design Trends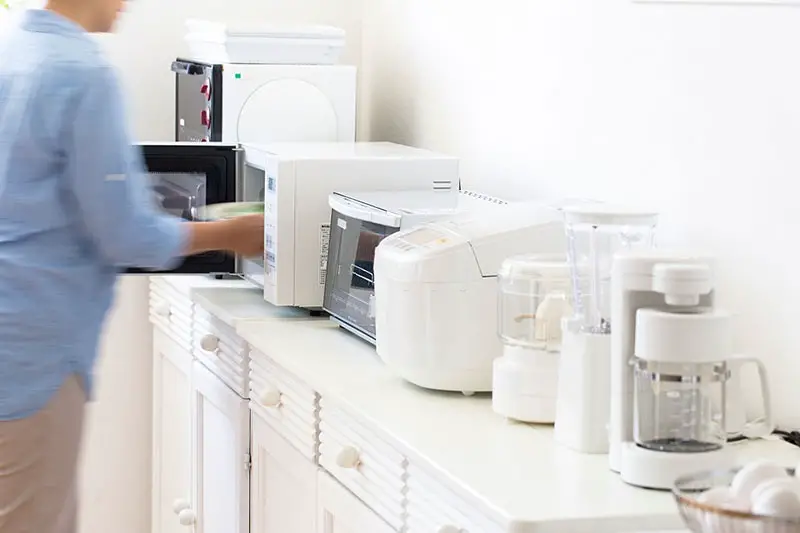 4.  Food processor
If you want to make your food preparation a breeze experience, then a food processor will be a great investment to consider. You can use this essential kitchen tool to expedite your food preparations especially where knives are needed.
Whether you're preparing your Thanksgiving dinner or a family meal for many people, the food processor will make your work very easy and fast. There are various models available in the market and you can check the different food processor reviews to help you pick the best available option for efficiency and durability.
5.  Professional blender
A professional blender is a super kitchen tool you will need to have as it helps do multiple things within a fraction of time. Your blender will come in handy when you want to prepare smoothies, pureed soups and sauces just to name a few things.
A good professional blender doesn't have to cost a leg and an arm but you should get one that is guaranteed to give you smoother consistency on different blended ingredients.
6.  A stand mixer
A stand-mixer will definitely make your life easier and having one is a sure way of upgrading your home cooking. You can use it to make cake batter and big batches of your favorite cookies with simplicity, not to mention that it comes with different attachments that'll find essential for various functions. A quality stand mixer offers you unlimited potential and amazing styles that'll lime well with your kitchen décor.
7.  Bean to cup coffee machine
If you're a coffee lover, then a bean to cup coffee machine will make for a great addition to your checklist this season. With this investment, you no longer have to spend on Costa or Starbuck coffee as you can prepare a cup for yourself at the comfort of your home with ease.
The coffee machines normally have built-in coffee bean grinders with different settings to help you with your desired coffee grinding. You can check several professional bean to cup coffee machine reviews to help you make the right choice for excellent results.
Read Also: 7 Tips For Decorating Your First Home On A Budget
Conclusion
While these and other appliances have their primary functions unchanged, the modern iterations are designed to enhance your home experience, enhance your kitchen's visual appeal and make your life much easier.
As you choose any of these appliances or others such as refrigerators and dishwashers, always do your due diligence to read reviews so you can make your investment a worthwhile experience.
This is Autem Decker. Main Author of 'TheHomeDigs'. You may not find her on the list of top 10 contemporary Canadian interior designers, but everyone who knows her says she was born to be an interior designer.
She makes her plan in her head and draws them in her years-old diary with a note in the corner. The way she plays with color and shape amazes us.
Connect Her On – Twitter